Acalypha punctata Meisn. var. punctata
Family: Euphorbiaceae
Common names: sticky brooms and brushes (Eng.); umsongo (Swa.); usunundu (Zul.)
Introduction
An unusual herbaceous perennial, with a distinctive and very strong scent, not common in commercial horticulture.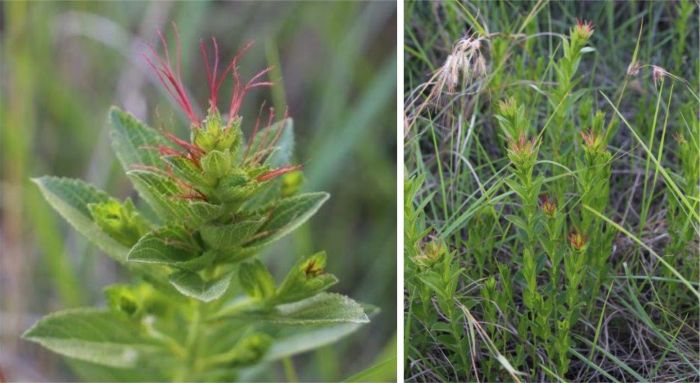 Description
Description
Acalypha punctata var. punctata is an evergreen, small, herbaceous perennial with a woody base, that grows up to 500 mm tall. Stems are long, thin and erect. Leaves are alternate, simple, ovate or ovate-lanceolate, ± 70 × 30 mm, surface with tiny gland dots; margins are sharply and often coarsely serrulate with noticeable veins; stalks are short, ± 3 mm long, hairy.
Male and female flowers occur on separate plants (dioecious).  Male flowers are in a densely-flowered spike, ± 50 mm long, on a stem ± 60 mm long. Female flowers are terminal and partly hidden within the leaves; the stigmas are long and red; the bracts gland-dotted. Flowering is in spring and summer, from September to March.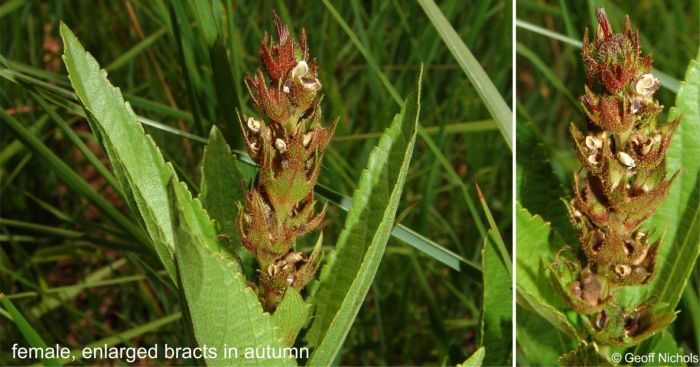 The bracts turn red in autumn and colour the grassland.
Conservation Status
Status
Acalypha punctata var. punctata is not threatened and is listed as Least Concern (LC) in the Red List of South African plants.
Distribution and habitat
Distribution description
Acalypha punctata var. punctata is widely distributed in the eastern region of South Africa, in the Eastern Cape Province around Pondoland and surrounding areas, KwaZulu-Natal and Mpumalanga Provinces, to tropical Africa. It grows in grassland and forest margins, from the coast to the mountains.
Derivation of name and historical aspects
History
The name Acalypha is from the Greek akalephe, meaning 'a nettle', and refers to the leaves which resemble nettles. The species name punctata means 'marked with dots', referring to the gland dots on the leaves.
Acalypha is a genus of flowering plants in the family Euphorbiaceae. It is the sole genus of the subtribe Acalyphinae. It is one of the largest euphorb genera, with approximately 450 to 462 species, with ± 22 in South Africa. Annual or perennial herbs, shrubs or trees; leaves are alternate; male and female flowers usually on separate plants, male flowers in catkin-like inflorescences, female flowers with stigmas greatly elongated. Cosmopolitan, in warmer regions.
Ecology
Ecology
Acalypha punctata var. punctata grows in the grasslands, which are highly susceptible to wildfires. However, this species is adapted to fire and has a fire resistant mechanism. When there is fire and all the stems burn, the woody base remains and produces new shoots, vigorously, after the fire.
Uses
Use
Acalypha punctata is reported to be used as a traditional medicine to treat diarrhoea and chest complaints. Furthermore, several species in the genus Acalypha are used for medicinal purposes, mainly in Africa and in the Mascarene Islands. Almost every part of the plant, such as leaves, stem and roots, are used as traditional remedies to treat and manage a number of ailments.
Growing Acalypha punctata
Grow
Acalypha punctata is not a popular plant in the horticultural trade, unlike other exotic species in the family. However, A. punctata has great potential to become a beautiful garden plant, should it be grown and used correctly.
Acalypha punctata var. punctata is best propagated vegetatively by means of tip and stem cuttings, preferably during its active growth season, in spring. Take cuttings from a healthy and disease-free motherstock at the coolest time of the day, preferably morning when the plant is at its full vigour. Prepare well-drained potting soil consisting of media that promote rooting, such as river sand, silica grit or perlite, and water well. Take cuttings below the node, using sharp, sterilized secateurs and treat with a rooting hormone containing Auxin, (powder or liquid) before inserting the cutting in the rooting medium. Place the cuttings on warm benches at temperature of 22ºC–25ºC, in a moderately humid area or mist house and rooting should take place within 4–5 weeks. Place in a warm area with moderate light, but out of direct sunlight. Keep the cuttings moist, but not too wet so as not to encourage fungal growth.
Once the cuttings develop sufficient roots, prick them out and transplant them into small potting bags or pots using a potting soil consisting of 1 part sifted compost, 1 part sifted bark and 1 part river sand (1:1:1). While in the pots, feed them at least once every 2 weeks with any organic fertilizer (liquid or granules).  Feeding with a slow-release fertilizer in winter encourages further growth. To encourage compact growth in the absence of the flowers, snip off the uppermost part of the plant stems (apical meristem).
Acalypha punctata can be grown in the garden as a filler, in full sun exposed areas. It could be used to soften the texture of the garden by planting individual plants randomly. It is well suited for grassland gardens. 
References
Archer, R.H. & Victor, J.E. 2005. Acalypha punctata Meisn. var. punctata. National Assessment: Red List of South African plants version 2020.1. Accessed on 2021/03/15.
Koekemoer, M., Steyn, H.M. & Bester, S.P. 2015. Guide to Plant Families of southern Africa. Strelitzia 31. 2nd ed., 2nd print. South African National Biodiversity Institute, Pretoria, South Africa.
Pooley, E. 2005. A field guide to wild flowers KwaZulu-Natal and the eastern region. The Flora Publications Trust, Durban.
Seebaluck, R., Gurib-Fakim, A. & Mahomoodally, F. 2015. Medicinal plants from the genus Acalypha (Euphorbiaceae a review of their ethnopharmacology and phytochemistry. Journal of Ethnopharmacology 159:137–57.
Credits
Sicelo Sithole and Mpendulo Gabayi
Kirstenbosch National Botanical Garden
April 2021
Acknowledgements: the authors thank Geoff Nichols for images as credited.
Plant Attributes:
Plant Type: Perennial
SA Distribution: Eastern Cape, KwaZulu-Natal, Mpumalanga
Soil type: Loam
Flowering season: Spring, Early Summer, Late Summer
PH: Acid, Neutral
Flower colour: Red
Aspect: Full Sun, Morning Sun (Semi Shade), Afternoon Sun (Semi Shade)
Gardening skill: Average
Special Features:
Fragrant
Medical plant
Horticultural zones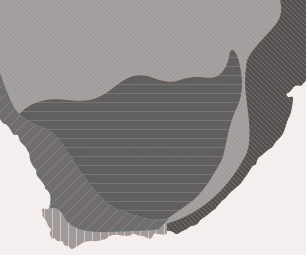 Zone 1 Coastal summer rainfall, frost free
Google QR Code Generator