Adenia spinosa Burtt Davy
Family: Passifloraceae
Common names: spiny greenstem, elephant's foot (Eng.); tshivhuyu-dumbu (Tshivenda)
Introduction
In the far north of South Africa grows a very special, ancient-looking plant with a stem resembling an elephant's foot. In our neighbouring country, Zimbabwe, this species is considered to be threatened with extinction and in South Africa, although only found in Limpopo Province, it is not. I am of the opinion that the conservation status of this species could rapidly change due to the changes in land use that are taking place in the areas where the species occurs. Conservation of this species is crucial.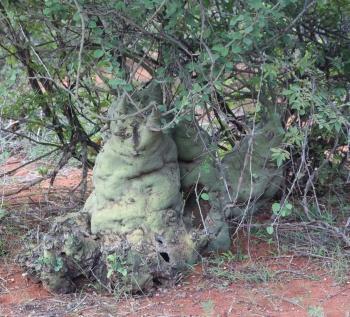 Description
Description
A thorny, climbing shrub, growing up to 2.5 m high. The plant bears a twisted frame of thin branches, which arise from an irregularly shaped, fleshy and bulbous stem, which can grow up to 1.5 m in diameter.
Leaves are alternate and broadly egg-shaped, with noticeable veins, grey-green above and paler below; margins are smooth and not rough, although lobed (having divisions extended less than halfway to the middle of the base). It loses its leaves in the dry winter season that starts in June and lasts to late August. The blunt tendrils, which are found on branches of the plant, are modified inflorescences or young thorns, and may function as tendrils, which allows the branches to climb over other shrubs and into trees.
Flowers of different sexes are found on separate plants, growing on the upper angle between a leaf stalk and the stem, creamy yellow, with male flowers usually in denser clusters than female flowers. Fruit an ovoid capsule, divided into three segments, turning from green to yellow when ripe. Flowering time is late winter to midsummer (July to January).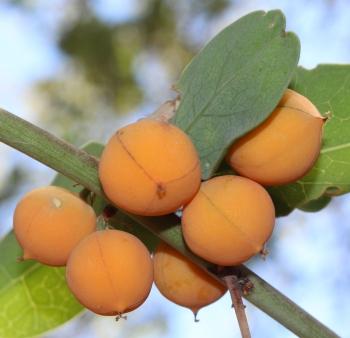 Conservation Status
Status
Least Concern (LC). Although this may change because this species is likely to lose its habitat due to changes in land use from privately owned farms to mines and land claimed for settlements, and in neighbouring Zimbabwe, this species is considered Vulnerable (VU).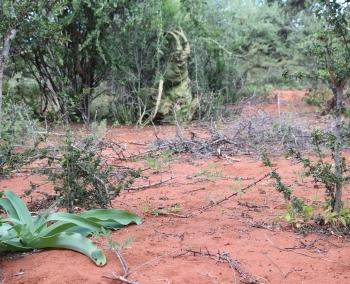 Distribution and habitat
Distribution description
Adenia spinosa occurs in the northern parts of South Africa in Limpopo Province, and in Botswana and Zimbabwe, growing in scrubland plant communities dominated by sparse grass, shrubs, herbs and bulbous or geophytic plants, where the climatic conditions are often dry and hot. This species usually occurs in deep dry sandy soils and among rocks, in partial shade. In Limpopo this plant is noticeably growing partially under some of the bushveld trees and shrubs including Commiphora africana and Boscia albitrunca, for shade and support.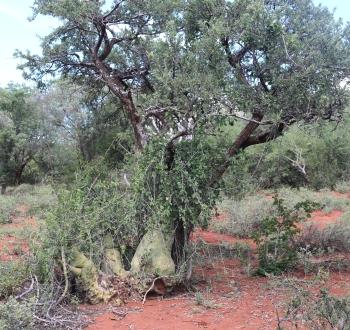 Derivation of name and historical aspects
History
The genus name Adenia comes from aden, said to be the Arabic name for these plants by Peter Forsskål, the author of the genus (Wikipedia) and spinosa means 'with spines' and is referring to the presence of blunt spines on the branches, which also serve as tendrils.
Tshivhuyu-dumbu the common name in Tshivenda is made up of 2 words, tshivhuyu, which means 'a small baobab tree' and which refers to the shape of the stem that looks like a miniature trunk of a baobab tree, and dumbu, which means 'a big stomach' and refers to the shape of the stem, which resembles that of a big human stomach.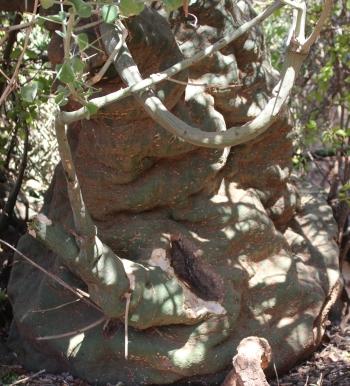 Ecology
Ecology
The succulent stem of this plant stores water that can be used during the long, dry seasons. The plant is found in very arid, dry conditions and, therefore, needs to reserve water during the rainy seasons for use in the dry season. Another adaptation that allows Adenia spinosa to survive the arid and hot conditions, is to drop its leaves to avoid transpiration or loss of water through pores in the leaves.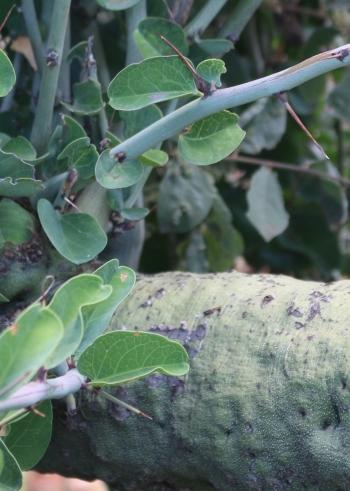 Uses
Use
The sap of Adenia spinosa is poisonous if taken by mouth. Although not recorded or published, people at Mamvuka Village in Limpopo Province, indicated that they use this plant species to strengthen the weaker babies. Water mixed with parts of this plant, can be used to wash the lower parts of the weaker or sick baby's body from the neck to the bottom, avoiding contact to the face and the head.
Growing Adenia spinosa
Grow
Adenia spinosa can be grown from both seeds and cuttings. The plant will produce a thick stem or caudex if grown from seed, though and will not form a caudex if grown from cuttings. The species prefers to grow in acidic soil in very hot and dry conditions and cannot stand frost. It must be watered well in summer and kept dry through winter.
References
Bihrmann's caudiciforms: Adenia spinosa. http://www.bihrmann.com/caudiciforms/subs/ade-spi-sub.asp Accessed on 2018/03/25.
Flora of Zimbabwe: Adenia spinosa Burtt Davy. https://www.zimbabweflora.co.zw/speciesdata/species.php?species_id=141110 Accessed on 2018/03/25.
Foden, W. & Potter, L. 2005. Adenia spinosa Burtt Davy. National Assessment: Red List of South African plants version 2017.1. Accessed on 2018/03/25.
Hearn, D.J. 2009. Developmental patterns in anatomy are shared among separate evolutionary origins of stem succulent and storage root‐bearing growth habits in Adenia (Passifloraceae). American Journal of Botany 96(11):1941–1956.
Wikipedia: Adenia. https://en.wikipedia.org/wiki/Adenia Accessed on 25 March 2018.
Credits
Livhuwani Auldrean Nkuna
Millennium Seed Bank Partnership
April 2018
Plant Attributes:
Plant Type: Climber, Shrub
SA Distribution: Limpopo
Soil type: Sandy, Loam
Flowering season: Spring, Early Summer, Winter
PH: Acid
Flower colour: Cream
Aspect: Morning Sun (Semi Shade), Afternoon Sun (Semi Shade)
Gardening skill: Average
Special Features:
Drought resistant
Feature plant
Good potplant
Poisonous
Medical plant
Horticultural zones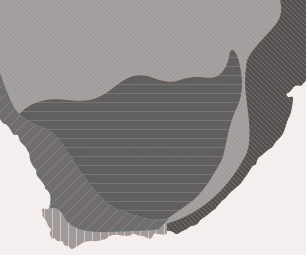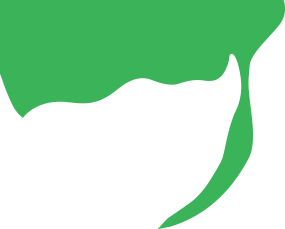 Zone 5 Bushveld summer rainfall, Light frost
Google QR Code Generator