Aeollanthus haumannii Van Jaarsv.
Family: Lamiaceae
Common names: Otjihipa rock-sage (Eng.); Otjihipa-klipsalie (Afr.)
Introduction
Aeollanthus haumannii is an aromatic, branched succulent with sticky, green leaves, bearing whitish mauve, 2-lipped flowers in autumn, only known from a solitary mountain in Kaokoveld, northern Namibia, growing on a sheer, south-facing cliff. Easily grown from cuttings or seed and best for gardens with a summer-dry climate.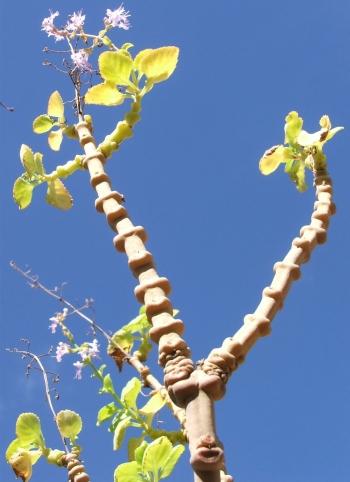 Description
Description
Soft, semi-succulent, herbaceous perennial, up to 160 mm tall, single to multi-stemmed, branched from the base. Most parts beset with minute glandular hairs, becoming hairless with age, and aromatic (smellling of leberwurst). Roots fibrous. Branches 4-angled to almost rounded, at first pale to almost whitish green, becoming grey-brown, eventually black. The main branch up to 8 mm in diameter (9 mm at swollen nodes), often jointed (articulated) and becoming ribbed; the nodes distinctly swollen; internodes 10 to 30 mm long; the main branch often distinctly grooved (above each leaf axil). The younger branches 4 mm in diameter, sparsely covered with translucent glandular hairs. Leaves fleshy, in opposite pairs (decussate), with a short petiole 15–25(–30) mm long, the leaf blade broadly ovate to broadly triangular-egg-shaped to egg-shaped (ovate), 35–60 × 28–45 mm, the upper surface pale grey-green; the margin bearing 4–8 pairs of teeth (serrate), sometimes slightly wavy, often decurrent on petiole. The leaf tip is obtuse to almost rounded, sometimes almost acute. The leaf base is truncate to wedge-shaped.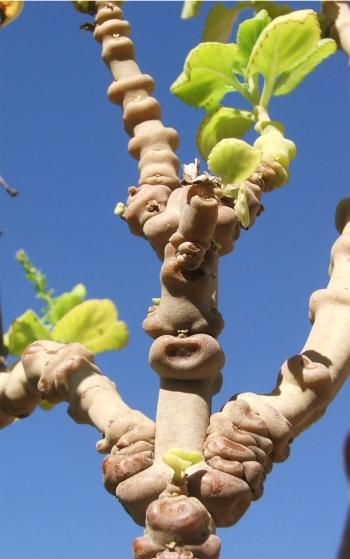 Flowering time is in autumn (March–April in the southern hemisphere). The inflorescence is a lax, terminal, candelabra-shaped panicle, up to 150 mm high and about 220 mm wide. The peduncle is 3 mm in diameter at base, gradually narrowing towards the top. The flowers opposite, the other spikes bearing 1 or 2 flowers at each node (flowers pointing in the same direction), and 1–4 flowers opening at the same time on each spike; basal spikes up to 80 mm long bearing leaf-like bracts at base, each bearing short side branches from base. The flowers (corolla) white or light mauve, flattish (laterally compressed) the  tube 5–6 mm long, 0.7–1.0 mm in diameter, expanding to 2.5 mm at throat (angle of expansion about 35–45°). The stamens in 2 pairs, upper 2 longer, exposed for 4–6 mm, lower 2 shorter, with slightly larger anthers, exposed for about 2–3 mm; anthers of lower pair kidney-shaped, 0.7 mm long; the pollen pale orange. The floral disc circular, about 1 mm in diameter (bearing a prominent lobe in fruiting stage). The style at first 8–10 mm long, exposed for 3–4 mm from throat, bifid, lengthening up to 13 mm when ripe. The seed consists of roundish nutlets, 0.8 × 0.6 mm, smooth, black, shiny.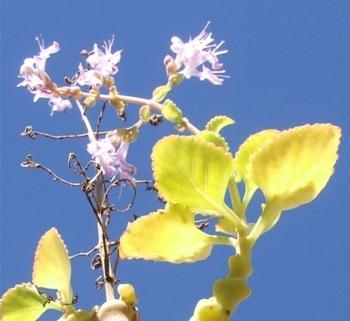 Conservation Status
Status
Plants grow in an isolated environment, where they are locally abundant and thus this species is not threatened. It has, since its naming, been well-established in cultivation.
Distribution and habitat
Distribution description
Known only from the Otjihipa Mountains in northwestern Namibia.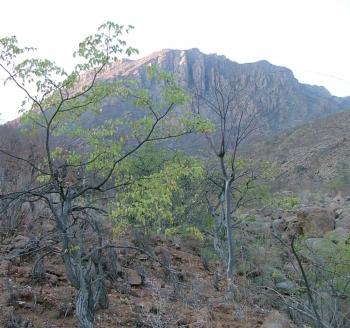 Derivation of name and historical aspects
History
Aeollanthus haumannii was named in 2006 in the magazine Aloe by Braam van Wyk and the author. It commemorates Mr Tielman Haumann, naturalist, farmer and chartered accountant from Cape Town, as well as for his son Dr Carel Haumann, mountaineer and currently medical practitioner from Windhoek, Namibia. Tielman and his son Carel financed and joined the expedition when the plants were discovered in July 2004. The genus Aeollanthus was named by the German botanists Christian Konrad Sprengel (22 September 1750–7 April 1816), a botanist and theologist. The name pertains to Ailos, the Greek god of wind, and anthos, flower, pertaining to its mountainous and cliff habitat (Clark & Charters 2016). Sprengel named the genus Aeollanthus in 1825 from plants collected by Dr Ph. Martius from a plant grown by the Chinese People, in Santa Cruz near Rio de Janeiro in South America, as a medicinal plant. Martius was not aware of its African origin. He collected the plant on a journey to South America during 1817–1820 (Ryding 1986). Sprengel named his plant Aeollanthus suaveolens, the latter which is in fact of tropical and subtropical African origin (also grows near Tzaneen) in South Africa and further north (Codd 1985).
Aeollanthus haumannii is one of 45 known species of Aeollanthus confined to Africa, and of which 8 are confined to southern Africa. Of these, 6 species occur naturally in northern Namibia. These include A. haumannii Van Jaarsv., A. buchnerianus Briq., A. rehmannii Gurke, A. neglectus (Dinter) Launert, A. namibiensis Ryding and A. rydingianus Van Jaarsv. & A.E.van Wyk.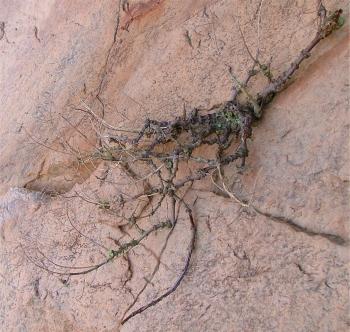 Ecology
Ecology
Grows on south-facing cliffs on the Otjihipa Mountains just east of Otjinhungwa, where the plants occur in granite rock crevices. The habitat preference of Aeollanthus haumannii in the Kaokoveld is both afromontane and semi-desert. The average annual rainfall in the Kaokoveld varies from less than 50 mm along the coast, to about 350 mm on the highlands). Precipitation is erratic and occurs mainly in the form of thunder showers in summer. At Otjihipa the average annual rainfall is estimated at 150–250 mm. Plants grows at an altitude of about 1 800–1 900 m. The climate is warm and frost absent from the habitat. The geology consists of granite (Fransfontein Granite Suite).
Aeollanthus haumannii shares its habitat with the following plants. Pelargonium vanderwaltii, as well as other cliff-dwelling succulents, such as Kalanchoe lanceolata and Tetradenia kaokoensis.
Uses
Use
It is not known whether the plants are used medicinally.
Growing Aeollanthus haumannii
Grow
Aeollanthus haumannii is easily cultivated. It grows well in dry Mediterranean and subtropical gardens, where frost is not severe. It is also easily grown in containers. Best planted in a rockery, among rocks. In South Africa it is best grown in the bushveld garden (Van Jaarsveld 2010). Plants planted at Babylonstoren out of doors (which is a winter rainfall area), have also grown very well. Mineral-rich soil and a well-drained aspect is where the plant is at its happiest. Once established, plants are not shy to flower.  
Sow seed in spring or summer in a seed tray in a well-drained medium (2 parts sand or gravel, 1 part garden loam and 1 part leaf mold or compost). Cover with a thin layer of sand or gravel. Keep moist in a warm position, ideally in dappled shade. Germination is within 3 weeks. Transplant young seedlings when big enough to handle, which is at least a year or 2 after sowing.
References
Clarke, H. & Charters, M. 2016. The illustrated dictionary of southern African plant names. Flora & Fauna Publications Trust, Jacana, Johannesburg.
Codd, L.E. 1985. Lamiaceae. Flora of southern Africa, Vol. 28, 4. Botanical Research Institute, Department of Agriculture and Water Supply, Pretoria.
Ryding, O. 1986. The genus Aeollanthus s. lat. (Labiatae). Acta Universitatis Upsaliensis. Symbolae Botanicae Upsaliensies 26: 1.
Van Jaarsveld, E.J. 2010. Waterwise gardening in South Africa and Namibia. Struik, Cape Town.
Van Jaarsveld, E.J. & Van Wyk, A.E. 2006. Aeollanthus haumannii (Lamiaceae), a new species from the Kaokoveld, Namibia. Aloe 43,4: 72–75.
Credits
Ernst van Jaarsveld
Kirstenbosch National Botanical Garden (Retired)
Babylonstoren Farm
Extraordinary senior lecturer and researcher, Department of Biodiversity and Conservation, University of the W. Cape.
September 2018
Plant Attributes:
Plant Type: Succulent
SA Distribution:
Soil type: Sandy, Loam
Flowering season: Autumn
PH: Acid, Neutral
Flower colour: White, Mauve/Lilac
Aspect: Full Sun, Morning Sun (Semi Shade), Afternoon Sun (Semi Shade)
Gardening skill: Easy
Special Features:
Drought resistant
Good potplant
Horticultural zones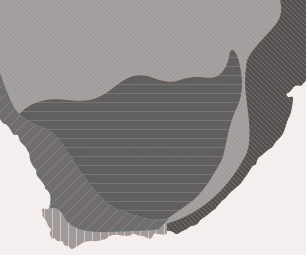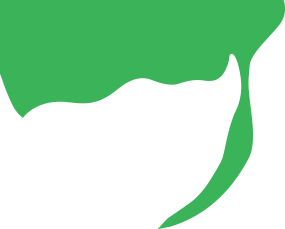 Zone 1 Coastal summer rainfall, frost free
Zone 2 Coastal winter rainfall, frost free
Zone 5 Bushveld summer rainfall, Light frost
Google QR Code Generator