Albuca lebaensis (Van Jaarsv.) Manning & Goldblatt
Family: Hyacinthaceae
Common names: Leba cliff albuca (Eng.); lebakransbol (Afr.)
Introduction
A rare endemic from cliffs adjacent to Leba Pass, near Lubango, in southwestern Angola. It has drooping leaves and a pendent inflorescence of densely packed, white flowers. Best grown in containers or hanging baskets.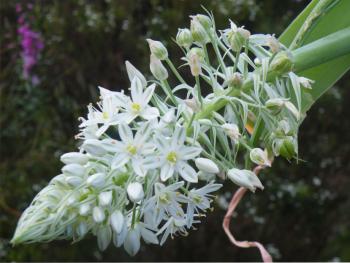 Description
Description
Plants are winter deciduous, solitary or dividing to form small clusters, pendent, from sheer cliffs. Bulbs are rounded to egg-shaped, 30–40 × 20–30 mm, the bulb scales white, fleshy and somewhat transparent. The outer scales drying greyish, bearing dark transverse ridges towards the neck. The roots are whitish, less than 1 mm in diameter. The leaves 4 or 5, appear more or less at the same time as the inflorescence, oblong and drawn to a point, 700–820 × 25–35 mm, hanging and spirally curved, semi-succulent, soft and flaccid, the upper surface channelled, rounded at the apex, the surface greyish green with an entire margin.
Inflorescence is 200–300 mm, pendent, 1 or 2 per plant. The raceme is conical, 80–140 × 55–70 mm long (multi-flowered), with a stalk 120–150 mm long, about 5 mm in diameter at base and inflating to 10–15 mm in diameter at the centre, tapering again in upper half, and same colour as the leaves. The bracts are conspicuous, white, clasping pedicel and channelled; older bracts remain functional until inflorescence expires; lower bracts 45–60 × 6–7 mm, becoming smaller upwards. Lower pedicel 12–17 × 0.7–1 mm, becoming shorter upwards, the lower pedicels lengthening in fruit to about 30 mm. The flowers are densely arranged (35–50), each bearing 5, spreading, white petals, 20 mm in diameter, sweetly scented. The stamens are 8 mm long The ovary yellowish green, ridged, tapering at the apex, 4.5 × 4.5 mm. The style 3 mm long, extending to 5 mm when mature, , erect, white. The fruiting capsule is 7–9 × 7–9 mm. The seed is flattened, half-moon shaped, angular, about 4 × 2 mm, black, with a shiny surface.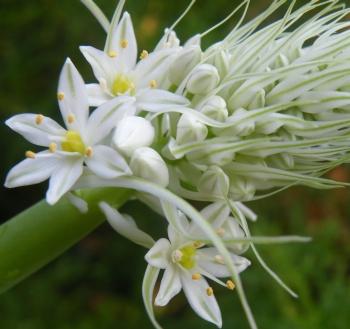 Albuca lebaensis flowers in winter (June–August) and during which time the leaves becomes dormant. Seeds are dispersed by wind in spring (September onwards).
Conservation Status
Status
Albuca lebaensis, although only known from Leba Pass, is not threatened because of its safe cliff-face habitat.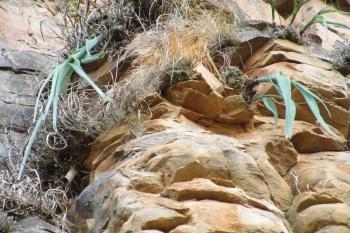 Distribution and habitat
Distribution description
Albuca lebaensis is known only from the vertical sandstone cliffs (northeast-facing) along the inland Escarpment Mountains (west of Lubango) of southwest Angola.
The vegetation of the region consists of grassland (upper slopes), miombo (dense savannah rich in Brachystegia) and Afromontane Forests along the escarpment margin and in sheltered kloofs. It grows on cliffs below the spectacular lookout point at Leba Pass, at altitude of about 1 800 m (Fig. 3) and adjacent to the spectacular Leba Pass. At Leba Pass, the plants share their habitat with plants such as Aloe mendesii and A. vallaris, Crassula lanceolata and Kalanchoe lanceolata. The climate is subtropical, and with mild, frost free winters. The northwest-facing cliffs have shady conditions in the morning and full sun during the afternoons. The mainly summer rainfall ranges from ± 1 000–1 500 mm per annum. Summer temperatures are high during the day. Plants are pollinated mainly by insects.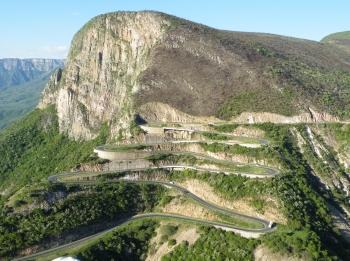 Derivation of name and historical aspects
History
Albuca lebaensis was named by the author in 2010 in the American bulb journal 'Herbertia' from plants collected during January 2009, on an expedition to Angola arranged by Prof. Brian Huntley, former director of the National Botanical Institute. The specific epithet lebaensis, pertains to the Leba Pass in southwest Angola, where this species grows. It was originally named as Ornithogalum lebaense, but after phylogenetic analysis of nuclear and plastid DNA sequence data DNA research (Manning et al. 2009), it was transferred to Albuca by the botanists John Manning and Peter Goldblatt, in 2011 in Bothalia (Manning & Goldblatt 2011).
A few bulbs were collected from the Leba Cliffs in January 2009 and grown at Kirstenbosch National Botanical Garden in the Cliff House of the Nursery. It came into flower in winter 2010, when the plant could be decribed and illustrated by Vicki Thomas. Whilst growing in its container, the leaves and inflorescence spontaneously became pendent.
It is related to Albuca bracteata (pregnant onions), the latter with larger, green, exposed bulbs and an ascending, much longer inflorescence and the bulbs tend to make daughter bulbils at the base of the stem.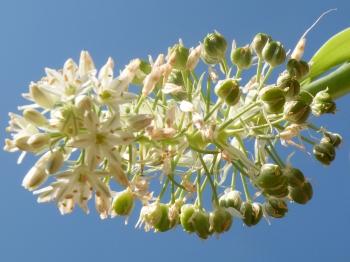 Ecology
Ecology
Plants grow on sheer cliffs and the habitat is largely undisturbed by larger herbivores. It grows in crevices and ledges, with the leaves and inflorescence hanging. Although grown in a pot at Kirstenbosch and in an erect position, the leaves bent down, and later the inflorescence followed, retaining this pendent growth. This plant is clearly an obligatory cliff dweller. Although the run-off in its native habitat is extreme, sufficient moisture is retained in the crevices and ledges in summer and plants also receive some moisture from fog.
Reproduction on cliffs also poses a challenge. The scented flowers suggest an insect as pollinator, which could also be during the night. The flowering period is about 30–45 days. The conspicuous, long, white bracts remain functional until the last flower expires, and as an example of 'rich flowering', maximises its visibility to attract pollinators. In cultivation, the leaves appear during late spring (November). After pollination, the fruiting capsule matures from early spring and disperses its small, black, half-moon-shaped seed. The flattish seeds suggest dispersal by winds. Cliffs often receive updrafts, scattering the seeds on the cliff.
The leaves of Albuca lebaense are semi-fleshy, spirally curved, grey-green (due to a powdery bloom protecting it from desiccation). The leaves soon wither after flowering, when the plant goes into rest. Up to 2 inflorescences can be produced in succession.
Uses
Use
No uses other than horticulture are known.
Growing Albuca lebaensis
Grow
Albuca lebaensi is grown more as a curiosity plant. Easily grown, but care should be taken to avoid too much water, which can cause rot. It is best grown in containers under controlled conditions.
Sow seed in a sandy soil mixture in spring or summer. Germination should be within 4 weeks. Transfer to individual containers when big enough to handle. The plants grow best in a sandy, slightly acid medium. Water well in summer, keep completely dry in winter. Plants will react to a mild organic fertilizer during the summer months, enhancing its growth performance. It should grow well in hanging baskets from which the leave and inflorescence can droop.
References
Manning, J. & Goldblatt, P. 2011. Hyacinthaceae. Ornithogalum lebaense transferred to Albuca. Bothalia 41, 2: 297.
Manning, J.C. et al. 2009. A molecular phylogeny and a revised classification of Ornithogaloideae (Hyacinthaceae) based on an analysis of four plastid DNA regions. Taxon 58 (1): 77-107.
Van Jaarsveld, E.J. 2010. Ornithogalum lebaense, A new cliff dwelling ornithogalum. Herbertia 64: 91–103.
Credits
E.J. van Jaarsveld
Kirstenbosch National Botanical Garden (Retired)
Babylonstoren Farm
Extraordinary senior lecturer and researcher, Department of Biodiversity and Conservation, University of the W. Cape.
August 2016
Plant Attributes:
Plant Type: Bulb
SA Distribution:
Soil type: Sandy
Flowering season: Winter
PH: Acid, Neutral
Flower colour: White
Aspect: Full Sun, Shade, Morning Sun (Semi Shade), Afternoon Sun (Semi Shade)
Gardening skill: Challenging
Special Features:
Drought resistant
Fragrant
Good potplant
Indoor plant
Horticultural zones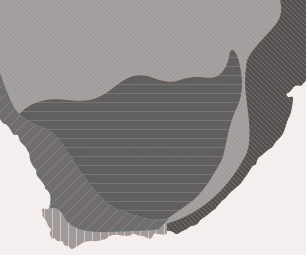 Zone 1 Coastal summer rainfall, frost free
Google QR Code Generator