Aloe gerstneri Reynolds
Family: Asphodelaceae
Common names: gerstner's aloe (Eng.); isihlabana (Zul.)
Introduction
The regal Aloe gerstneri stands tall, with an orange ombre inflorescence, in its natural habitat, the rocky grasslands. 
Description
Description
This endemic, majestic aloe grows as individual, rounded, rosettes, about 1 m tall. The stems are usually short and seldom branched. The succulent leaves grow in rosettes of about 20 to 30 individual leaves, growing to about 600 mm long and 90 mm wide. The leaves are wider at the base and taper to a point. The upper surfaces of the leaves are grey-green, smooth, and flat or somewhat curved inwards. The bottom surfaces of the leaves are grey-green, smooth, flat or somewhat curved outwards. Young leaves have about 3–5 mm long, spiky teeth along the leaf margins, that are spread out, about 10–15 mm apart. The teeth are light brown, developing from a lighter coloured or white base. In adult plants, the leaves do not have teeth on their exterior. A few teeth may be observed in some adult plants, close to the tip of the leaf on the lower side.
Juvenile plants produce an individual inflorescence, however, as the plant matures, it produces an inflorescence that has 2 or more branches. Each inflorescence grows to about 360 mm long and 65 mm wide, appearing a darker shade of orange while in bud, and lighter in colour while in full bloom. The flowers of Aloe gerstneri are shades of orange. Each flower within the inflorescence is about 30 mm long, cylindrical, elongated and slender, progressively tapering to point. The pedicels of each flower grow to about 5 mm long. The bracts are 18 mm in length and 5 mm in width. Aloe gerstneri is known to flower in late summer, between February and March.
The smooth leaf surface and brown marginal teeth distinguish Aloe gerstneri from A. aculeata and A. reitzii. Aloe gerstneri is also comparable to A. petricola, which differs in flowering time and contains longer, bicoloured inflorescences.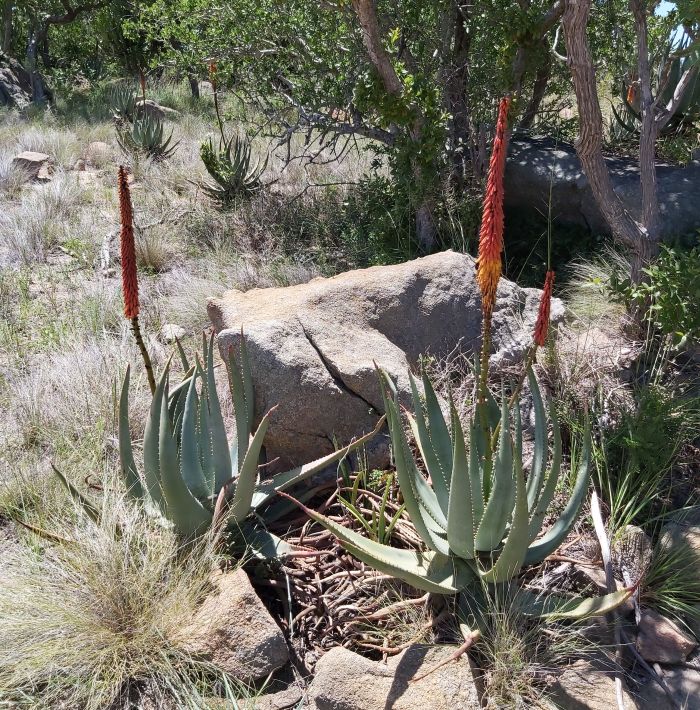 Conservation Status
Status
In the 1960s and 1970s, Aloe gerstneri was significantly harvested for ornamental horticulture, leading to a substantial decline in the already restricted populations, however, in recent years these populations have somewhat stabilized under protection. According to the South African National Biodiversity Institute's Red List of South African plants, Aloe gerstneri is currently listed as Endangered (EN). The species only occurs at one site in KwaZulu-Natal, where it is currently protected. However, the persisting threats of habitat loss, degradation and overgrazing continue to influence the sustainability of these populations, to such end that nearly 30% of its natural habitat has deteriorated to an extent which cannot be improved.
The Custodians of Rare and Endangered Wildflowers (CREW) recently visited the site and observed 2 thriving populations.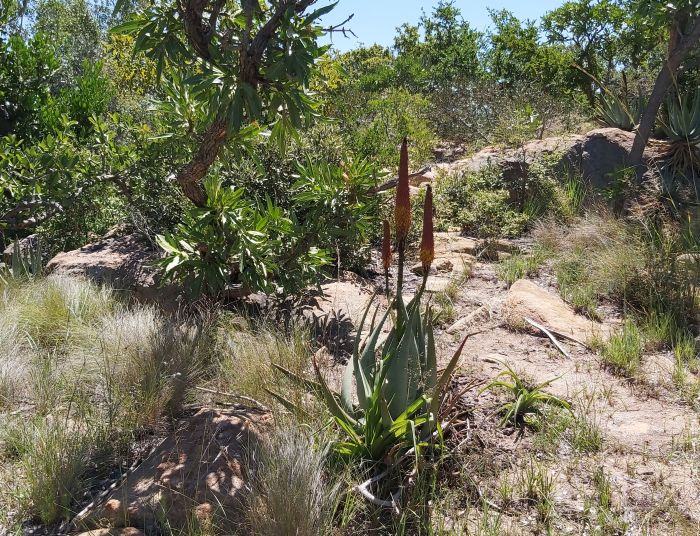 Distribution and habitat
Distribution description
Aloe gerstneri is considered to be a rare, range-restricted species, only occurring in the Babanango District within central KwaZulu-Natal, in a 334 km2 radius. The species flourishes within the KwaZulu-Natal Highland Thornveld, amongst rocky outcrops and grassy slopes adjacent to streams and rivers.
Derivation of name and historical aspects
History
The genus name Aloe originates from the Arabic word alloeh, which is defined as a 'shining bitter substance' in English. This is in reference to the bitter, sappy substance, produced within the leaves of aloes.
Aloe gerstneri was named in tribute to Rev. F.J. Gerstner, who first located and collected the species in 1931. The species was later described by Mr Gilbert Westacott Reynolds, who received a specimen while at Kirstenbosch, 5 years after the first collection. At the time Mr Reynolds was the chief specialist on the genus Aloe.
Ecology
Ecology
The brightly coloured inflorescences of Aloe gerstneri are visited by a number of different pollinators, including butterflies, beetles, bees and small birds, who consume the nectar and pollen in the flowers.
Uses
Use
Aloe species in general are widely known for their medicinal properties and thus, severely harvested across South Africa. However, there are no records of traditional, economic or medicinal uses for Aloe gerstneri thus far. It is occasionally seen in gardens, but is not a well-known garden ornamental.
Growing Aloe gerstneri
Grow
No information on the cultivation of Aloe gerstneri could be found. However, some papers suggest that the species could grow easily in cultivation. Reynolds collected multiple specimens on his expedition to the site in the late 1930s, which were then transported to Kirstenbosch National Botanical Garden in Cape Town and the Botanical Section, Division of Plant Industry in Pretoria and replanted at the gardens. Aloe gerstneri grows well in full sunlight, in well-drained soils, in regions that receive minimal rainfall in summer and a dry winter. It is well suited to a sunny rockery and when grown in containers, would need well-drained soil.
This species could be propagated by seeds sown in spring or early summer, in sandy well drained soils.
The species, in theory, could be propagated, like many other aloes, from cuttings. This can be done by cutting the stems below the nodes and allowing a seal to develop on the exposed wound. The stems are then placed into pots containing moist soils, ideally obtained from its natural habitat.
References
Glen, H.F. & Hardy, D.S. 1990. Aloe gerstneri. Flowering Plants of Africa 51(1): t. 2008.
Klopper, R. & Smith, G. 2010. Aloe L. (Asphodelaceae). PlantZAfrica. Online. http://pza.sanbi.org/aloe-genus[
Moeketsane, T. 2020. Aloe spicata L.f. (Asphodelaceae). PlantZAfrica. Online. http://pza.sanbi.org/aloe-spicata
Mtshali, H., Victor, J.E., Van Wyk, E. & Smith, G.F. 2018. Aloe gerstneri Reynolds. National Assessment: Red List of South African plants version 2020.1. Accessed on 26 November 2020.
National Gardening Association, Plants Database. Gerstner's Aloe (Aloe gersterni). https://garden.org/plants/view/118191/Gerstners-Aloe-Aloe-gerstneri/. Accessed on 24 November 2020.
Reynolds, G.W. 1937. Two new aloes from Zululand and two from the Transvaal. Journal of South African Botany 3: 133–141.
Reynolds, G.W. 1969. The aloes of South Africa. Balkema, Cape Town.
Surjushe, A., Vasani, R., & Saple, D.G. 2008. Aloe vera: a short review. Indian journal of dermatology 53(4): 163.
Van Wyk, B.-E. & Smith, G. 2003. Guide to aloes of South Africa. (2nd ed.). Briza Publications, Pretoria.
Credits
Kaveesha Naicker
Crew Programme
December 2020
Plant Attributes:
Plant Type: Shrub, Succulent
SA Distribution: KwaZulu-Natal
Soil type: Sandy, Loam
Flowering season: Late Summer
PH:
Flower colour: Orange
Aspect: Full Sun
Gardening skill: Average
Special Features:
Attracts birds
Attracts butterflies
Drought resistant
Feeds honeybees
Horticultural zones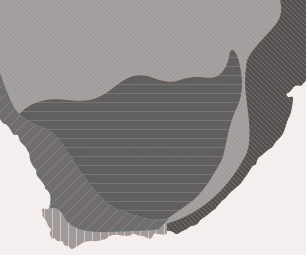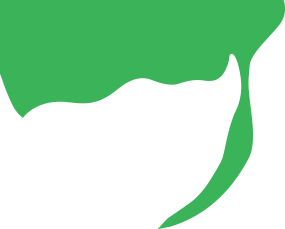 Zone 1 Coastal summer rainfall, frost free
Zone 5 Bushveld summer rainfall, Light frost
Google QR Code Generator