Aloe kniphofioides Baker
Family: Asphodelaceae
Common names: grass aloe, red poker grass aloe (Eng.); grasaalwyn (Afr.)
Introduction
Aloe kniphofioides is an attractive, stemless, grass-like aloe, with short serrated leaves and an ovoid, bulb-like swelling below ground. The lax inflorescence and distinct bulb of this species distinguish it from all other southern African aloes.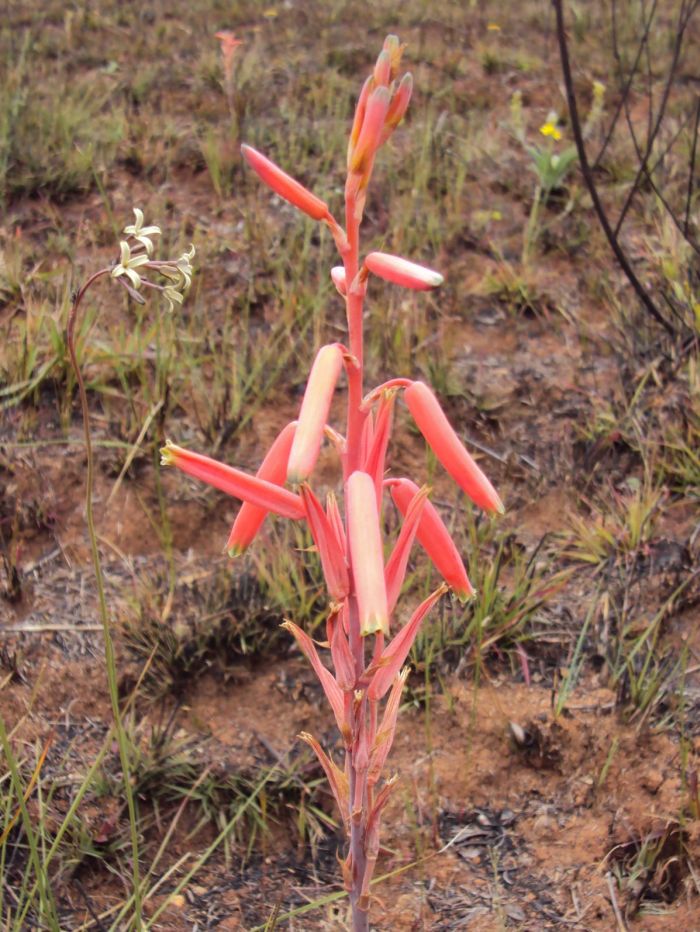 Description
Description
Aloe kniphofioides is an indigenous succulent plant from the Aloe group that grows in the Grassland Biome. A. kniphofioides has a bulb-like swelling below ground and fusiform roots, forming an ovoid shape. This aloe can be confused for a grass in the grassland because of its grass-like leaves. It has thin serrated leaves, multifarious, about 200–300 mm long, 6–7 mm broad. This species has cigar- to pencil-shaped, scarlet flowers that are borne on an elongated flower stalk of up to 550 mm long, standing out above the leaf apices.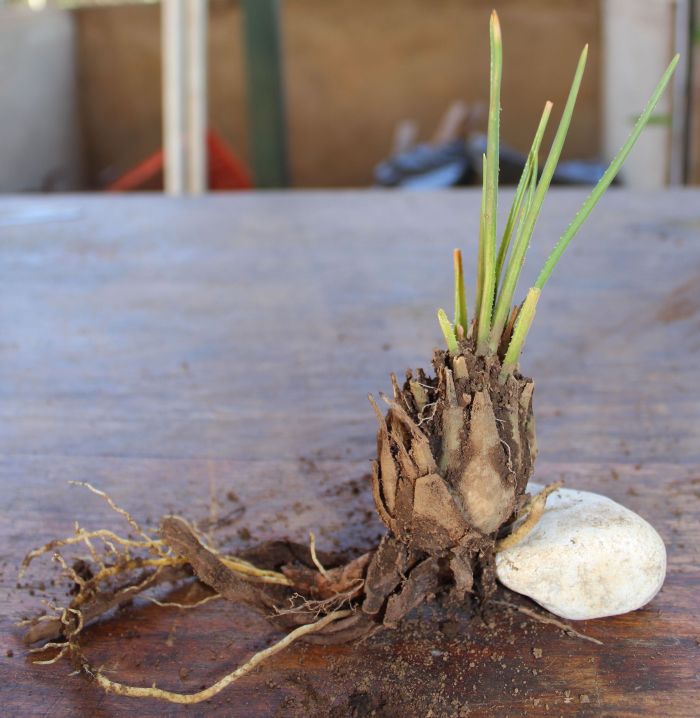 Aloe kniphofioides is easily distinguished from other aloes by its distinctive underground bulb-like structures and the long and narrow leaves. The only other South African aloes with bulbous bases are Aloe inconspicua and A. modesta. But these species have red and yellow flowers respectively.  
Aloe kniphofioides flowers in late spring to early summer, between November and December. In late summer and autumn, after flowering, it produces seeds that are 2–3 mm in diameter.
Conservation Status
Status
Aloe kniphofioides is assessed as Vulnerable (VU) in its natural habitat. Loss of habitat is the major cause of this conservation status. The species population has reduced by at least 30% based on a 42% loss of habitat as a result of afforestation, inappropriate fire management, loss of pollinators, coal mining and alien plant invasion, over the past 50–80 years. Grassland habitat in Mpumalanga and Northern KwaZulu-Natal, where the species naturally occur is 37% transformed, whereas grassland habitat in the Eastern Cape is 55% transformed, bringing the total transformation of grasslands, where the species occurs, to 42%.
The grassland habitat for Aloe kniphofioides is ideally suited for forestry, and the loss of habitat to forestry has also caused a great decline of pollinators, which is also impacting the population of the species. This species depends on fires for flowering. With forestry activities, grassland is either not burnt, or burnt too frequently in fire breaks, preventing young seedlings from establishing. In some areas, like Mpumalanga, the habitat has been disturbed, if not completely lost, because of coal mining. Alien species have taken over the open grasslands, further reducing the suitable habitat for this species.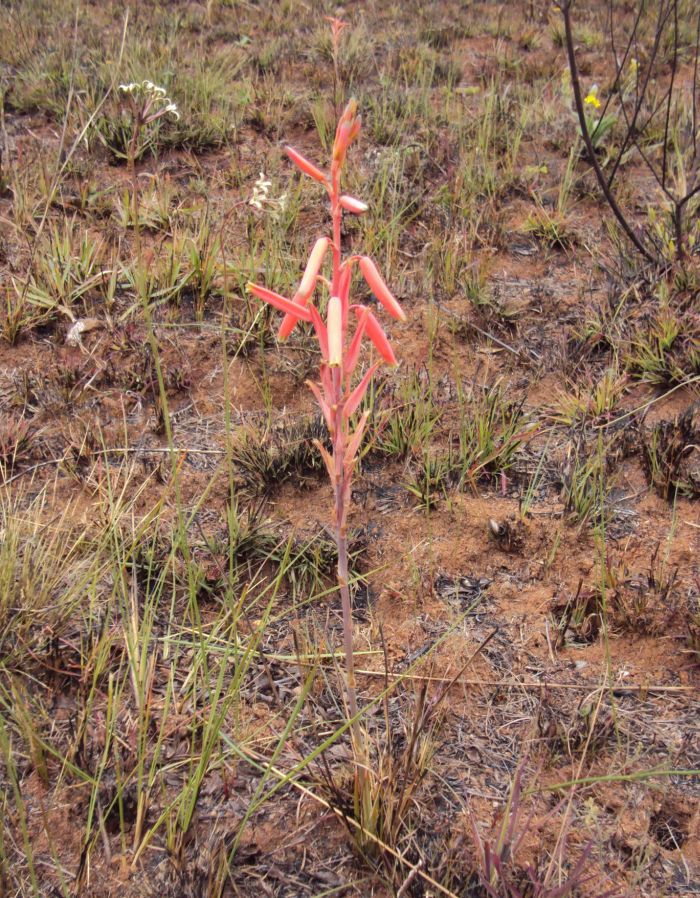 Distribution and habitat
Distribution description
Aloe kniphofioides is known to naturally occur in northern KwaZulu-Natal grassland, southern Mpumalanga grassland and in the northeast of the Eastern Cape.
This indigenous, late spring-flowering aloe is distributed in the Grassland Biome. They grow at high altitude, generally between 1 200 and 1 500 m, in hilly and mountainous areas, occurring in stony ground and damp grass places. Summer temperatures are moderate to warm, whereas frost occurs in winter. These are summer rainfall regions, depending on localities, averaging from 750 to 1 250 mm per annum.
Derivation of name and historical aspects
History
With over 500 known species in the Aloe genus, it is a well-represented genus in the Asphodelaceae family in southern Africa. Aloe genus has a long history of use in Africa, particularly for assorted pharmaceutical purposes.
The name aloe is from the Greek alsos and refers to the bitter juice from the leaves of these plants. It is probably derived from the earlier Arabic word alloeh or the Hebrew word allal, both meaning 'bitter'. Grass-like upright leaves of Aloe kniphofioides and its striking bright flowers on an elongated flower stalk resembles features of the Kniphofia genus, hence kniphofioides, meaning 'like Kniphofia' as the species name of this aloe.
Ecology
Ecology
Aloe kniphofioides is a grassland aloe and, therefore, fire is essential to the survival of A. kniphofioides. With its bulb-like roots and succulent nature, the plants survive the fires and resprout. The flowering is prolific after fire, attracting a great number of pollinators. Some of the significant pollinators are Sunbirds (species of Nectarinia). There are now fewer Sunbirds because of extensive monoculture of eucalyptus and pine trees. Consequently, the seed set has been poor in recent years, with few to no seedlings or young plants in the populations.
Uses
Use
With its upright leaves and racemes of striking orange-red to scarlet flowers, Aloe kniphofioides is a beautiful plant. In cultivation, it is mostly planted in earthenware containers as a pot plant in display gardens. In mass planting, they are planted in between large rocks. With its bright flowers it can be used to attract birds in the garden.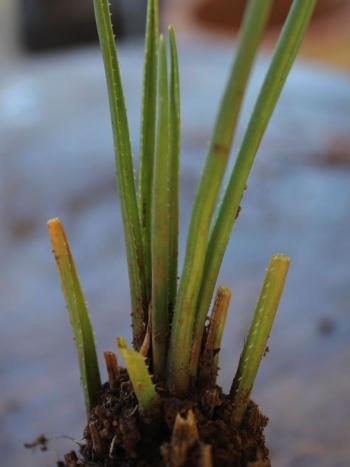 Growing Aloe kniphofioides
Grow
Like many species of the Aloe genus, Aloe kniphofioides should be grown in a well drained soil. They thrive in a mixture of one third sandy soil, one third river sand or fine gravel and one third very well-rotted compost. Finely sieved peat moss can be used instead of compost. A. kniphofioides grow best in earthenware containers as they absorb any access moisture after irrigating. This plant should be grown in a position of morning sunlight or light dappled shade. In summer rainfall areas the plant can also be cultivated in a rockery provided that the position has deep soil and it is well drained, as it is the case in its natural habitat. In midwinter, late July or early August, dry veld grass should be heaped around the dead leaves of adult plants and ignited. It should be regularly watered afterwards. The burning usually stimulates flower bud formation a few weeks later.
The plant should be well watered throughout spring and summer. Watering should be reduced and the plants kept completely dry during the winter months.
Aloe kniphofioides rarely sets any seed in cultivation. It needs hand pollination while the plants are in flower. Seeds should be sown in the late spring. Scatter them on the soil surface of deep seed trays or earthenware pots and lightly cover with soil. The bottom of the container has to be filled with a coarse drainage medium. Seeds are sown in the same mixture used for propagation of adult plants. Soil should be kept moist throughout the germination period and for the remainder of the summer while the seedlings are developing. They should be kept dry and in a cool, shaded place for the duration of winter. Seedlings of Aloe kniphofioides are usually ready for transplanting at the beginning of the third growing season.
References
Craib, C. 2005. Grass aloes in the South African veld. Umdaus Press, Pretoria.
Gibson, J.M. 1978. Wild flowers of Natal (inland region). The Trustees of the Natal Publishing Trust Fund, Durban.
Grace, O.M., Klopper, R.R., Figueiredo, E. & Smith, G.F. 2011. The aloe names book. Strelitzia 28: i–viii.; 1–232. South African National Biodiversity Institute, Pretoria and the Royal Botanic Gardens, Kew.
Jeppe, B. 1969. South African aloes. Purnell, Cape Town.
Lötter, M., Burrows, J.E., Craib, C., Von Staden, L. & Raimondo, D. 2006. Aloe kniphofioides Baker. National Assessment: Red List of South African plants version 2017.1. Accessed on 2019/10/17.
Reynolds, G.W. 1982. The Aloes of South Africa. A.A.Balkema, Cape Town.
Credits
Mpho Mathalauga
KwaZulu-Natal National Botanical Garden
November 2019
Plant Attributes:
Plant Type: Bulb, Succulent
SA Distribution: Eastern Cape, KwaZulu-Natal, Mpumalanga
Soil type: Sandy, Loam
Flowering season: Spring, Early Summer
PH:
Flower colour: Red, Orange
Aspect: Full Sun
Gardening skill: Challenging
Special Features:
Attracts birds
Good potplant
Horticultural zones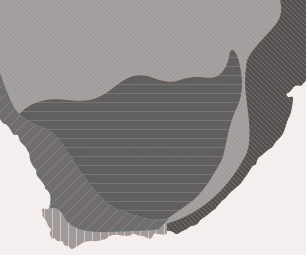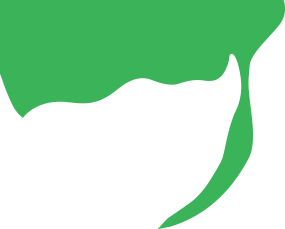 Zone 1 Coastal summer rainfall, frost free
Zone 5 Bushveld summer rainfall, Light frost
Google QR Code Generator