Aloe komaggasensis Kritz. & Van Jaarsv.
Family: Asphodelaceae
Common names: Komaggas coral aloe (Eng.); makaalwyn, streepaalwyn, gladdeblaaraalwyn (Afr.)
Introduction
 This aloe was previously known as Aloe striata subsp. komaggasensis.  It is relatively new to science and not established at all in horticulture and is therefore not well known amongst garden aloes.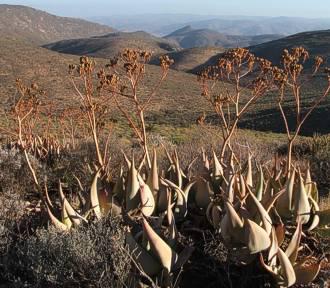 Description
Description
Aloe komaggasensis grows in dense groups mostly on high undulating hills. Plants are stem-less but in old specimens short, creeping stems may form that are normally covered with persistent dry leaves.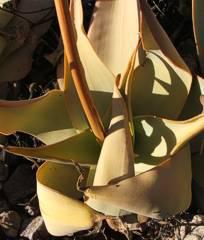 The leaves vary in colour depending on season and climatic conditions but they are generally a light grey-green colour with a distinctive whitish tinge and fine vertical lines on the leaf surface. The leaves, which are broader in the middle section and narrowing towards the tip and base, are flat, broad and boat-shaped and are arranged in rosettes. The spineless margins have a pinkish or reddish edge, giving the plant a soft and appealing appearance.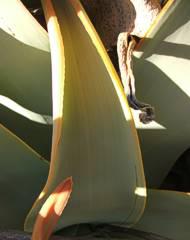 The flowers are formed on well-branched racemes of which there may be three at a time. The shape of the racemes varies from head-shaped to cone-shaped. The flowers have slightly swollen bases and, to some extent, resemble those of the other spotted aloes. Flower colour varies from pinkish-red to bright orange. A. komaggasensis flowers in the summer from November to January.
As shown in the image below, the flowers of Aloe striata subsp. striata are very similar to those of A. komaggasensis.
Conservation Status
Status
Aloe komaggasensis is classified as Vulnerable (Raimondo et al. 2009) due to its localized range in Namaqualand and the impact of overgrazing and injudicious collecting.
Distribution and habitat
Distribution description
Aloe komaggasensis is found in vegetation transitional between Renosterveld and Succulent Karoo in the Succulent Karoo Biome. It occurs on the Namaqualand escarpment of the Northern Cape and is known from only a few populations on high hill slopes of eroded quartz and granite substrates.
Derivation of name and historical aspects
History
The genus name Aloe is derived from the Arabic, alloch, and translated as allal in Greek and Hebrew, literally meaning bitter or bitter sap, which is descriptive of aloe sap. The specific epithet refers to the village Komaggas near where the plant was found.
Ecology
Ecology
The swollen flower bases of A. komaggasensis contain large nectaries that produce good supplies of nectar which are offered as a reward to pollinators such as sugar birds, as well as winged and crawling insects. After fertilization, the fruits, which are capsules, grow quickly and split open into three flaps, called valves, in summer to release the wind-dispersed seeds.
The plant itself is very tough and can survive, often for several seasons, without water, at which point the leaves turn a reddish colour to protect the plant against the high intensity ultra violet sun rays much in the same way as sun-block protects the human skin. The leaves also curl inwards to protect the young leaves from heat stress. Aloe komaggasensis is not known to be eaten by many animals, beside occasionally by rock hyrax, porcupine, and hare. However, the negative effects of overgrazing on its habitat and associated plant communities continue to pose a threat to its long-term survival.
Uses
Use
No medicinal uses are recorded for Aloe komaggasensis. There is no doubt that it would be a very attractive plant for arid gardens and containers although its cultivation may be somewhat challenging.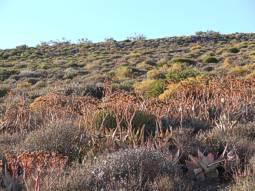 Growing Aloe komaggasensis
Grow
It grows best from freshly harvested seeds, and care must be taken to avoid overwatering and too much shade as these may lead to ideal conditions for fungal and viral infections as well as root rot. Once established, plants grow relatively fast if well-drained soils and ample sunlight are provided.
Companion plants include Aloe striata subsp. striata, A. striata subsp. karasbergensis, A. khamiesensis, A. microstigma, A. falcata and A. melanacantha. Other additions to consider are Lampranthus multiradiatus, L. aureus, L. reptans, Pelargonium echinatum, P. xerophyton, P. spinosum, P. sericifolium, P. crithmifolium, Stoeberia arborescens, Gazania krebsiana, Hermannia saccifera, Oscularia deltoides, Drosanthemum bicolor and Ruschia maxima.
References
Court, D, 1981. Succulent flora of Southern Africa. Balkema, Cape Town.
Germishuizen, G.& Meyer, N.L. (eds) 2003. Plants of southern Africa: an annotated ecklist. Strelitzia 14. National Botanical Institute, Pretoria.
Leistner, O.A. (ed.). 2000. Seed plants of southern Africa: families and genera. Strelitzia 10. National Botanical Institute, Pretoria.
Raimondo, D., Von Staden, L., Foden, W., Victor, J.E., Helme, N.A., Turner, R.C., Kamundi, D.A. & Manyama, P.A. (eds) 2009. Red List of South African plants. Strelitzia 25.South African National Biodiversity Institute, Pretoria.
Reynolds, G.W. 1950. The aloes of South Africa. The Trustees of The Aloes of South Africa Book Fund, Johannesburg.
Stearn, W. T. 2003. Stearn's dictionary of plant names for the gardener. Cassel, UK.
Smith, C.A. 1966. Common names of South African plants. Memoirs of the Botanical Survey of South Africa no. 35.
Smith, G.F. & Van Wyk, B.-E. 2008. Aloes in southern Africa. Struik, Cape Town.
Van Wyk, B.-E. & Smith, G. 1996. Guide to the aloes of South Africa. Briza Publications, Pretoria.
Grace, OM; Klopper, RR; Figueiredo, E; Smith, GF 'The aloe names book.' Strelitzia 28 (2011): 1-232
Credits
Werner Voigt
Karoo Desert NBG
July 2011
Plant Attributes:
Plant Type: Succulent
SA Distribution: Northern Cape
Soil type: Clay
Flowering season: Early Summer
PH: Alkaline
Flower colour: Red, Pink, Orange
Aspect: Full Sun
Gardening skill: Challenging
Special Features:
Attracts birds
Drought resistant
Good potplant
Horticultural zones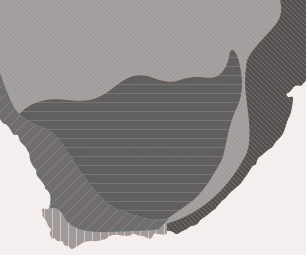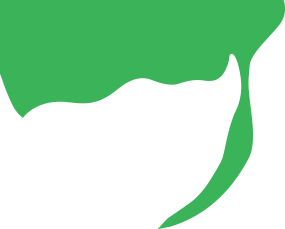 Zone 3 Winter rainfall Karoo, light frost
Zone 4 Summer rainfall Karoo and Highveld, Frost in winter
Zone 5 Bushveld summer rainfall, Light frost
Google QR Code Generator