Aloe reitzii var. vernalis
Aloe reitzii Reynolds var. vernalis D.S.Hardy
Family: Asphodelaceae
Common names: Vryheid aloe
Introduction
Aloe reitzii var. vernalis is a rare endemic known from a single population, growing on steep slopes around Vryheid in KwaZulu-Natal. It has showy, dark red flower spikes in spring.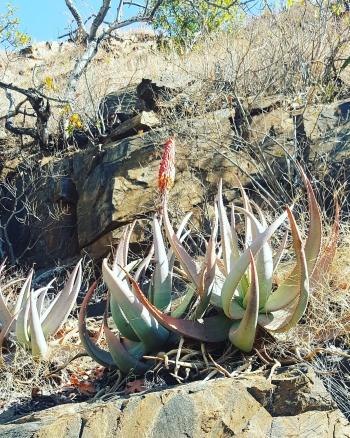 Description
Description
Aloe reitzii var. vernalis is a succulent that reaches about 500 mm high, usually stemless or rarely with a stem. Leaves are tightly packed, arranged in a circle, long, broad at the base, up to 120 mm wide. Leaf surfaces smooth or sometimes a line of thorns appears near the tip of the lower leaf surface. Leaf margins armed with sharp reddish brown teeth, that are 3 mm long.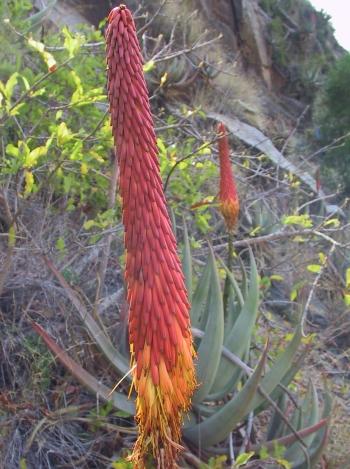 Simple inflorescence in juvenile plants, whereas it can be branched up to 4 times in mature plants. Flowers are neatly packed and pointing downwards, curved, narrow and tubular, up to 50 mm long, dark red, but gradually turning yellow. Plants flower in late winter to spring (August to September). The mature fruits are very small, 15 mm long and 10 mm in diameter. When the fruits are dry, they split open to release brown to black, mature seeds. 
Aloe reitzii var reitzii differs from this variety in having larger floral bracts and larger fruits (25 mm long), and it flowers in late summer (February to March).
Conservation Status
Status
The species is rare and highly threatened and listed as Critically Endangered (CR) in the Red List of South African plants (Victor & Van Wyk 2007). It is known from one locality and the subpopulations are declining because of harvesting for medicinal use and damage by baboons. Prickly pear seedlings have established into the cliffs and are becoming invasive and a potential threat.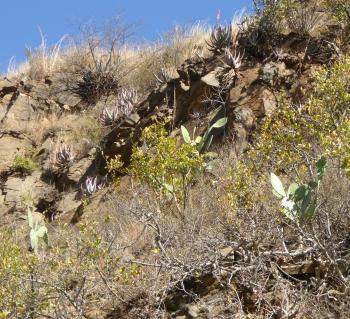 Distribution and habitat
Distribution description
Aloe reitzii var. vernalis is confined to dry, granitic, rocky, grassland areas in the Vryheid district of KwaZulu-Natal where it is found on steep cliffs. It is not common and occurs scattered in large subpopulations. Associated species include Aloe marlothii (mountain aloe, flat-flowered aloe) and Kalanchoe luciae (paddle plant). Rainfall in the habitat is about 860 mm per annum and is mainly in summer. The winters have little or no rain and frost is common. The climate is warm and temperate, the average annual temperature is 17.6°C.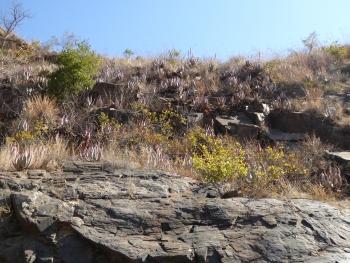 Derivation of name and historical aspects
History
The genus name Aloe is the Latinized version of the Arabic name for aloe, alloeh, meaning 'the bitter and shiny substance'. The species name reitzii, is named after Mr F.W. Reitz, who discovered the plant and drew the attention of botanists to it. The variety vernalis refers to the flowering season spring (August to September). There are about 500 species within the genus, of which 135 occur in southern Africa and some 125 in South Africa alone.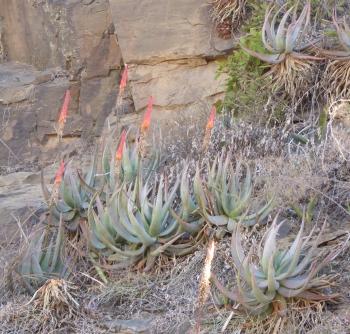 Ecology
Ecology
Aloe reitzii var. vernalis is pollinated by sunbirds that feed on nectar produced by flowers.
Uses
Use
Apart from its horticultural use, not much information is known about its medicinal use or cultural purposes.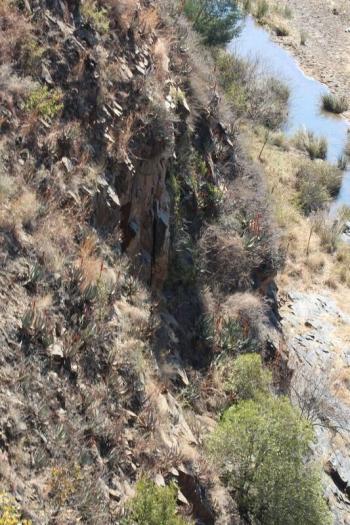 Growing Aloe reitzii var. vernalis
Grow
One of the beautiful things about Aloe reitzii var. vernalis is how it thrives in harsh conditions. The plant survives dry winter, fires and summer droughts. It can be propagated by sowing seeds on a well-drained seedling medium, lightly covered. Plants are very susceptible to fungi and pests in cultivation. Use a pesticide and fungicide for control. After 2 to 5 weeks, the seedlings will emerge and can be transplanted into individual containers after 6 months. It is important to ensure there is good soil drainage and full sun conditions. Aloe reitzii var. vernalis requires little watering. Seed grown plants may take 5 to 7 years from sowing, to flower (Andrew Hankey pers. comm.)
References
Grace, O.M., Klopper, R.R., Figueiredo, E. & Smith, G.F. 2011. The aloe names book. Strelitzia 28: i–viii.; 1–232. South African National Biodiversity Institute, Pretoria and the Royal Botanic Gardens, Kew.
Hardy, D.S. & Reid, C. 1981. A new variety of Aloe from the Vryheid District: Aloe reitzii var. vernalis. Bothalia 13(3 & 4): 451, 452.
Mucina, L. et al 2006. Grassland Biome. In Mucina, L. & Rutherford, M.C. (eds) 2006. The vegetation of South Africa, Lesotho and Swaziland. Strelitzia 19: 348–437. South African National Biodiversity Institute, Pretoria.
Shane-McWhorter, L. 2007. Complementary & alternative medicine supplement use in people with diabetes: a clinician's guide. American Diabetes Association. United States of America.
Victor, J.E. & Van Wyk, E. 2007. Aloe reitzii Reynolds var. vernalis D.S. Hardy. National Assessment: Red List of South African plants version 2017.1. Accessed on 2017/10/03.
Credits
Hlengiwe Mtshali
Custodians of Rare and Endangered Wildflowers (CREW)
December 2017
 
Plant Attributes:
Plant Type: Succulent
SA Distribution: KwaZulu-Natal
Soil type: Sandy
Flowering season: Spring
PH: Acid
Flower colour: Red, Yellow
Aspect: Full Sun
Gardening skill: Easy
Special Features:
Attracts birds
Drought resistant
Good potplant
Medical plant
Feeds honeybees
Horticultural zones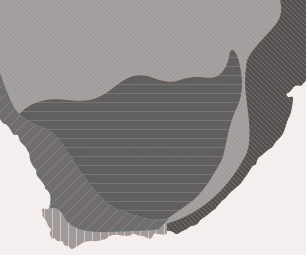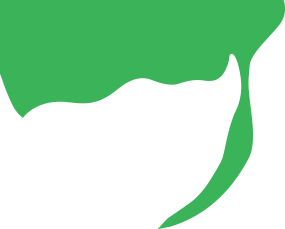 Zone 4 Summer rainfall Karoo and Highveld, Frost in winter
Zone 5 Bushveld summer rainfall, Light frost
Google QR Code Generator