Aloe simii Pole Evans
Family: Asphodelaceae
Common names: Sim's aloe
Introduction
A beautiful, stemless aloe, with a rosette of broad, milky-green leaves and eye-catching strawberry pink flowers in summer; a rare and endangered endemic in Mpumalanga.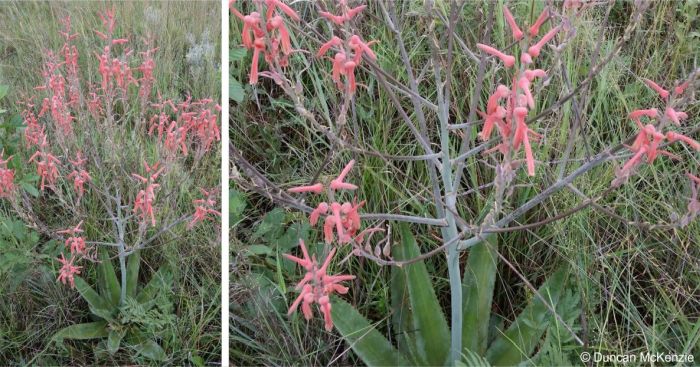 Description
Description
Aloe simii is an evergreen, solitary, stemless, succulent perennial plant that grows 250–400 mm tall, excluding the inflorescence. The leaves are up to 600 mm long and 120 mm wide at the base, broad, suberect (nearly upright), arranged in a rosette, dull green to milky green, usually unspotted but in some localities 2 parallel, dotted lines occur on the upper surface. The upper surface is deeply channelled and  U-shaped in cross section. The lower surface usually has obscure longitudinal lines. The leaf margin is sinuate (wavy) and dentate (toothed), armed with light brown, horny, deltoid (triangular) teeth 3–4 mm long and 100–150 mm apart.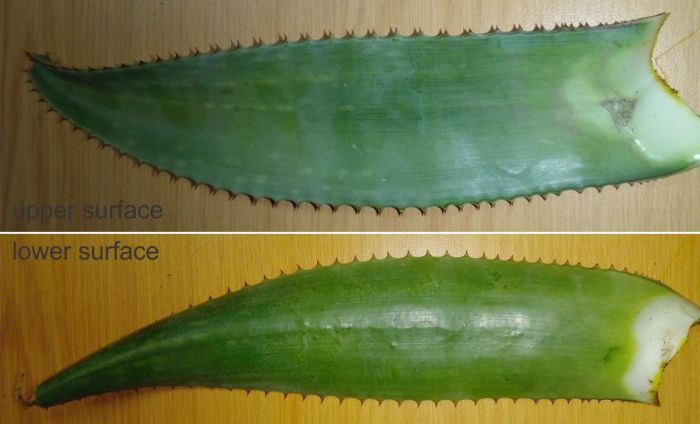 The inflorescence is very tall, between 1.5 and 2 m long, with widely spreading branches and elongated, cylindrical racemes, 300–500 mm long  ,  . Flowers are 27–40 mm long, tubular, strawberry pink. Flowering takes place in late summer, between January and March. Flowers are followed by seeds that are carried in a green capsule,  30 mm long and 17 mm in diameter.
This species can be confused with Agave plants, however there are a few differences: Aloe simii leaves have fleshy centers and agaves are more fibrous. Mature Aloe simii plants bloom every year, while most agaves  bloom once every year, later in their lives and then slowly die.
Conservation Status
Status
According to SANBI'S Red List of South African Plants, Aloe simii is Endangered (EN).
Aloe simii has a small natural range and has suffered extensive habitat loss in the past, and is now locally extinct in some areas due to factors such as the drying out of its wetland habitat caused by timber plantations, water extraction, alien plant invasion, urban expansion and rural development. Recent developments that were supposed to take place in an area where Aloe simii is growing, were put on hold because of this endangered species. The largest remaining population is small, consisting of 115 mature individuals and it continues to decline because of the above mentioned factors. Conservation efforts were undertaken by harvesting seeds and propagating Aloe simii seeds in the Lowveld National Botanical Garden, with germination rates in excess of 90%.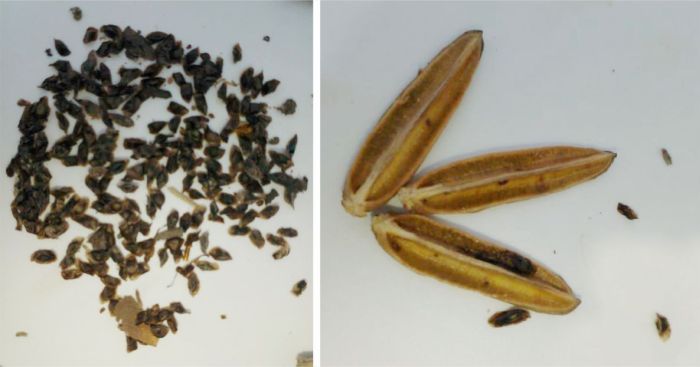 Distribution and habitat
Distribution description
Aloe simii is endemic and distributed in Mpumalanga, between Sabie, White River and Mbombela (formerly Nelspruit). It occurs at altitudes ranging from 600 to 1 100 m, in areas with a lush grass understory, along drainage lines and in wetlands, in open woodland and grassland. The temperatures and rainfall are fairly high and the soils are heavy loam and clay. This species is sensitive to frost. At the Lowveld National Botanical Garden, Aloe simii grows in full sun. During winter the leaves become dry and go brown from the apex to the base and theybecome smaller, enlarging again in summer.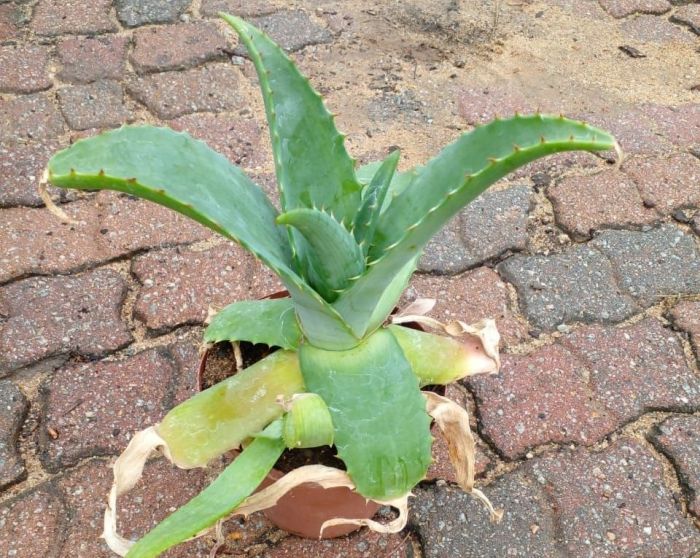 Derivation of name and historical aspects
History
The genus name, Aloe, is derived from the Greek, alsos. which refers to the 'bitter juice' found in the leaves of these plants. It can be traced back earlier to the Arabic word alloeh, or the Hebrew word allal, both meaning 'bitter'. This species was named after T.R Sim (1858–1938), the first botanist to collect this species. Due to its characteristic leaf morphology, this is one of the more distinctive of the spotted aloes.
The Aloe genus is a large group consisting of more than 500 species of shrubby succulent plants in the family Asphodelaceae, native to Africa, Madagascar and the Arabian Peninsula. Many species of Aloe are cultivated as ornamental plants, house plants and for medicinal purposes.
Ecology
Ecology
Aloes are ideal to attract birds to the garden, in particular sunbirds, and other birds that love aloe nectar, which is produced all day. Winter-flowering aloes are very well visited because there is little other food for them in winter. Bees and other insects are also attracted to aloe flowers, for pollen and nectar. Most species of Aloe are known to be pollinated by birds. In the Lowveld National Botanical Garden this species is visited by birds and bees. Aloe simii flowers in summer and produces large numbers of lightweight, flat seeds that are dispersed by wind.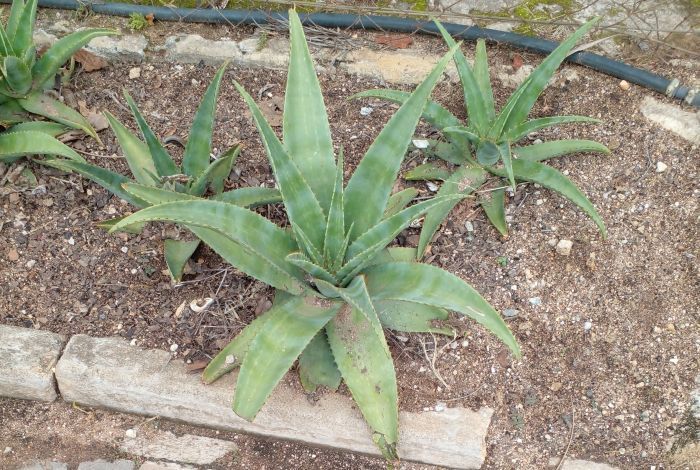 Uses
Use
Aloe simii does not have any medicinal or cultural uses, but many other aloes produce gel in their leaves, which is rich in medicinal properties.
Plants of this species can be cultivated as garden ornamentals, for their attractive rosettes of leaves and colourful summer flowers.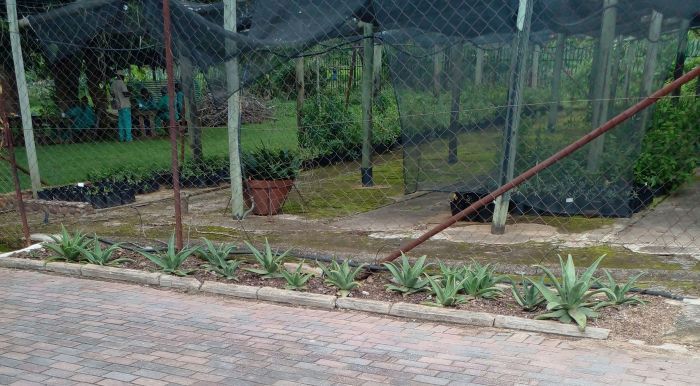 Growing Aloe simii
Grow
Aloes are quirky-looking plants that every gardener should try to have in the garden. Aloes offer striking flowers, architectural form and inspiring stature and have the ability to withstand tough conditions. Most can be used as accents to draw the eye through the landscape. For nature lovers, they have the added benefit of attracting a diverse range of birds and other wildlife to the garden.
Aloe simii does not produce offsets, so propagation is only possible, and is easy, by seeds. Harvest the seeds when the pod is green and not yet split open or else the seeds will all blow away. Seeds are black when ready, pale-coloured or white seeds are not ready to be harvested and will not germinate. Keep the pod in a container until it becomes dry and brownish, extract the light, flat, black seeds from the pod and discard the empty pod. Store the seeds in a paper envelope, in a cool dark place. The best time to sow the seeds is in spring or summer, when temperatures are warm. Sow the seeds when they are still fresh, in a seed tray filled with a well-drained sowing medium (e.g. 3 parts potting soil and 1 part river sand). The seed tray must be placed on a raised bench, in a warm area and covered with a net, until germination. The soil should be kept moist all the time, but not wet. Germination can be expected after 14 days. The germination rate of seeds may reach up to 90%.
Seedlings of Aloe simii can be transplanted into individual pots or plastic bags when they have produced 4 true leaves. The most suitable soil mixture for optimal growth of Aloe simii seedlings is 1 part river sand and 3 parts of potting soil. Bio-organic fertilizer is applied on the potted plants after transplanting. Seedlings should be placed under a shade net.
Aloe plants need to grow in a loose soil medium that will not get waterlogged and does not carry any pathogens or weeds.
The growing conditions for species of Aloe differ, depending on their natural habitat. Most aloes need full sun for at least 6 hours a day. Many varieties will benefit from partial afternoon shade. Full sun encourages flowering, and boosts the red and orange tones in the leaves. Once established, aloes require very little care.
Aloe simii will grow in full sun or partial-shade, preferring a well-drained position that is well-watered in spring and summer. This species can be used as border plant, beside paving and is suitable to be used as a container plant. It looks good growing together with Adenium swazicum and Kniphofia rooperi. Spring is the best time to plant Aloe simii because it does most of its growing in summer.
At the Lowveld National Botanical Garden, Aloe simii is affected by black spot disease on the leaves, fungicide is used to control the disease. White scale also affects Aloe simii, it starts off as a small infestation on the leaves but it can turn in to a serious infestation in a short period of time that can result in the death of the plant. Pesticides are used to control the pest.
References
McKenzie, D., von Staden, L. & Mtshali, H. 2018. Aloe simii Pole-Evans. National Assessment: Red List of South African Plants version 2020.1. Accessed on 2021/11/15.
Reynolds, G.W. 1969. The aloes of South Africa. Balkema, Cape Town.
Van Wyk, B. & Smith, G.F. 1996. Guide to the aloes of South Africa. Briza Publications, Pretoria.
Wikipedia. Thomas Robertson Sim. https://en.wikipedia.org/wiki/Thomas_Robertson_Sim. Accessed 15/12/21.
Willemse, L. 2019. Endangered Aloe simii in jeopardy due to planned development. Lowvelder. Online. https://lowvelder.co.za/514884/endangered-aloe-simii-jeopardy-due-planned-development/.
JSTOR Global Plants. Aloe simii. https://plants.jstor.org/compilation/aloe.simii/. Accessed on 2021/11/16.
Credits
Winfred Ngwenya
Lowveld National Botanical Garden
December 2021
Acknowledgements: the author gives special thanks to Duncan McKenzie for allowing her to use his picture of Aloe simii in flower, posted by him on iNaturalist.
Plant Attributes:
Plant Type: Succulent
SA Distribution: Mpumalanga
Soil type: Clay, Loam
Flowering season: Late Summer
PH: Acid, Neutral
Flower colour: Red, Pink
Aspect: Full Sun, Morning Sun (Semi Shade), Afternoon Sun (Semi Shade)
Gardening skill: Easy
Special Features:
Attracts birds
Good potplant
Feeds honeybees
Horticultural zones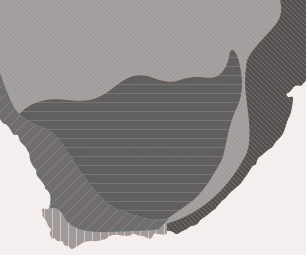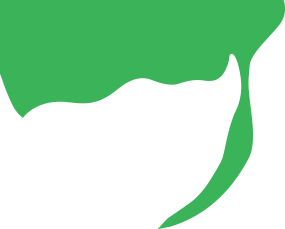 Zone 5 Bushveld summer rainfall, Light frost
Google QR Code Generator