Aloidendron ramosissimum (Pillans) Klopper & Gideon F.Sm.
Family: Asphodelaceae
Common names: maiden's quiver tree (Eng.); nooienskokerboom (Afr.)
SA Tree No: 30.2
Introduction
This aloe is without a doubt the most profusely branched of all aloes. Like its closest relative, Aloidendron dichotomum or quiver tree, it has a very old and almost stressed appearance making this an excellent and sought-after container plant or feature plant in the garden. It has recently, along with the other tree aloes, been put into a separate genus, Aloidendron.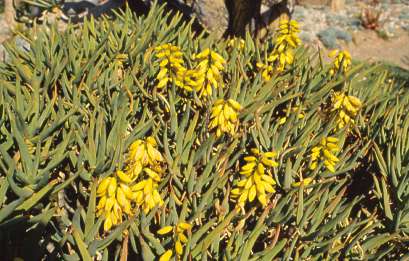 Description
Description
As mentioned before, this aloe forms many branches from the ground level. This is the only significant difference between A. dichotomum and A. ramosissimum. Branching continues as the plant becomes older, resulting in a dense, almost spherical shrub up to 2 m high and wide. The stems are smooth and covered with a waxy, grey powder, which acts as a sunscreen in the harsh climate. The branches end in small rosettes of fleshy, oblong leaves, each up to 200 mm long and 20 mm wide at the base. The leaf colour is glaucous-green or yellowish green, often with a pinkish tinge. The margins have narrow edges with brownish teeth. The flowers appear from June to August.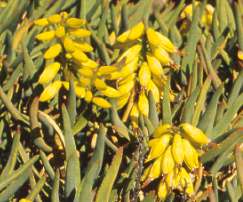 The usually 3-branched inflorescence is short, up to 200 mm long, with comparatively large, swollen, fleshy flowers which are bright yellow. The capsules are shiny and smooth and when dry, split into three, remaining fused at the base. Seeds are narrow, winged, up to about 30 x18 mm.
Conservation Status
Status
Aloidendron ramosissimum is regarded as a vulnerable species mainly as a result of mining activities and overgrazing.
Distribution and habitat
Distribution description
A. ramosissimum is restricted to the Richtersveld and southern Namibia. The plants occur in very arid, rocky places on hills and mountains. They rely on winter rains that average around 110 mm or less per annum. It is not at all uncommon in this area for summer temperatures to rise to 46ºC and years may pass before any rain falls.
Derivation of name and historical aspects
History
This plant was known as A. dichotoma var. ramosissima  then reverted to its old name A. ramosissima before being put into a separate genus Aloidendron.
According to one theory, the genus name Aloe is derived from the Arabic word alloch. According to Marloth, one of South Africa's pioneer botanists of the 19th century, the name is derived from the Greek and Hebrew name allal, meaning bitter. The latter is more acceptable as aloes produce a very bitter sap. The species name  ramosissimum means very much branched, referring to the distinctive growth form.
Ecology
Ecology
The bright yellow flowers produce nectar which is harvested by sugarbirds and ants (especially when grown in the Cape). Generally, flowers are pollinated by bees and ants. When capsules dry out, the winged seeds are carried by the wind, often landing in bushes where they germinate, making full use of the shelter and shade. Plants eventually outgrow the nurse plant, killing it in the process. The fleshy leaves and stems act as water reservoirs in times of drought and the grey powder on the stems reflect intense heat away from the plant.
Uses
Use
Unlike A. dichotoma, there are no cultural or medicinal uses associated with the maiden's quiver tree. However, it is known that the very young flower buds can be eaten and taste a little like asparagus.
Growing Aloidendron ramosissimum
Grow
Plants grow easily from seeds and once germinated develop rapidly. It is possible to grow plants from cuttings but attempts are very seldom successful and therefore not advisable. Seeds mature from November onwards and although they are able to survive for many months, it is better to sow fresh seeds (seeds are often parisitized) from May to July. Use coarse river sand mixed with fine compost, one part compost and two parts sand. Cover seed lightly and keep moist. One must be careful not to over-water and seedlings should be treated with a fungicide to avoid damping off.
References
Germishuizen, G., Meyer, N.L., Steenkamp, Y. & Keith, M. (eds) 2006. A Checklist of South African plants. Southern African Botanical Diversity Network Report No. 41. SABONET, Pretoria.
Jeppe, B. 1969. South African aloes. Purnell, Cape Town.
Reynolds, G.W. 1950. The aloes of South Africa. The Aloes of South Africa Book Fund, Johannesburg.
Smith, G.F. & Van Wyk, B-E. 1996. Guide to aloes of South Africa. Briza Publications, Pretoria.
Grace, O.M., Klopper, R., Smith, G.F., Crouch, N.R., Figueiredo, E., RØnsted, N.E. & Van Wyk, A.E. 2013. A revised generic classification for Aloe (Xanthorrhoeaceae subfam. Asphodeloideae). Phytotaxa 76,1: 7–14.
Credits
Werner Voigt
Karoo Desert NBG
April 2004
 
Plant Attributes:
Plant Type: Succulent, Tree
SA Distribution: Northern Cape
Soil type: Sandy
Flowering season: Winter
PH: Acid, Neutral
Flower colour: Yellow
Aspect: Full Sun
Gardening skill: Challenging
Special Features:
Attracts birds
Drought resistant
Feature plant
Good potplant
Edible plant
Horticultural zones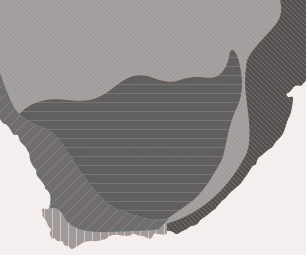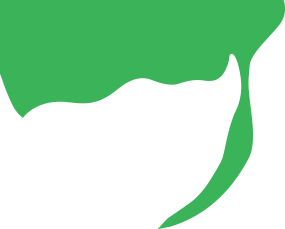 Zone 2 Coastal winter rainfall, frost free
Zone 3 Winter rainfall Karoo, light frost
Zone 4 Summer rainfall Karoo and Highveld, Frost in winter
Zone 5 Bushveld summer rainfall, Light frost
Google QR Code Generator