Ammocharis coranica (Ker Gawl.) Herb.
Family: Amaryllidaceae
Common names: karoo lily, koranna lily, sore eye flower, bible flower, ground lily (Eng.); berglelie, gifbol, seeroogblom (Afr.); boka (Sesotho); isidiya, icukudo, incotho (isiZulu)
Introduction
Ammocharis coranica lives up to its common name, sore eye flower. This striking beautiful bulb, with its umbel inflorescence, delivers spectacular flower displays after good summer rains and is one of the most attractive species in the amaryllis family.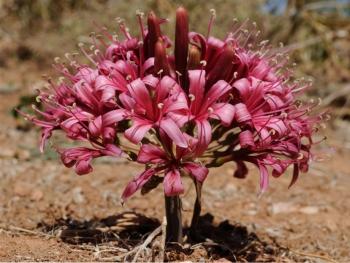 Description
Description
Ammocharis coranica is a summer-growing, deciduous bulb and grows to a height of 200 to 350 mm, when flowering. This species has a spherical-shaped bulb, 150–200 mm in diameter and covered in thinly layered tunics. Each bulb consists of 9–15 green leaves, broadly strap-shaped and sickle shaped, 300–450 mm long, with very finely toothed margins. Leaves lie flat on the surface of the soil.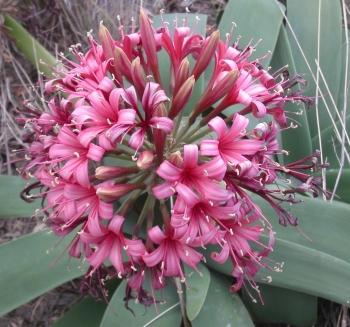 Ammocharis coranica has a rounded inflorescence of pink or reddish pink, trumpet-shaped, sweetly scented flowers, which protrudes above ground after the leaves have appeared. This inflorescence appears in summer, from September to March. The tepals of the flower are strongly curved backwards, which allows the stamens to be exserted. Ammocharis coranica has very fleshy seeds, which are covered by a thin, membrane-like layer.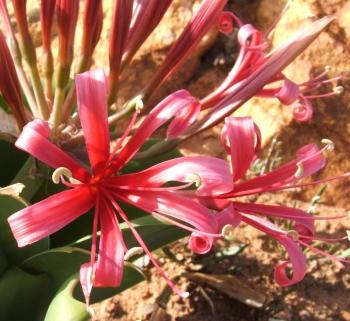 Conservation Status
Status
According to the Red List of South African plants, accessed on 20 October 2017, this species is not threatened and has a conservation status of Least Concern (LC).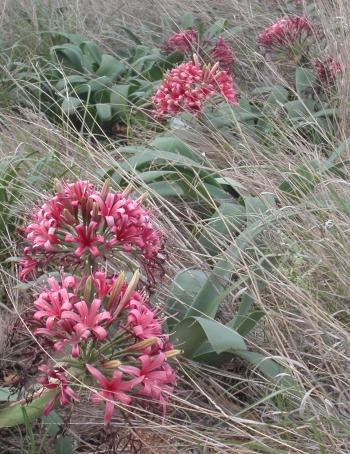 Distribution and habitat
Distribution description
Ammocharis coranica is widespread in southern Africa, occurring from Angola to Zimbabwe and in all the Provinces of South Africa, including the Western Cape. This species grows in a variety of soils, ranging from sand to clay types. It prefers sandy soils, open flat areas and full sun. This bulb species thrives in dry areas and can stay alive though long periods of drought.
Derivation of name and historical aspects
History
Ammocharis coranica has a very interesting history. The genus name is derived from ammo, meaning 'sand' and charis, meaning 'grace', referring to the locality where the plants occur, as well as the beauty of the plant. The species name coranica is derived from the Korana Bushmen tribe, which shares its locality. According to Duncan, Jeppe & Voigt (2016), the Swede C.P. Thunberg was the first to collect and scientifically record this species, probably in January 1774, during the second of his travels of exploration to South Africa, when he visited the Karoo. It was initially described in 1816 as Amaryllis coranica by British botanist J.B. Ker Gawler in Edwards's Botanical Register (Duncan, Jeppe & Voigt 2016).
Ammocharis is 1 of 5 species in southern Africa, with Ammocharis coranica the most widespread. Ammocharis coranica looks similar to A. tinneana. The difference between the 2 plants is that, the latter has fewer flowers and a longer perianth (the outer part of a flower, consisting of the sepals and petals).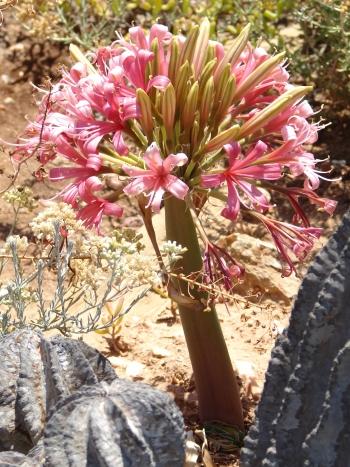 Ecology
Ecology
Ammacharis coranica has very sweetly scented flowers and at night these flowers smell stronger. This sweet aroma attracts night-flying moths, which serve as pollinators. Seeds from this plant develop in a couple of weeks after flowering and are very fleshy, covered by a thin membrane. Many seeds drop close to the mother plant, but can also be dispersed by the wind, when the round umbel shaped inflorescence dries out and rolls away, dropping seeds as it rolls along. Ammocharis coranica is adapted to withstand long periods of drought and stores food reserves in its onion-shaped bulb during the dormant season.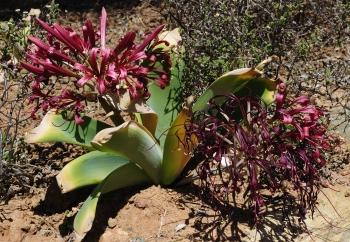 Uses
Use
Ammocharis coranica makes an excellent pot plant and flower display in the summer season. It is also considered to be a useful plant in many African cultures. Extracts from this bulbous plant are used by Zulu people to treat mental illness as a result of witchcraft. Paste from cooked bulbs are also used to repair clay pots. Ammocharis coranica is a poisonous plant, but it is also used to treat abscesses (boils).
Growing Ammocharis coranica
Grow
Ammocharis coranica grows very easily from seed. Sow seed as soon as it is ripe in an equally sowing medium of 1 part coarse river sand and 1 part well decomposed sieved compost. Seeds should be sowed thinly and be kept moist and not wet.
This species makes an excellent water-wise garden plant and can be used in rockeries or display areas in the summer season. Adult plants can be watered once a week during the season of active growth. Place plants in full sun with high light intensity for optimum flowering. Watering of Ammocharis coranica should stop in the autumn season, when the plants go into dormancy. Ignoring the latter could lead to the plant rotting or not flowering during the flowering season.
The Amaryllis caterpillar are famous for attacking the leaves and peduncle of the flower. These caterpillars can easily be removed by hand.
References
Duncan, G., Jeppe, B. & Voigt, L. 2016. The Amaryllidaceae of southern Africa. Umdaus Press, Pretoria.
Du Plessis, N. & Duncan, G. 1989. Bulbous plants of southern Africa, a guide to their cultivation and propagation. Tafelberg, Cape Town.
Manning, J. 2001. Eastern Cape. South African Wild Flower Guide 11. Botanical Society of South Africa, Cape Town.
Mannheimer, C., Maggs-Kölling, G., Kolberg, H. & Rügheimer, S. 2008. Wildflowers of the southern Namib. Macmillan, Windhoek, Namibia.
Van Jaarsveld, E.J. 2010. Waterwise gardening in South Africa and Namibia. Struik, Cape Town.
Credits
Ricardo Riddles
Karoo Desert National Botanical Garden
November 2017
Plant Attributes:
Plant Type: Bulb
SA Distribution: Eastern Cape, Free State, Gauteng, KwaZulu-Natal, Limpopo, Mpumalanga, North West, Northern Cape, Western Cape
Soil type: Sandy
Flowering season: Spring, Early Summer, Late Summer
PH: Acid
Flower colour: Pink
Aspect: Full Sun
Gardening skill: Easy
Special Features:
Drought resistant
Fragrant
Good potplant
Poisonous
Medical plant
Useful plant
Horticultural zones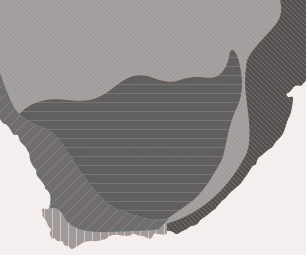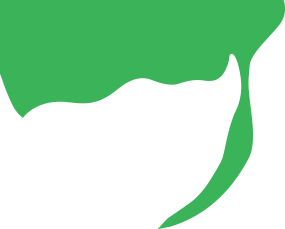 Zone 1 Coastal summer rainfall, frost free
Zone 3 Winter rainfall Karoo, light frost
Zone 4 Summer rainfall Karoo and Highveld, Frost in winter
Zone 5 Bushveld summer rainfall, Light frost
Google QR Code Generator