Anemone knowltonia Burtt Davy (= Knowltonia capensis (L.) Huth
Family: Ranunculaceae
Common names: blistering leaves (Eng.); brandblare, katjiedrieblaar (Afr.)
Introduction
This is a very handsome plant with unusual flowers resembling green buttercups, that does well in shady situations.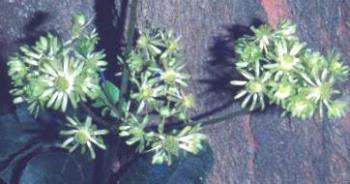 Description
Description
A slow-growing, stemless perennial herb between 300 and 500 mm tall. Flowers consist of coloured sepals, there are no petals (this distinguishes it from Ranunculus). It has a slender flowering stem 450 mm long, with a compound umbel (i.e. several flower stalks originating from one point on the main flower stem) of creamy-green flowers, in winter and spring (from June to September). These are followed by fruits which are small, fleshy berries in dense clusters, green turning black when ripe. A short rhizome with fleshy roots is present. The tooth-edged, basal leaves are distinctive, being tough, coarse and leathery in texture, they are usually trifoliately compound, i.e. divided into three distinct leaflets with the middle leaflet slightly larger then the two on the side.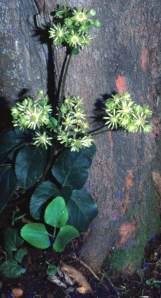 Conservation Status
Status
Distribution and habitat
Distribution description
Anemone knowltonia grows at the forest margins, is common in coastal bush and forested kloofs. This plant is most common in the East London area from where it extends eastwards to the midlands of KwaZulu-Natal and westwards to the Cape Peninsula. As it has a rhizome, it will most probably be able to tolerate frost quite well, and it can cope with both high and low rainfall due to its wide distribution range.
Derivation of name and historical aspects
History
Anemone knowltonia was previously known as Knowltonia capensis. The genus Knowltonia was established by Salisbury in 1796 for the southern African species of Ranunculaceae previously placed in the genus Adonis. However, it was soon realised that Knowltonia was more closely allied to Anemone and it was formally included in Anemone by Prantl in 1891. Later South African botanists reinstated Knowltonia as a separate genus, although the differences between them are slight, the main one being that Knowltonia has a fleshy fruit wall whereas it is dry in Anemone. A wide morphological and molecular study of many species in the Ranunculaceae in 1994 concluded that Knowltonia should be included within Anemone, however it was only formally subsumed within Anemone again in 2009. It is now recognized as a lineage of Anemone that has radiated in southern Africa.
The name Anemone comes from a Greek legend where red anemones grew on Mount Olympus from blood shed by Adonis when he was killed by a wild boar. The name is derived from an ancient word, nahamea, meaning 'handsome', which is also the meaning of Adonis. This species, and the former genus, is named in honour of Thomas Knowlton (1691–1781), an English botanist and director of the once famous Botanic Garden at Eltham.
Ranunculaceae, also known as the buttercup family, comprises about 50 genera and 800 species that occur worldwide. Seven genera and about 17 species are found in southern Africa.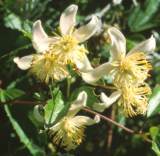 Other indigenous members of this family worth mentioning are Clematis brachiata (traveller's joy), a lovely climber with scented, cream-coloured flowers followed by clusters of seeds with persistant feathery 'tails' and Anemone tenuifolia, a perennial that blooms most profusely after veld fires, making a splendid show of white or pink on the higher Cape mountains.
Uses
Use
Bruised leaves cause blistering of the skin, hence the common name. This plant is used as an old Cape remedy for lumbago and rheumatism, leaves are also used to make an infusion for use in treating stomach complaints. Decoctions of the roots mixed with Pelargonium roots, have also been used to treat colds and influenza. Members if the Ranunculus family contain a bitter-tasting glycoside, ranunculin. When fresh roots and leaves are eaten or bruised, this compound is enzymatically converted to a highly toxic oil with an acrid taste that causes the blistering. Smoke from burning leaves or the fumes from crushed leaves may be inhaled for headaches. Leaf poultices of these plants are widely used in traditional medicine to treat wounds, external cancers and rheumatism. Roots of Anemone knowltonia may be directly applied to alleviate toothache. 
Growing Anemone knowltonia
Grow
The unusual green flowers make this plant a feature in any garden. Best planted in massed clumps they will tolerate a variety of garden conditions, as they are hardy and very tolerant. Dry to moist soil, not too wet, deep to light shade, rich to nutrient-poor soil, this plant does not demand much from a gardener and rewards amply. The plant, however, enjoys receiving regular water and compost.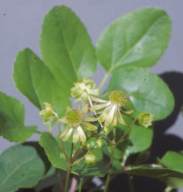 There are not many plants that are as well suited to growing and flowering in the shade or under trees as Anemone knowltonia. They do not grow tall, so use them in front of a bed or around the base of a tree(s), planted alone or with any other shade-loving species. When planting in combination with other plants, look at using those with similar water requirements as Anemone knowltonia is quite water-wise. It will also do well in pots.
It is easily grown from seed, and large plants can be divided after flowering.
References
Manning, J.C., Goldblatt, P. & Hoot, S.B. 2009. The genus Knowltonia subsumed within Anemone. Bothalia 39,2: 217–240.
Moriarty, A. 1997. Outeniqua, Tsitsikamma and Eastern Little Karoo. South African Wildflower Guide 2, Botanical Society of SA, Cape Town.
Jackson, W.P.U. 1977. Wild flowers of Table Mountain. Howard Timmins, Cape Town.
Leistner, O.A. (ed.). 2000. Seed plants of southern Africa: families and genera. Strelitzia 10. National Botanical Institute, Pretoria.
Pooley, E. 1998. A field guide to wild flowers Kwazulu-Natal and the eastern region. Natal Flora Publications Trust, Durban.
Van Wyk, B.-E. & Gericke, N. 2000. People's plants, a guide to useful plants of southern Africa. Briza Publications, Pretoria.
Credits
Cherise Viljoen
Kirstenbosch National Botanical Garden
August 2003
Updated July 2021
Plant Attributes:
Plant Type: Perennial
SA Distribution: Eastern Cape, Western Cape
Soil type: Sandy, Loam
Flowering season: Spring, Winter
PH:
Flower colour: Green, Cream
Aspect: Shade
Gardening skill: Average
Special Features:
Medical plant
Horticultural zones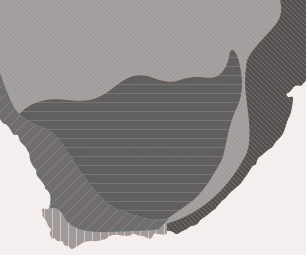 Zone 1 Coastal summer rainfall, frost free
Zone 2 Coastal winter rainfall, frost free
Google QR Code Generator