Apodolirion amyanum D.Müll.-Doblies
Family: Amaryllidaceae
Common names: Amy's apodolirion (Eng.)
Introduction
This jasmine-scented Apodolirion is threatened by housing and industrial zone development. It thrives in shade, under dense Bobartia orientalis clumps.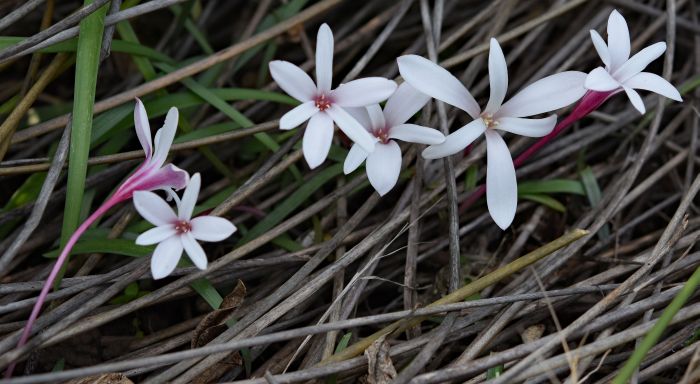 Description
Description
Apodolirion amyanum has a globe-shaped bulb, with a diameter ranging from 12 to 17 mm, a concealed neck 10–15 mm long and a greyish papery tunic (layer covering the bulb). The leaves are dark green, shading to pale green and are densely purple-dotted in the lower half. They are single or paired, smooth, (90–)150(–200) mm long, 5 mm wide, and can grow up to 300 mm long in deep shade.
Flowers are white above, tinged rose-red below and in the throat. The flower tube is rose-red below the tepals (undifferentiated sepals and petals), paler towards the base, white at the base and (25–)42(–72) mm long, and it can sometimes grow up to 100 mm long. The style reaching the top of the lower anthers, with a club-shaped stigma. Each flower lasts for 2 to 3 days and is strongly jasmine-scented. Flowering time is midwinter, June to July, and fruits are produced late summer to autumn, January to March.
The fruit is a reddish, club-shaped berry, up to 30 mm long and 5 mm broad. It produces about 12, 3–4 mm diameter seeds, visible through the membranous skin. The concealed base of the fruit is filled with translucent fluid that is tasteless and scentless.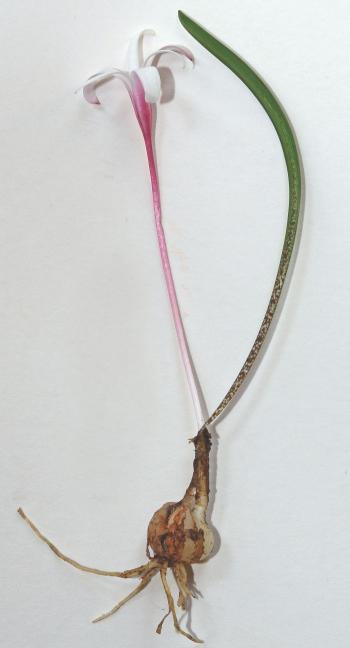 Conservation Status
Status
Apodolirion amyanum is Endangered (EN) according to the Red List of South African plants. The plant is restricted to a very small area south of Grahamstown with an extent of occurrence (EOO) of less than 500 square kilometers, where it is known to only occur in less than 5 locations and is threatened by ongoing habitat loss.
Distribution and habitat
Distribution description
An Eastern Cape endemic occurring between the Bushmans and Kariega Rivers, south of Grahamstown. The major habitat is the Grahamstown Grassland thicket, where it grows in fine, soft sand.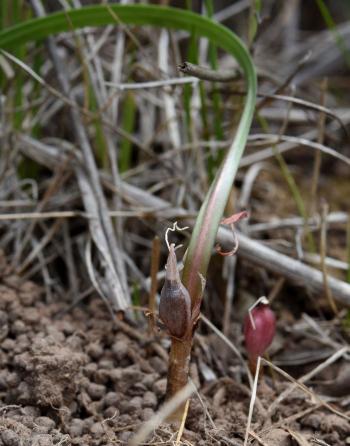 Derivation of name and historical aspects
History
Apodolirion means 'stemless flower' in Greek, referring to the almost stemless flowers of the genus. The specific epithet commemorates Amy Jacot Guillarmod (1911–1992), a botanist who was based in Grahamstown, as she was the one who discovered the plant in mid-1975.
This genus belongs to the Amaryllidaceae family, which comprise mostly of bulbous plants and flowers with a shape of a trumpet or star. This family has a global distribution of over 800 species, occurring in warm temperate and tropical regions worldwide. Southern Africa has the most diverse species followed by Andean States in South America. 
Ecology
Ecology
Apodolirion amyanum grows very well under the rush-iris, Bobartia orientalis. Little is known about the pollinators of the plant; it may be pollinated by a moth, because of its jasmine scent and long flower tube.
Uses
Use
The dotted leaves and beautiful white flower of this plant carry ornamental value. There are no medicinal or cultural uses documented for this plant. However, water extracted from boiled bulbs of Apodolirion buchananii is used by Zulu people as an enema for stomach problems.
Growing Apodolirion amyanum
Grow
Seeds germinated quickly and easily on top of a thin layer of sandy soil that was mist sprayed daily. The seeds were collected and planted immediately after they matured in March, and 6 months later they had their first leaves – without spots, which followed later in the year as the leaves matured. Bulbs collected in January flowered freely in pots in July. A. amyanum prefers a shaded area and flowers in deep shade, growing up to 150 mm tall above ground. For best results, grow in pots.
References
Dold, A.P. & Victor, J.E. 2005. Apodolirion amyanum D.Müll.-Doblies. National Assessment: Red List of South African plants version 2020.1. Accessed on 2020/08/27.
Elgorashi, E.E. & Van Staden, J. 2009. Bioactivity and Bioactive compounds of African Amaryllidaceae. ACS symposium series, Vol. 1021 chapter 8, pp 151–170.
Keys to Flora of southern Africa. Amaryllidaceae http://biodiversityadvisor.sanbi.org/wp-content/themes/bst/keys/e-Key 20160604/Families/F_Amaryllidaceae.html. Accessed on 24 Aug. 2020.
Zikishe, V., Sgatya, P. & Dold, T. 2020. Rescue mission for a rare amaryllis. Veld and Flora 106 (1): 38–41.
Credits
Pamela Sgatya
Custodians of Rare and Endangered Wildflowers (CREW), Eastern Cape
September2020
Acknowledgements: the author thanks Mr Tony Dold for images.
Plant Attributes:
Plant Type: Bulb
SA Distribution: Eastern Cape
Soil type: Sandy
Flowering season: Spring
PH: Acid
Flower colour: Red, White
Aspect: Shade
Gardening skill: Easy
Special Features:
Fragrant
Good potplant
Horticultural zones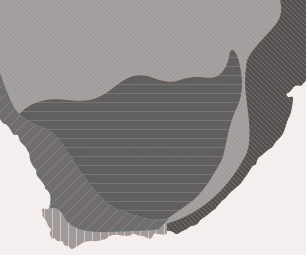 Zone 1 Coastal summer rainfall, frost free
Zone 2 Coastal winter rainfall, frost free
Google QR Code Generator