Apodytes dimidiata subsp.dimidiata
Apodytes dimidiata E.Mey. ex Arn. subsp. dimidiata
Family: Icacinaceae
Common names: white pear, bird's eye (Eng.); witpeer (Afr.); umdakane (Xhosa); umdagane (Zulu); umdzagame (Swati) sephopha-madi, kgalagangwê (N. Sotho), tshiphopha-madi (Venda)
SA Tree No: 422
Introduction
Apodytes dimidiata is the ideal tree for the home garden as it does not have messy fruits and is safe to plant near the house, not disturbing the foundations or paved areas.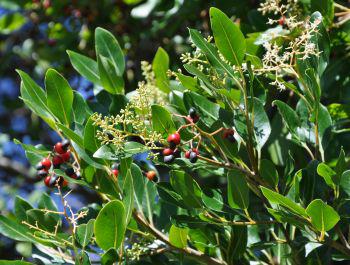 Description
Description
This is a small bushy tree 4 to 5 m tall, but reaching a height of 20 m when growing in a forest. It has evergreen, glossy, bright green leaves that have a paler green, dull underside. The bark is pale grey and smooth.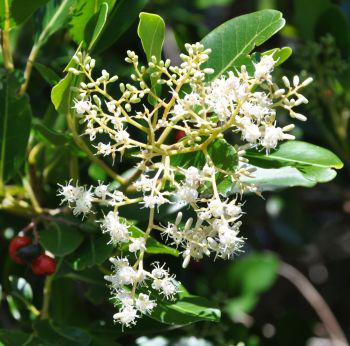 Apodytes dimidiata forms small, white, fragrant blooms in loose bunches, that are borne in summer, and are frequently produced in striking profusion. The fruit is berry-like, black and flattened, with a persistent, finger like style in the notch and a scarlet, fleshy, lateral appendage that gives the fruit a kidney shape. Fruits are borne in mid to late summer.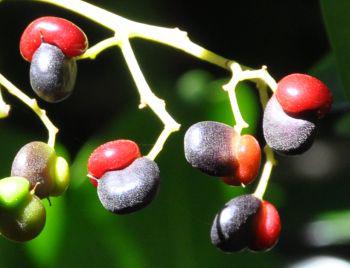 Conservation Status
Status
According to the Red List of South African Plants, Apodytes dimidiatea subsp. dimidiata is assessed as Least Concern (LC).
Apodytes dimidiata is a protected tree in South Africa.
Distribution and habitat
Distribution description
Apodytes dimidiata occurs in coastal evergreen bush, at the margins of medium altitude evergreen forest, in open woodlands and on grassy mountain slopes, often among rocks. It is a constituent of the forests such as Knysna, George, Tsitsikama, Alexandria, Amatola, Umgoye and Dukuduku.
It is in fact one of the best-known forest trees in southern Africa as it is found from Table Mountain in the Cape Peninsula, along the coast through Kwa-Zulu Natal, Gauteng, Swaziland and Kenya. A. dimidiata comprises 3-9% of the total tree population of the Knysna Forest. Here it grows with yellowwood (Podocarpus spp.), stinkwood (Ocotea bullata), and assegaai (Curtisia dentata).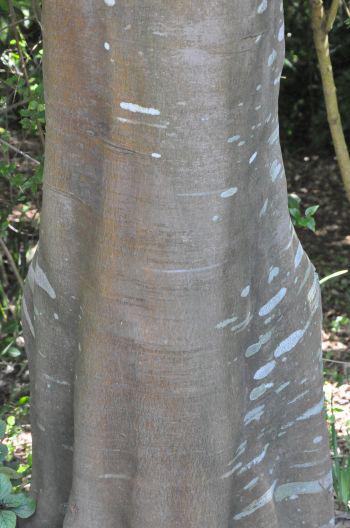 Derivation of name and historical aspects
History
The genus name Apodytes is derived from the Greek word which means 'to strip off', referring to the uncovered corolla of the flower. The specific epithet dimidiata means 'two equal parts' referring to the fruit of this tree.
The white pear is one of the trees most difficult to identify at a glance. It is often confused with Pterocelastrus rostratus which has a similar leaf shape. In 1854, Pappe in his Silva capensis, referred to Pterocelastrus rostratus as the white pear. At the International Forestry Exhibition in Edinburgh in 1884, wood of A. dimidiata was exhibited as that of P. rostratus. The useful identifying character of the white pear in the field is the red colour of the petiole and the terminal branchlets.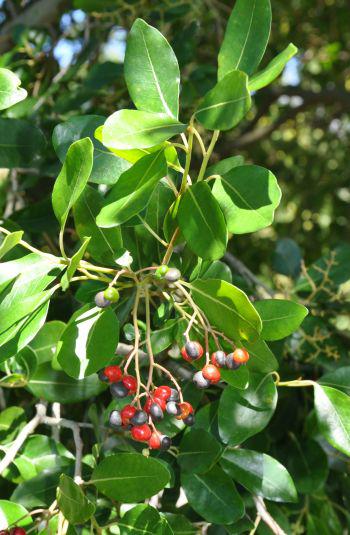 Ecology
Ecology
The excellent smell of the flowers is attractive to insects, and that is good for pollination. The red aril makes the fruits very attractive to birds including Blackeyed Bulbul, Rameron Pigeon, Redwinged and Glossy Starlings, Guinea Fowl and Pied Barbets. Black rhinoceros are said to enjoy the leaves and bark.
Uses
Use
The wood is very hard and is suitable for agricultural implements, fence posts, hut building and furniture. In the past the wood was used in wagon construction. This tree is also valued by the Zulu nation in traditional medicine. An infusion from the root bark is used as an enema for intestinal parasites. The leaves are used in the treatment of ear inflammation.
The leaves are also eaten, boiled whole and mixed with porridge.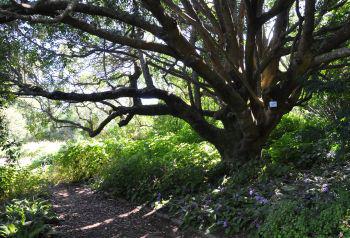 Growing Apodytes dimidiata subsp.dimidiata
Grow
Apodytes dimidiata is an excellent tree to use in a landscape in areas where you need to establish shade right through the year. It also serves very well as a background planting in a small garden. This is a nice shade tree to be planted in areas next to the swimming pool. The root system will not lift up paving and foundations. The fruits are not fleshy and therefore cause no mess on paved areas.
The white pear thrives in well-drained, compost-rich soil. Young plants are relatively slow growing, but they will grow fairly fast as they grow bigger. This tree needs to be protected against frost for the first year.
The white pear is grown from seed sown in late winter or early spring. Seed should be sown in a seed tray 3-5 mm deep either in a seedling mix obtained from nursery or a garden centre or a mixture of river sand and compost (1:1) ratio. Seeds should be dipped in a fungicide. Cover the seeds with fine sand or fine compost. The seed tray should be kept moist. Germination is slow, it can take up to 6 months for all the seed to germinate.
References
Coates Palgrave, K. 1983. Trees of southern Africa. Struik, Cape Town.
Fox, F.W. & Norwood Young, E. 1982. Food from the veld: edible wild plants of southern Africa. Delta Books, Cape Town.
Killick, D.J.B. 1973. Apodytes dimidiata. The Flowering Plants of Africa 43: t. 1695.
Venter, F. & Venter, J. 1996. Making the most of indigenous trees. Briza Publications, Pretoria.
Credits
Giles Mbambezeli
Kirstenbosch National Botanical Garden
April 2003
Updated October 2016
 
Plant Attributes:
Plant Type: Tree
SA Distribution: Eastern Cape
Soil type: Sandy, Loam
Flowering season: Early Summer, Late Summer
PH: Acid, Neutral
Flower colour: White
Aspect: Full Sun
Gardening skill: Average
Special Features:
Attracts birds
Fragrant
Edible plant
Medical plant
Useful plant
Feeds honeybees
Horticultural zones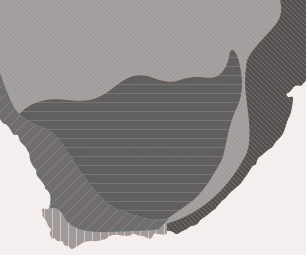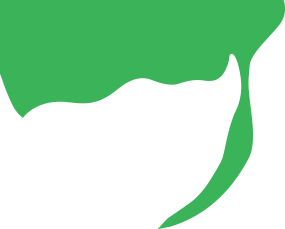 Zone 1 Coastal summer rainfall, frost free
Zone 2 Coastal winter rainfall, frost free
Zone 5 Bushveld summer rainfall, Light frost
Google QR Code Generator