Askidiosperma andreaeanum
Askidiosperma andreaeanum (Pillans) H.P.Linder
Family: Restionaceae
Common names: paper-sheath restio
Introduction
A very aesthetically pleasing, compact, tufted plant, with a rounded growth form, attractive smooth stems and golden spathes.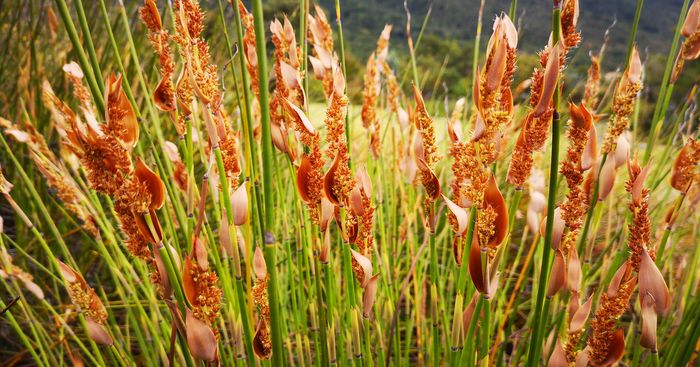 Description
Description
Askidiosperma andreaeanum is an evergreen, reed-like, tufted perennial that grows 0.5 to 1 m tall. This species does not have spreading rhizomes or stolons and forms a large, compact clump in the cultivated garden, where it does not get burnt.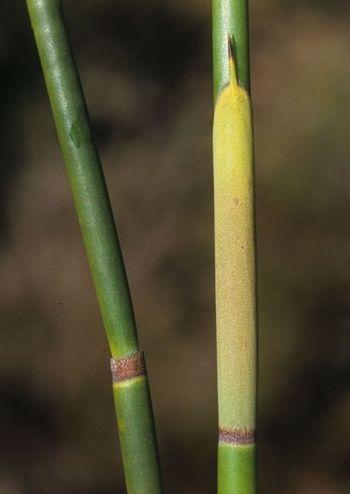 The stems (culms) are round, solid, smooth, olive-green and unbranched. Each culm has more than 1 sheath; they are 20–40 mm long, pale brown, with entire margins, and drop off, leaving small, dark, abscission rings at the nodes along the culms.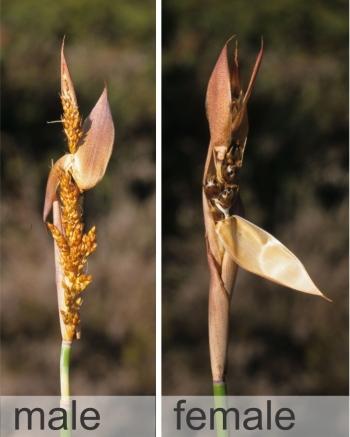 Restios are dioecious (male and female flowers are borne on separate plants). Male and female inflorescences are different.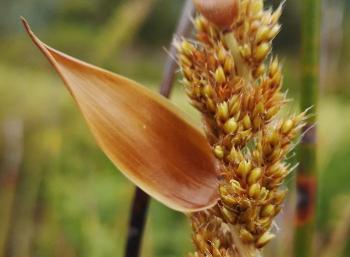 The male comprises of indefinite spikelets forming an inflorescence of 40–100 mm long and 15–25 mm wide. Clusters of spikelets are subtended by large golden-brown spathes that are taller than the spikelets, cartilaginous and drop quite soon. The bracts that surround the flowers are 4–7 mm long, longer than the 3–4 mm long flowers.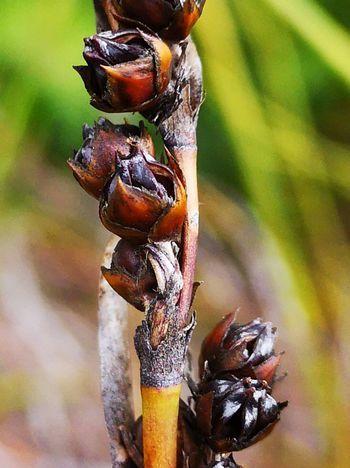 The female produces a linear inflorescence, 30–70 mm long, 15–20 mm wide, comprising of 6–10 spikelets. The spathes are longer than the spikelets, obscuring them, and persisting. The bracts are 7–10 mm long and are taller than or the same height as the flowers. They flower in midsummer (December or January), and begin to release the seeds in autumn (April), before the next cohort of flowers are produced.
Askidiosperma andreaeanum is most similar to A. paniculatum and the 2 species can be confused with one another. The difference is the size of the male flowerhead: A. andreaeanum has a large, dense panicle, whereas that of A. paniculatum is much more sparse; and A. paniculatum flowers in autumn (March or April).
Conservation Status
Status
Askidiosperma andreaeanum is assessed as Least Concern (LC), on the Red List of South African plants, checked in December 2018. No known threats.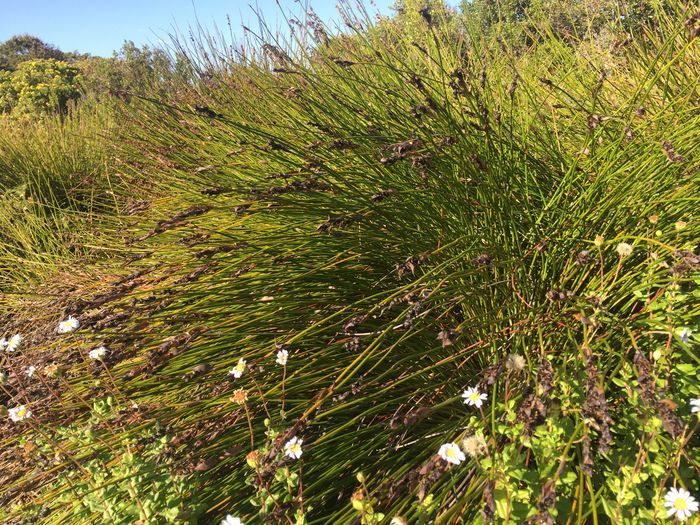 Distribution and habitat
Distribution description
The natural distribution of Askidiosperma andreaeanum is in the northern and southwestern mountains of the Western Cape, from the Cold Bokkeveld to the Riviersonderend Mountains in the Cape Floristic Region. They are most common in the southwestern mountains from Bain's Kloof to Sir Lowry's Pass and at the western end of Riviersonderend Mountains, at Olifantsberg. It grows in fynbos vegetation in well-drained soils derived from Peninsula Formation Sandstone or Shale at 900–1 800 m altitude. It occurs in rocky places on the south and west aspects of upper slopes, on ridges and in shale bands, and near streams. Mean annual rainfall in this region is 1 396 mm.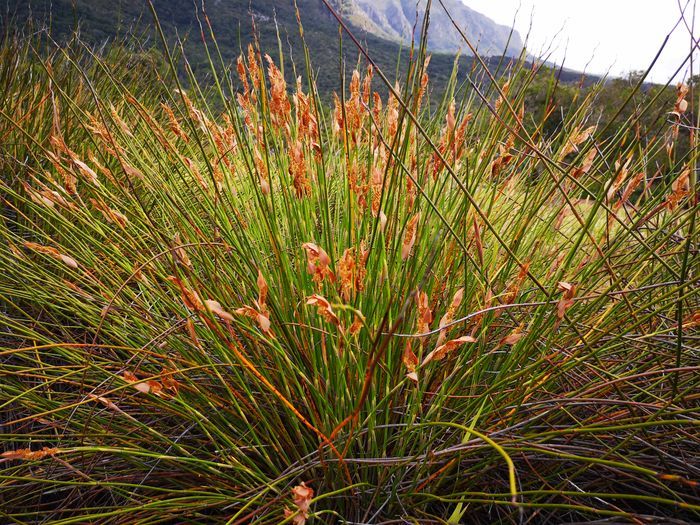 Derivation of name and historical aspects
History
Askidiosperma is derived from the Greek askion, which means 'small bag' or 'sac', and sperma meaning 'seed'. This species was named by Neville Pillans after H.K.C Andreae (d. 1966), an analytical chemist and naturalist who came from Germany to South Africa to assist Dr Marloth, and collected plants, including Restionaceae, mainly in the arid inland mountains.
Restionaceae is the family name of restios. The name is derived from the Latin restis, which means 'rope' or 'cord' and alludes to the use of these plants in southern Africa. Restionaceae has 400 species in about 40 genera and most  of the species occur in winter rainfall regions on poor sandy soils in South Africa and Australia, with a few outliers in the north of Africa, Madagascar, Indo-China and Chile.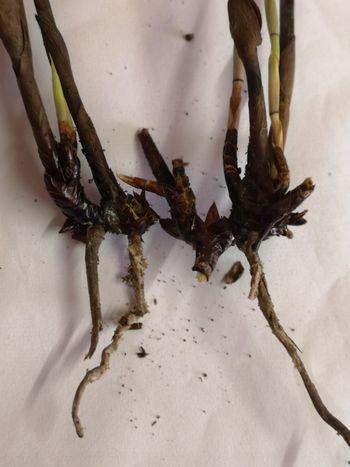 Ecology
Ecology
Unlike other plants, restios produce cylindrical stems, which are called culms. This is the only green part of the plant and performs the function of photosynthesis. Restios do not have leaves like other plants. They have a reduced leaf-like structure called a sheath. These sheaths occur at the nodes of the culms, and are either persistent or drop off, leaving a ring around the culm, called an abcission ring, such as those of A. andreaeanum.
Restio flowers are wind pollinated, and female and male flowers are on separate plants (dioecious). In their natural habitat they grow in groups, and male and female plants need to be present for regeneration of the species.
Askidiosperma andreaeanum resprouts after fire from the rhizome, and from seeds. Fire also removes the old culms and encourages the new growth.
Askidiosperma is one of a group of restios, including the genera Restio, Ischyrolepis, Dovea, Nevillea and Rhodocoma, that have undifferentiated dehiscent (split at maturity) seed dispersal.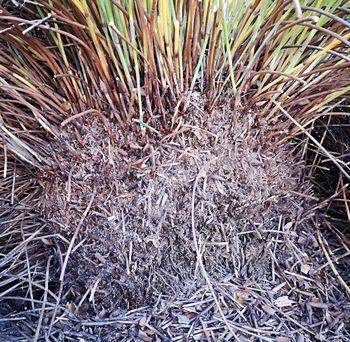 Uses
Use
Askidiosperma andreaeanum is an ideal plant for low maintenance and waterwise fynbos gardens. It has a very attractive texture and rounded form and always hides the dead culms with new growth. They can be planted in large groups or as companion plants with ericas and proteas, or other fynbos plants.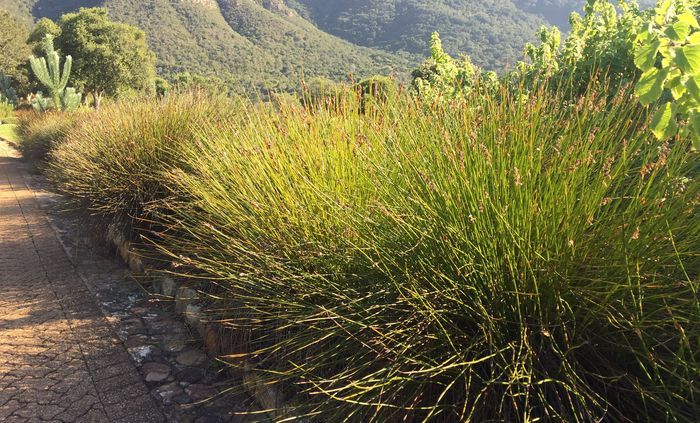 Growing Askidiosperma andreaeanum
Grow
Restios can be propagated vegetatively by division or by seed. Vegetative propagation is only successful in species with rhizomes or stolons, however, the plants propagated by division take about a year to recover and start growing again.
Askidiosperma andreaeanum is easily propagated by seed sown in the early winter season, when the night temperatures drop to the optimum temperature for germination, 5–10ºC, and the day temperatures are still warm, 15–20ºC. The seed is treated with smoke derived from dry and wet fynbos plant material. Treatment can be done in a smoking tent or seed can be soaked in a smoke concentrate. Dust the seed with fungicide prior to sowing and water the sowed seed with fungicide once a week to prevent fungal infection. Sow the seed on well-drained fynbos soil and cover with a finely sieved fynbos mixture. The seed takes about 6 weeks to germinate. Feed the seedlings with organic fertilizer during the growing season. Keep your seedlings moist, not dry or too wet.
The seedlings are ready to plant in the open ground after a period of 2 years. Plant your restios in the garden during a normal growing season at the beginning of the rainy season; this applies for winter and summer rainfall regions. Plants prefer full sun in a well-drained, acidic soil, and plenty of air movement. This species looks magnificent when planted as a group and as a filler among small fynbos plants.
Once the plants are planted in the garden after a period of 3 years, they do not need much additional fertilizer and can tolerate drought. There is no need to remove the old or dead culms as the new growth hides the old culms. Mulching reduces water evaporation, keeps the roots cool and prevents weed growth.
References
Brown, N.A.C. & Duncan, G.D. 2006. Grow fynbos plants. Kirstenbosch Gardening Series. South African National Biodiversity Institute, Cape Town.
Brown, N., Jamieson, H. & Botha, P. 1998. Grow restios. Kirstenbosch Gardening Series. National Botanical Institute, Cape Town.
Gunn, M. & Codd, L.E. 1980. Botanical exploration of southern Africa. Balkema, Cape town.
Dorrat-Haaksma, E. & Linder, P.H. 2012. Restios of the fynbos. Struik Nature, Cape Town.
Jamieson H. 2003-05. Restio multiflorus Spreng. (Restionaceae). PlantZAfrica. Internet 5 pp. http://pza.sanbi.org/restio-multiflorus
Linder, H.P. 1985. A conspectus of the African Species of Restionaceae. Bothalia 15 : 3-4.|
Linder, H.P. 2011. The African Restionaceae: an IntKey identification and description system. Version 6. Contributions from the Bolus Herbarium 19.
Manyama, P.A. & Kamundi, D.A. 2006. Askidiosperma andreaeanum (Pillans) H.P.Linder. National Assessment: Red List of South African Plants version 2017.1. Accessed on 2018/12/30
Quattrocchi, U. 1999. CRC World Dictionary of plant names: common names, scientific names, eponyms, synonyms, and etymology. CRC Press, New York.
Restionaceae Scratchpad. Askidiosperma andreaeanum (Pillans) H. Linder. Restionaceae. http://restionaceae.e-monocot.org/taxonomy/term/142
Credits
Mashudu Nndanduleni
Kirstenbosch National Botanical Garden
December 2018
Plant Attributes:
Plant Type: Restio
SA Distribution: Western Cape
Soil type: Sandy
Flowering season: Early Summer
PH: Acid
Flower colour: Brown
Aspect: Full Sun
Gardening skill: Average
Special Features:
Drought resistant
Feature plant
Horticultural zones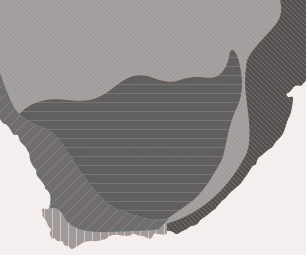 Zone 2 Coastal winter rainfall, frost free
Zone 3 Winter rainfall Karoo, light frost
Google QR Code Generator