Asparagus retrofractus L.
Family: Asparagaceae
Common names: zigzag asparagus, ming fern bush; ming asparagus; pom pom asparagus (Eng.); katdoring (Afr.)
Introduction
Quite often, this plant is mistaken for a fern when in-fact it is an attractive, scrambling herbaceous flowering plant, that has zigzagging stems clothed with fine foliage.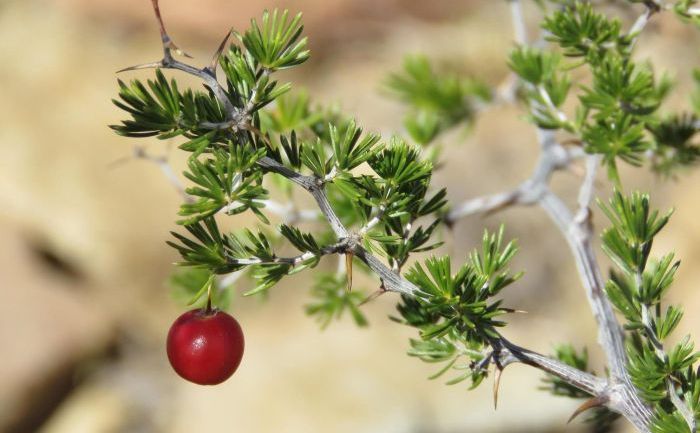 Description
Description
Asparagus retrofractus is a dense, scrambling shrub that grows up to 3 m in height.  The roots are fibrous, usually formed by thin, moderately branching roots growing from the stem. The stems are much-branched, slender, woody, ribbed when young, whitish to light grey and usually zigzagged. There are generally no thorns on the branches except for some recurved spines near the base. The leaves are fine, needle-like or linear, 10–30 mm long, curved and appear in dense, fluffy tufts.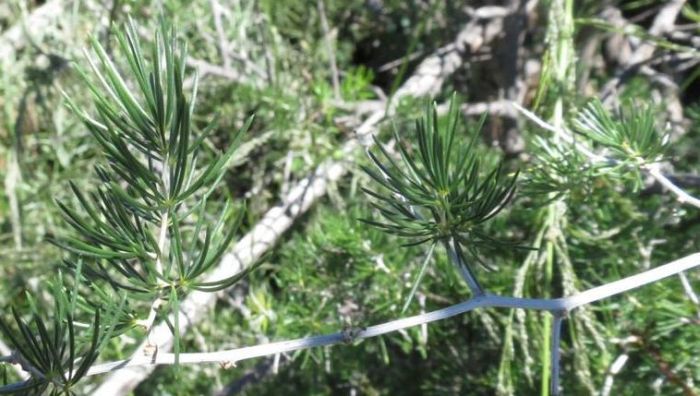 Flowers are bell shaped, pale to bright yellow-green, fragrant, and appear in clusters of 2 to 7 flowers, in axils, in autumn (from March to April). Like all species of Asparagus, after flowering, attractive pale green berries that ripen to orange-red appear.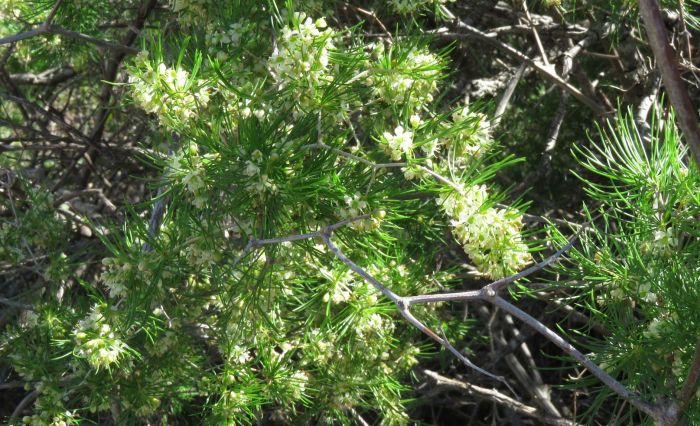 Asparagus retrofractus may be easily confused with A. macowanii, which is an erect, deciduous, single-stemmed shrub, reaching a height of up to 1 m. It has long, smooth stems with white, short spines both hooked and straight unlike A. retrofractus which has spines that are only recurved.
Conservation Status
Status
According the Red List of South African plants Asparagus retrofractrus is in the Least Concern (LC) category, meaning it is widespread and abundant and considered at low risk of extinction.
Distribution and habitat
Distribution description
Asparagusretrofractus is found growing in sandy areas in the Northern, Western and Eastern Cape and North West Provinces in South Africa, and in Namibia and Botswana.
Derivation of name and historical aspects
History
The genus Asparagus derives its name from the Greek word asparagos, the name given to the edible cultivated asparagus. The species name retrofractusis a Latin word meaning 'twisted backwards', in reference to the zigzag stems.
There are over 50 species of Asparagus indigenous to South Africa, although not all of them are endemic.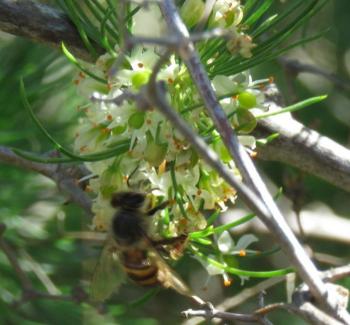 Ecology
Ecology
This plant is attractive to bees, butterflies and birds. Bees and butterflies feed on the flowers, and birds feed on the fruits. The roots are eaten by animals, as is the case with most species of Asparagus.
Uses
Use
The foliage of the plant is widely used in floriculture for floral arrangements because it is long-lasting.  
Asparagus retrofractus is used in traditional medicine to treat colds, general body aches and gout. Although this species is not recorded in particular as being edible, the young shoots of many wild asparagus are eaten by people, either raw or cooked as a pot-herb.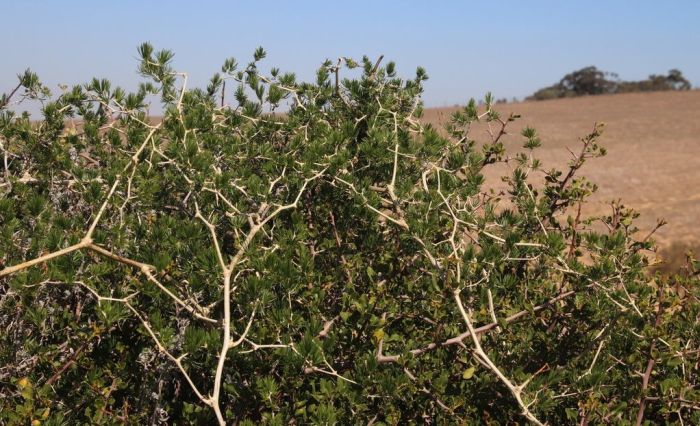 Growing Asparagus retrofractus
Grow
Asparagus retrofractus is propagated from seed and division. Remove the thin fleshy coating of the fruit, and sow the seeds fresh, in well-drained soil, for best results. Seeds can be stored for a while before sowing, but require the removal of the flesh before storing. Divide the root ball, by breaking it up into 2 or more parts, whilst making sure that the root and crown of each part is kept intact. 
Asparagus retrofractus is best grown in full sun to partial shade. It is good for planting in rockeries, borders and containers, especially for hot, dry positions. Also, a very low maintenance plant that requires very little pruning. It makes an excellent house plant for bright, sun-filtered areas.
There are no known serious insect pests or disease problems, but do watch out for slugs, scale, spider mites, mealybugs and aphids. 
References
Arizona State University, Virtual Library of Phoenix Landscape Plants, Shrubs Vines, Asparagus retrofractus (pom pom asparagus). http://www.public.asu.edu/~camartin/plants/Plant%20html%20files/asparagusretrofractus.html Accessed 19/08/2020.
Backyard Gardener, Encyclopedia, Asparagus retrofractus (pom pom asparagus fern). https://www.backyardgardener.com/plantname/asparagus-retrofractus-pom-pom-asparagus-fern/ Accessed 21/08/2020.
Baker, J.G. 1897, Flora capensis, entry for Asparagus retrofractus Linn. Accessed via JSTOR Global Plants
Foden, W. & Potter, L. 2005. Asparagus retrofractus L. National Assessment: Red List of South African plants version 2020.1. Accessed on 2020/09/16.
Fox, F.W. & Norwood Young, E. 1982. Food from the veld: edible wild plants of southern Africa. Delta Books, Cape Town.
Goldblatt, P. & Manning, J. 2002. Cape plants: a conspectus of the Cape flora of South Africa. Strelitzia 9. National Botanical Institute, Pretoria and Missouri Botanical Garden, St Louis.
Mei, N. & Notten, A. 2015. Asparagus ramosissimus Baker. (Asparagaceae). PlantZAfrica. Online. http://pza.sanbi.org/asparagus-ramosissimus
Missouri Botanical Garden, Plant Finder, Asparagus retrofractus. https://www.missouribotanicalgarden.org/PlantFinder/PlantFinderDetails.aspx?taxonid=282184&isprofile=0& Accessed 19/08/2020.
Powrie, F. 1998. Grow South African Plants. A gardener's companion to indigenous plants. National Botanical Institute, Cape Town.
Retief, E. & Herman, P.P.J. 1997. Plants of the northern provinces of South Africa: keys and diagnostic characters. Strelitzia 6. National Botanical Institute, Pretoria.
Stearn, W.T. 1972. Stearn's dictionary of plant names for gardeners; A handbook on the origin and meaning of the botanical names of some cultivated plants. British Library Cataloguing in Publication Data, UK.
Van Wyk, B.-E. & Gericke, N. 2000. People's plants. Briza Publications, Pretoria.
Credits
Sisanda Velembo
Kirstenbosch National Botanical Garden
October 2020
Acknowledgements: images by Petra Broddle, Dominic Henry, Gigi Laidler, Tony Rebelo and Hedi Stummer, from their observations posted on iNaturalist.org.
Plant Attributes:
Plant Type: Scrambler, Shrub
SA Distribution: Eastern Cape, North West, Northern Cape, Western Cape
Soil type: Sandy, Loam
Flowering season: Autumn
PH: Acid
Flower colour: Green, White, Cream
Aspect: Full Sun, Shade, Morning Sun (Semi Shade), Afternoon Sun (Semi Shade)
Gardening skill: Average
Special Features:
Attracts birds
Attracts butterflies
Drought resistant
Fragrant
Good potplant
Indoor plant
Edible plant
Medical plant
Feeds honeybees
Horticultural zones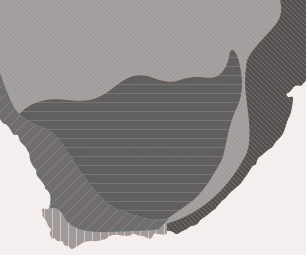 Zone 1 Coastal summer rainfall, frost free
Zone 2 Coastal winter rainfall, frost free
Zone 3 Winter rainfall Karoo, light frost
Google QR Code Generator