Astroloba rubriflora (L.Bolus) Gideon F.Sm. & J.C.Manning
Family: Asphodelaceae
Common names: red-flowered astroloba
Introduction
Astroloba rubriflora is the only plant in its genus that has red flowers. The tubular flowers face upwards, and are adapted to attract sunbirds for pollination, making this plant ideal for colour variation and also for attracting birds to a landscape.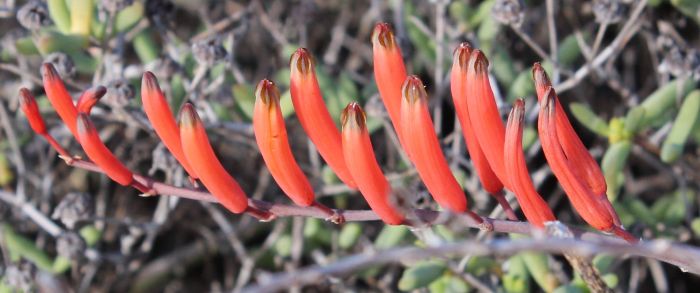 Description
Description
Astroloba rubriflora is a succulent perennial, with sprawling stems that can grow up to 240 mm tall. Younger plants have erect stems that increase in size as the plant grows older.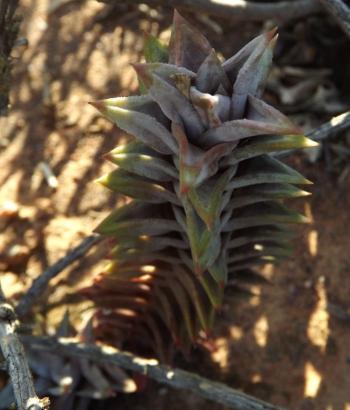 The light green, waxy leaves are smooth, spirally arranged, with very sharp tips. Leaves on the lower part of the plant tend to turn brown in severe sun exposure.
The slender inflorescence of A. rubriflora can grow up to 500 mm long, and consists of red, tubular-shaped flowers, with green tips. The flowers bloom in summer, from December to April, and are all twisted in an upright position. Seed capsules are trilocular and contain brown to black winged seeds.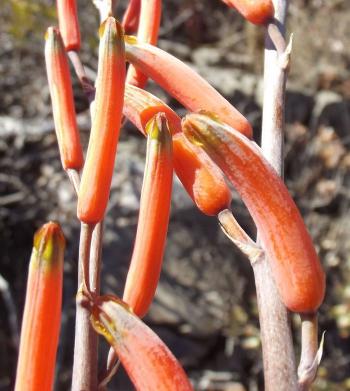 Conservation Status
Status
According to the Red List of South African plants, this species has a conservation status of Vulnerable (VU), caused by habitat loss because of the expansion of vineyards and fruit farms. To conserve this species, the Karoo Desert National Botanical Garden has already collected specimens for ex-situ conservation, as well as seed, which has been banked by the Millennium Seed Bank Project.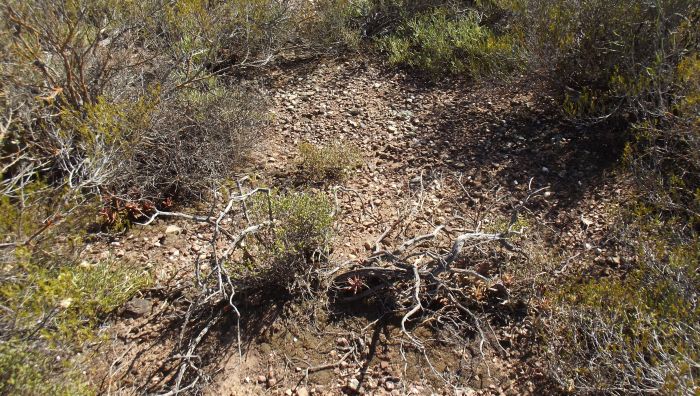 Distribution and habitat
Distribution description
Astroloba rubriflora occurs in the Robertson Karoo, in the Western Cape. The distribution range is between Robertson, Bonnievale and McGregor. This is a winter rainfall region with very high temperatures during the summer months. This species typically grows in nutrient-poor soils, underneath shrubs, on lower karroid hills and rocky slopes and flats.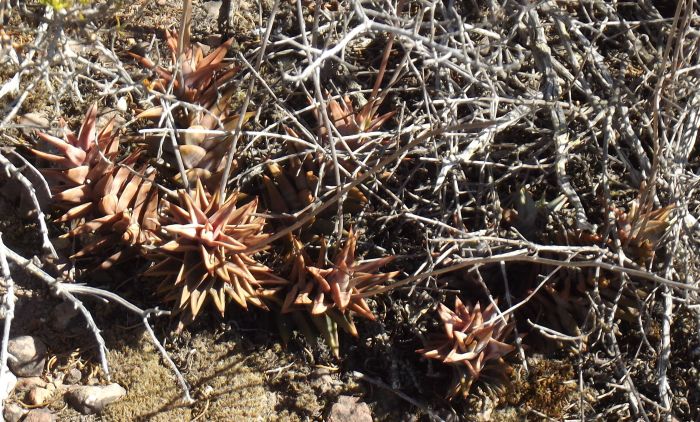 Derivation of name and historical aspects
History
Astroloba derives from the Greek word, astros, which means, 'star' and lobos, which means, 'lobe', referring to the star-shaped petals of the flower. The species name rubriflora means 'red flowers' and refers to the red colour of the flowers. A. rubriflora was previously known as Poellnitzia rubriflora, in a genus on its own, because of the unusual shape and colour of the flowers. The genus Astroloba closely resembles some species of Haworthia, but differs in that they do not have the 2-lipped opening of the flowers.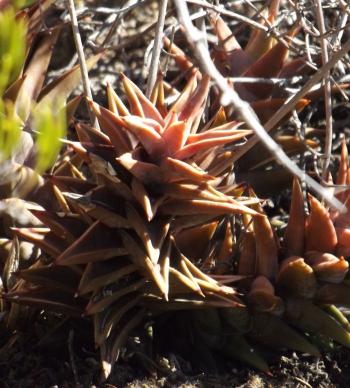 Ecology
Ecology
Astroloba rubriflora grows underneath shrubs, which protects the plant from severe sun exposure. Thick, succulent leaves also aids the plant with sufficient moisture during the drier periods of the year. Leaves have a sharp, needle-like tip that protects the plant from being grazed by animals. The flowers of A. rubriflora are adapted to be pollinated by sunbirds; they grow in an upright position, and the colour and shape are attractive to sunbirds. The tubular flowers have a narrow opening with flaps that regulate access to the nectar. The trilocular seed capsule opens slowly to release small black to brown seeds with wings, which are dispersed by the wind.
Uses
Use
Astroloba rubriflora is not known for any medicinal or cultural uses. This species is mainly used as an ornamental plant in water-wise gardens, rockeries and small succulent displays. It is well-known for its red flowers, unique shape of the leaves and for attracting sunbirds to the garden.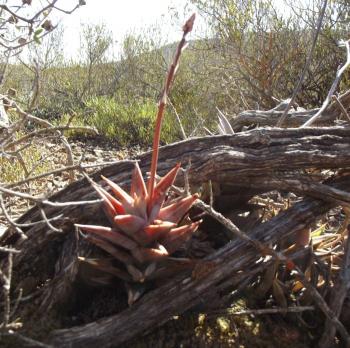 Growing Astroloba rubriflora
Grow
Astroloba rubriflora grows well in containers and prefers partial shade. The leaves of A. rubriflora turn red when exposed to excessive sun. This species can be used in a water-wise garden or Succulent Karoo landscape, and can be accompanied by species such as Pteronia incana, Crassula rupestris, Pteronia paniculata, Tylecodon paniculata and Ruschia caroli.
Astroloba rubriflora can be propagated from seed and cuttings. Sow seed in spring or summer. Fresh seed is always the best to use. Sow seed in a well-drained medium about 2 mm deep. Do not sow seeds too deep or too close to each other as it can rot, because of fungal infection. Spray regularly with a fungicide until the seedlings are 2-3 cm tall and ready to be transplanted.
Take cuttings during the active growing period (spring or summer).Take cuttings just below the internode and insert in a mixture of 60% coarse river sand and 40% sieved compost. A rooting hormone can be used for optimum results. Water cuttings, using a fine mist sprayer. Always use sterilised equipment and soil medium. Rooted cuttings need to be transplanted into a soil medium with a higher compost ratio. Place transplanted plants in a partially shaded area.
References
Charters, M.L. 2006–2016. The Eponym Dictionary of South African plants. Published online at http://www.calflora.net/southafrica/1Titlepage.html
Frandsen, R. 2017. Succulents of southern Africa. Honeyguide Publications, Somerset West.
Manning, J. & Goldblatt, P. 2012. Plants of the Greater Cape Floristic Region 1: the Core Cape Flora. Strelitzia 29. South African National Biodiversity Institute, Pretoria.
Oliver, I.B. 1993. Grow succulents. Kirstenbosch Gardening Series. National Botanical Institute, Cape Town.
Raimondo, D. & Helme, N.A. 2008. Astroloba rubriflora (L.Bolus) Gideon F.Sm. & J.C.Manning. National Assessment: Red List of South African Plants version 2017.1. Accessed on 2019/07/30
Smith, G.F. & Van Wyk, B-E. 2008. Garden succulents. Briza Publications, Pretoria.
Credits
Ricardo Riddles
Karoo Desert National Botanical Garden
August 2019
Plant Attributes:
Plant Type: Succulent
SA Distribution: Western Cape
Soil type: Clay
Flowering season: Spring, Early Summer
PH: Neutral
Flower colour: Red
Aspect: Morning Sun (Semi Shade)
Gardening skill: Average
Special Features:
Attracts birds
Drought resistant
Feature plant
Good potplant
Horticultural zones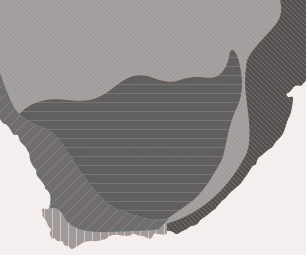 Zone 3 Winter rainfall Karoo, light frost
Google QR Code Generator