Baphia racemosa (Hochst.) Baker
Family: Fabaceae
Common names: violet pea, Natal camwood (Eng.); boskamhout (Afr.); uTshuphu (isiXhosa); isiFithi (isiZulu)
SA Tree No: 224
Introduction
Baphia racemosa is an evergreen shrub with white flowers that stand out against the green forest and fill the air with a strong violet scent.
Description
Description
Baphia racemosa is an evergreen shrub or small- to medium-sized tree up to 10 m tall with a dense and somewhat round crown. The main stem is straight, either broad or much branched. The bark is smooth and grey on young branches, becoming rough and brown with age. The leaves are alternate, simple, tapering at both ends, about 20-120 mm long and 10-80 mm broad. The leaf blade is smooth, dark green above, slightly velvety below, with a wavy margin, and the leaf stalk thickens at both ends.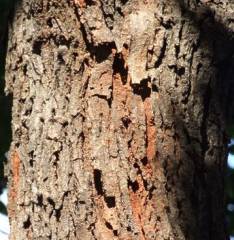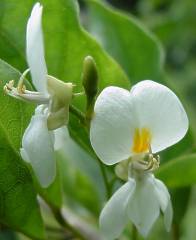 The flowers are produced in axillary racemes at the ends of branches, about 60 mm long, pea-flower-shaped, white with a golden yellow, ultraviolet-sensitive spot (honey-guide) on the upper petal, and strongly violet-scented. All flowers open together, appearing from August to January. Fruits are flat, brown to black pods, splitting, ± 100 mm long. They have an explosive mechanism which aids in seed dispersal.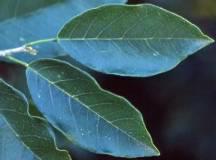 Conservation Status
Status
Baphia racemosa is listed in the Red List of South African plants (Raimondo et al. 2009) as of Least Concern.
Distribution and habitat
Distribution description
Baphia is a genus of about 80 species; 45 of these are confined mainly to the tropics and subtropics of Africa, extending to KwaZulu-Natal and to the lowland forest areas of western Madagascar. Thirty-one of the 45 African tropical species occur at an altitude of 1000 m or below. The remaining 14 species have a wide altitudinal range of 0-1800 m.
South Africa is home to two species of Baphia, namely B. racemosa and B. massaiensis subsp. obovata var. obovata.
Baphia racemosa occurs in two provinces of South Africa. It is found along the coastal belt from Eastern Cape to the coastal forests of KwaZulu-Natal, extending up to the borders of Mozambique and Swaziland. B. massaiensis is widely distributed from East Africa to Zimbabwe, Namibia and Botswana. Within South Africa it is restricted to a small area in the northeast of Limpopo.
B. racemosa is found in coastal swamps, riverine forests, areas of secondary regrowth, lowland areas and forest-savanna habitats.
Derivation of name and historical aspects
History
The name Baphia is a Greek word which means dye, referring to the red dye made from the heartwood of a tropical African species; racemosa refers to the racemose flower arrangement.
Ecology
Ecology
Baphia racemosa is sensitive to frost but can withstand short spells of drought. It occurs at low altitude, from 0-1000 m in coastal areas, on sandy or loam soils. It is usually found in riverine scrub and evergreen forest margins, usually along streams and rivers, and can reach 10 m in height.
The ripe pods burst with a very audible crack during dry weather to release the seeds. The sweet-scented flowers attract bees.
Uses
Use
Baphia racemosa is used as a street tree in coastal areas. It is also of economic value, the wood being used to make fighting sticks, hoe handles, and boats, as well as for pillars and beams in rural huts. It was also used in building wagon frames. The leaves are a source of food for larvae of the blue-spotted charaxes, and the brown and orange-barred playboy butterflies. Parrots feed on young seeds.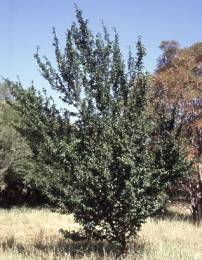 Growing Baphia racemosa
Grow
This is a slow-growing plant which makes a beautiful display when planted in a group on the lawn. It has a moderate growth rate of 500-600 mm per year.
The plant is easily propagated from seed, which should be collected before the pods split open. The seeds must first be soaked in hot water, left overnight, and planted the next morning in a container filled with river sand. Seeds usually germinate within five to eight days of being sown. The seedlings should be planted in good fertile soil that contains plenty of compost, and should be watered regularly.
The tree is ideal for the small garden. Violet pea can withstand some drought, and older trees do cope with the occasional frost, but young plants need to be protected during germination and early growth.
References
Joffe, P. 2001. Creative gardening with indigenous plants. A South African guide. edn 1. Briza Publications, Pretoria.
Leistner, O.A. 2005. Seed plants of southern tropical Africa : families and genera., Southern African Botanical Diversity Network Report No. 26. SABONET, Pretoria.
Pooley, E. 2003. The complete field guide to trees of Natal, Zululand & Transkei. edn 4. Natal Flora Publications Trust, Durban.
Soladoye, M.O. 1985. A revision of Baphia (Leguminosae-Papilionoideae). Kew Bulletin 40: 291-386.
Van Wyk, A.E.(Braam) & Van Wyk, P. 1997. Field guide to trees of southern Africa. edn 1. Struik, Cape Town.
Venter, S.. & Venter, J. 1996. Making the most of indigenous trees,.edn 1. Briza Publications, Pretoria.
Credits
Sifiso Mnxati
KwaZulu-Natal Herbarium
October 2010
Plant Attributes:
Plant Type: Shrub, Tree
SA Distribution: Eastern Cape, KwaZulu-Natal
Soil type: Sandy, Loam
Flowering season: Spring, Early Summer
PH: Alkaline
Flower colour: White, Yellow
Aspect: Full Sun, Shade
Gardening skill: Challenging
Special Features:
Fragrant
Useful plant
Feeds honeybees
Pioneer plant
Horticultural zones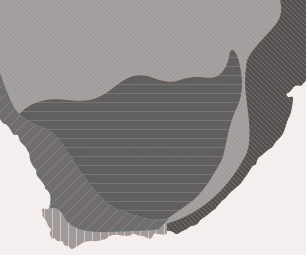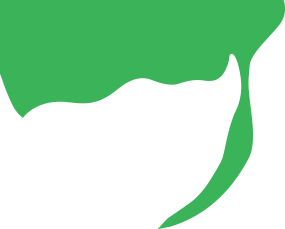 Zone 1 Coastal summer rainfall, frost free
Zone 2 Coastal winter rainfall, frost free
Zone 5 Bushveld summer rainfall, Light frost
Google QR Code Generator