Barleria matopensis S.Moore
Family: Acanthaceae
Common names: Matopos barleria (Eng.)
Introduction
Barleria matopensis is an attractive shrub, for a sunny, water-wise garden.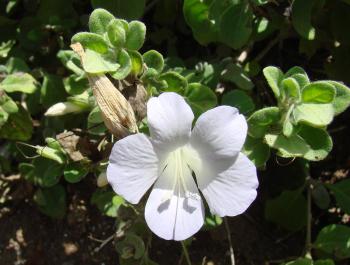 Description
Description
Barleria matopensis is an unarmed shrub, up to 800 mm tall. Young stems slender and hairy, becoming glabrous with age. Leaves are opposite, lanceolate-oblong to narrowly ovate, hairy on both sides, greyish when young, upper surface pale green with time and the lower surface paler. Leaf margins entire and slightly wavy, the apex roundish and the base ending in a narrowly winged petiole (leaf stalk). The pale mauve flowers are sessile and solitary in the upper leaf axils (angle between the stem and the leaf). The corolla (flower petals) are 2-lipped. The upper lip is 4-lobed and the lower lip entire. Corolla tube cylindrical. The flowers are subtended by enlarged, ovate, velvety calyx lobes (the outmost sterile appendix of a flower). Flowering time is in late summer and autumn, from February to June. The seed capsule is beaked and 2-seeded.
Conservation Status
Status
According to the website http://redlist.sanbi.org checked on 1 March 2016 the conservation status of this plant is Least Concern (LC).
Distribution and habitat
Distribution description
Barleria matopensis grows naturally in Zambia, Zimbabwe, Mozambique and South Africa and can be found in rocky areas in open woodland and bushveld. Plants are tolerant of light frost and receive average rainfall. Plants grow in full sun or dappled shade.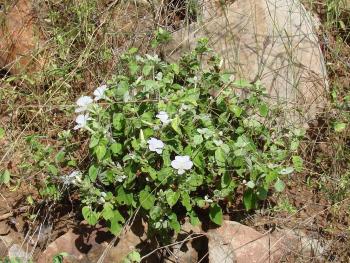 Derivation of name and historical aspects
History
Barleria matopensis is named after the Matobo (Matopos) Hills in Zimbabwe where it was recorded for the first time. A very hairy form of Barleria matopensis is found in southern Zimbabwe and western Mozambique, and it may prove to be distinct from B. matopensis (Ian Darbyshire pers comm. 8 March  2010). This particular form is the one growing in South Africa too.
Barleria matopensis belongs to a very large genus comprising about 300 species, mainly in Africa and Asia (Old World), but one species extending to the new world. The genus Barleria belongs in the family Acanthaceae containing about 250 genera and 2 500 species.
Ecology
Ecology
Barleria matopensis is pollinated by insects and attracts various species of butterfly. Ripe seed capsules explode when moistened to distribute the seed.
Uses
Use
Barleria matopensis is recommended as a garden subject. It does well as a shrub in full sun or in dappled shade and does not need plenty of water.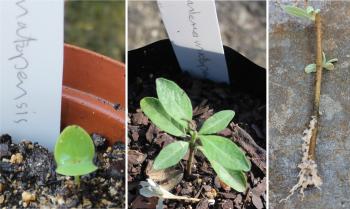 Growing Barleria matopensis
Grow
Barleria matopensis can be propagated either by seed or cuttings.
Collect the seed as the capsules turn brown. Open the capsules and harvest the seed. Fertile seeds are well developed. Sow the seeds in a mixture of equal parts of coarse river sand, soil and compost in late spring or in summer (October–March). Place the container with seed in a shady spot and water once a week. Germination takes place after 6–10 days. Transplant the seedlings when they are 100 mm tall.
Take semi-hardwood cuttings, 120 mm long, treat the cuttings with a hormone powder to stimulate root growth. Use a mixture of even parts washed river sand and compost as a growing medium. Put the container in a cool, shady place and water twice a week. Transplant the rooted cuttings after 4 months. Expect a success rate of 60%.
Barleria matopensis is a water-wise plant, growing well in sandy and loam soils. Use it in combination with plants like Aloe marlothii (mountain aloe) and A. cryptopoda (yellow aloe) and Barleria rotundifolia (spiny yellow barleria).
Acknowledgements: the author thanks Dr Hugh Glen, who translated the original description of Barleria matopensis from Latin to English for the author.
References
Britten, J. (ed.). 1907. The Journal of Botany British and Foreign Vol. XLV, Page 91. West, Newman and Co., 54 Hatton Garden, London.
Retief, E. & Herman, P.P.J. 1997. Plants of the northern provinces of South Africa: keys and diagnostic characters. Strelitzia 6. National Botanical Institute, Pretoria.
Flora of Zimbabwe, page on Barleria matopensis, accessed 1 March 2016. http://www.zimbabweflora.co.zw/speciesdata/species.php?species_id=153640
Credits
Willem Froneman
Lowveld National Botanical Garden
April 2016
Plant Attributes:
Plant Type: Shrub
SA Distribution: Limpopo
Soil type: Sandy, Loam
Flowering season: Late Summer, Autumn
PH: Neutral
Flower colour: Mauve/Lilac
Aspect: Full Sun
Gardening skill: Easy
Special Features:
Attracts butterflies
Drought resistant
Horticultural zones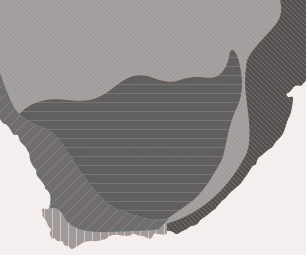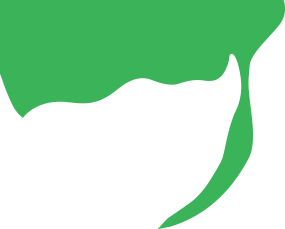 Zone 1 Coastal summer rainfall, frost free
Zone 2 Coastal winter rainfall, frost free
Zone 3 Winter rainfall Karoo, light frost
Zone 5 Bushveld summer rainfall, Light frost
Google QR Code Generator