Barleria oxyphylla Lindau
Family: Acanthaceae
Common names: turf barleria
Introduction
Rare but interesting.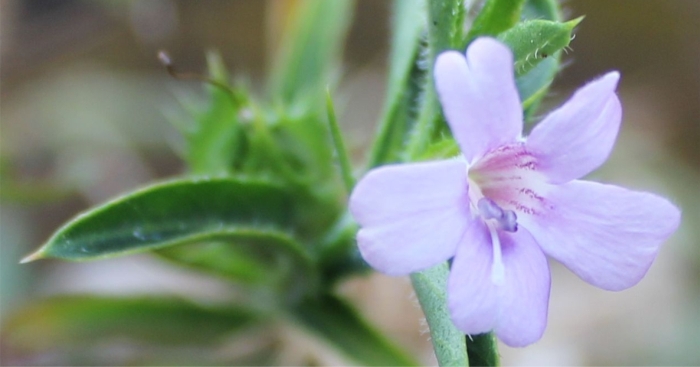 Description
Description
A slender shrublet, up to 400 mm high. The stems arise from a woody rootstock and turn reddish with age, and are covered with white hairs on 2 sides of the stems. The leaves are linear to oblong, shortly petiolate and are covered with long, white hairs on the abaxial side (undersurface of the leaf), midrib and margins. The apex (leaf tip) is tapered into a sharp point.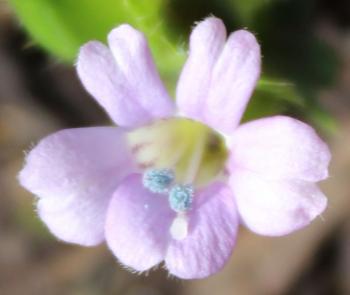 The flowers are small, mauve with darker markings in the throat. The corolla is 2-lipped. The upper lip is 2-lobed and the lower lip 3-lobed. Hairs are visible on the corolla lobes.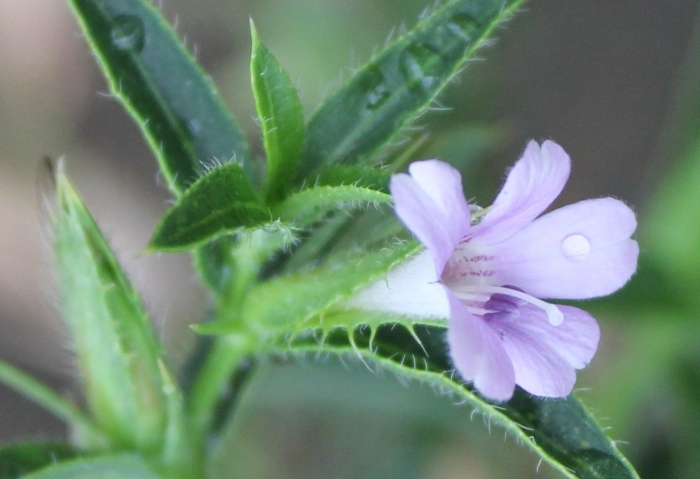 The flowers are subtended by calyx lobes. The outer calyx lobes are elliptic, covered with white hairs; the margins are toothed and the apex ends in a sharp point. The bracteoles (secondary bracts) are lanceolate, hardened and hairy, with or without 1–3 lateral teeth on the margins.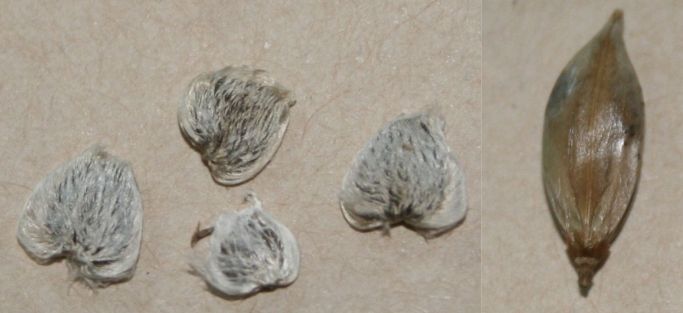 The seed capsules are elliptic, with 4, hairy seeds per capsule. The ripe fruit capsule opens explosively when it is moistened.
Conservation Status
Status
According to the Red list of South African plants Barleria oxyphylla is assessed as Rare.
Distribution and habitat
Distribution description
Barleria oxyphylla is found growing in the Kruger National Park, Lowveld of Mpumalanga, Mozambique, Swaziland and northern KwaZulu-Natal, in turf soils.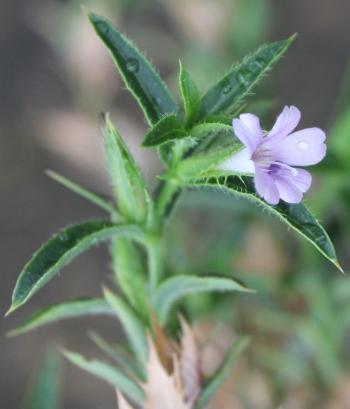 Derivation of name and historical aspects
History
The genus Barleria consists of a large group of shrubs, shrublets and herbs and the genus is named after the Dominican monk and French botanist, Jacques Barrelier (1606–1673). There are about 300 species worldwide. The species name oxyphylla means 'loving acid soils'.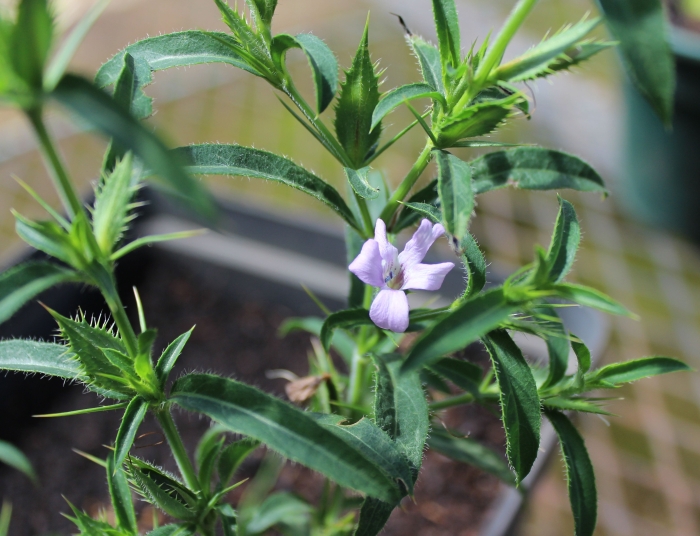 Ecology
Ecology
Barleria oxyphylla is pollinated by insects and attracts various species of butterflies.
Uses
Use
This species is frost tender, grows well in full sun and does not need a lot of water, and prefers to grow in full sun. It flowers in summer, from October to April.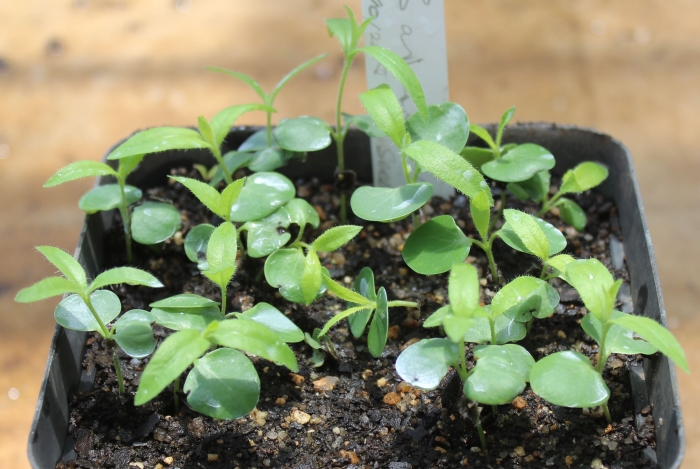 Growing Barleria oxyphylla
Grow
Barleria oxyphylla grows easily from seed or cuttings. Harvest the seed from the ripe capsules. Sow the seed in summer, from December to March, in a container in a mix of 1 part washed river sand and 2 parts potting medium. Place the container in a shady spot and water once a week. Germination starts to take place in fourteen days. Transplant the seedlings when they are 10 cm tall.
Semi-hard plant material is the best for cuttings. Cut the cuttings in lengths of 10 cm. Plant the cuttings in a mixture of 1 part coarse river sand and 2 parts potting mix. Good drainage is essential. Treat the cuttings with a rooting hormone. Plant the cuttings 5 cm apart. Place the container in a shady spot and water twice a week. Plant the rooted cuttings in a good potting mixture. Expect a success rate of 80%.
Barleria oxyphylla is the ideal plant to plant on the hot, western sides of your garden or to plant in your succulent garden. There are no specific pest or diseases affecting B. oxyphylla
References
Little, J. R. & Jones, C.E. 1980. A dictionary of botany. Van Nostrand Reinhold Compony, New York, Cincinnatti, Toronto, Melbourne.
Raimondo, D. et al. 2009. Red list of South African plants. Strelitzia 25. SANBI (South African National Biodiversity Institute), Pretoria.
Flora of Mozambique. Barleria oxyphylla Lindau. https://www.mozambiqueflora.com/speciesdata/species.php?species_id=203220
Plants of the World Online. Barleria oxyphylla Lindau http://www.plantsoftheworldonline.org/taxon/urn:lsid:ipni.org:names:46119-1
Swaziland's Flora Database, species information: Barleria oxyphylla Lindau. http://www.sntc.org.sz/flora/speciesinfo.asp?spid=2838
Credits
Willem Froneman
Lowveld National Botanical Garden
February 2019
 
Plant Attributes:
Plant Type: Shrub
SA Distribution: KwaZulu-Natal, Mpumalanga
Soil type: Sandy, Loam
Flowering season: Early Summer, Late Summer
PH: Neutral
Flower colour: Mauve/Lilac
Aspect: Full Sun
Gardening skill: Easy
Special Features:
Attracts butterflies
Drought resistant
Pioneer plant
Horticultural zones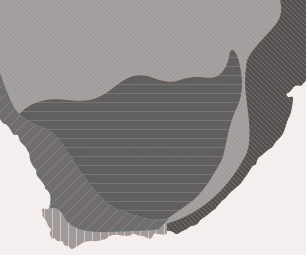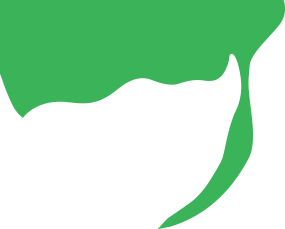 Zone 5 Bushveld summer rainfall, Light frost
Google QR Code Generator