Barleria quadriloba Oberm.
Family: Acanthaceae
Common names: Limpopo white barleria, Limpopo white bush violet (Eng.), Limpopo-witbosviooltjie (Afr.)
Introduction
A shrublet with white flowers in late summer, autumn and winter; it performs best in dry conditions and is recommended for sunny, water-wise gardens.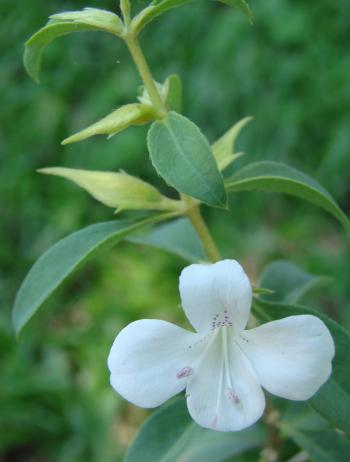 Description
Description
Barleria quadriloba is an unarmed shrublet, up to 400 mm high. The stems develop out of a woody rootstock and are covered with white hairs. The leaves are opposite, elliptic, dull green above and greyish green beneath, with long hairs on the veins and leaf margins. The leaf tapers into a petiole and the apex ends in a stiff point. The flowers are solitary in opposite axils (angle between the stem of the plant and the leaf stem), white with purple markings in the throat. The corolla (flower petals) is 2-lipped. The upper lip is 3-lobed and the bottom lip 1-lobed. Barleria lugardii and B. rehmannii are the only other barlerias in southern Africa that also have 4 petals, the rest of the species have 5 petals. The corolla tube is cylindrical and yellowish green. Each flower is subtended by modified leaves called the calyx lobes. The calyx lobes are ovate, with scattered white hairs on the lobe and lobe margins. The apex tapered into a stiff point. The bracteoles (secondary bracts) are leaf-like. Plants flower in late summer to winter (from January to June), during which time flowers appear sporadically.
The seed capsule is turgid at the base and ends in a long, conical beak. The ripe capsules burst open to distribute the seeds. There are 2 seeds per capsule.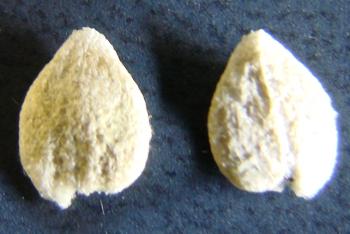 Conservation Status
Status
According the Red List of South African plants, Barleria quadriloba is assessed as Least Concern (LC).
Distribution and habitat
Distribution description
Barleria quadriloba grows in the bushveld areas of the Limpopo Province, South Africa, and in southern Zimbabwe. Plants grow in full sun, in coarse, sandy-loam soils. It tolerates mild frost and is a drought tolerant plant.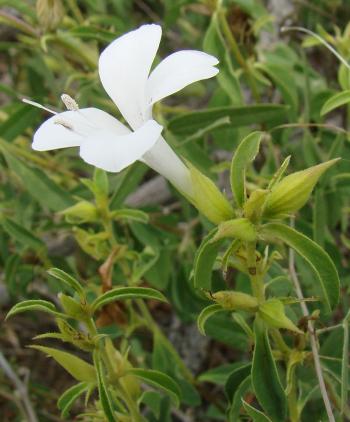 Derivation of name and historical aspects
History
The genus name Barleria is derived from the name of a Dominican monk and French botanist Jacques Barrelier. The species name quadriloba is derived from Latin, quad, meaning 'four' and loba, meaning 'lobe', referring to the four corolla lobes of this species, where most barlerias have five lobes.
The genus Barleria consists of a group of herbs, subshrubs and shrubs, with or without spines and all distributing their seed through explosive capsules.
Ecology
Ecology
Barleria quadriloba is pollinated by insects and attracts various species of butterflies.
Uses
Use
Barleria quadriloba is recommendable as a water-wise plant on rockeries and sunny patches in the garden. It requires minimal water and flowers well under dry conditions.
Growing Barleria quadriloba
Grow
Barleria quadriloba can easily be propagated from seed or cuttings. Harvest the seed when the seed capsules are turning brown. Use 1 part coarse river sand and 2 parts potting medium, as a growing medium for germination. Plant the seeds 2 cm apart in a tray and cover them lightly with the growing medium. Place the tray in a shady spot and water well once a week. Germination starts to take place in 7 days. Transplant the seedlings when 10 cm high.
Semi-hard plant material is the best for cuttings. Cut the cuttings in lengths of 10 cm.The most effective mixture to root cuttings in, is 1 part coarse river sand and 2 parts potting mix. Treat the cuttings with a rooting hormone and plant the cuttings 5 cm apart in a container. Place the container in a shady spot and water twice a week. Transplant the rooted cuttings after 4 months into a good potting mixture. Expect a success rate of 50%.
There are no specific pest or diseases that affect Barleria quadriloba.
References
Plants of the World Online, Barleria quadriloba Oberm. https://powo.science.kew.org/taxon/urn:lsid:ipni.org:names:46168-1. Accessed 14/08/23.
Raimondo, D., Von Staden, L., Foden, W., Victor, J.E., Helme, N.A., Turner, R.C., Kamundi, D.A. & Manyama, P.A. (eds) 2009. Red list of South African plants. Strelitzia 25. South African National Biodiversity Institute, Pretoria.
Retief, E. & Herman, P.P.J. 1997. Plants of the northern provinces of South Africa: keys and diagnostic characters. Strelitzia 6. National Botanical Institute, Pretoria.
Thiselton-Dyer, W.T. 1900. Acanthaceae to Plantaginee. Flora of tropical Africa, Vol. V. Lovell Reeve, London.
Credits
Willem Froneman
Lowveld National Botanical Garden
September 2017, updated August 2023
Plant Attributes:
Plant Type: Shrub
SA Distribution: Limpopo
Soil type: Sandy, Loam
Flowering season: Late Summer, Autumn, Winter
PH: Acid, Neutral
Flower colour: White
Aspect: Full Sun
Gardening skill: Easy
Special Features:
Attracts butterflies
Drought resistant
Horticultural zones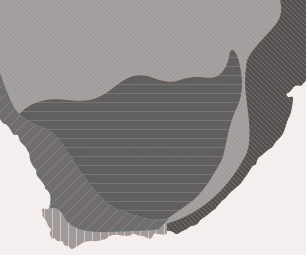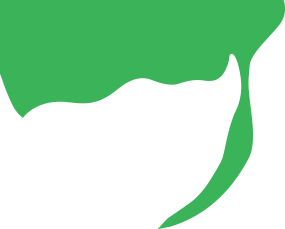 Zone 1 Coastal summer rainfall, frost free
Zone 2 Coastal winter rainfall, frost free
Zone 3 Winter rainfall Karoo, light frost
Zone 4 Summer rainfall Karoo and Highveld, Frost in winter
Zone 5 Bushveld summer rainfall, Light frost
Google QR Code Generator