Barleria rigida var. ilicina
Barleria rigida Nees var. ilicina (E.Mey.ex T.Anderson) Oberm.
Family: Acanthaceae
Common names: Kalahari scorpion thistle (Eng.); skerpioendissel (Afr.)
Introduction
A prickly barleria from the Kalahari, ideal for sunny rockeries and waterwise gardens, it is frost hardy and drought tolerant.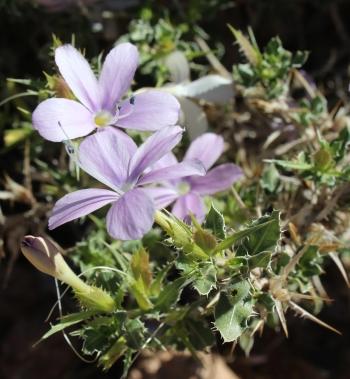 Description
Description
A much-branched shrublet, up to 400 mm high. The stems arising from a woody rootstock. Younger stems are covered with hairs, whereas the older stems become glabrous. The leaves are ovate or elliptic-ovate, blueish green and the leaf margins are thickened and wavy with spines and sometimes white. The petiole is short and the apex (leaf tip) ends in a spine.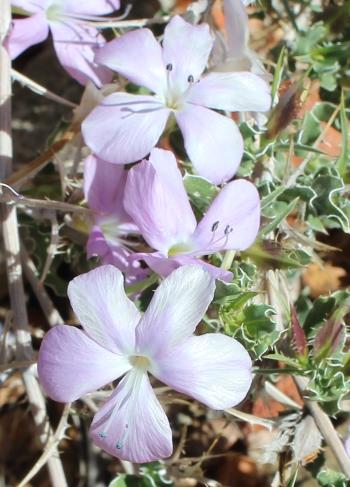 The flowers are solitary or clustered in lateral cymes (a type of inflorescence), with 1–10 flowers in alternate or opposite axils. The flower colour is mauve, white, cream-coloured, lilac, blue or purple. The corolla (flower petals) is 2-lipped, upper lip 4-lobed, lower lip 1-lobed. The corolla tube is cylindrical.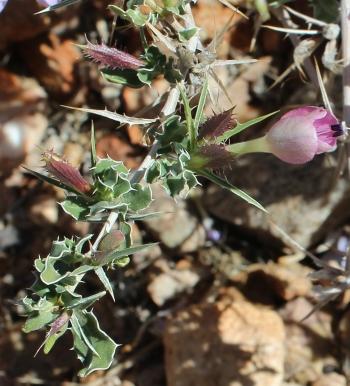 Each flower is subtended by modified leaves called the calyx lobes. The outer calyx lobes are elliptic, glabrous and with or without the purplish tinge on the veins. The calyx lobe margins are spine-toothed, the apex tapered and ending in a spine. The secondary bracts are called the bracteoles. The bracteole lamina is developed or spinous, with a prominent midrib and margins, with a few scattered teeth, the apex tapered into a sharp point.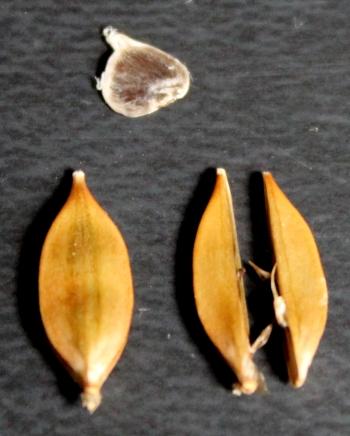 The seed capsules are elliptic and tapering to a point. There are 4, hairy seeds per capsule.
This variety can be distinguised from var. rigida by its ovate leaves and conspicuously spiny, sinuate leaf margins, with the spines evenly distributed. The leaves of var. rigida are linear, and the margins are undulate, and have small spines or none.
Conservation Status
Status
Distribution and habitat
Distribution description
Barleria rigida var. ilicina grows in the arid Kalahari Karroid scrubland in the Northern Cape and Namibia, in deep, sandy soils or in calcrete, gravelly, stony soils.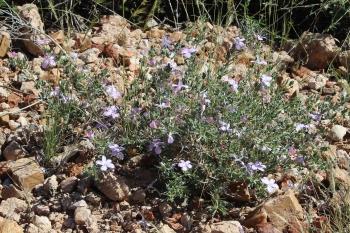 Derivation of name and historical aspects
History
The genus name Barleria is derived from the name of a Dominican monk and French botanist, Jacques Barrelier. The species name rigida, means 'stiff' or 'rigid', referring to the woodiness of the plant. The variety name ilicina, means 'like the genus Ilex' commonly known as holly, referring to the prickly holly-like leaves.
The genus Barleria consists of a large group of shrubs, subshrubs and herbs.
Ecology
Ecology
Barleria rigida var. ilicina  is pollinated by insects and attracts various species of butterflies.
Uses
Use
This species is recommended for rockeries and sunny gardens and tolerates frost and droughts. Barleria rigida var. ilicina flowers in abundance when watering is minimized. Too much water stimulates vegetative growth and less flower production.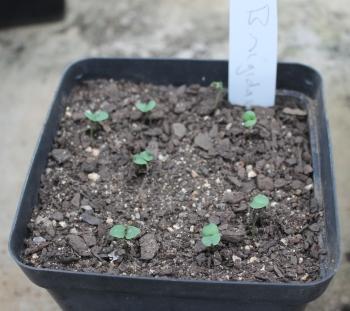 Growing Barleria rigida var. ilicina
Grow
Barleria rigida var. ilicina can easily be propagated from seeds or cuttings. Harvest the ripe seeds when the capsules turn brown. Use 1 part of washed river sand and 2 parts potting medium, as a growing medium for germination. Place the tray with seeds in a shady spot and water once a week. Germination starts to take place in fourteen days. Transplant the seedlings when 10 cm in size.
Semi-hard plant material is the best for cuttings. Cut the cuttings in lengths of 10 cm.The most effective mixture to root the cuttings in, is 1 part of coarse river sand and 2 parts of potting mix. Good drainage is essential. Treat the cuttings with a rooting hormone. Plant the cuttings 5 cm. apart. Place the container in a shady spot and water twice a week. Transplant the rooted cuttings in a good potting mixture. Expect a success rate of 60%.
There are no specific pests or diseases affecting Barleria rigida var. ilicina .
References
Balkwill, M.J. & Balkwill, K. 1998. A preliminary analysis of distribution patterns in a large, pantropical genus, Barleria L.(Acanthaceae). Journal of Biogeography. Vol 5: 95–110.
Little, J. R. & Jones, C.E. 1980. A dictionary of botany. Van Nostrand Reinhold Compony, New York, Cincinnatti, Toronto, Melbourne.
Nyirenda, F,C. 2012. Morphological variation in five related species of Barleria (Acanthaceae). Dissertation for Masters of Science, University of the Witwatersrand.
Raimondo, D. et al. 2009. Red list of South African plants. Strelitzia 25. SANBI (South African National Biodiversity Institute), Pretoria.
Credits
Willem Froneman
Lowveld National Botanical Garden
December 2017
Plant Attributes:
Plant Type: Shrub
SA Distribution: Free State, Northern Cape
Soil type: Sandy
Flowering season:
PH: Acid, Neutral
Flower colour: Blue, Purple, White, Cream, Mauve/Lilac
Aspect: Full Sun
Gardening skill: Easy
Special Features:
Attracts butterflies
Drought resistant
Horticultural zones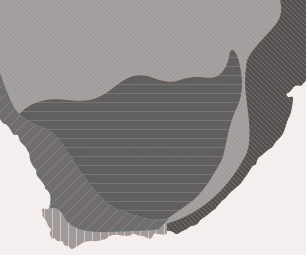 Zone 3 Winter rainfall Karoo, light frost
Zone 4 Summer rainfall Karoo and Highveld, Frost in winter
Google QR Code Generator