Bauhinia petersiana subsp. macrantha
Bauhinia petersiana Bolle subsp. macrantha (Oliv.) Brummitt & J.H.Ross
Family: Fabaceae
Common names: Kalahari bauhinia, Kalahari camel's foot, coffee neat's foot (Eng.); kalaharibauhinia, kalaharibeesklou, koffiebeesklou (Afr.); motsantsa, mogotswe (Setswana); mushakule (Tshivenda), imondo (isiNdebele)
SA Tree No: 208.3
Introduction
This low-growing, evergreen tree or scrambler, boasts with large, pleasantly scented white flowers in midsummer.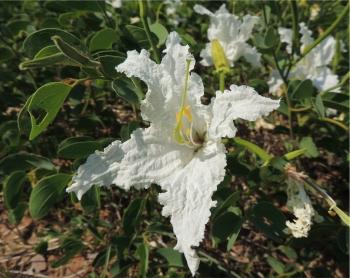 Description
Description
Bauhinia petersiana subsp. macrantha is an evergreen shrub or small tree, 1–3 m tall, and can reach a height of 8 m. It can also be successfully grown as a scrambler. The young branches display hairy bark and are often covered with tiny, orange scales; in contrast to this, the older branches tend to turn grey, smooth and the flaking of the older branches is quite common. The leaves are simple and deeply 2-lobed and produce hairs on the lower surface; about 9 conspicuous veins can also be observed on the underside of the leaves. The margins are entire and the leaf stalks up to 10 mm long.

The large flowers have 80 mm-long crisped petals, white with undulating margins; staminodes (sterile stamens) can be 4 or 5, and the hairy style can reach a length of up to 40 mm. Flowering is in midsummer, from December to January.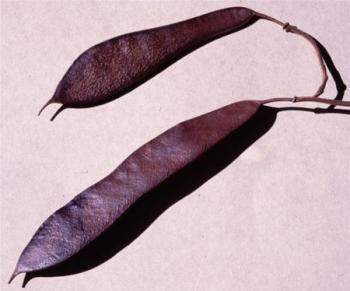 The fruit takes the form of a pod which is about 65–240 × 15–30 mm, is very hard and turns dark brown when matured.
The species B. petersiana is divided into 2 subspecies: subsp. macrantha and subsp. petersiana. They can be distinguished by their flowers, subsp. macrantha has broader, more rounded petals and shorter stamens, and it has a smaller growth habit with a tendency to scramble, whereas, subsp. petersiana is usually a large shrub or small tree over 2 m.
Conservation Status
Status
Distribution and habitat
Distribution description
Bauhinia petersiana occurs quite frequently, from Tanzania in the north to the North West Province of South Africa in the south. The subsp. macrantha occurs in the North West, Gauteng and Limpopo Provinces in South Africa, and in Namibia, Angola, Botswana, Zimbabwe and Zambia, whereas subsp. petersiana has a more easterly distribution, occurring in Zimbabwe, Mozambique, Malawi, Zambia, DRC and Tanzania. The subsp. macrantha grows in open woodland and also adapted well to wooded grassland and even in Kalahari shrubveld. This tree grows extremely well in sandy soils and can withstand a lot of cold, but does not do well in areas subjected to frost.
Derivation of name and historical aspects
History
The genus Bauhinia pays honour to 2 brothers, Jean and Gaspard Bauhin; they were herbalists who lived during the 16th century. The specific epithet petersiana refers to Dr Wilhelm Peters, a German botanist who lived between 1815–1883, and the subspecific epithet macrantha refers to the large flowers of the tree.
There are about ± 300 species of Bauhinia, 5 species are indigenous to South Africa: Bauhinia bowkeri, B. galpinii, B. natalensis, B. tomentosa and B. petersiana subsp. macrantha.
Ecology
Ecology
The flowers will attract birds such as grey louries and certain parrots to your garden; they feast on the flowers of this tree. The pods and the leaves of your tree will not stay long on the tree when any domestic stock or game is around, because they regard it as an irresistible delicacy.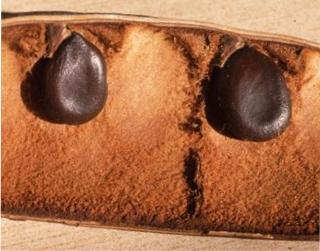 Uses
Use
It is recorded that the roots of this tree can be easily baked and eaten; even the pods when still young, can be boiled and used in the place of spinach. Seeds are still roasted today and used like coffee. It is also recorded that the seeds are an important nutrient source and may contain protein and minerals such as, calcium, phosphorus, copper etc.
Wounds were successfully treated when pounded leaves boiled in a salt solution were applied. The bark is also very useful; it is recorded that rope can be made from it and this rope was used to collect fire wood and used in the construction of huts, for example to hold beams together.
Growing Bauhinia petersiana subsp. macrantha
Grow
This tree will grow well in drought prone areas. Its scrambling habit makes it a perfect screening plant. This tree is also known for having a non-aggressive root system and can be safely planted near a wall or paving. The Kalahari bauhinia is an ideal candidate to be used as a bonsai specimen, the plant adapts almost instantly to its potted environment.
Propagation by seed is the better option. Soak seeds in warm water overnight. Sow the swollen seeds in seedling trays filled with river sand. Cover the seeds with a thin layer of river sand and water well. It is important to keep the soil moist and place the trays in a sunny area. To prevent pre-or post-emergence damping off, a fungicide can be applied to the seeds; this will increase the success rate of germination. The seeds will take about 3 weeks to germinate; the germination percentage has been recorded to be quite high. The best time to transplant the seedlings is when they reach the 2-leaf stage. Damaging the taproot during the transplanting process must be avoided. Generally seedlings transplant well and they grow quite fast. It has been recorded that it can grow up to 750 mm per year.
References
Coates Palgrave, K. 1977. Trees of southern Africa. Struik, Cape Town.
Foden, W. & Potter, L. 2005. Bauhinia petersiana Bolle subsp. macrantha (Oliv.) Brummitt & J.H.Ross. National Assessment: Red List of South African plants version 2017.1. Accessed on 2018/06/08.
Harris, G. & Harris, M.W. 1994. Plant identification terminology, an illustrated glossary. Spring Lake, Utah.
Hyde, M.A., Wursten, B.T., Ballings, P. & Coates Palgrave, M. 2018. Flora of Zimbabwe: Species information: Bauhinia macrantha. https://www.zimbabweflora.co.zw/speciesdata/species.php?species_id=126800, retrieved 28 August 2018.
Joffe, P. 2003. Easy guide to indigenous shrubs. Briza Publications, Pretoria.
Coates Palgrave, K.P. & M. 1985. Everyone's guide to trees of South Africa. Struik, Cape Town.
Leistner, O.A. (ed.). 2000. Seed plants of southern Africa: families and genera. Strelitzia 10. National Botanical Institute, Pretoria.
Van Wyk, A.E. [Braam] & Van Wyk, P. 1997. Field guide to trees of southern Africa . Struik, Cape Town.
Van Wyk, B.-E. & Gericke, N. 2000. People's plants. Briza Publications, Pretoria.
Venter, F. & Venter, J.A. 2012. Making the most of indigenous trees. Briza Publications, Pretoria.
Von Breitenbach, F. 1990. National list of indigenous trees. Second revised edition. Dendrological Foundation, Pretoria.
Credits
Benjamin Festus
Kirstenbosch National Botanical Garden
September 2018
Plant Attributes:
Plant Type: Scrambler, Shrub, Tree
SA Distribution: Gauteng, Limpopo, North West
Soil type: Sandy
Flowering season: Early Summer, Late Summer
PH: Acid, Neutral
Flower colour: White
Aspect: Full Sun
Gardening skill: Easy
Special Features:
Attracts birds
Drought resistant
Fragrant
Good potplant
Hedge/screen
Edible plant
Useful plant
Horticultural zones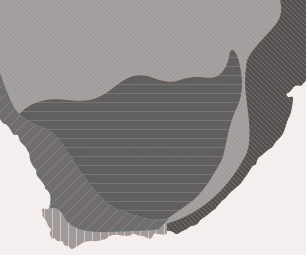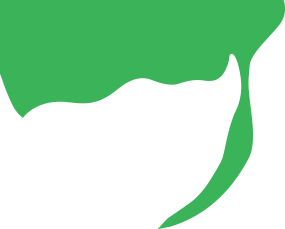 Zone 1 Coastal summer rainfall, frost free
Zone 2 Coastal winter rainfall, frost free
Zone 3 Winter rainfall Karoo, light frost
Zone 4 Summer rainfall Karoo and Highveld, Frost in winter
Zone 5 Bushveld summer rainfall, Light frost
Google QR Code Generator