Begonia homonyma Steud.
Family: Begoniaceae
Common names: large-leaved wild begonia (Eng.); wildebegonia (Afr.); idlula (Zul.)
Introduction
A soft, fleshy perennial with a swollen stem base, red-tinged stems and white or pink flowers in summer. It is an attractive, shade garden plant and pot plant that is also commonly used for traditional medicine in KwaZulu-Natal.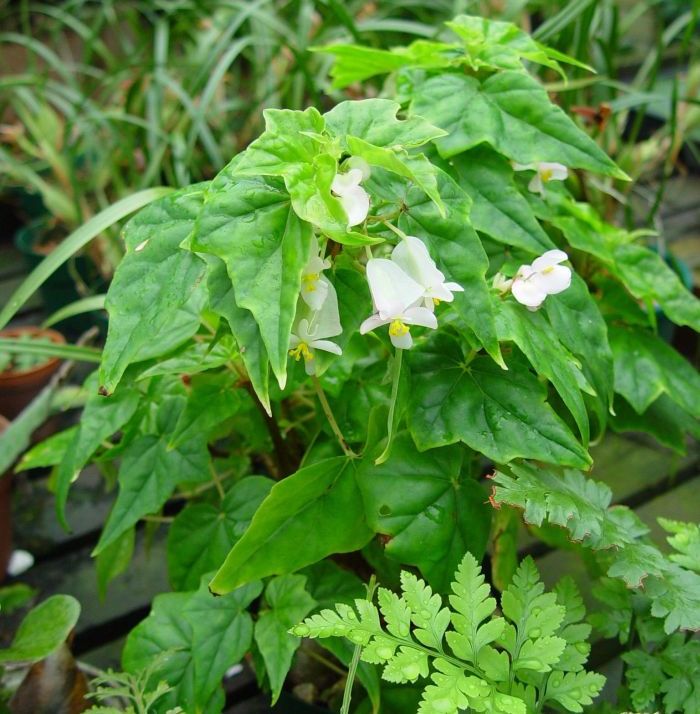 Description
Description
Begonia homonyma is a semi-tuberous, soft, succulent, perennial herb, up to 1 m tall. Stem erect, 1 or several from a large and swollen base (caudex), simple or branched, tinged red. Leaves are heart-shaped, 70–130 × 30–70 mm, light green and waxy above, paler below, crisp; apex pointed; margin entire or broadly, shallowly lobed. Juvenile leaves are often white spotted; stalks up to 130 mm long and are often reddish.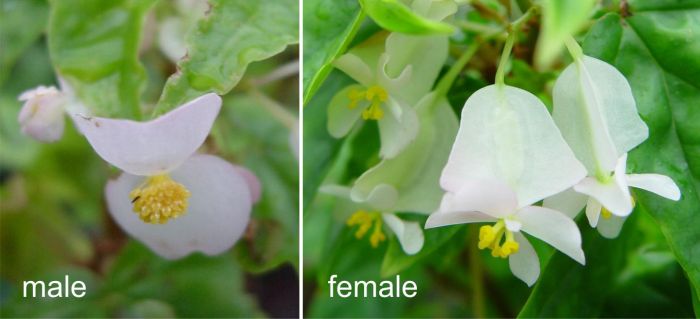 The male and female flowers occur separately (unisexual) but are borne on the same plant (monoecious) and can self-pollinate to produce viable seeds. Flowers are 30 mm in diameter, white, pink or white tinged with pink. The male flowers have 2 petals and the female flowers 5 petals. Flowering occurs in summer, from December to March. The fruit is 3-winged, about 20 mm across the expanded wing. 
This species is similar to Begonia dregei and they have sometimes have been regarded as the same, variable species, but B. homonyma can be distinguished by its larger leaves that are entire or shallowly lobed and with veins strongly raised below.
Conservation Status
Status
According to the Red List of South African plants website, this species is assessed as Endangered (EN). Population size is estimated to be fewer than 2 500 mature individuals and no one subpopulation is estimated to have more than 250 plants. These estimates are derived from counts of plants in 9 subpopulations, at sites across the range. The maximum recorded number of plants per subpopulation is 50. The species is rare in its forest habitat. Caudices are used for traditional medicine and have been recorded occasionally in the KwaZulu-Natal traditional medicine (muthi) markets. Small populations are declining because of destructive harvesting.
Distribution and habitat
Distribution description
Begonia homonyma is endemic to South Africa; this species has been recorded from the more coastal districts of KwaZulu-Natal and Eastern Cape, up to about 900 m above sea level, from the Kei River to Stanger and around Pietermaritzburg and an isolated record from the southern foot of the Lebombo Mountains, in northern KwaZulu-Natal. This species is found on rock falls and cliffs in forest. 
Derivation of name and historical aspects
History
The genus Begonia is named in honour of the French governor of San Domingo and a patron of botany, Michael Begon (1638–1710). The specific epithet, homonyma means 'with the same name', the allusion is not clear.  
The genus Begonia (Begoniaceae) is the fifth largest angiosperm genus comprising of 1 795 species (Kumari, Baskaran & Van Staden 2016). The species diversity is unequally distributed around the globe, with more species found in the tropics than any other ecosystem in the world. The greatest diversity is in America and Asia, with about 600 species each. Although the African species are relatively small in number, phylogenetic work has indicated that they are likely to be the oldest. In southern Africa Begoniaceae is represented by one genus, Begonia, with 5 indigenous species: Begonia dregei, B. homonyma, B. geranioides, B. sonderiana and B. sutherlandii subsp. sutherlandii. Plants in this genus can be recognized by some of the following characteristics: leaves often with unequal sides, male and female flowers separate, 3-winged capsule, and fruit dry or fleshy. However, there are numerous deviations from these typical character states. Within the genus Begonia there is a large range of morphological diversity particularly in vegetative form and this is linked to adaption to a variety of ecological conditions.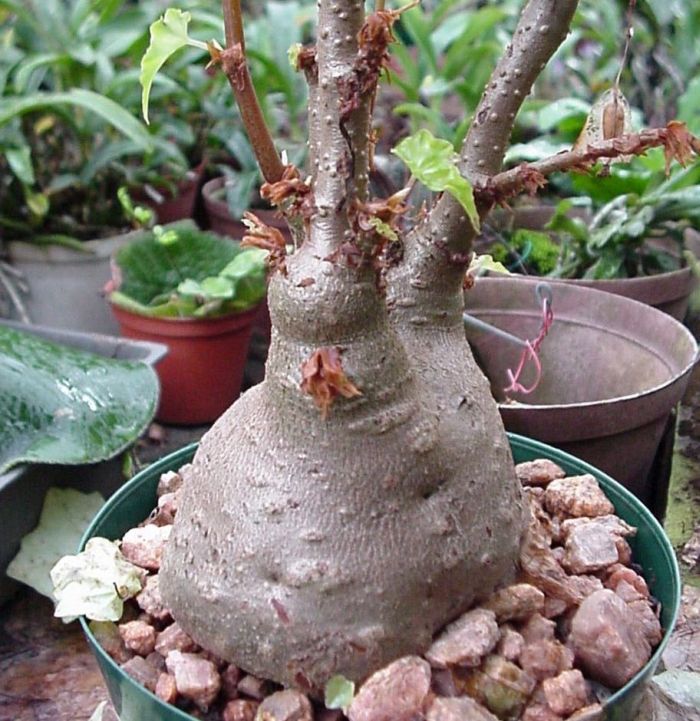 Ecology
Ecology
Begonia homonyma is completely dormant in winter with only tubers remaining to sustain the growth. The tuberous root system enables it to flower and survive even in dry periods.
Uses
Use
Begonia homonyma is traditionally used to treat chest ailments. Root decoctions are taken to counteract idliso (poison administered in food) and are used as a protective charm. 
The genus Begonia is widely used in commercial horticulture and there is an economically valuable market for hybrids, as both bedding plants and potted plants. Some species have been in cultivation for at least 600 years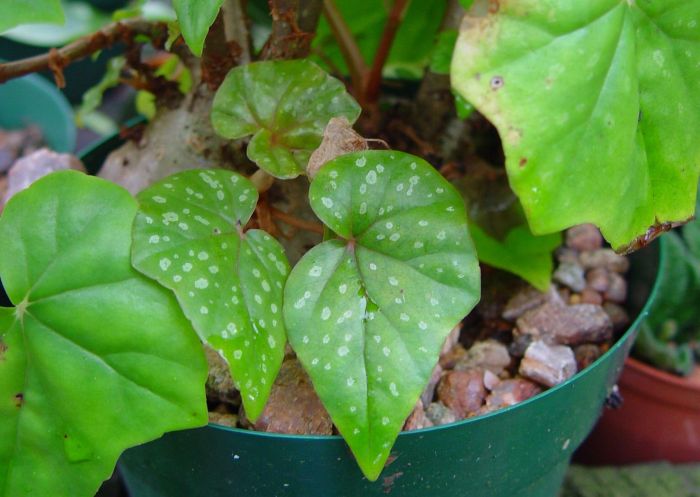 Growing Begonia homonyma
Grow
Begonia homonyma is propagated by seed, tip cuttings and leaf cuttings. The seed is very fine, dust-like, and should be treated like all the other fine seed. Seed is best sown in spring or summer, in a moist but well-drained medium, should be kept warm and exposed to light to induce germination; high light intensity tends to prevent fungal spore. Seed will germinate in 10–14 days. Once seeds have germinated, sunlight should be reduced to prevent sunburn. When seedlings reach 30 mm high, they can be pricked out and potted into 120–150 mm pots.
Cuttings are best taken in mid-summer and treated with a rooting hormone. They root easily in river sand or silica sand in an intermittent mist-spray area or in a warm, moist, shaded area.
Altitude and cool humidity are important factors to ensure successful cultivation of many of our Begonia species. Grow the plants at the same altitude or climatic region. Do not bring the endemics from the tops of mountains down into the warm lowlands, where they will not adapt (Nichols 2005).
References
Hutchings, A., Scott, A.H., Lewis, G. & Cunningham, A.B. 1996. Zulu medicinal plants: an inventory. University of Natal Press, Pietermaritzburg.
Kumari, A., Baskaran, P. & Van Staden, J. 2016. In vitro regeneration of Begonia homonyma — A threatened plant. South African Journal of Botany 109:174–177
Nichols, G. 2005. Growing rare plants: a practical handbook on propagating the threatened plants of southern Africa. Southern African Botanical Diversity Network Report No. 36.
Neale, S., Goodall-Copestake, W. & Kidner, C.A. 2006. The evolution of diversity in Begonia. Floriculture, Ornamental and Plant Biotechnology Volume 4:(606-611).
Pooley, E. 2013. A field guide to wild flowers KwaZulu-Natal and the eastern region. Natal Flora Publications Trust, Durban.
Ross, J.H. 1976. Flora of southern Africa, Volume 22. Botanical Research Institute, Pretoria.
Williams, V.L., Crouch, N.R., McLellan, T. & von Staden, L. 2008. Begonia homonyma Steud. National Assessment: Red List of South African Plants version 2020.1. Accessed on 2020/07/12
Credits
Lungisani Zondi
Walter Sisulu National Botanical Garden
July 2020
Acknowledgements: photos by Geoff Nichols.
Plant Attributes:
Plant Type: Perennial, Succulent
SA Distribution: Eastern Cape, KwaZulu-Natal
Soil type: Sandy, Loam
Flowering season: Spring, Early Summer, Late Summer
PH:
Flower colour: White, Pink
Aspect: Shade, Morning Sun (Semi Shade), Afternoon Sun (Semi Shade)
Gardening skill: Average
Special Features:
Good potplant
Indoor plant
Medical plant
Horticultural zones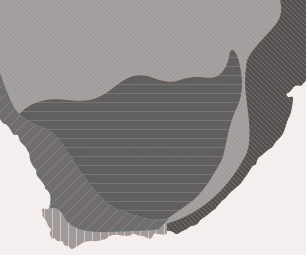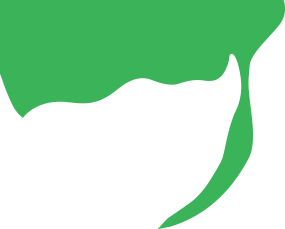 Zone 1 Coastal summer rainfall, frost free
Zone 5 Bushveld summer rainfall, Light frost
Google QR Code Generator