Bowiea volubilis Harv. Ex Hook.f. subsp. volubilis
Family: Asparagaceae
Common names: climbing onion, climbing green lily, bowiea (Eng.); knolklimop (Af.); ugibisisila; iguleni (isiZulu); umgaqana (isiXhosa); gibizisila (siSwati)
Introduction
Bowiea volubilis subsp volubilis has an unusual succulent adaptation - climbing inflorescences that harvest photosynthetic light in the absence of aerial leaves. This has made it a collectable curiosity amongst bulb enthusiasts worldwide. However, in southern Africa this species faces severe threat due to the medicinal market. Herbalists constantly rate this species as one of the top six medicinal species to have become scarce as a result of over-utilization.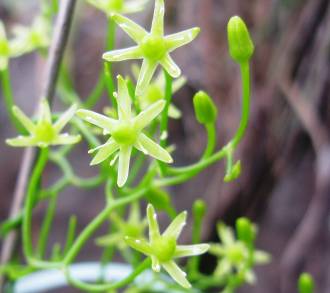 Description
Description
Bowiea volubilis subsp volubilis is a deciduous climber which climbs to 3-4 m in surrounding vegetation or scrambles over rocks on hillsides. The bulb is large, reaching 150 mm in diameter, with several fleshy white scales becoming greenish-yellow if exposed. Stems are fleshy, bright green, much branched and function as leaves.
1 - Face view of flower 2 - developing capsules 3 - gynoecium 4 - stigma
Flowers are 16-24 mm in diameter, green, with stalks turning backwards. The species is known to flower between January to March throughout its wide distribution range. Fruits are in the form of a brownish oval capsule, about 25 mm in diameter.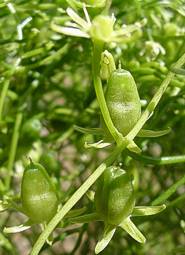 Conservation Status
Status
This species is listed as Vulnerable in the 2009 Red List due to severe pressure from medicinal-plant harvesting over most of its range in South Africa. Based on observations, provincial authorities estimate a minimum decline of 30% nationally over the past 30 years, and decreases in the number of individual bulbs available in the muthi markets have been noted.
Appropriate cultivation techniques and healer training are essential for the protection of this species.
Distribution and habitat
Distribution description
Bowiea volubilis subsp volubilis occurs in the eastern parts of South Africa ranging from the Eastern Cape to Limpopo Province. It extends north into Zimbabwe, Zambia, Tanzania, Uganda and Kenya and has also been recorded in Mozambique, Malawi and Angola.
This species occurs at low and medium altitudes, and is usually found along mountain ranges, in thickly vegetated river valleys, under bush clumps and in boulder screes. It has been recorded as scrambling at the margins of karroid, succulent bush in the Eastern Cape, and in KwaZulu-Natal, and it may occur in bushy kloofs at the coast and in the midlands. In Gauteng, Mpumalanga and North West Province this species is often found in open woodland or on steep rocky hills usually in well-shaded situations.
Bowiea volubilis subsp volubilis tolerates wet and dry conditions, growing predominantly in summer rainfall areas which receive approximately 200 - 800 mm of annual rainfall.
Derivation of name and historical aspects
History
Bowiea was named by W.H. Harvey to honour James Bowie (1789-1869), a plant collector for Royal Botanical Gardens, Kew. The genus is monotypic with two subspecies, volubilis and gariepensis, both occurring in South Africa. The epithet volubilis refers to the twining growth habit whereas gariepensis refers to the geographical area of growth. The subspecies grow in separate geographical areas and show differences in floral, capsule and seed characters.
Ecology
Ecology
Little is known about the pollination of Bowiea.
Uses
Use
Igibisila is used extensively for medicinal purposes for various skin diseases, sore eyes, bladder problems, barrenness, to facilitate delivery, and to procure abortions. Its magical properties are well-regarded: warriors are made brave and invincible; travellers protected; and love procured with this strange-looking plant.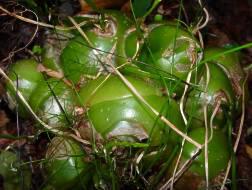 However, it is also known to be very toxic, and both human and animal deaths have been attributed to cardiac failure resulting from ingestion of this plant.
Growing Bowiea volubilis
Grow
Few seeds are set, making offspring numbers low. If fruit are produced, the fine black seeds should be harvested as soon as the capsules start to split. The seeds should be sowed immediately onto a mix of one third sand and two thirds bark in seedling trays, and left for germination in semi-shade.
Vegetative propagation of Bowiea volubilis subsp volubilis is extremely slow and requires expensive tissue culture systems.
References
Bircher, C., Prentice, C., Crouch, N., Symmonds, R. 1998. Conservation concerns for Bowiea volubilis an unusual succulent member of the Hyacinthaceae. Herbertia 53.
Symmonds, R., Bircher, C., Crouch, N. 1997. Bulb scaling and seed success with Bowiea volubilis. PlantLife 17.
Pooley, E. 20051998. A fieldguide to Wildflowers KwaZulu-Natal and the Eastern Region. Natal Flora Publications Trust.
Raimondo, D. et al.(eds) 2009. Red List of South African Plants. Strelitzia 25. South African National Biodiversity Institute, Pretoria.
Credits
Suvarna Parbhoo
Custodians of Rare and Endangered Wildflowers
(CREW) Programme: KZN node
March 2011
Plant Attributes:
Plant Type: Bulb, Climber, Scrambler
SA Distribution: Eastern Cape, Gauteng, Limpopo, Mpumalanga, North West
Soil type: Loam
Flowering season: Late Summer
PH:
Flower colour: Green
Aspect: Shade
Gardening skill: Challenging
Special Features:
Good potplant
Poisonous
Medical plant
Horticultural zones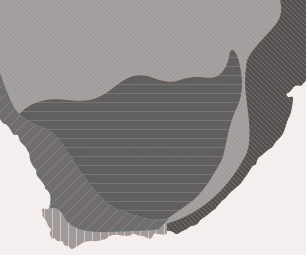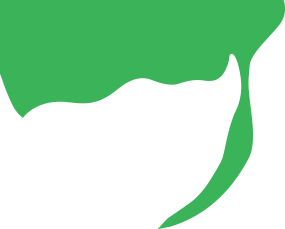 Zone 1 Coastal summer rainfall, frost free
Zone 4 Summer rainfall Karoo and Highveld, Frost in winter
Zone 5 Bushveld summer rainfall, Light frost
Google QR Code Generator