Brachylaena glabra (L.f.) Druce
Family: Asteraceae
Common names: malbar, malabar silver-oak (Eng.); malbarboom, malblaar (Afr.); umphahla-wehlathi, amacirha (Xhosa); umphahla (Zulu)
SA Tree No: 726
Introduction
A member of the Aster family, Brachylaena glabra is a lovely medium-sized tree with a spreading crown and heads of small, white flowers.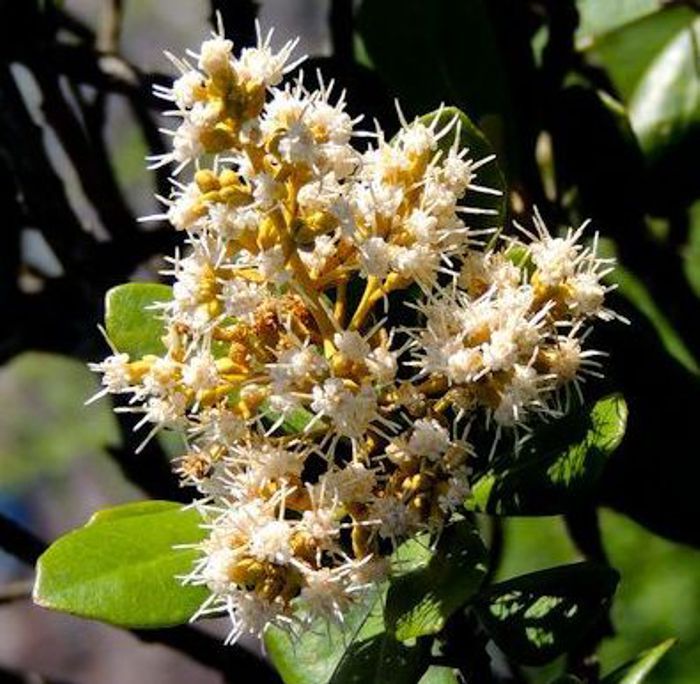 Description
Description
Brachylaena glabra is a small to medium-sized tree that can grow up to 18 m tall. It can be single-stemmed or multi-stemmed and trunks can reach 300 mm in diameter. The bark of the tree is pale grey to dull brown. The crown of this tree is spreading and decorated by its dull grey-green leaves.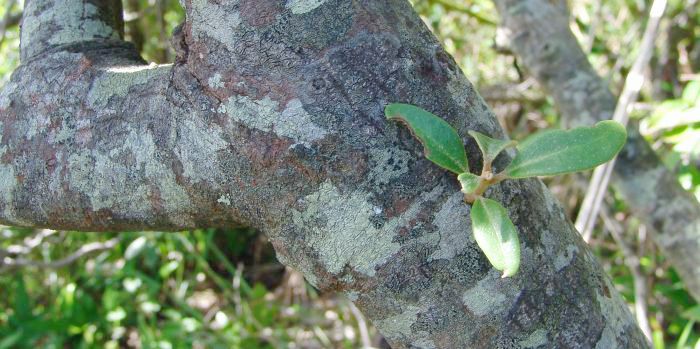 The leaves are ovate or oblong and often broadest above the middle, with short, sharp or blunt tips, and the base is cuneate. The leaves are petiolate, leathery and aromatic. The margins are somewhat curled back and serrated near the apex. The younger leaves are often covered in white or rusty hairs, the upper surface is smooth when mature.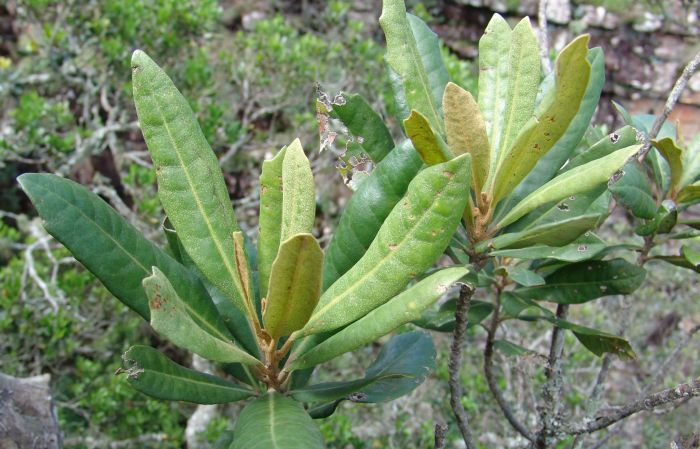 The inflorescence, appearing in late summer (March) remains on the tree all through winter and spring to early summer (November), is open, branched, up to 130 mm long and bears heads of small white or gold flowers, arranged in terminal clusters. Brachylaenas are dioecious, with male and female flowers on separate trees. The male inflorescence is more dense and has more flowers per head than the female.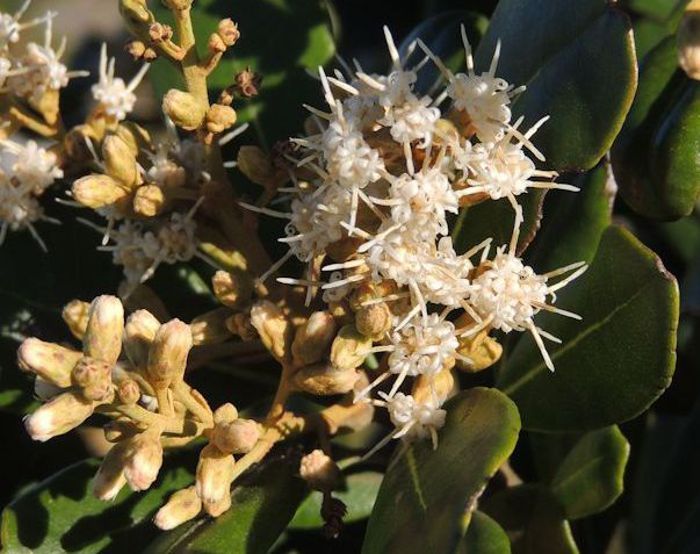 The fruit is a small nutlet with a tuft of bristly whitish hairs.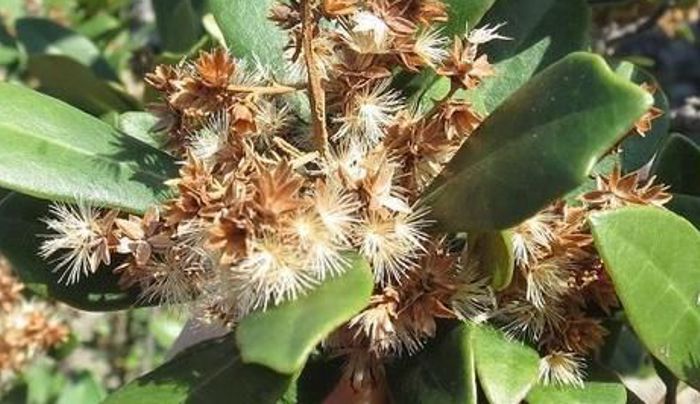 This species can be confused with B. neriifolia, but its leaves are much broader in proportion to their length, and it has paler bark than B.neriifolia.
Conservation Status
Status
Least Concern (LC), this species is not threatened, its wild population can still be found in abundance in its areas of distribution.
Distribution and habitat
Distribution description
Brachylaena glabra occurs along the coast of the Eastern Cape, in the open spaces or margins of high forests, and in the southeastern parts of KwaZulu-Natal, where it can be found forming a small shrub or tree, mainly on the south-facing sandstone outcrops and escarpment edges near the coast.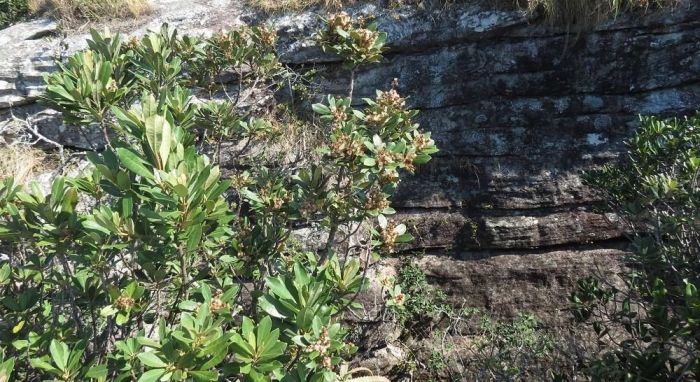 Derivation of name and historical aspects
History
The name brachylaena is of Greek origin; it can be broken into 2 individual words: brachus, meaning 'short' and chlaina, meaning 'cloak'. This refers to the florets, which are longer than the bracts that surround, or cloak, the flower head. The species name glabra is a Latin word meaning 'hairless' or 'smooth', referring to the upper surface of the leaves.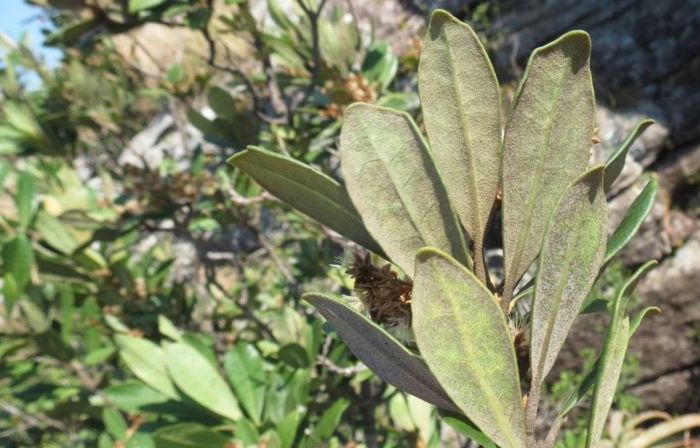 Ecology
Ecology
Brachylaena glabra flowers are visited by bees and other insects. The seeds are dispersed by wind.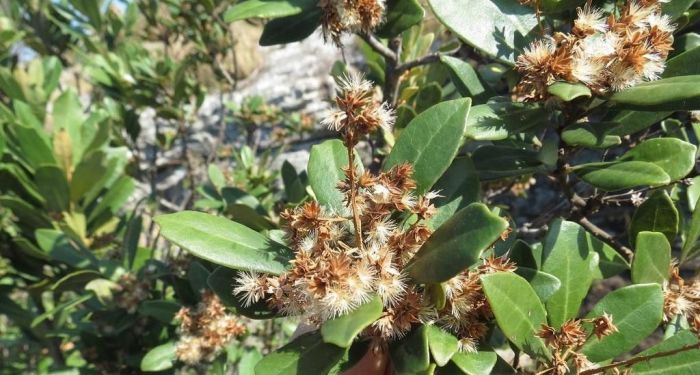 Uses
Use
The hardwood was once used to make wagons, and is still used to make charcoal. B. glabra can be planted as a hedge or a screen.
Growing Brachylaena glabra
Grow
Brachylaena glabra can be propagated by seed or cuttings. Sow seeds in spring or summer in a tray filled with a well-drained medium, such as half coarse river sand and half well-rotted leaf mould. Pine bark compost should be avoided, as it causes the seedlings to rot. Water the tray lightly after sowing and place in a warm, sunny position. Take hardwood cuttings, 15–20 mm diameter is best, in early spring when the cells of the plant are actively dividing. They are slow to root. Use a rooting hormone on the cuttings to promote rooting.
This small tree is fast growing and as with most brachylaenas, the root system is non-invasive and is thus safe to plant near paving. It is best suited to a sunny position on slopes or rockeries, in nutrient-poor, well-drained, sandy soils, with well-rotted compost, and does not require much watering once it is established.
Brachylaena glabra is not commonly grown, gardeners prefer the brachylaenas that are more easily obtained, such as B. discolor, B. elliptica, B. uniflora, B. transvaalensis and B. rotundata.
References
Beentje, H.J. 2000. The genus Brachylaena (Compositae: Mutisieae). Kew Bulletin 55(1): 1–44. Available: https://www.jstor.org/stable/4117759
Boon, R. 2010. Pooley's trees of eastern South Africa, a complete guide. Flora & Fauna Publications Trust, Durban.
Cilliers, S.S. 1984. Synopsis of the genus Brachylaena (Asteraceae) in southern Africa. Bothalia 23(2): 175–184.
Festus, B. 2018. Brachylaena rotundata (Asteraceae). PlantZAfrica. Online. http://pza.sanbi.org/brachylaena-rotundata
Palmer, E. & Pitman, N. 1972. Trees of southern Africa . Balkema, Cape Town.
Credits
Siphesihle Precious Sibiya
Kirstenbosch National Botanical Garden
Febuary 2020
Acknowledgements: Thanks to Geoff Nichols for sharing his experience of growing Brachylaena glabra, and to Brian du Preez, Graham Grieve and Geoff Nichols for the images used to illustrate this article.
Plant Attributes:
Plant Type: Tree
SA Distribution: Eastern Cape, KwaZulu-Natal
Soil type: Sandy, Loam
Flowering season: Late Summer
PH: Acid
Flower colour: Cream
Aspect: Full Sun
Gardening skill: Challenging
Special Features:
Hedge/screen
Feeds honeybees
Horticultural zones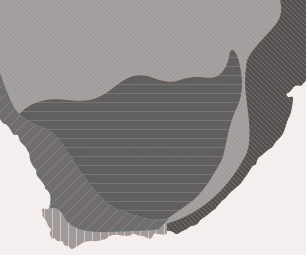 Zone 1 Coastal summer rainfall, frost free
Zone 2 Coastal winter rainfall, frost free
Google QR Code Generator