Brachystelma dyeri K.Balkwill & M.Balkwill
Family: Apocynaceae
Common names: none
Introduction
CREW finds the first record of Brachystelma dyeri outside of Mpumalanga's serpentine grasslands.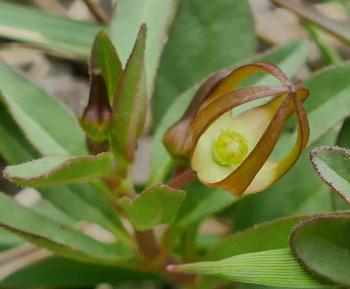 Description
Description
Brachystelma dyeri is a perennial, dwarf herb. The spherical, underground tuber (potato-like structure), between 25–56 mm in diameter, is sometimes concave on the upper surface and sometimes irregular. The usually single branched stem is at first upright, but becomes level to the ground as the season continues. The broader lower leaves and narrower upper leaves are opposite and up to 42 × 9 mm broad, with a very short petiole. Flowers are produced in alternate axils of leaf pairs at consecutive nodes.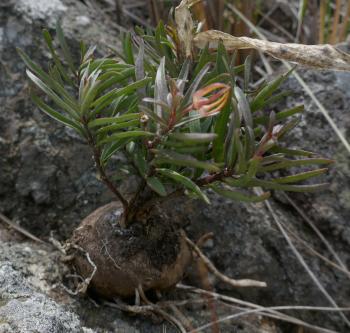 The corolla, distinctly beaked in bud, has a very shallow tube. The outer surface is cream-coloured, flushed with pale brownish pink towards the tips of lobes and along the margins, whereas the inner surface is whitish cream-coloured, becoming yellowy green towards the apices of the slender lobes that are united into a cage-like structure. The plants have a long flowering season in habitat, lasting from spring to late summer (October to the beginning of February). Although literature does not describe the fruit of this species, from observation the fruit is in the form of 2 thick, velvety follicles containing plentiful, tightly packed seeds. The matured seed follicles shed their seeds by January.
Conservation Status
Status
According to SANBI's Red List of South African plants, Brachystelma dyeri is currently listed as Vulnerable (VU), as it is only known from one location in the Barberton serpentine grasslands. Given the wealth of metals and elements occurring in these rocky soils, serpentine grasslands (and this species) are potentially threatened by afforestation and mining. Several endemic species occur on serpentines throughout the world, rendering the conservation of these sites of utmost importance.
This species has last been assessed in 2006 and requires an updated investigation, as a healthy population was found in KwaZulu-Natal. The Custodians of Rare and Endangered Wildflowers (CREW) programme, will be investigating sites with similar habitat, that may yield further localities for this species.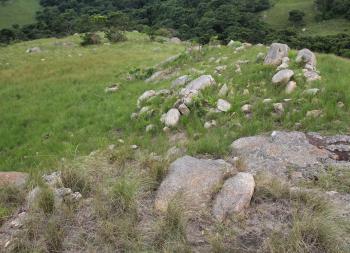 Distribution and habitat
Distribution description
In the early 1980s, Dyer cited about 100 species of Brachystelma occurring worldwide, but mainly in southern Africa. This number has increased due to the rigorous fieldwork for these intriguing plants. B. dyeri grows in full sun, in fissures between the rocks, thus protected against trampling by cattle and fires. To date, the only known locality was the Barberton serpentine grasslands, but has recently been recorded in a small grassland outcrop in northern KZN.
Serpentine grasslands have a particular type of rock that is rich in metals and elements, and its associated plantlife. The striking, many-hued shades of green, sometimes with stripes of red, of these rocks, resemble the skin of a serpent, hence the name. Though serpentine grasslands metals and elements rich soil is unfavorable to plant growth, certain plant species have specifically adapted to grow on serpentine.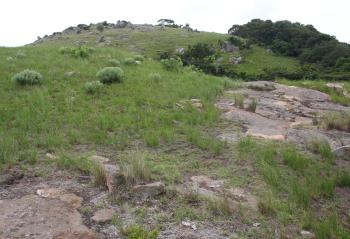 Derivation of name and historical aspects
History
Brachystelma is closely allied to the genera Riocreuxia and Ceropegia in their succulent habit and intricate floral structures. The genus Brachystelma, created by Robert Brown in 1822, is derived from the Greek words brachys, meaning 'diminutive', and stelma, meaning 'crown'. The species name dyeri is in honour of the distinguished KwaZulu-Natal botanist, Dr R.A. Dyer, for his substantial contribution to the research and understanding of the succulent genera of the Apocynaceae family.
Brachystelma dyeri differs from B. gracile, by its shorter stems, narrower corolla lobes, and from B. pachypodium by its narrower leaves that are not fleshy.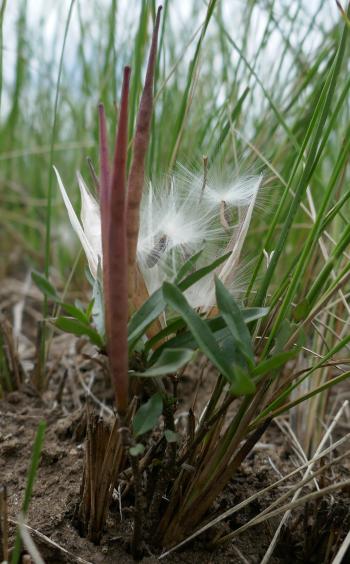 Ecology
Ecology
Currently, it is not known what the pollinator is for this species, but given studies of other Brachystelma species, it could possibly be pollinated by flies. The genera of the Apocynaceae family are known for their specialized pollination structures which yield a low percentage of success, yet this species produces plentiful seeds per fruit.
Wild animals such as porcupines, baboons, rodents and certain insects are eat the tubers. This has played a significant role in the distribution of this species.
Uses
Use
The tubers of practically all species of Brachystelma are known to be eaten in areas when sustenance is scarce. Brachystelma species, as with certain other genera in the family Apocynaceae, are sought after by collectors.
Growing Brachystelma dyeri
Grow
Propagating Brachystelma species is challenging, as the starch-rich tuber is known to rot and is easily prone to a wide array of pests and diseases. It is recommended to grow this species from seed that is collected soon as the mature fruit burst open. Sandy soil with a little compost and fungicide medium, ensures the certainty of seeds germination. Seedlings and adult plants require good drainage to avoid rot and are vulnerable to frost. Although mostly grown in containers to maintain a controlled environment, plants may also be grown in rock crevices to mimic their natural environment.
References
Balkwill, K. & Balkwill, M.-J. 1988. Studies on serpentine flora: a new species of Brachystelma (Asclepiadaceae). South African Journal of Botany 54(1): 60-62.
Dyer, R.A. 1983. Ceropegia, Brachystelma and Riocruexia in southern Africa. Balkema, Rotterdam
Gael J., Campbell, Y. & Balkwill, K. 2000. Serpentines of the Barberton greenstone belt: metal-rich rock outcrops and their associated vegetation. Veld & Flora March 2000: 26–28.
Nichols, G. 2005. Growing rare plants: a practical handbook on propagating the threatened plants of southern Africa. Southern African Botanical Diversity Network Report No. 36.
Victor, J.E. & Peckover, R. 2006. Brachystelma dyeri K.Balkwill & M.Balkwill. National Assessment: Red List of South African plants version 2015.1. Accessed on 2017/02/27
Credits
Suvarna Parbhoo
Custodians of Rare and Endangered Wildflowers (CREW) Programme
March 2017
Plant Attributes:
Plant Type: Bulb, Perennial
SA Distribution: KwaZulu-Natal, Mpumalanga
Soil type: Sandy
Flowering season: Spring, Early Summer
PH: Acid, Neutral
Flower colour: Brown, Green, Red
Aspect: Full Sun
Gardening skill: Challenging
Special Features:
Good potplant
Edible plant
Horticultural zones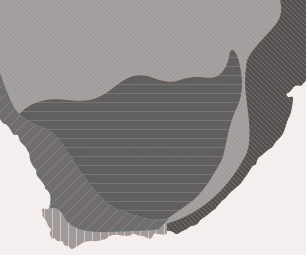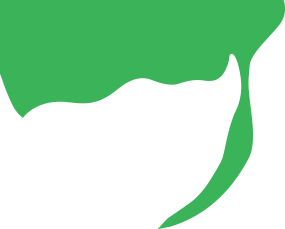 Zone 1 Coastal summer rainfall, frost free
Zone 5 Bushveld summer rainfall, Light frost
Google QR Code Generator