Brachystelma foetidum Schltr.
Family: Apocynaceae
Common names: Hottentots bread (Eng); Hotnotsbrood, Hottentotsbrood (Afr); seru (Sesotho).
Introduction
A small, herbaceous perennial from the grasslands, with a large, flattened, underground, potato-like tuber, and unusual purple-brown and greenish yellow flowers, with a distinctive but foul smell, in spring and early summer; this plant is edible, a source of water, medicinal and ornamental.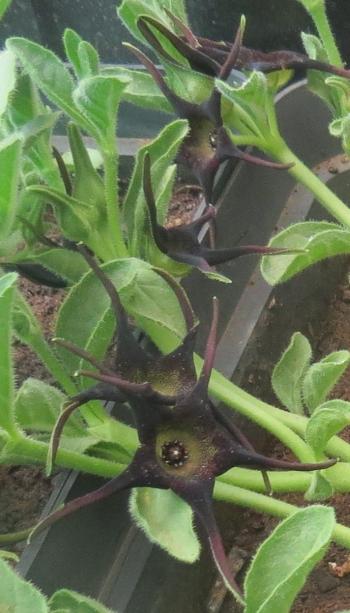 Description
Description
Brachystelma foetidum is a perennial herbaceous geophyte belonging to the Apocynaceae family, which grows up to 150 mm, depending on the climate and conditions of the area. The stem is 60 to 150 mm long, and grows from a flattened underground tuber which is 15 to 200 mm in size, but its size varies with the age of plant, older plants having larger tubers. The upper surface of the tuber is concave, whereas the under surface is convex. It has fibrous roots that are produced from the side and base of the tuber. The inner part of the tuber is made up of a white, potato-like tissue.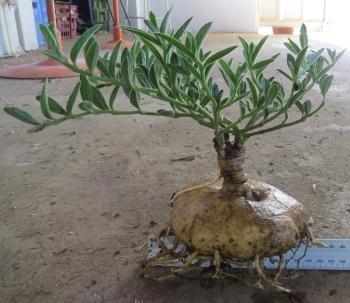 Usually the plant is dormant in winter and resprouts with 1 or many new stems in spring. The leaves are simple, opposite, linear-lanceolate or elliptic, about 30 mm long and 10 mm broad, green, hairy, with wavy margins and narrowing to a short petiole. The flowers vary in size and 2–6 are produced together. They are bell-shaped with elongated lobes of purple-brown, greenish yellow near the base, with purple-brown spots. They are attractive but have a very unpleasant smell. Out of all species in the genus Brachystelma, B. foetidum has the most unmistakable flower because of its foul smell. It flowers from late spring to summer (October to February).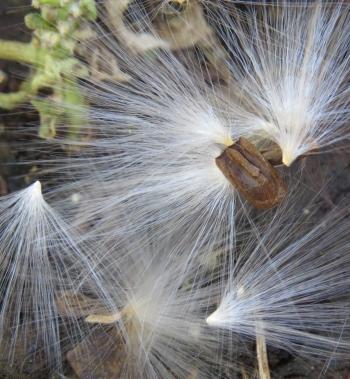 The seeds are light brown to dark brown, with a very narrow marginal wing along the edge. At the end of the seeds there is a parachute of white fluffy hairs, which allow the seeds to be dispersed easily by wind. Most of the species in the Apocynaceae,employ this airborne method of seed dispersal.
Conservation Status
Status
According to the Red List of South African plants website, the conservation status of Brachystelma foetidum is Least Concern (LC). In some of the Provinces in South Africa, e.g. the Free State, B. foetidum is potentially threatened, by unsustainable harvesting for medicinal use and destruction of its habitat because of development.
Distribution and habitat
Distribution description
Brachystelma foetidum is widespread in grassveld, meadows, hillside and forest in South Africa, occurring in the Free State, Gauteng, KwaZulu-Natal, North West and Limpopo Provinces, and in the neighbouring countries of Botswana, Zimbabwe, Lesotho and Malawi.
Derivation of name and historical aspects
History
The name Brachystelma is derived from the Greek words brachys, meaning 'short' and stelma, meaning 'column'. The name foetidum means 'evil smelling' which is referring to the unpleasant odour of the mature flowers. It was first described by Rudolf Schlechter in 1895, who described this species based on a specimen that was found growing in Elsburg in Ekurhuleni, Gauteng Province.
The genus Brachystelma has over 100 species in the world mainly distributed in southern Africa and Southeast Asia. Eighty five species are recorded in the Red List of South African plants, of which fifty four percent of these species are under threat.
Ecology
Ecology
Many insects are attracted to the bad smell of the mature flowers, but the natural population of Brachystelma species is very low, possibly because of the scarcity of pollinators. The seeds are dispersed by wind. The tubers are eaten by wild animals such as Baboon, Porcupine and rodents, as a source of food.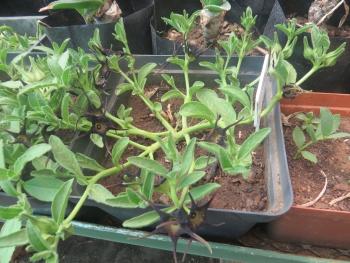 Uses
Use
The tuber is eaten as a food supplement, and is served as a daily meal for San people, Ndebele and other rural communities in South Africa. The tuber is also a source of water in dry areas where it occurs, and is regarded as good resource for quenching thirst. Medicinally it is used as a remedy for colds and headaches. It is also grown as an ornamental plant and can be used as a pot plant. Cultivation of this plant will reduce the pressure of over harvesting on wild plants.
Growing Brachystelma foetidum
Grow
Brachystelma foetidum can be easily propagated by fresh seeds sown in late spring to summer (from October to February in the southern hemisphere). Clean the seeds and remove the white fluffy hairs, then sow the seeds on a well-drained sowing medium, such as a mixture of sandy soil and compost. Cover the seeds with 1 cm of the seedling mixture and keep the tray moist for 2–3 weeks. Prick out the seedlings when they are large enough, taking care not to damage the developing roots.
Grow it in a sunny position in well-drained, well-composted soil. Allow the soil to dry out during the winter dormant season.
The fruits of B. foetidum are most affected by aphids and Australian mealybug. 
References
Barkhuizen, B.P. 1978. Succulents of southern Africa. Purnell and Sons Publishers, Cape Town.
Bester, S.P. 2008. Brachystelma barberae Harv. ex Hook.f. (Apocynaceae). PlantZAfrica. Internet. http://pza.sanbi.org/brachystelma-barberae
Fox, F.W. & Norwood Young, E. 1982. Food from the veld: edible wild plants of southern Africa. Delta Books, Cape Town.
Hlophe, N.N. 2017. Micro propagation of three Brachystelma species and investigation of their phytochemical content and antioxidant activity. B.Sc. thesis, University of KwaZulu-Natal, Durban.
Nichols, G. 2005. Growing rare plants: a practical handbook on propagating the threatened plants of southern Africa. Southern African Botanical Diversity Network Report No. 36.
Parbhoo, S. 2007. Brachystlma modestum R.A.Dyer. (Apocynaceae). PlantZAfrica. Internet. http://pza.sanbi.org/brachystelma-modestum
Pooley, E. 2005. A field guide to wild flowers KwaZulu-Natal and the eastern regions. The Flora Publications Trust, Durban.
Van Wyk, B. & Malan, S. 1997. Field guide to the wild flowers of the Highveld. 2nd edition. Struik Publishers, Cape Town.
Credits
Lufuno Nenungwi & Itumeleng Machete
Free State National Botanical Garden
August 2018
Plant Attributes:
Plant Type: Bulb, Perennial
SA Distribution: Eastern Cape, Free State, Gauteng, KwaZulu-Natal, Limpopo, North West
Soil type: Sandy, Loam
Flowering season: Spring, Early Summer, Late Summer
PH: Acid, Neutral
Flower colour: Brown, Green, Purple, Yellow
Aspect: Full Sun
Gardening skill: Average
Special Features:
Fragrant
Good potplant
Edible plant
Medical plant
Horticultural zones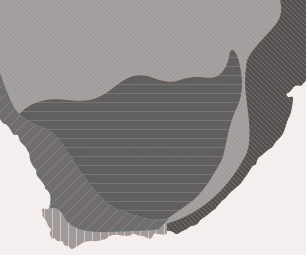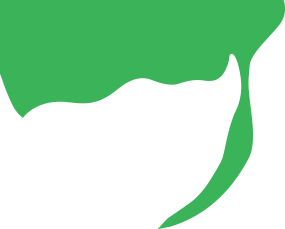 Zone 4 Summer rainfall Karoo and Highveld, Frost in winter
Zone 5 Bushveld summer rainfall, Light frost
Google QR Code Generator