Brunia cordata (Burm.f.) Class.-Bockh. & E.G.H.Oliv.
Family: Bruniaceae
Common names: eastern streambush
Introduction
An eye-catching shrub with striking panicles of white flowers in spring, which grows along streams in the Western Cape.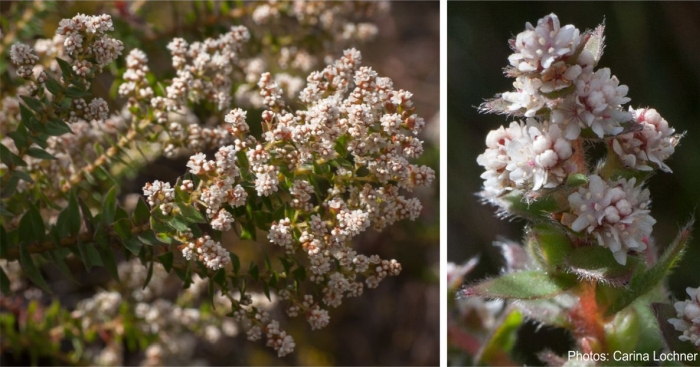 Description
Description
Brunia cordata is a small to medium sized, hairy, semi-hardwood, evergreen shrub that grows about 1 m tall but can reach up to 2.5 m. It is an upright, slender shrub with arching to pendulous branches. The stems are green when young and change to a brownish purple colour with time. The leaves are ovate acuminate with a heart-shaped base. The flowers are small, white, spiky, and grow in short, dense racemes in a much-branched inflorescence (panicle) creating quite a show during the flowering period in spring to early summer (September to January). The fruit is rough, wrinkled, reddish, and crowned by a white calyx.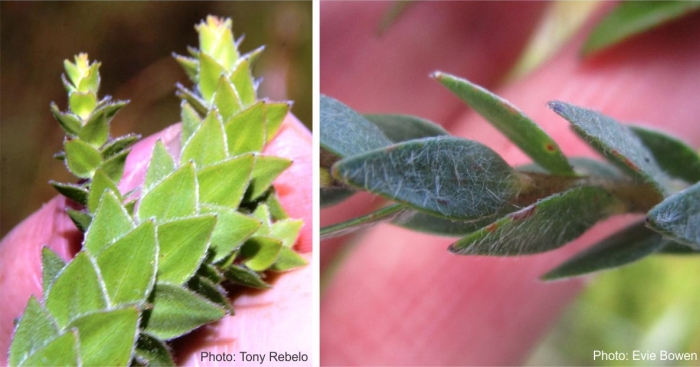 Conservation Status
Status
Brunia cordata was assessed to be not threatened and given a Red List status of Least Concern (LC).
Distribution and habitat
Distribution description
Brunia cordata is a South African endemic. This species grows in damp conditions along streams and seeps and in marshes in the Western Cape, from the Olifants River Mountains to the Vanstadens Mountains (Manning & Goldblatt 2012). It is commonly found in the Hermanus area, the Hottentots-Holland Mountains, the Outeniqua Mountains, the Kogelberg Mountains, the Kleinrivier Mountains and in the Rockview Dam area in the Overberg. Brunia cordata is exposed to a winter rainfall climate with quite humid conditions.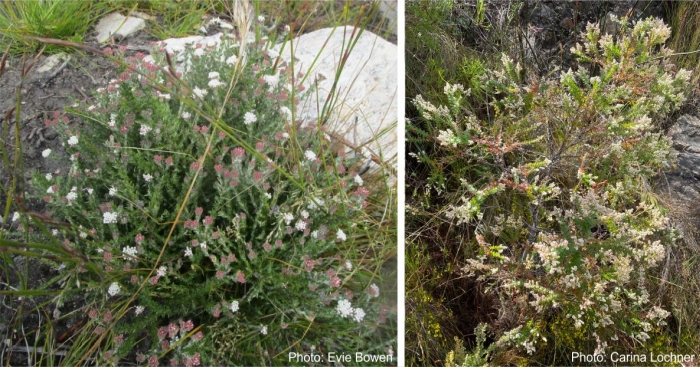 Derivation of name and historical aspects
History
The genus Brunia is most likely named after a contemporary of Linnaeus, Dr Cornelius Brun, who travelled in Russia and the Levant, it could also be in commemoration of Dr Alexander Brown, a ship's surgeon and plant collector who worked in the East Indies around 1690 (Maphanga & Notten 2010). The species name cordata refers to the shape of its leaves and means 'heart shaped'. This species was until recently known as Pseudobaeckea cordata. The common name eastern streambush is derived from where this plant dominates, which is in the eastern side of Western Cape, along the streams.
The Bruniaceace family consists of 6 genera and 81 species which are endemic to southern Africa, mostly occurring in the Western Cape and Eastern Cape with a few in KwaZulu-Natal. These genera include Berzelia, Brunia, Audouinia, Linconia, Thamnea and Staavia.
Ecology
Ecology
Brunia cordata grows in the Fynbos Biome, which is prone to fires, and fynbos plants are adapted to survive fires. In the event of a fire, this plant dies and regenerates by seed. It grows in a damp habitat, which may not burn, or burns with less intensity, when a fire sweeps through the area, allowing plants to survive some fires. It produces many seeds, which fall to the ground, germinate and grow. The seeds may also be dispersed by water.
Uses
Use
There is no information on this species in terms of medicinal or cultural uses, but it can be used for aesthetic purposes as an ornamental shrub beside a pond or along a waterfall feature in the garden. This plant could also make a beautiful cut flower.
Growing Brunia cordata
Grow
Brunia cordata is unknown in horticulture, and there are no records on its cultivation, but it could be propagated in the same manner as Berzelia lanuginosa.
Propagate Brunia cordata through seeds sown in autumn. Treating the seeds with smoke should stimulate germination because it is a fynbos plant. It is vital to dust seed with a fungicide to prevent fungal infections. It should be grown in moist but well-drained, lime-free soil in a sunny position.
Vegetative propagation is also possible with the species. Take semi-hardwood cuttings in the growing season; autumn, spring and summer. Cuttings can be planted in a 50/50 rooting medium of polystyrene and milled bark, treated with a semi-hardwood rooting hormone and placed on heated benches with an overhead mist spray.
References
Bowen, E. 2021. Observation of Brunia cordata, Melville Peak, Outeniqua Mountains. iNaturalist. Online. https://www.inaturalist.org/observations/72075358.
Helme, N. 2014. Observation of Brunia cordata, Mt Lebanon, Hottentots Holland Mountains. iNaturalist. Online. https://www.inaturalist.org/observations/11038662.
Lochner, C. 2021. Observation of Brunia cordata, Rockview Dam, Western Cape. iNaturalist. Online. https://www.inaturalist.org/observations/96668765.
Maphanga, Z. & Notten, A. 2010. Brunia noduliflora Goldblatt & J.C.Manning (Bruniaceae). PlantZAfrica. Online. http://pza.sanbi.org/brunia-noduliflora.
Manning, J. & Goldblatt, P. 2012. Plants of the Greater Cape Floristic Region 1: the Core Cape Flora. Strelitzia 29. South African National Biodiversity Institute, Pretoria.
Plants of southern Africa: an online checklist. http:posa.sanbi.org
Plants of the World Online. Bruniaceae R.Br. ex DC. https://powo.science.kew.org/taxon/urn:lsid:ipni.org:names:30050268-2. Accessed 31 May 2022.
Raimondo, D., Von Staden, L., Foden, W., Victor, J.E., Helme, N.A., Turner, R.C., Kamundi, D.A. & Manyama, P.A. (eds) 2009. Red list of South African plants. Strelitzia 25. South African National Biodiversity Institute, Pretoria.
Rebelo, T. 2014. Observation of Brunia cordata, Rockview Dam, Western Cape. iNaturalist. Online. https://www.inaturalist.org/observations/10998266.
Sonder, O.W. 1862. Bruniaceae. in Harvey, W.H. & Sonder, O.W. (eds) Flora capensis Vol. 2: 309-324. Accessed via Biodiversity Heritage Library. https://www.biodiversitylibrary.org/item/15233#page/317/mode/1up.
Tuckeldoe, R. 2005. Berzelia lanuginosa (L.) Brongn. (Bruniaceae). PlantZAfrica. Online. http://pza.sanbi.org/berzelia-lanuginosa.
Credits
Rofhiwa Ingrid Mudau
Pretoria National Botanical Garden
May 2022
Acknowledgements: the author thanks Evie Bowen, Nick Helme, Carina Lochner and Tony Rebelo for making their images available via iNaturalist.
Plant Attributes:
Plant Type: Shrub
SA Distribution: Western Cape
Soil type: Sandy
Flowering season: Spring, Early Summer
PH: Acid
Flower colour: White, Pink
Aspect: Full Sun
Gardening skill: Average
Special Features:
Wet sites
Horticultural zones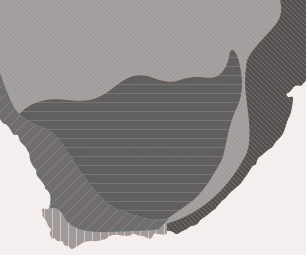 Zone 2 Coastal winter rainfall, frost free
Google QR Code Generator