Cenchrus ciliaris L.
Family: Poaceae
Common names: foxtail buffalo grass (Eng.); bloubuffelgras (Afr.)
Introduction
Cenchrus ciliaris is a perennial, tufted grass. The inflorescence is a bristly 'spike' (like a cat's tail) and is nearly always purple to straw-coloured.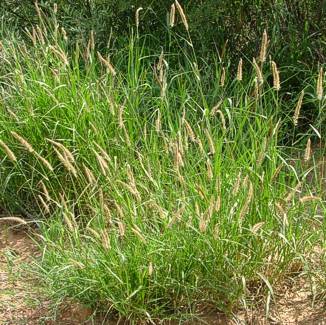 Description
Description
A tufted perennial grass, 60-100 cm high. Leaf blades 100-250 x 4-8 mm. Inflorescence (Gibbs Russell et al. 1990): a bristly false spike, 40-120 mm long, straw- or purple-coloured; all bristles are joined at base below spikelet cluster to form a small inconspicuous disc. Bristles mostly 5-10 mm long, outer bristles slender and scabrid, inner bristles slender and plumose.
Spikelet 4-5 x 3 mm; lower glume (the bracts at the base of the spikelet) 1-nerved or nerveless and upper glume 1-3-nerved, minutely awned; lower lemma usually 5-nerved, minutely awned; upper lemma similar to lower lemma (encloses grass flower), slightly thicker in texture; anther 1.5-2.7 mm long. A variable species, with many cultivars available e.g. Malopo. Flowering: August to April.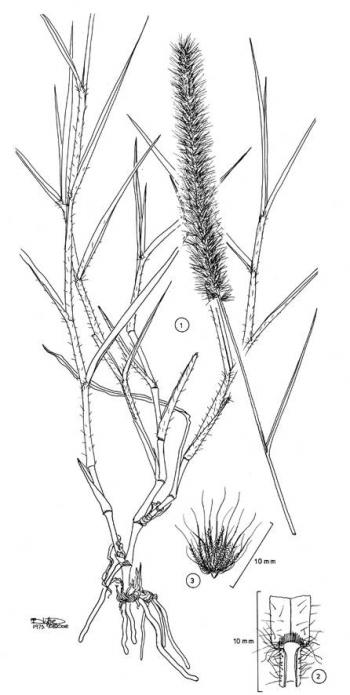 Conservation Status
Status
The SANBI Threatened Plants Programme has not yet indicated its conservation status. However, as it is a palatable, drought-resistant perennial it is cultivated for pasture for livestock; so, in effect, conservation is practised, but indirectly.
Distribution and habitat
Distribution description
It occurs in the more arid parts of southern Africa and tropical Africa, the Mediterranean areas, and in Arabia to India. Introduced to Australia and other hot, drier areas of the world where it has been imported as cultivated pasture. Foxtail buffalo grass grows in dry, warm parts. It grows in all types of soil, but mostly in sandy soil and other well-drained soil types. It is often found along roadsides where it utilizes the additional runoff rainwater.
Derivation of name and historical aspects
History
Cenchrus is derived from the Greek word kegchros which means a kind of millet. The species epithet ciliaris is Latin and means like an eyelash, or short hairs, possibly alluding to the hairy bristles surrounding the spikelets. The genus Cenchrus has 22 species, tropical and warm temperate; 1 species indigenous and 3 species naturalised in southern Africa; C. ciliaris is the only widespread species.
Ecology
Ecology
Common in hot dry areas, especially on sandy soils where it is often ruderal (grows in waste places), and also often on termitaria, on all types of soil. Cenchrus ciliaris is wind-pollinated. It is adapted to fairly heavy grazing and a wide variety of conditions.
Uses
Use
Cenchrus ciliaris is a palatable species with a high leaf production. It is one of the most popular cultivated pastures, especially in the more arid parts, with many commercially available cultivars. Foxtail buffalo grass can endure trampling.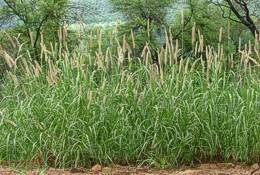 Growing Cenchrus ciliaris
Grow
Generally planted as pasture (Farming in South Africa leaflet 114. 1983. A cultivation guide).
It is easy to grow Cenchrus ciliaris, especially in lower rainfall areas on sandy soils. It is easily established by seeding. It is a hardy cultivated pasture with a deep root system (up to 2 m). Foxtail buffalo grass is difficult to establish in clay soil but, once established, it grows well. In the garden it is best used as a lawn grass, which is common in India.
References
Chippindall, L.K.A. & Crook, A.O. 1976. Grasses of southern Africa. Collins, Harare [Salisbury].
Gibbs Russell, G.E., Watson, L., Koekemoer, M., Smook, L., Barker, N.P., Anderson, H.M. & Dallwitz, M.J. 1990. Grasses of southern Africa. Memoirs of the Botanical Survey of South Africa No. 58.
Leistner, O.A. (ed.). 2000. Seeds plants of southern Africa : families and genera. Strelitzia 10. National Botanical Institute, Pretoria.
Van Oudtshoorn, F. 1999. Guide to the grasses of southern Africa. Briza Publications, Pretoria.
Credits
Aluoneswi Caroline Mashau
National Herbarium (Pretoria)
May 2010
Plant Attributes:
Plant Type: Grass, Perennial
SA Distribution: Eastern Cape, Free State, Gauteng, KwaZulu-Natal, Limpopo, Mpumalanga, North West, Northern Cape, Western Cape
Soil type: Sandy, Clay
Flowering season: Spring, Early Summer, Late Summer, Autumn
PH:
Flower colour: Purple
Aspect: Full Sun
Gardening skill: Easy
Special Features:
Drought resistant
Useful plant
Horticultural zones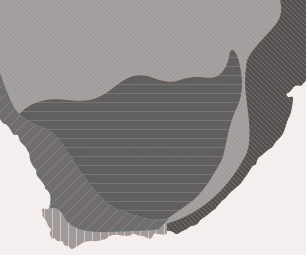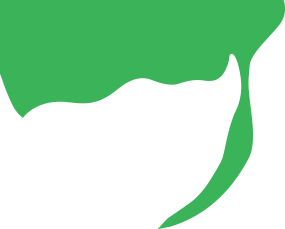 Zone 1 Coastal summer rainfall, frost free
Zone 2 Coastal winter rainfall, frost free
Zone 3 Winter rainfall Karoo, light frost
Zone 4 Summer rainfall Karoo and Highveld, Frost in winter
Zone 5 Bushveld summer rainfall, Light frost
Google QR Code Generator