Chironia laxa Gilg
Family: Gentianaceae
Common names: Cape centaury, wild centaury (Eng.); bitterwortel (Afr.)
Introduction
This is a delightful plant, with shiny, bright pink, star-shaped flowers that are produced in abundance throughout the summer months, ideal for a sunny border.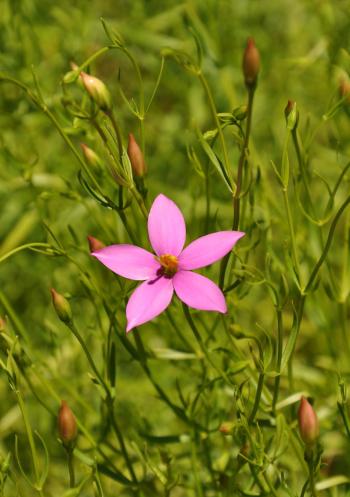 Description
Description
A diffuse, much-branched, low-growing, herbaceous perennial, slightly woody at the base, about 200–500 mm tall, with very slender, wiry stems and branches. The stems are nearly cylindrical or square in cross section. Leaves are lance-shaped, slender and elongate, 6–40 mm long and up to 6 mm broad, with the tip ending in a sharp point (acute), and the base slightly wedge-shaped (cuneate).
The flowers are borne at the tips of the branchlets, singly or in 2- or 3-flowered, flat-topped heads. The corolla is 20–30 mm long, with a narrow, cylindrical tube about 10 mm long and 5 elliptic to egg-shaped, bright pink lobes that open wide and flat, giving the flower its starry shape. The five stamens in the centre of the flower have 5 mm long anthers that are bright yellow and straight to slightly twisted. Flowering time at Kirstenbosch National Botanical Garden is mid to late summer (November to March). Fruit is a capsule containing many small seeds.
Conservation Status
Status
According to the website http://redlist.sanbi.org, checked on the 9 February 2016, the conservation status of Chironia laxa is Least Concern (LC).
Distribution and habitat
Distribution description
This species occurs naturally on river banks and in marshy areas in the Eastern Cape and KwaZulu-Natal. It is recorded from East London northeastwards through Umtata and Port St. Johns to Ugu District in southern KwaZulu-Natal.
Derivation of name and historical aspects
History
The genus Chironia was named after Chiron, the good centaur from Greek mythology. Chiron was the legendary father of medicine, who studied medicine, astronomy, music and other arts, and taught Asklepios, Achilles and Jason, and died after being accidentally shot. He is immortalized in the heavens as alpha and beta Centauri, the pointer stars for the Southern Cross constellation. A centaur is a mythological creature with the upper body of a human and the lower body of a horse. The species name laxa means 'slack' or 'loose', from the Latin laxus and refers to its widely spreading, much-branched growth habit.
The genus Chironia contains about 30 species of annual or perennial herbs that occur in tropical and subtropical Africa and Madagascar. There are 16 species in southern Africa, occurring in moist or saline conditions in Botswana, Limpopo, North-West, Gauteng, Mpumalanga, Swaziland, Free State, KwaZulu-Natal, Lesotho and the Northern, Eastern and Western Cape.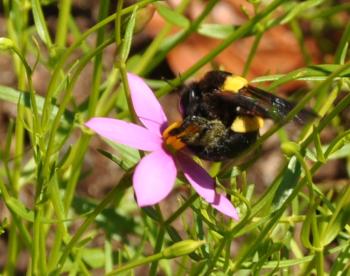 Ecology
Ecology
Like all other species of Chironia and its relative Orphium frutescens, Chironia laxa is pollinated by carpenter bees (Xylocopa spp.) The bee holds on to the bunch of anthers in the centre of the flower and buzzes the pollen out of the anthers by vibrating its flight muscles without moving its wings. This is called buzz pollination. The bee creates resonating vibrations that loosen the pollen, some of which puffs out of the anther and coats its hairy body. The plant benefits because it gives away less pollen (which is expensive to produce) to insects that don't do any pollination.
Uses
Use
There are no records of Chironia laxa being used in traditional medicine, but some species of Chironia are so used, mainly to treat stomach complaints and skin problems. Chironias should be treated with caution as they are potentially toxic if ingested. Tests on C. baccifera plant material have caused death in sheep and rabbits.
Growing Chironia laxa
Grow
Chironia laxa is very easy to grow and can be propagated by cuttings or seeds. Take tip or stem cuttings when it is finished flowering in late summer (March). Treat with a suitable rooting hormone and place in a propagation unit with bottom heating and mist. Cuttings take 3 to 4 weeks to root. Because it is easy to propagate from cuttings it is not propagated by seed at Kirstenbosch. However, seed should be sown in spring to early summer, in a well-drained sterile medium, and kept warm and moist.
Chironia laxa needs a sunny position in fertile, well-composted soil and regular watering, particularly in spring and summer. It can be used as a filler or planted in groups in mixed beds and borders where it will create an amazing colour splash. It can also be used as an edging plant, or mass planted. A good companion plant would be Helichrysum odoratissimum or H. cymosum, to bring out the contrast in the leaf shape and colour of the flowers.
Acknowledgments: Juan Beck, Propagator at Kirstenbosch National Botanical Garden, for the information on the propagation of Chironia laxa.
References
Hutchings, A., Scott, A.H., Lewis, G. & Cunningham, A.B. 1996. Zulu medicinal plants: an inventory. University of Natal Press, Pietermaritzburg.
Jackson, W.P.U. 1990. Origins and meanings of names of South African plant genera . University of Cape Town.
Johnson, S.D. 1992. Buzz pollination of Orphium frutescens. Veld and Flora 78 (2): 36, 37.
Leistner, O.A. (ed.). 2000. Seed plants of southern Africa: families and genera. Strelitzia 10. National Botanical Institute, Pretoria.
Manning, J. 2007. Field guide to Fynbos. Struik Publishers, Cape Town.
Pienaar, K. (2nd ed.) 2000. The South African What what flower is that edn 2. Struik, Cape Town.
Credits
Nomama Mei and Alice Notten
Kirstenbosch National Botanical Garden
March 2016
 
Plant Attributes:
Plant Type: Perennial
SA Distribution: Eastern Cape, KwaZulu-Natal
Soil type: Sandy, Loam
Flowering season: Early Summer, Late Summer
PH: Acid, Neutral
Flower colour: Pink, Yellow
Aspect: Full Sun
Gardening skill: Easy
Special Features:
Feeds honeybees
Horticultural zones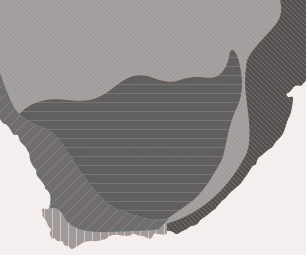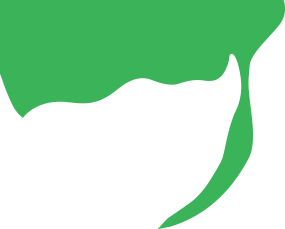 Zone 1 Coastal summer rainfall, frost free
Zone 2 Coastal winter rainfall, frost free
Zone 3 Winter rainfall Karoo, light frost
Zone 5 Bushveld summer rainfall, Light frost
Google QR Code Generator