Chlorophytum cremnophilum
Chlorophytum cremnophilum Van Jaarsv.
Family: Agavaceae
Common names: cliff spider plant, cliff hen and chickens (Eng.); krans hen-en-kuikens (Afr.)
Introduction
The cliff spider plant is a new, recently named, cliff-hanger species from the Kouga and Grootrivier tributaries of the Gamtoos, in the Eastern Cape. Unlike its close relative, its inflorescence does not bear vegetative plantlets, and the plant develops stems up to a metre long. Its flowers are white and star-shaped on an extended panicle. It thrives in containers. It is one of about 250–300 species mainly confined to Africa and Asia.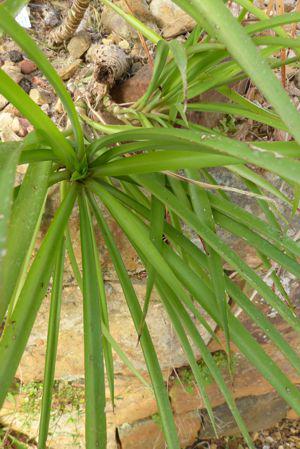 Description
Description
Plants are evergreen, with stems up to 1.2 m long.
The roots are fleshy, white, up to 7 mm in diameter, slightly tapering to both ends.The rhizome is 25 mm in diameter at the base.
It is sparsely fork-branched (dichotomously) with the pendent rosettes bending upwards (with up to 8 heads).  The branches are succulent, bare along the lower third, green, 15–25 mm in diameter, 30–120 cm long, with persistent, basal leaf remnants, forming concentric light coloured rings; sometimes with aerial roots.
The leaves are spirally set in apical rosettes, oblong spear-shaped and the lower part linear-lanceolate, distinctly channelled, ascending spreading, sometimes drooping, ending in a drawn out point 300–400 mmlong, 11–16 mm wide,  sheathing from the base, green. The texture is leathery.
The inflorescence is ascending to ascending spreading, 900–1370 mm long; the peduncle is 7 mm in diameter at the base, angular, with 3 or 4 flowers opening during the day, 30 mm in diameter, with white spreading petals. Outer petals 15 × 4 mm, the inner petals 16 × 7 mm. The anthers (male portion) are 3 × 1 mm. The ovary (female portion) green, rounded triangular, 2.0–2.5 mm in diameter and the style 15 mm long, curving upwards, with a minute stigma. Chlorophytum cremnophilum flowers mainly during late spring (October–December).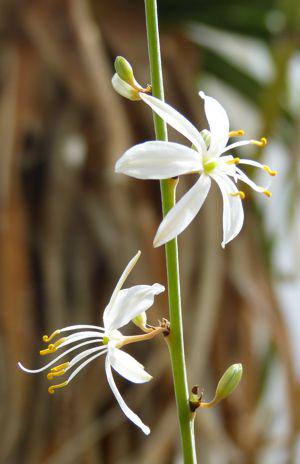 The capsules are 3-lobed 6.5 mm long, and about 8 mm wide, rounded in outline. Seeds flattened, 3–4 mm long, black. The seeds are normally wind dispersed and released in summer.
Conservation Status
Status
Although rare and endemic, Chlorophytum cremnophilum has not been listed in the Red List of South African plants (http:// Redlist.sanbi.org). The cliff-face habitat is safe, with no immediate threats.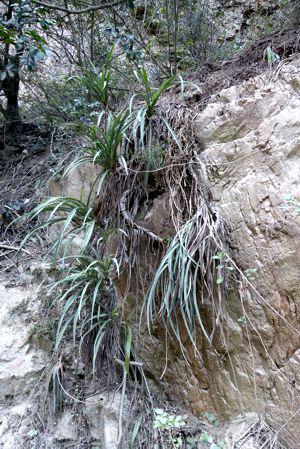 Distribution and habitat
Distribution description
Plants are only known from mineral-poor, sandstone cliffs of the Kouga and lower Grootrivier. Plants share their habitat with Bulbine natalensis  and B. latifolia var. curvata, species of Delosperma, Crassula pellucida subsp. marginalis, Haworthia translucens  and the fern, Asplenium cordatum. The climate is warm, subtropical, with cooler winters, however, without frost. Rainfall is in summer and winter, ranging between 400–600 mm, thunder showers in summer and autumn, and cyclonic winter rain.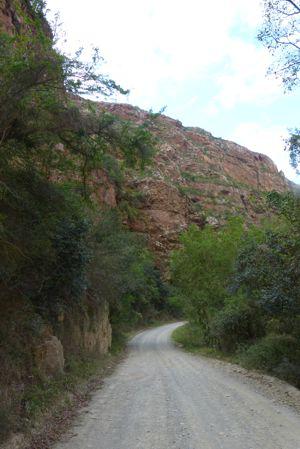 Derivation of name and historical aspects
History
The Greek epithet, cremnophilum, pertains to its cliff-loving (cremno = 'cliff' and philios = 'loving'. The vegetation in its habitat consists of Groot Thicket of the Albany Thicket Biome (Mucina 2006). Plants were found by the author whilst investigating the cliff faces of the three main drainage systems of the Gamtoos (Van Jaarsveld 2014). It is related to the hen and chickens (C. comosum), but differs by its long stems, different roots and extended long inflorescence lacking in the vegetative plantlets.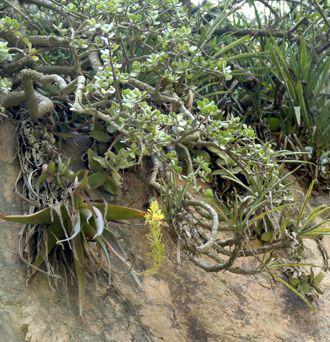 Ecology
Ecology
Pollination is by insects. The succulent roots and stems makes the plant drought tolerant.
Uses
Use
The plants can be used in ornamental horticulture.
Growing Chlorophytum cremnophilum
Grow
Chlorophytum cremnophilum is easily grown in cultivation both out of doors and as indoor containers, and can easily be propagated by division. Most Chlorophytum taxa are easily grown from seed sown in a sandy mixture and placed in a warm protected environment. It is best for dry bushveld and thicket gardens (Van Jaarsveld 2010). It would be ideal for vertical wall gardens, dry stone wall or rockeries.
The cuttings can be planted in spring or summer in a sandy medium, and rooting is usually fast. Keep slightly shaded, and moist until well rooted. Seed can be sown in a sandy mixture, and covered lightly with sand. Sow during the warmer summer months. The young plants can be planted out once big enough to handle and planted individually in containers. The plants are relatively pest free. They can be fed with a balanced fertiliser in spring or the summer months.
The cliff hen and chickents have been grown with success at the Kirstenbosch National Botanical Garden for a number of years, some which can be seen in the Botanical Society Conservatory and Visitor Centre. C. cremnophilum is a slow grower.
References
Mucina, L. & Rutherford, M.C. 2006. The vegetation of South Africa, Lesotho and Swaziland. Strelitzia 19. South African National Biodiversity Institute, Pretoria.
Van Jaarsveld, E.J. 2010. Water wise gardening. Struik, Cape Town.
Van Jaarsveld, E.J. 2014. Chlorophytum cremnophilum (Anthericaceae), a new caulescent succulent cliff-hanger from the Eastern Cape (RSA). Bradleya 32: 19-24
Credits
Ernst van Jaarsveld
Kirstenbosch National Botanical Garden
August 2015
Plant Attributes:
Plant Type: Perennial, Succulent
SA Distribution: Eastern Cape
Soil type:
Flowering season: Spring
PH: Acid
Flower colour: White
Aspect: Full Sun, Morning Sun (Semi Shade), Afternoon Sun (Semi Shade)
Gardening skill: Easy
Special Features:
Drought resistant
Good potplant
Indoor plant
Horticultural zones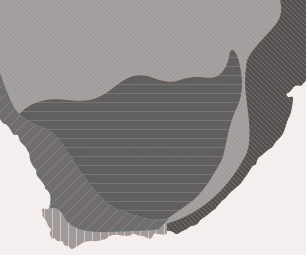 Zone 1 Coastal summer rainfall, frost free
Zone 2 Coastal winter rainfall, frost free
Google QR Code Generator