Cienfuegosia hildebrandtii
Cienfuegosia hildebrandtii Garcke
Family: Malvaceae
Common names: small cotton bush, wedge-leaf false-hibiscus, small fly-mallow (Eng.)
Introduction
Small Cotton Bush has beautiful, bicoloured, hibiscus-like flowers, with bold red to maroon centres on yellow flowers. Unlike the true Cotton, Gossypium herbaceum, which has long, white cotton fibres, Cienfuegosia hildebrandtii has shorter, brown, silky fibres. It is also worth noting that this species is known to be very drought tolerant, and is able to grow and flower, without rain for months.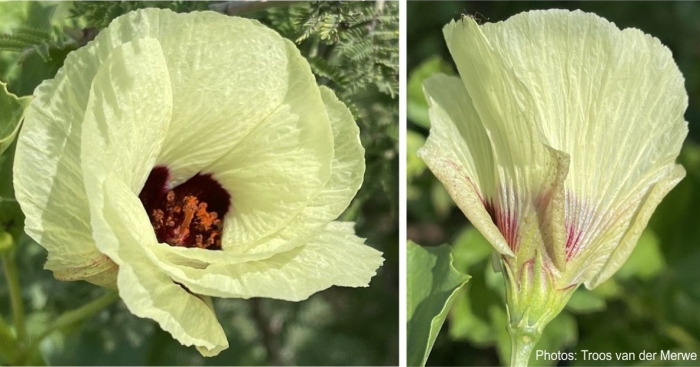 Description
Description
Cienfuegosia hildebrandtii is an upright subshrub or a perennial herb up to 1.5 m tall. The branchlets are sparsely hairy to velvety. The leaves are simple, smooth, with a V-shaped base. The leaf blade is shaped like a fan, ranges from 60–70 mm wide, the margin is toothed in the upper half or can be 3–5 lobed but not deeply. They are densely covered in many short, straight hairs to nearly hairless. The petiole is up to 20 mm long. Stipules are up to 10 × 6 mm, heart-shaped to rounded, resembling the leaf, and surrounding the stem.
The flowers are 60–80 mm in diameter, yellow with a dark red to maroon centre. They are borne singly, in the axils of the leaves, towards the tips of the branches, or sometimes in 2- or 3-flowered sympodial inflorescences; this is where the bud forms in the secondary axis, and the next bud also forms in the secondary axis, and continues following that pattern, 2 or 3 times in this case. The peduncles can be up to 25 mm long, growing from the node, articulated near the base. The epicalyx has up to 10 bracts, below the calyx, each bract about 2–3.5 mm long, linear. The calyx is 10–13 mm long, 15-nerved, hairy to nearly hairless. The calyx lobes resemble an oval shape, with a short, sharp apex, and are joined at the base for 8–9 mm. The petals are yellow, about 4 × 6 mm, slightly twisted, resembling a turned-upside-down oval, with star-shaped hairs on the outside, but completely hairless inside. The staminal tube is 7–8 mm long, the filaments 4–6 mm long, the style protruding 10 mm beyond the staminal tube. The fruit is a capsule, 10–12 × 8–10 mm, covered with closely pressed down, fine hairs, that are straight, not star-shaped. It also has small black oil glands, that are more concentrated towards the tip of the fruit skin. The seeds are covered in brownish silky floss. Flowering is in summer and autumn (November to April).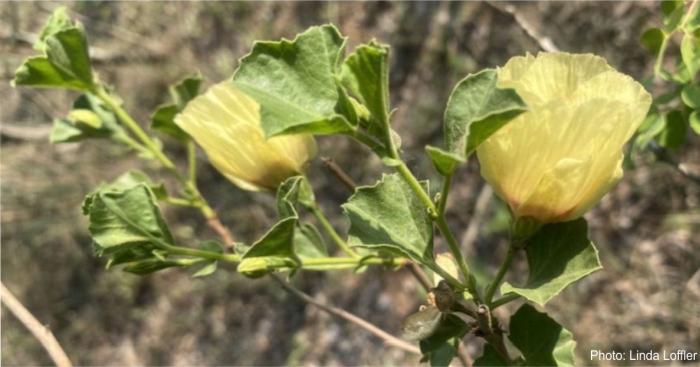 The flowers look similar to those of Gossypium herbaceum and may cause these species to be confused for each other, however they are easy to tell apart when in fruit because Gossypium herbaceum has long, white hairs attached to the seeds where Cienfuegosia hildebrandtii has shorter, brown hairs.
Conservation Status
Status
Distribution and habitat
Distribution description
Small cotton bush naturally occurs in KwaZulu-Natal, Limpopo and Mpumalanga provinces in South Africa and further northwards to Kenya. It often grows in valleys, on the banks of rivers or streams, in marshes, swamps and wetlands. It is also found in wooded grassland and grassland, at low altitudes. It prefers good, deep soils on the tops and slopes of hills, usually near watercourses.
Derivation of name and historical aspects
History
The genus Cienfuegosia is named after Bernardo de Cienfuegos (1580–1640). He was a Spanish botanist and a physician, who was known and recognized for his amazing work, Historia de las plantas (History of plants), comprising 7 hand-written volumes, with a thousand drawings of plants, some of them coloured. He later translated, from Latin to Spanish, the book relating to the life of Father Gonzalo de Silveira. This species is named after J.M. Hildebrandt (1847–1881), a German botanist and collector, who collected in East Africa and Madagascar.
This species belongs to the Malvaceae, the family famous for its star-shaped hairs. The genus Cienfuegosia contains 27 recognized species that occur in tropical and subtropical America, Africa and Arabia. This genus is characterized by black glands on the calyx. There are 3 species that occur in South Africa. It is not difficult to distinguish between them. Cienfuegosia digitata occurs in Limpopo in South Africa, and in Zimbabwe, Botswana, Namibia, Angola and Zambia, and in western tropical Africa, it is a small, herbaceous shrub, rarely more than 1 m tall, with deeply digitately divided leaves. Cienfuegosia gerrardii is an often prostrate shrublet that occurs in KwaZulu-Natal and Limpopo in South Africa, and in Eswatini and Mozambique, it has a rounded leaf blade with a heart-shaped base and a shallowly lobed margin that is not toothed.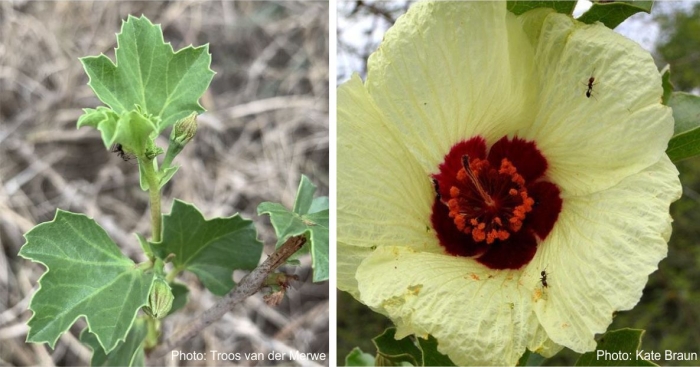 Ecology
Ecology
Cienfuegosia hildebrandtii is likely to attract pollinators such as bees and butterflies because of its showy, bright yellow, bicoloured flowers. It is visited by insects, including ants, in its flowering season. This small shrub also attracts birds, which collect the silky floss produced with the seeds and use it for nesting material. These silky hairs also help disperse the seeds, being picked up and carried by wind. These plants are heavily browsed.
Uses
Use
Looking at its common name, Small Cotton Bush, one might assume that it has the same function as Gossypium herbaceum, or any other Cotton. However, this is just an unproven assumption, because these plants, although they look similar, are not the same. The cotton of the Small Cotton Bush is silkier, and it is brown. There are no known records of Cienfuegosia hildebrandtii, being used to make cotton fabric, so far.
Growing Cienfuegosia hildebrandtii
Grow
Cienfuegosia hildebrandtii is unknown in cultivation and there are, therefore, no instructions or guidelines recorded on how to grow this species. Nevertheless, it should be easy to propagate from seeds sown in spring or summer, using a well-drained, loam soil mix. Seedlings should be transplanted when they have developed their first true leaves and are large enough to handle. It should perform best in a warm climate, in a sunny position, in deep, loam soil with water during summer.
References
Braun, K. 2011. Observation of Cienfuegosia hildebrandtii, Mlawula Nature Reserve, Mbuluzi Gorge, Eswatini. iNaturalist. Online. https://www.inaturalist.org/observations/10958199.
Clarke, H. & Charters, M. 2016. The illustrated dictionary of southern African plant names. Flora & Fauna Publications Trust, Jacana, Johannesburg.
Exell. A.W. 1961. Cienfuegosia . Flora Zambesiaca 1(2):420. Accessed via JSTOR Global Plants. https://plants.jstor.org/stable/10.5555/al.ap.flora.fz775.
Fryxell, P.A. 1969. The genus Cienfuegosa Cav. (Malvaceae). Annals of the Missouri Botanical Garden 56(2):179–250.
Hyde, M.A., Wursten, B.T., Ballings, P. & Coates Palgrave, M. 2021. Flora of Mozambique: Cienfuegosia hildebrandtii. https://www.mozambiqueflora.com/speciesdata/species.php?species_id=176830.
Loffler, L. 2020. Observation of Cienfuegosia hildebrandtii, Manzini, Eswatini. iNaturalist. Online. https://www.inaturalist.org/observations/91410004.
Loffler, L. 2021. Observation of Cienfuegosia hildebrandtii, Manzini, Eswatini. iNaturalist. Online. https://www.inaturalist.org/observations/85909181.
Plants of the World Online. Cienfuegosia Cav. https://powo.science.kew.org/taxon/urn:lsid:ipni.org:names:25840-1. Accessed 18 April 2022.
Pooley, E. 1998. A field guide to wild flowers Kwazulu-Natal and the eastern region. Natal Flora Publications Trust, Durban.
Raimondo, D., Von Staden, L., Foden, W., Victor, J.E., Helme, N.A., Turner, R.C., Kamundi, D.A. & Manyama, P.A. (eds) 2009. Red list of South African plants. Strelitzia 25. South African National Biodiversity Institute, Pretoria.
Van Der Merwe, T. 2021. Observation of Cienfuegosia hildebrandtii, Mpumalanga, South Africa. iNaturalist. Online. https://www.inaturalist.org/observations/72596577.
Credits
Swinky Nkosi
National Herbarium, Pretoria
May 2022
Acknowledgements: the author thanks Kate Braun, Linda Loffler and Troos van der Merwe for making their images available via iNaturalist.
Plant Attributes:
Plant Type: Perennial, Shrub
SA Distribution: KwaZulu-Natal, Limpopo, Mpumalanga
Soil type: Clay, Loam
Flowering season: Spring, Early Summer, Late Summer, Autumn
PH: Acid, Neutral
Flower colour: Purple, Yellow
Aspect: Full Sun
Gardening skill: Average
Special Features:
Attracts birds
Attracts butterflies
Drought resistant
Feeds honeybees
Horticultural zones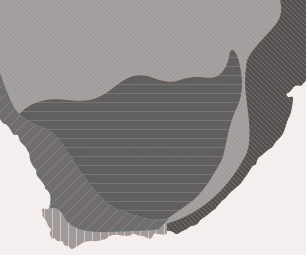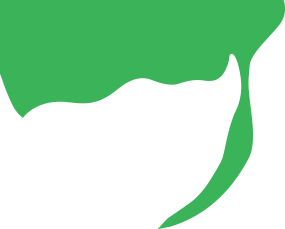 Zone 1 Coastal summer rainfall, frost free
Zone 5 Bushveld summer rainfall, Light frost
Google QR Code Generator