Cissus quadrangularis L.
Family: Vitaceae
Common names: climbing cactus, cactus vine, succulent-stemmed wild grape, edible-stemmed vine (Eng.); velddruif (Afr.); ijovane, isinwazi, umhlushwane, umnhlonhlwanyane (isiZulu).
Introduction
A climber with square, fleshy, green stems and red berries in summer. The stems, roots and leaves are used in traditional medicine to treat various human ailments, such as gout, syphilis, venereal disease, piles,  scurvy, asthma, eyes, earache, wounds, fractured bones, diarrhoea, dysentery and also as an anthelmintic, antidyspeptic, digestive tonic, analgesic and aphrodisiac.
Description
Description
Cissus quadrangularis is a succulent climber with green stems and branches. The stems are quadrangular in shape, buff coloured with greenish tinge, dichotomously branched, sub-angular, glabrous, fibrous and smooth, often leafless. They are winged but the wings are never corky. The tendrils are opposite the leaves. The leaves are simple or lobed, cordate, broadly ovate or reniform, serrate, dentate, sometimes 3-foliate and glabrous. The flowers are small, greenish white or yellow, bisexual, tetramerous, in umbellate cymes, opposite to the leaves. The calyx is cup shaped. The fruit is a globose or obovoid fleshy berry, succulent, very acrid, red to dark purple to black, one seeded. The seeds are ellipsoid or pyriform. Flowering time is in spring and early summer (September to December).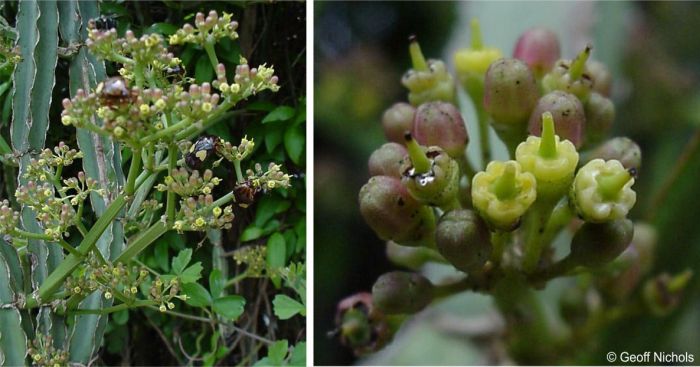 Conservation Status
Status
According to Raimondo et al. (2009), Cissus quadrangularis is Red Listed as Least Concern (LC), as evaluated against the five IUCN criteria.
Distribution and habitat
Distribution description
Cissus quadrangularis occurs in drier parts of tropical Africa and Madagascar, Arabia, India, Sri Lanka, Malaysia and the Philippines. In South Africa, its distribution is restricted to Limpopo and Mpumalanga provinces, where it occurs mostly in bushveld, woodland and mopani veld.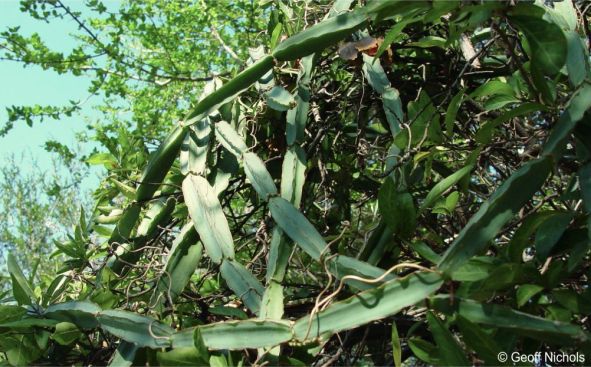 Derivation of name and historical aspects
History
The name Cissus is derived from the Greek word, kissos, meaning 'ivy'. The plants often climb, like ivy. The specific epithet quadrangularis, meaning 'four-angled', refers to the stems.
Despite its common name, climbing cactus, Cissus quadrangularis does not belong in the cactus family (Cactaceae), it is a member of the grape family (Vitaceae). The genus Cissus contains 288 species of woody climbers or shrubs that occur in tropical and subtropical regions of North and South America, Africa, India, Asia and Australia, with 7 species in South Africa.
Ecology
Ecology
The climbing cactus is pollinated by insects. The seeds are dispersed by birds that eat the fruits.
Uses
Use
The climbing cactus is as an important plant in traditional medicine. In eastern countries such as India, Malaysia and Thailand, and also in Africa, Cissus quadrangularis is used in the treatment of various illnesses including gout, syphilis, venereal disease, piles, scurvy, asthma, eyes, earache, wounds, fractured bones (as well as for swelling and muscle pains), leucorrhoea, diarrhoea, dysentery and as an anthelmintic, antidyspeptic, digestive tonic, analgesic and aphrodisiac. In Thailand, fresh stems and leaves are also used for the treatment of haemorrhoids, menstrual disorders and as an anti-flatulent.
The young fleshy stems and leaves are also used as food in India, whereas in Kenya, the Maasai people use it as an excitant. It has been found to contain high amounts of vitamin C, carotene, anabolic steroid substances, and columin.
Growing Cissus quadrangularis
Grow
In its natural habitat, Cissus quadrangularis is a moderate grower. It flourishes in sun or light shade in a warm tropical climate and can be propagated by stem cuttings. However, users of this plant usually harvest it from the wild. It is also suitable for containers.
References
Chidambara Murthy, K.N., Vanitha, A, Mahadeva Swamy, M, & Ravishankar, G.A. 2003. Antioxidant and Antimicrobial Activity of Cissus quadrangularis L. Journal of Medicinal Food 6(2):99–105.
Clarke, H. & Charters, M. 2016. The illustrated dictionary of southern African plant names. Flora & Fauna Publications Trust, Jacana, Johannesburg.
Jainu, M., Vijai Mohan, K. & Shyamala Devi, C.S. 2006. Gastroprotective effect of Cissus quadrangularis extract in rats with experimentally induced ulcer. Indian Journal of Medical Research 123: 799–806.
Mishra, G., Srivastava, S. & Nagori, B.P. 2010. Pharmacological and Therapeutic Activity of Cissus quadrangularis: An Overview. International Journal of Pharm Tech Research 2(2): 1298–1310.
Panthong, A., Supraditaporn, W., Kanjanapothi, D., Taesotikul, T. & Reutrakul, V. 2007. Analgesic, anti-inflammatory and venotonic effects of Cissus quadrangularis Linn. Journal of Ethnopharmacology 110:264–270.
Plants of the World Online. Cissus L. https://powo.science.kew.org/taxon/urn:lsid:ipni.org:names:325875-2. Accessed 20/01/22
Raimondo, D., Von Staden, L., Foden, W., Victor, J.E., Helme, N.A., Turner, R.C., Kamundi, D.A. & Manyama, P.A. (eds) 2009. Red list of South African plants. Strelitzia 25. South African National Biodiversity Institute, Pretoria.
Shirwaikar, A., Khan, S. & Malini, S. 2003. Antiosteoporotic effect of ethanol extract of Cissus quadrangularis Linn. on ovariectomized rat. Journal of Ethnopharmacology 89: 245–250.
Retief, E. & Herman, P.P.J. 1997. Plants of the northern provinces of South Africa: keys and diagnostic characters. Strelitzia 6. National Botanical Institute, Pretoria.
Van Wyk, B.-E. & Gericke, N. 2000. People's plants, a guide to useful plants of southern Africa. Briza Publications, Pretoria.
Credits
M.S. Mothogoane
National Herbarium, Pretoria
January 2022
Acknowledgements: photos by Geoff Nichols.
Plant Attributes:
Plant Type: Climber, Succulent
SA Distribution: Limpopo, Mpumalanga
Soil type: Sandy, Loam
Flowering season: Spring, Early Summer
PH:
Flower colour: Green, Yellow
Aspect: Full Sun, Morning Sun (Semi Shade), Afternoon Sun (Semi Shade)
Gardening skill: Easy
Special Features:
Attracts birds
Drought resistant
Good potplant
Edible plant
Medical plant
Horticultural zones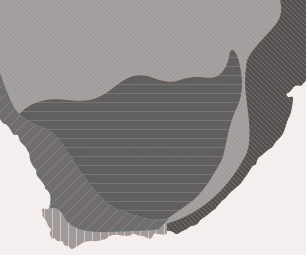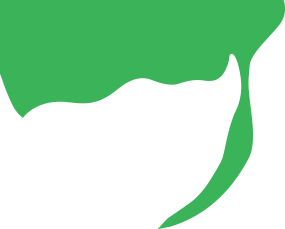 Zone 1 Coastal summer rainfall, frost free
Zone 5 Bushveld summer rainfall, Light frost
Google QR Code Generator