Cleome foliosa Hook.f.
Family: Brassicaceae
Common names: Yellow glory, yellow spindlepod.
Introduction
Cleome foliosa is a charming annual for the water wise garden.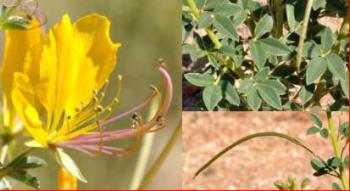 Description
Description
Cleome foliosa is an annual (occasionally perennial) herb that grows to 1.2m. The stems are striate and sometimes sparsely hairy.  The leaves are compoundly palmate with three to five leaflets and smaller, leaf-like stipules at the base of the petioles. The leaves become progressivley smaller along the stem.
The plant has striking yellow flowers which fade to a reddish colour and yellow or yellow and lilac filaments. As in other species of Cleome, C. foliosa  has exceedingly long seed capsules and these develop below the flowers as bloom progresses up the flowering stems. The capsules are linear, slightly curved, and striped with longitudinal ridges. The flowering season is variable and seems to be rainfall dependent. Three varieties of this species are recognised.
Variety foliosa grows to 1.2m and has compound palmate leaves with five to seven leaflets and petals up to 25mm. Variety lutea grows to 0.5-1.0m and has compound palmate leaves with three to five leaflets,  10-20mm petals and spreading capsules.  Variety namibensis grows to 200-500mm, has compound palmate leaves with three leaflets, 10-15mm petals and hold its capsules upright.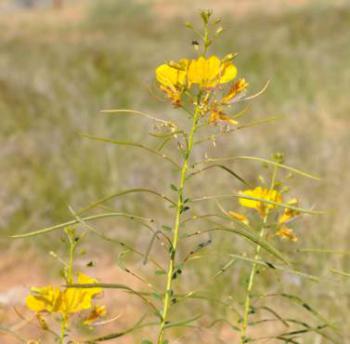 Conservation Status
Status
Cleome foliosa is Red Listed as Least Concern (LC).
Distribution and habitat
Distribution description
Cleome foliosa is confined to the extreme northwestern part of South Africa, occurring along the border of the Northern Cape and Namibia and extending north into Namibia up to the Kaokoveld and Angola. It is found in sandy and rocky soils. The distribution of the varieties differs with var. foliosa occurring from the central Namib northwards into Angola; var. lutea  found from the northwestern section of the Northern Cape through southern and southwestern Namibia up to the Kaokoveld, and var. namibensis limited to the central Namib.
Derivation of name and historical aspects
History
Derivation of name Cleome foliosa belongs to the Capparaceae (caper family). The species epithet foliosa refers to its leafy appearance.
Ecology
Ecology
The species is common along road verges and other disturbed areas.
Uses
Use
This species has no recorded ethnobotanical uses although other species in the genus are used. In the northern regions of Namibia, as well as in parts of South Africa, Cleome gynandra and C. maculata are consumed as a form of wild spinach. Cleome spinosa is a common ornamental plant and is grown in many gardens. Seeds of a number of species are eaten by birds, especially doves.
Growing Cleome foliosa
Grow
Cleome foliosa is a bright and cheerful annual that can be planted in a perennial garden bed or in pots to bring a burst of colour to the space. Plant seedlings or young plants in full sun in loose friable soil. As this species occurs naturally in very arid areas and is therefore relatively drought-resistant. Plants will, however, respond best to regular watering. Space plants 200-400mm apart at the back of borders or in the centre of island beds where their tall sprays of cheerful yellow flowers will display to best effect. Seeds can be sown onto the surface or planted approximately 5mm deep and the plants are likely to reseed themselves throughout the garden.
References
http://www.ehow.com. How to Plant Cleome Seeds, eHow.com, 2013. How to Plant Cleome Seeds [ONLINE]. Accessed 16 April 2013.
Mannheimer, C., Maggs-K ö lling, G., Kolberg, H. & R ü gheimer, S. 2008. Wildflowers of the southern Namib: a photographic guide to the wildflowers of south-western Namibia . Macmillan, Windhoek.
Foden, W. & Potter, L. 2005 . Cleome foliosa Hook.f. var. lutea (Sond.) Codd & Kers. In D. Raimondo, L. von Staden, W. Foden, J.E. Victor, N.A. Helme, R.C. Turner, D.A. Kamundi, & P.A. Manyama (eds ), Red List of South African Plants. Strelitzia 25. South African National Biodiversity Institute, Pretoria.
Credits
Robyn Powell & Anthony Magee
Compton Herbarium
February 2014
Plant Attributes:
Plant Type: Bi/Annual, Perennial
SA Distribution: Northern Cape
Soil type: Loam
Flowering season: Late Summer
PH: Neutral
Flower colour: Yellow
Aspect: Full Sun
Gardening skill: Easy
Special Features:
Attracts butterflies
Drought resistant
Feeds honeybees
Horticultural zones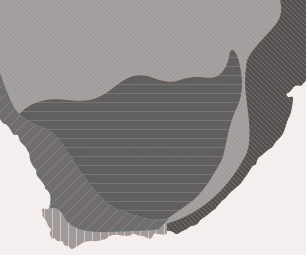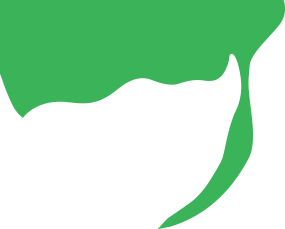 Zone 3 Winter rainfall Karoo, light frost
Zone 4 Summer rainfall Karoo and Highveld, Frost in winter
Zone 5 Bushveld summer rainfall, Light frost
Google QR Code Generator