Clivia mirabilis Rourke
Family: Amaryllidaceae
Common names: miracle clivia
Introduction
The discovery in the Nieuwoudtville area of the Northern Cape of a most unusual new Clivia species, Clivia mirabilis, caused much excitement in the botanical community.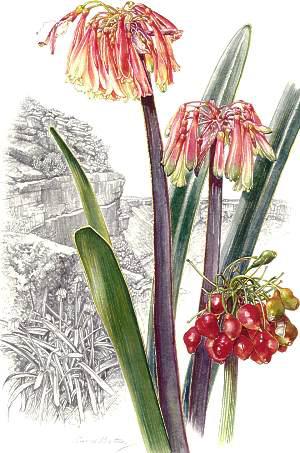 Description
Description
"This Clivia seems to be able to tolerate the brutal northern Cape sun with little sign of leaf damage. It has unusual leaves with a prominent white stripe down the middle, that turn deep maroon at the base. It has a very large root system which is what allows the mature plants to survive the prolonged rainless summer" (John Winter, international Clivia expert and past Curator of Kirstenbosch).
Distribution and habitat
Distribution description
The discovery of Clivia mirabilis was particularly unusual as clivias are generally shade-loving and usually occur in summer-rainfall areas. The Nieuwoudtville area has a semi-arid Mediterranean climate with a strictly winter rainfall, exactly the opposite climatic conditions experienced by the other four species of Clivia.
"Other than the centre of the Sahara desert, you could not think of a more unlikely place to find a new species of Clivia. Its nearest relative grows nearly 800 kilometres away in the Eastern Cape", said Dr John Rourke, head of the Compton Herbarium at the Kirstenbosch Research Centre.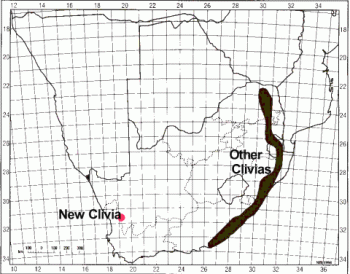 Nieuwoudtville is popularly known as the bulb capital of the world and is renowned for having the most species-rich display of indigenous bulbs in spring and winter.
The new species has been christened Clivia mirabilis by Dr Rourke, who described it formally in the May 2002 edition of the National Botanical Institute's journal, Bothalia."This name, which means astonishing or miraculous, was chosen to reflect our amazement at the apparently endless suprises nature still has in store for us in this part of South Africa," said Dr Rourke.
The plant was discovered by Wessel Pretorius of the Oorlogskloof Nature Reserve and access to this population of plants is being strictly controlled by Northern Cape Nature Conservation.
This latest discovery brings to well over 70 the number of new, previously undescribed species discovered over the past five years in the Cape, an area renowned for its biodiversity.
Uses
Use
The discovery of such a unique species of Clivia is expected to generate much commercial interest from the international horticultural industry, as clivias are extremely popular worldwide, particularly in the Far East. During a boom in the demand for clivias in China in the 1980s, desirable plants were being sold for amounts equivalent to around 300 times the average annual earnings of a Chinese university graduate.
Growing Clivia mirabilis
Grow
Growing Clivia mirabilis has been a steep learning curve. It is very important to bear in mind the climatic conditions under which this species grows in the wild: discovered in the Northern Cape near Nieuwoudtville, the area experiences a semi-arid Mediterranean climate with winter rain of approximately 400 mm (16 inches) a year, dry summers, light frost in winter and maximum temperatures of up to 45 C in summer.
For various reasons, plant growers all have their own methods, be it climate, local conditions, personal choice or how advice from others is interpreted. Over the past two years John Winter says,  I have cultivated the seedlings of C. mirabilis and I have not found this as easy as growing other Clivia species.
The following information results from my experience and hopefully these suggestions and comments will be of assistance to first-time growers of the plant.
I have found the seedlings of C. mirabilis prone to root- and stem-rot. They have been grown in two different media:
a growing medium consisting of three parts milled pine bark (5 mm ) plus two parts milled pine needles and a pelletised organic fertilizer added. (I grow all of the other species of Clivia in this medium without any rotting problems)
a medium consisting of clean course sand added to the above medium in equal parts. This mixture resulted in far less root rot.
The seedlings have been grown in two tunnels, one of which is warmer as 2 of the seed beds are heated. For the last 4 months all the seedlings have been fed with calcium nitrate and some with Peters Professional and they respond well to feeding.
To reduce the possibility of root- or stem-rot I suggest the following:
Use 8 mm composted milled pine bark (I would not add organic fertilizer to the mixture). A mixture of equal parts milled pine bark and clean course sand is also ideal. Water sparingly (once every 2 weeks or less depending on the weather). Check the growing medium before watering and, if moist, delay watering until medium is damp.
Stage pots on a generous layer of course grit or on wire mesh staging to ensure that all surplus water is able to drain freely from the bottom of the pot. Plant the seedlings at a depth where the base of the stem is level with the surface of the growing medium. Repot every 9 months with fresh growing medium to ensure a well-aerated medium providing sharp drainage. Feed plants once a month with a general inorganic fertilizer.
Plants that have lost their roots completely should be treated with a fungicide and then planted in clean sand where they will develop new roots. The sand needs to be kept moist.
Once the seedlings reach a height of 400 mm and a stem diameter of approximately 15 mm, they appear to overcome their susceptibility to root- and stem-rot. The plants grown in the warmer tunnel have grown more rapidly and to speed up the growth rate I suggest growers provide heating a minimum of 15°C in winter and a maximum of 28°C to 30°C in summer.
Once the plants reach flowering size do not provide any heat because a cold spell will stimulate flowering. The seedlings not having been exposed to direct sunlight, I would consider the plants ready to be exposed to direct sunlight only once maure. Although there are plants in the wild growing in full sun, the majority grow in the shade and in my opinion the latter plants are a better quality. Although C. mirabilis experiences light frost in the wild, I am, as yet, unable to comment on how sensitive they are to frost. 
Credits
John Rourke and Nicky Malcolm
and progagation and growing by John Winter
National Botanical Institute
May 2002
Plant Attributes:
Plant Type: Bulb
SA Distribution: Northern Cape
Soil type:
Flowering season: Spring
PH:
Flower colour: Orange
Aspect: Full Sun
Gardening skill: Challenging
Special Features:
Good potplant
Horticultural zones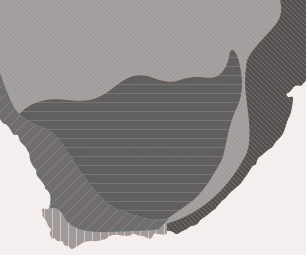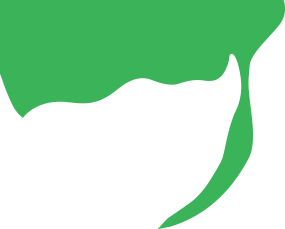 Zone 1 Coastal summer rainfall, frost free
Zone 2 Coastal winter rainfall, frost free
Zone 3 Winter rainfall Karoo, light frost
Zone 5 Bushveld summer rainfall, Light frost
Google QR Code Generator