Coleotrype natalensis C.B.Clarke
Family: Commelinaceae
Common names: none recorded
Introduction
The genus Coleotrype is characterised by its extremely contracted inflorescences, with each unit being subtended by a relatively large bract, and the petals that form a short tube at the base in which the stamens are attached. Coleotrype natalansis is an attractive groundcover in shade, but can become rampant.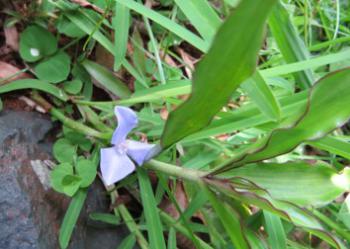 Description
Description
This is a perennial herb, up to 800 mm high, with leafy stems rooting at the lower nodes, turning upwards. Leaves are alternate, oblong, ±150 × 20 mm, sheathing at the base, spreading. Fertile shoots annual and reclining. The leaf margins are purple or red.
Flowers are sessile in upper leaf axils, piercing through the leaf-sheaths, 4–6 inflorescences appearing consecutively in two rows. Sepals are 3 and free, resembling hairy bracts, 8 mm long. Corolla is broadly ovate, having a narrow tube 15 mm long, subequally 3-lobed, violet-purple. Stamens 6, inserted in corolla throat; filaments are bearded. Anthers are bisifixed with locules curved around discoid connective. Ovaries 3-locular with 1 or 2 ovules in each cell, slightly hairy above; styles are exserted. Stigma is shallowly cup-shaped, with 3 small, erect papillate lobes. Capsule obovate-trigonous. Flowers open in the morning and close in the afternoon. The flowering time is from September to April.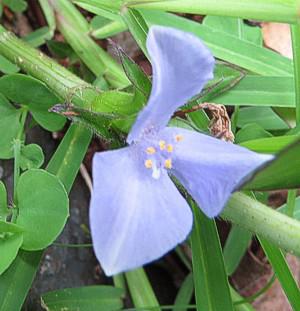 Conservation Status
Status
Coleotrype natalensis is currently listed as LC (Least Concern) in the Red List of South African plants. It is therefore considered not to be under any immediate risk of extinction.
Distribution and habitat
Distribution description
Coleotrype natalensis is endemic to South Africa, occurring in the Eastern Cape, KwaZulu-Natal and Limpopo. It also occurs in Zimbabwe, Mozambique and Swaziland. It grows mainly in moist areas or sandy clearings in forest.
Derivation of name and historical aspects
History
The genus name, Coleotrype means 'sheath-borer', referring to the inflorescence piercing through the sheath. The specific epithet, natalensis, refers to these plants being found in the former Natal, now KwaZulu-Natal. Coleotrype natalensis falls in the family Commelinaceae. The genus has 9 species native to Africa and Madagascar, with one species found in South Africa (Coleotrype natalensis).
Ecology
Ecology
Commelinaceae plants are pollinated by insects. Since these plants do not have nectar they use different mechanism to attract and reward insects. The androecium has structures that have evolved to attract pollinators, such as showy staminal hairs; yellow antherodes (staminide anthers) give large quantities of pollen and are involved in the deceptive, pollinator attraction system. The seeds of plants in this family are normally dispersed by water or mud, since species grow near water or in moist areas.
Uses
Use
None recorded.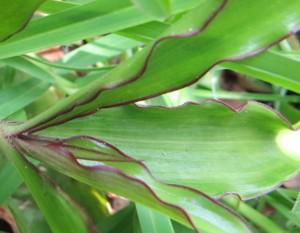 Growing Coleotrype natalensis
Grow
Coleotrype natalensis is a ground cover and grows up to ± 300–600 mm high in semi-shaded or shaded area. It is propagated by stem- or tip-cutting, using sterilized river sand. It takes 4–6 weeks to root. Thereafter, transplant it to a spot with well-drained soil.  It can also be grown in a pot.
References
Evans, T.N., Faden, R.B., Simpson, M.G. & Sytsma, K.J. 2000. Phylogenetic Relationships in the Commelinaceae: I. A Cladistic Analysis of Morphological Data.Systematic Botany, Vol. 25, No. 4: 668–691.
Pooley, E. 1998. A field guide to wild flowers Kwazulu-Natal and the eastern region. Natal Flora Publications Trust, Durban.
Raimondo, D., Von Staden, L., Foden, W., Victor, J.E., Helme, N.A., Turner, R.C., Kamundi, D.A. & Manyama, P.A. (eds) 2009. Red list of South African plants. Strelitzia 25. South African National Biodiversity Institute, Pretoria.
www.ecoman.co.za/moreland/shrubs.html
Credits
Aluwani Tshiila and Ndumiso Hlongwane
KwaZulu-Natal Herbarium
January 2015
Plant Attributes:
Plant Type: Perennial
SA Distribution: Eastern Cape, KwaZulu-Natal, Limpopo
Soil type: Loam
Flowering season: Early Summer
PH: Neutral
Flower colour: Blue, Mauve/Lilac
Aspect: Shade
Gardening skill:
Special Features:
Horticultural zones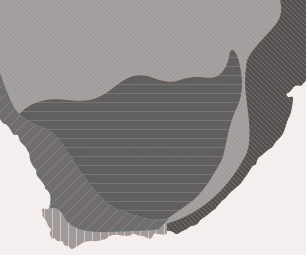 Zone 1 Coastal summer rainfall, frost free
Google QR Code Generator