Coleus grandidentatus (Gürke) A.J.Paton (= Plectranthus grandidentatus Gürke)
Family: Lamiaceae
Common names: big-teeth coleus, scented-leaf coleus (Eng.); groottandsalie (Afr.)
Introduction
A trailing perennial groundcover with attractive toothed foliage and a flush of white flowers in autumn, ideal for a moist shady spot in the garden.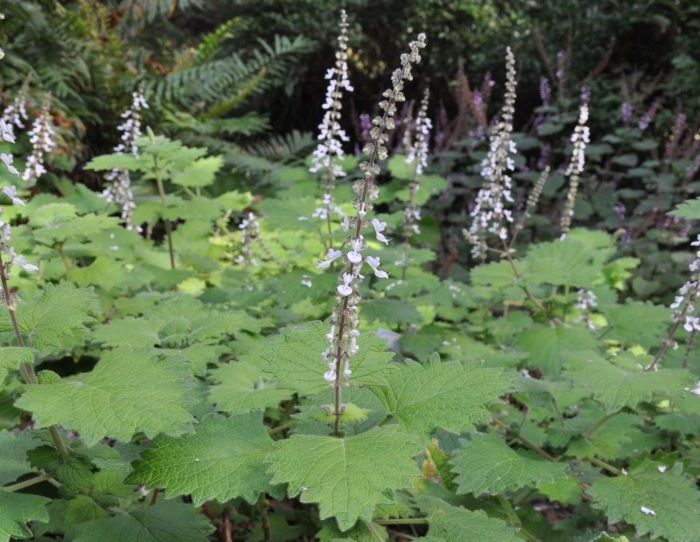 Description
Description
Coleus grandidentatus is a trailing, soft, semi-succulent, herbaceous perennial, 300–600 mm tall, with a procumbent growth habit, meaning that the stems grow horizontally, supported by the ground. The stems are covered with cottony hairs (tomentose). The leaves are ovate to broadly ovate, 20–70 × 18–75 mm, aromatic, velvety hairy, and the margins are conspicuously toothed, with 4–7 pairs of triangular teeth. The petioles are 25–80 mm long. 
Flowers are in up to 225 mm long inflorescences at the tips of branchlets, usually simple, occasionally with a pair of basal branches. Each flower is white or occasionally mauve, 7–13 mm long, with a tube that bends slightly downwards, widening at the throat, and with a boat-shaped lower lip. Flowering time is late summer–autumn–winter (from March to June) with a peak in autumn (April–May). The seed is contained in an 8 mm long, dark brown nutlet, usually with four nutlets per flower. 
Conservation Status
Status
Least Concern (LC). Coleus grandidentatus is not threatened. 
Distribution and habitat
Distribution description
Coleus grandidentatus naturally occurs in Afromontane Forest, on foothills in rocky screes or on dry rocky outcrops in well-drained humus-rich soils, from Queenstown in the Eastern Cape to the Soutpansberg in Limpopo Province. Afromontane Forest follows the eastern side of the Drakensberg as far north as the Soutpansberg and south to Knysna and Tsitsikamma. These forests are highly dissected, and are usually found on the cooler southern and eastern slopes above 1000 m, where rainfall is higher. Eleven species of Coleus and Plectranthus are found in Afromontane Forest.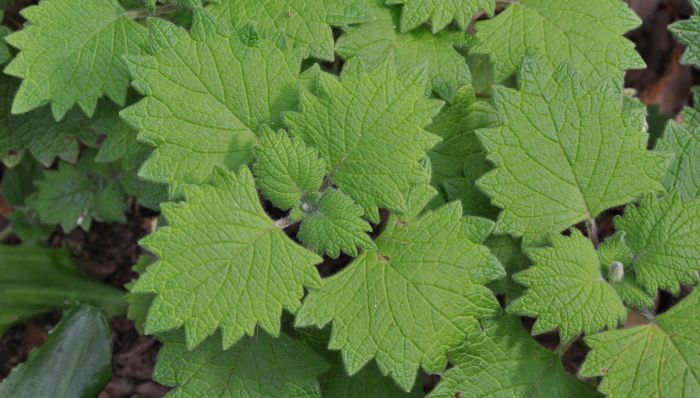 Derivation of name and historical aspects
History
The name Coleus is derived from the Greek koleos, meaning 'a sheath', and refers to the fused stamens of the type species for the genus, and a character that at one time was thought to be diagnostic for this genus. The name grandidentatus is from Latin and means 'with large teeth', grandis, means 'large' and dentatus, 'toothed', referring to the dentate leaves. The former genus name Plectranthus is from Greek, and means 'spurflower', from the Greek plectron, which means 'spur' and anthos, 'flower', and refers to the characteristic spur at the base of the corolla tube of Plectranthus fruticosus , the first Plectranthus to be named in the genus. 
Coleus grandidentatus was first collected by Anton Rehmann and William Tyson on the Emyembe Mountain in East Griqualand in the Eastern Cape. William Tyson was born in Port Royal Jamaica in 1851 and arrived in South Africa in 1874 with his parents. Between 1882 and 1886 he was in East Griqualand teaching. During this period he collected actively in Pondoland and East Griqualand and was one of the main contributors to the 'Herbarium Normale Austro-Africanum' organized by Bolus and MacOwan. Anton Rehmann was born in Austria in 1840. He paid two visits to South Africa during the years 1875–77 and in 1879–80, collecting over 3000 species. These collections are represented in several European herbaria. 
It was named Plectranthus grandidentatus by Gürke in 1898 and was introduced to Kirstenbosch in 1922 by H.P. Thomasset. Molecular studies on Plectranthus and closely related genera by Paton et al showed that the old definition of the genus Plectranthus did not have a single common ancestor, and that there is a distinct clade including the type species of the former genus Coleus. As a result, the genus Coleus was re-instated in 2019. This species falls within the 'coleus clade' and is therefore renamed as Coleus grandidentatus.
Ecology
Ecology
Coleus belongs in the Lamiaceae, a family famous for the large number of plants with useful aromatic chemicals in them. Many, including Coleus and Plectranthus, have tiny glandular hairs containing phenolic compounds that deter feeding insects. 
The ability of the mat-forming species to root wherever their branches touch ground enables them to cover large areas, ensuring their survival. This is natural layering. 
The main flowering of Coleus grandidentatus takes place at the end of the growing season. Rain is usually abundant and the plants are at their peak, with enough water and energy reserves for flowering and seed development. 
Most species of Coleus with short-tubed flowers attract insects such as honeybees, bumblebees and bombyliid flies. They also present their flowers on tall spikes, so they are easily seen by their pollinators. The pollen-bearing anthers ripen before the stigma as a safeguard against self-pollination. The inflorescence dries during late autumn and winter when seed dispersal takes place, so that the seed is ready to germinate during the spring or summer months.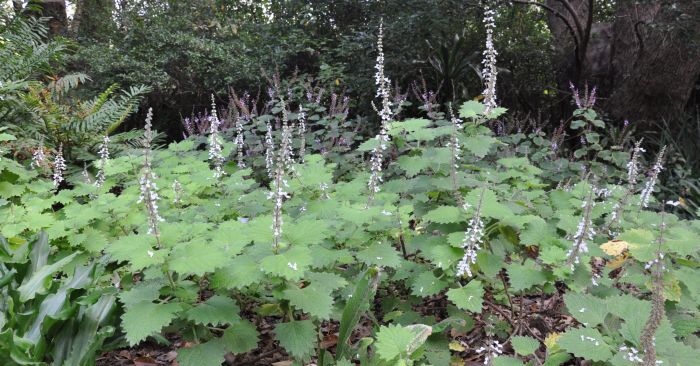 Uses
Use
There are no known traditional uses of Coleus grandidentatus. 
Growing Coleus grandidentatus
Grow
Coleus grandidentatus grows rapidly, rooting at the nodes, forming an attractive groundcover. It does well in light shade, dappled shade and needs regular watering. It is well suited to moist bushveld gardens and forested gardens, where frost is not severe. 
Propagate by seed or cuttings. Seed is best sown in the spring or early summer in a well-drained mix containing two parts sand and compost to one part loam. Moisten the mix, sow the seed evenly, and then cover lightly with a thin layer of sand to hold the seeds in place. Place in dappled shade in a warm place and keep damp. Germination occurs within 3 weeks. Seedlings can be transplanted when they have developed two sets of true leaves. 
When propagating from cuttings, hygiene is of prime importance. Cuttings produce roots fairly quickly. Rooting is possible throughout the year; however the best time is in spring and early summer. Softwood cuttings root fairly quickly, in approximately 14 days under ideal conditions; semi-hardwood cuttings are generally slower but will easily root. Each cutting should have 3–4 nodes. The rooting medium can consist of sand, perlite, vermiculite, peat or a mixture of any of these. Keep moist and shaded. Cuttings are prone to contamination by fungus, but this can be controlled by fungicide. Rooted cuttings can be transplanted after about a month and grown on in containers. 
The young plants grow rapidly but must be well watered, at least twice a week until such a time as the plants are established. Feeding is also a very important aspect as it affects the flower and leaf quality. A balanced fertilizer can be applied every three months in the summer. Annual application of compost should be worked into the soil in late winter or early spring. 
Although Coleus grandidentatus will grow and flower without being pruned, it is an essential practice that improves the quality of plants and flowering. Pruning is a renewal process and occurs in the natural habitat as well. Dead, diseased and weak growth is removed and the natural form is improved. The optimum pruning time is late winter, once the plants have finished flowering.
References
Glen, H.F. & Germishuizen, G. (compilers). 2010. Botanical exploration of southern Africa, edition 2. Strelitzia 26. South African National Biodiversity Institute, Pretoria.
Jackson, W.P.U. 1990. Origins and meanings of names of South African plant genera. University of Cape Town.
Paton, A.J., Mwanyambo, M., Govaerts, R.H.A., Smitha, K., Suddee, S., Phillipson, P.B., Wilson, T.C., Forster, P. I. & Culham, A. 2019. Coleus and Plectranthus (Lamiaceae): a tale of more than two genera. Phytokeys 129: 1–158. http:// Phytoes.pensoft.net.
Pooley, E. 2005. A field guide to wild flowers KwaZulu-Natal and the eastern regions. The Flora Publications Trust, Durban.
Raimondo, D. et al. 2009. Red list of South African plants. Strelitzia 25. SANBI (South African National Biodiversity Institute), Pretoria.
Van Jaarsveld, E. 1987. The Plectranthus handbook. National Botanical Gardens, Cape Town.
Van Jaarsveld, E. 2006. The southern African Plectranthus and the art of turning shade to glade. Fernwood Press, Vlaeberg, Cape Town.
Van Wyk, B.-E. & Gericke, N. 2000. People's plants. Briza Publications, Pretoria.
Stern, K. 2006. Introductory plant biology. McGraw–Hill Companies.
Credits
Kyle Smith
Kirstenbosch National Botanical Garden
December 2011
updated by Alice Notten

Kirstenbosch National Botanical Garden

June 2020
Plant Attributes:
Plant Type: Ground Cover, Perennial
SA Distribution: Eastern Cape, KwaZulu-Natal, Limpopo, Mpumalanga
Soil type: Sandy, Loam
Flowering season: Autumn, Winter
PH: Acid, Alkaline, Neutral
Flower colour: White, Mauve/Lilac
Aspect: Morning Sun (Semi Shade), Afternoon Sun (Semi Shade)
Gardening skill: Easy
Special Features:
Fragrant
Good potplant
Feeds honeybees
Horticultural zones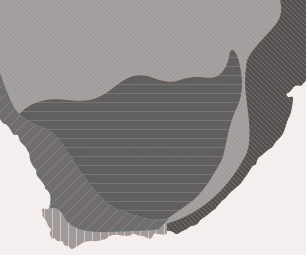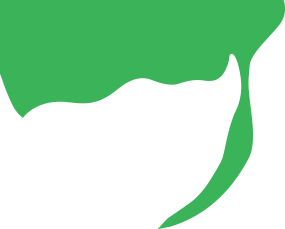 Zone 1 Coastal summer rainfall, frost free
Zone 2 Coastal winter rainfall, frost free
Zone 4 Summer rainfall Karoo and Highveld, Frost in winter
Zone 5 Bushveld summer rainfall, Light frost
Google QR Code Generator