Corchorus olitorius L.
Family: Malvaceae
Common names: Egyptian spinach, Indian jute, wild jute, bush okra, Jew's mallow, West African sorrel, jute mallow, tossa jute (Eng.); wilde jute, Indiese jute (Afr.); delele (Tshivenda); thelele (Sepedi); gushe (Xitsonga).
Introduction
A tropical, fast-growing, annual herb, up to 4 m tall, with a fibrous stem and yellow flowers in 1 to 2 months from the time of germination.
Description
Description
Corchorus olitorius is a robust, erect, annual herb or short-lived perennial, up to 2 m tall in the wild and it can grow to 4 m tall when planted for commercial use. It is fairly well-branched and has a taproot that leads to a sturdy, hairless stem, which is green with a faint, reddish brown hue, and sometimes turns a little woody at ground level. The leaves are ovate-lanceolate to lanceolate, 60 to 100 mm long and 20 to 40 mm wide. The plant bears yellow flowers that are solitary or in 2-flowered cymes, at the tip of a short stem, opposite the leaf. The fruits are elongated, straight or curved, dehiscent and divided into transverse sections through 5 valves. The fruit measures 20 to 80 mm in length and colours vary from greyish-blue to green. Every seed chamber contains many seeds.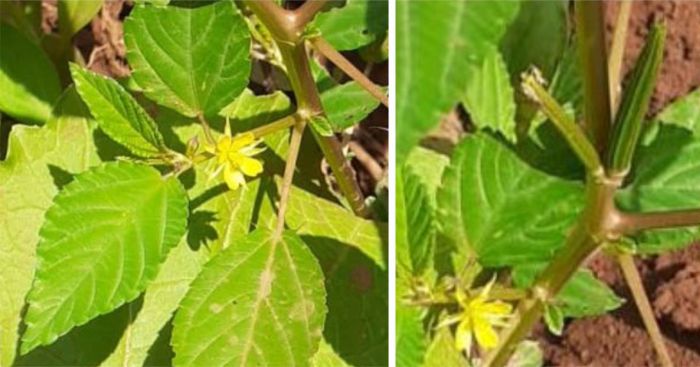 Conservation Status
Status
Distribution and habitat
Distribution description
Corchorus olitorius grows in tropical and subtropical regions throughout the world. It grows well in the lowland tropics, up to an elevation of 1 250 m altitude. It grows well in abandoned fields and grassland, and is a common weed of disturbed or cultivated areas. Corchorus olitorius is tolerant of different soil types but it grows best in mineral-rich soil that is well drained. Its exact origin is uncertain because it has been cultivated for centuries in both Africa and Asia and it occurs in the wild on both continents. In South Africa it is regarded as a naturalized exotic, and it is mostly found in Limpopo, Mpumalanga, KwaZulu-Natal and Eastern Cape.
Derivation of name and historical aspects
History
The genus name Corchorus was derived from the ancient Greek word korkhoros or korkoros, which referred to a wild plant of uncertain identity. The species name olitorius is from Latin and means 'pertaining to vegetables'. The vernacular name jute has come to mean 'the plant yielding a fibre for sacking and cordage', or the fibre itself.
Ecology
Ecology
The flowers of Corchorus olitorius undergo self-pollination and cross-pollination but they are mostly self-pollinated. The plant is adapted to variety of climates, but it does best in hot, rainy climates. The most common pest on this plant is grasshoppers.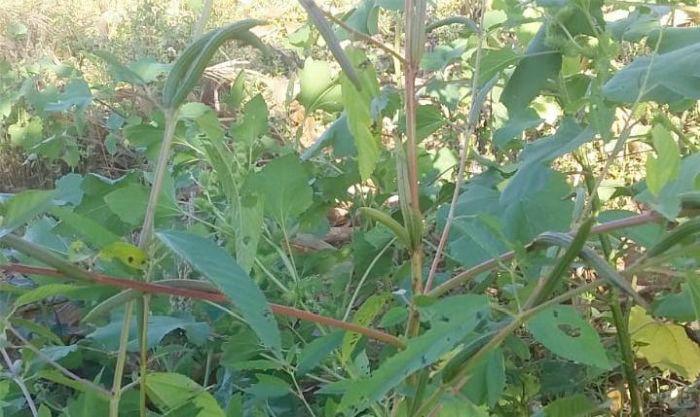 Uses
Use
Corchorus olitorius is a leading leaf vegetable in most parts of Africa, including South Africa, where it falls under the category of leafy vegetables called morogo. All the parts of the plant have always been used as medicine to treat many sicknesses in many parts of the world. The leaves are used to treat gonorrhea, tumours, and aches and pains in South Africa. In India, Bangladesh and China it is cultivated for its fibre.
Growing Corchorus olitorius
Grow
Corchurus olitorius is easily propagated from seeds. Soak the seeds for 24 hours before propagation for best germination results. A good time to sow the seed is at the start of the rainy season. The plants must not be grown in full shade as it does best where there is exposure to sun. If planted in rich soil, no fertilizers are needed, but the addition of fertilizers that contain nitrogen will enhance its growth, rapidly. If planted in the dry season, controlled manual watering is necessary as the plant can not do well if the soil is waterlogged or if it is too dry.
References
Fern, K. 2019. Corchorus olitorius L. Malvaceae. Useful Tropical Plants Database. Online. https://tropical.theferns.info/viewtropical.php?id=Corchorus+olitorius. Accessed 11/04/2021.
Fondio, L. & Grubben, G.J.H. 2011. Corchorus olitorius L. Internet. Record from PROTA4U. Brink, M. & Achigan-Dako, E.G. (Eds). PROTA (Plant Resources of Tropical Africa), Wageningen, Netherlands. http://www.prota4u.org/search.asp. Accessed 13 April 2021.
Louw, M. n.d. Corchorus is Jew's Mallow. Indigenous vegetables of South Africa. https://southafrica.co.za/corchorus-is-jews-mallow.html. Accessed 09/04/2021.
Whitakers Words Online. https://latin-words.com/ Searched 29 July 2021.
Credits
Meshack Nethavhani
MSBP (Millennium Seedbank Partnership)
August 2021
 
Plant Attributes:
Plant Type: Bi/Annual, Perennial
SA Distribution: Eastern Cape, KwaZulu-Natal, Limpopo, Mpumalanga
Soil type: Sandy, Loam
Flowering season: Early Summer
PH: Acid, Alkaline, Neutral
Flower colour: Yellow
Aspect: Full Sun
Gardening skill: Easy
Special Features:
Edible plant
Medical plant
Useful plant
Pioneer plant
Horticultural zones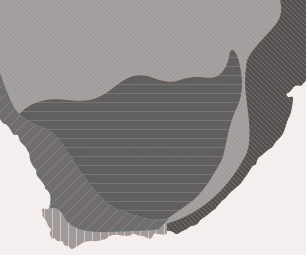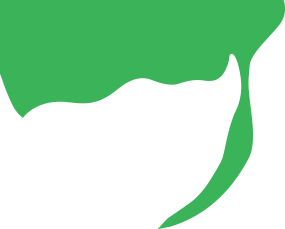 Zone 1 Coastal summer rainfall, frost free
Zone 4 Summer rainfall Karoo and Highveld, Frost in winter
Zone 5 Bushveld summer rainfall, Light frost
Google QR Code Generator