Cotyledon xanthantha Van Jaarsv. & Eggli
Family: Crassulaceae
Common names: Still Bay pig's ears, Still Bay cotyledon (Eng.); stilbaai-plakkie (Afr.)
Introduction
Cotyledon xanthantha is a recently named, scrambling, succulent shrub with tubular yellow flowers, confined to thicket vegetation of the dry river valleys of the Still Bay region of the Western Cape. It is easily grown and one of a dozen species of Cotyledon growing in South Africa (Van Jaarsveld & Koutnik 2004).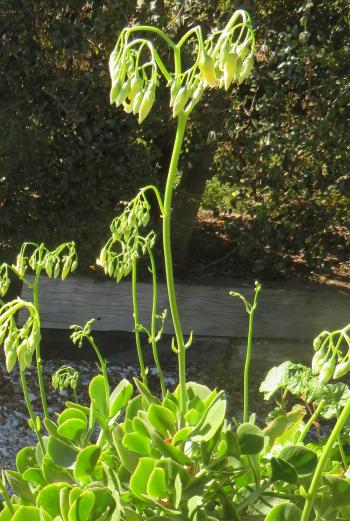 Description
Description
Cotyledon xanthantha is a much-branched, fairly fast-growing, ascending shrub, up to 1.5 m tall. It has fibrous roots. The basal branch is up to 15 mm in diameter, brownish, the upper about 7–8 mm in diameter, greyish green. Leaves crowded at the ends of the branches, decussate, ascending, compressed, obovate to linear-obovate, 70–95 × 28–46 mm, grey-green, occasionally with a reddish margin; leaf stalk (petiole) short, indistinct, base wedge-shaped, tip with a firm point (mucronate).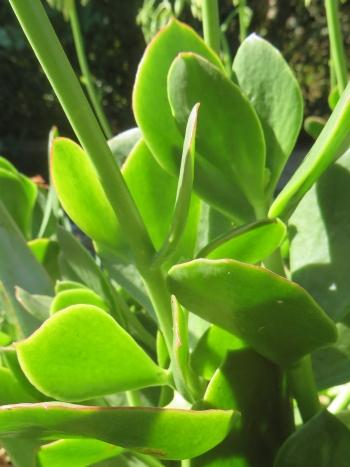 The inflorescence is ascending and branched, 200–550 mm long, with 2 pairs of leafy bracts. The flowers (corolla) are tubular, yellow and pendent, 25 × 18 mm, the tube 18–20 mm long, slightly bulging in the middle, 15 × 6 mm, the lobes lance-shaped, becoming recurved. The flower stalk (pedicle) is 18–30 mm long. The calyx lobes are broadly triangular, 3 mm long and 4 mm wide, green. The anthers 1.5 × 1.5 mm; the pollen yellow. The female parts (carpels) tapering into slender styles, 25 mm long. The glands (squamae) at the base of the carpels, 0.8 mm high and 3 mm broad, notched.
Flowering time is late spring to early summer (November to December, southern hemisphere).
Conservation Status
Status
Cotyledon xanthantha has not yet been assessed for the Red List of South African Plants.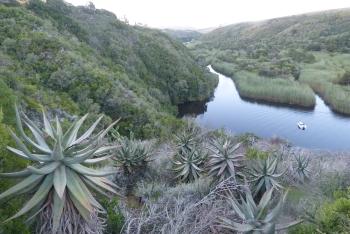 Distribution and habitat
Distribution description
Cotyledon xanthantha is only known from the Goukou River and its tributaries in the Still Bay region of the eastern portion of the Western Cape (South Africa). It grows in Southern Cape Valley Thicket vegetation (Mucina et al. 2006). These thickets are usually confined to dry river valleys, and often dense and thorny. Cotyledon xanthantha grows semi-scandent in the thickets among Ecca Shale rocks (Karoo Supergroup). The plants tend to scramble in a similar fashion to Cotyledon adscendens from the Dune Thickets at Port Elizabeth in the Eastern CapeProvince. Associated species in the rocky terrain includes Carissa bispinosa, Euclea undulata, Searsia burchellii and Diospyros dichrophylla. It also shares its habitat with succulents such as Adromischus caryophyllaceus, Aloe ferox and A. glauca, Crassula cliata, C. lactea and C. pubescens var. pubescens, Delosperma prasinum, Pelargonium peltatum, Sarcostemma viminale and Curio archeri.
The climate of the region is mild, and receives rainfall at any time of the year (300–400 mm per annum). Frost is rare, and when occurring, is very light. Summers tend to be windy, and regularly cooled by south-easterly winds. It has been grown on the Mathews Rockery at Kirstenbosch National Botanical Garden and in the Gardens of the San at Babylonstoren Farm, flowering annually. The yellow, tubular flowers are visited regularly by local sunbirds (Nectarina spp.). The name of the Goukou River is of Khoi origin. It was named by the Koranna people, gou referring to the Gouritz Rivier and kou, 'before', pertaining to the last of series of rivers before the great Gouritiz River. The latter the largest river system in the region, draining much of the Karoo.
Derivation of name and historical aspects
History
Cotyledon xanthantha was first named by the author as C. lutea in 2015 in the American Cactus Journal, Haseltonia from plants gathered along the Goukou River near Still Bay. However, the name C. lutea had already been used in an earlier publication (Hudson 1778), for a different species of Cotyledon currently treated as a synonym of Umbilicus luteus. The specific epithet lutea, therefore had to be changed, hence the name C. xanthantha by Urs Eggli and the author in 2017. The name xanthantha, means 'yellow flower', from the Greek xanthos meaning 'yellow' and anthos, 'flower', pertaining to the yellow flowers of this species, which distinguish it from the common and widespread C. orbiculata var. orbiculata. (Van Jaarsveld & Eggli 2017).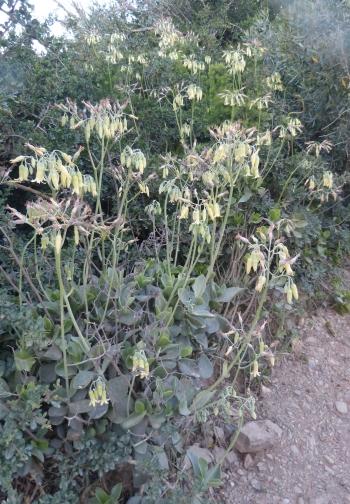 Ecology
Ecology
The yellow, tubular flowers are pollinated by local sunbirds when the plant flowers in late spring or early summer. After pollination, the capsules mature and become erect, opening from the end and the fine seeds are dispersed by wind. The plant has passive resistance; it is somewhat brittle and when disturbed, branches that break and fall to the ground, will root, forming new plants. The branches are scandent and supported by the dense thicket.
Uses
Use
Apart from its horticultural potential it is not known to be used in other cultural aspects.
Growing Cotyledon xanthantha
Grow
Cotyledon xanthantha is easily cultivated, fairly fast growing and thrives well in Western Cape gardens. However, it is best grown in thicket gardens or similarly dry, Mediterranean-type gardens as found in other parts of the world where frost is not too severe (Van Jaarsveld 2010). It is a handsome introduction to horticulture easily grown in rockeries and containers.  Plants can be grown in full sun, but are also adapted to partial shade.
Cotyledon xanthantha can be grown from stem cuttings and grown in situ. Rooting is rapid. In cold climates where frost is a problem, it should rather be grown in a greenhouse under controlled conditions. It is a fast grower soon forming a scandent shrublet. Plants prefer full sun, but will also tolerate partial shade. Flowering size can be reached within a year. 
Sow seed preferably in spring or summer, in a shady position in a sandy, slightly acidic soil and keep moist. Cover with a thin layer of sand and keep moist. Best to feed plants with an organic feeding (compost or any other liquid fertilizer).
References
Hudson, W. 1778. Flora anglica, editio altera, tomus I. London (GB): Published for the author.
Mucina, L. & Rutherford, M.C. (eds) 2006. The vegetation of South Africa, Lesotho and Swaziland. Strelitzia 19. South African National Biodiversity Institute, Pretoria.
Stafleu, F.A. & Cowan, R.S. (1979). Taxonomic literature. Second edition. Volume II: H-Le. Utrecht (NL): Bohn, Scheltema & Holkema / Den Haag (NL): W. Junk Publishers.
Van Jaarsveld, E.J. 2010. Water wise gardening. Struik, Cape Town.
Van Jaarsveld, E.J. 2015. Cotyledon lutea, a new species from the Western Cape, Republic of South Africa. Haseltonia 21: 92–94.
Van Jaarsveld, E.J. & Eggli, U. 2017. Correction of a nomenclatural problem in Cotyledon. Bradleya 35: 71.
Van Jaarsveld, E. & Koutnik, D. 2004. Cotyledon and Tylecodon. Umdaus Press, Hatfield, Pretoria.
Credits
Ernst van Jaarsveld
Kirstenbosch National Botanical Garden (Retired)
Babylonstoren Farm
Extraordinary Senior Lecturer and Researcher, Department of Biodiversity and Conservation, University of the W. Cape
March 2018
 
Plant Attributes:
Plant Type: Scrambler, Shrub, Succulent
SA Distribution: Western Cape
Soil type: Sandy, Loam
Flowering season: Spring, Early Summer
PH: Acid, Neutral
Flower colour: Yellow
Aspect: Full Sun, Morning Sun (Semi Shade), Afternoon Sun (Semi Shade)
Gardening skill: Easy
Special Features:
Attracts birds
Drought resistant
Good potplant
Indoor plant
Horticultural zones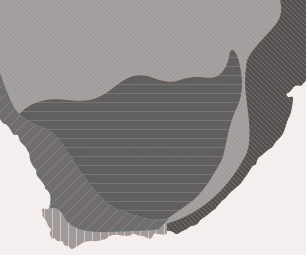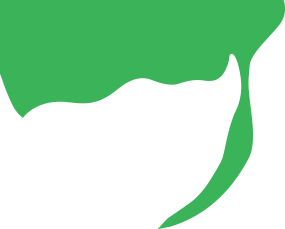 Zone 1 Coastal summer rainfall, frost free
Zone 2 Coastal winter rainfall, frost free
Zone 3 Winter rainfall Karoo, light frost
Zone 5 Bushveld summer rainfall, Light frost
Google QR Code Generator