Crassula expansa Aiton
Family: Crassulaceae
Common names: Fragile crassula (Eng.)
Introduction
Crassula expansa is a dwarf, soft, decumbent, scrambling succulent plant with small green, red or pinkish-green leaves and white, cup-shaped flowers. Best grown as a pot plant in dappled shade but also a good groundcover on embankments.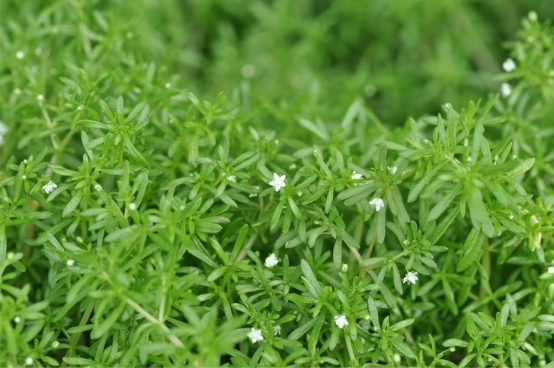 Fig. 1. Crassula expansa subsp. expansa
Description
Description
Dwarf perennial decumbent succulent plants with much-branched stems. Leaves highly variable, fleshy, green, red or pinkish-green; hairy or hairless; leaf shape varies greatly from cylindrical, ovate, oblanceolate, elliptic, dorsiventrally flattened to boat-shaped. Small usually whitish, cup-shaped flowers are borne out of the leaf axils on short or long, slender stalks. Seeds are dust-like and produced in small follicles within the dry remains of the flowers.
Four subspecies are recognized:
Crassula expansa subsp. expansa: Soft textured, bright green, sprawling succulent with flattened, oblanceolate leaves forming a loose green ground cover, usually in shady areas such as forest margins and on rocky areas with shallow soils in shady places in coastal KwaZulu-Natal and adjacent Mozambique to the western Cape Province. This subsp. turns pinkish-green during dry periods, and quickly becomes green again with the addition of water. Flowers are mainly produced during the wet season but can be found at any time of the year. A variegated form of this subsp., 'Michelle', is known from cultivation, it was selected by the author from plants grown at Walter Sisulu National Botanical Garden. It is named for the author's wife, Michelle Hankey.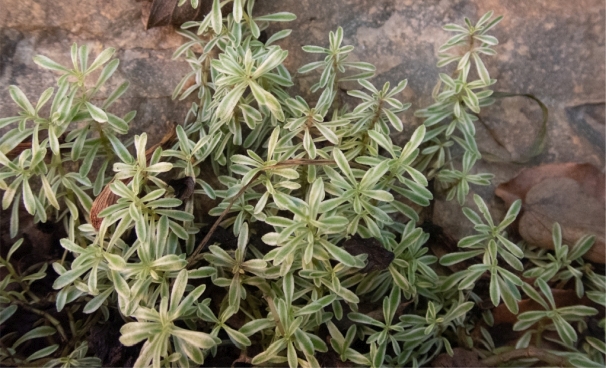 Fig. 2. Crassula expansa subsp. expansa 'Michelle'
Crassula expansa subsp. filicaulis: Decumbent much branched succulent with red or green leaves with red lines and reddish spots. Leaves almost cylindrical, usually with an acute leaf tip. Flowering is mainly through the winter and spring, but flowers can be found throughout the year. Occurs from Port Alfred in the Eastern Cape to the Cape Peninsula mainly confined to coastal parts and especially limestone, in many different habitat types, usually drier more arid areas towards the southern and western parts of the country. The leaves turning reddish with slight stress is characteristic.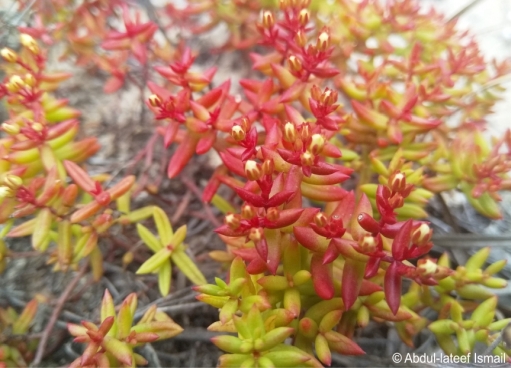 Fig. 3. Crassula expansa subsp. filicaulis (Photo Abdul-lateef Ismail)
Crassula expansa subsp. fragilis: Soft sprawling succulent with fragile stems which easily break off and root. Leaves vary from elliptical and boat-shaped with or without pinkish spots (hydathodes), to ovate and flattened. Leaves may be hairy or hairless. Flowering occurs mainly throughout summer (November to April) but flowers can be found throughout the year. It occurs in a wide variety of habitats, mostly in the eastern summer-rainfall parts of the country, northern KwaZulu-Natal, Mpumalanga, Limpopo and northwards to Tropical Africa, usually on cliffs or amongst rocks and at the base of other vegetation. Selected forms (mostly the hairy round-leaved form) of this subsp. are widely cultivated as a container and garden plants in ornamental horticulture.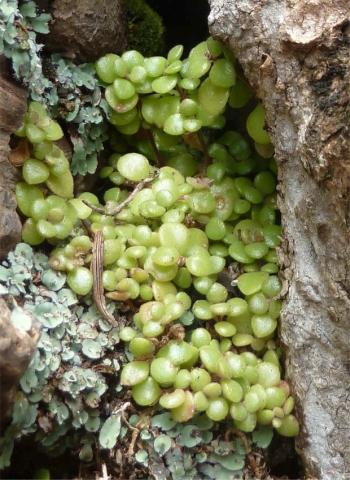 Fig. 4. Crassula expansa subsp. fragilis
A variegated form of this subsp. is known from cultivation by the name 'Coconut Ice' which develops pink leaves under dry conditions. It was selected by the author from plants grown at Walter Sisulu National Botanical Garden in 2002.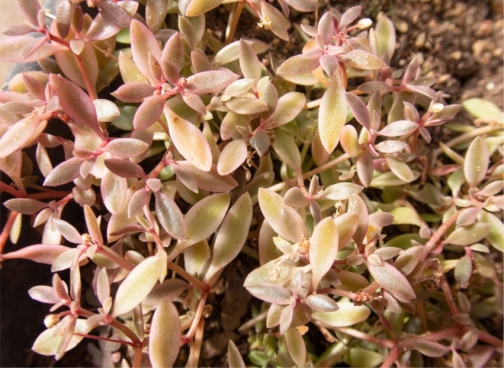 Fig. 5.  Crassula expansa subsp. fragilis 'Coconut Ice'
Crassula expansa subsp. pyrifolia: Perennial succulents with scrambling stems and pear-shaped to cylindrical leaves, turning reddish green to red during dry periods. Flowers are produced mainly from spring to midsummer (September to December) but may also be produced in response to seasonal rains. Occurs in coastal winter-rainfall areas, mostly on the west coast, from Klawer in the south (Western Cape) through the Northern Cape and into south-west Namibia, on sandy flats or at the base of other scrub type vegetation.
Fig. 6. Crassula expansa subsp. pyrifolia
Conservation Status
Status
Distribution and habitat
Distribution description
Crassula expansa is distributed widely over South Africa with the exception of the dry interior. It also occurs in neighbouring countries Namibia, Zimbabwe and Mozambique.
Derivation of name and historical aspects
History
The name Crassula is derived from the Latin crassus meaning 'thick', in reference to the succulent nature of the plants in this genus. The specific epithet expansa is derived from the Latin expansus referring to the expanding or spreading nature of the plants. The name fragilis describes the fragile nature of the plants that break easily, which assists the plant to spread by pieces which break off and are blown or carried and root to establish new plants. The name pyrifolia is derived from the name of the Pear tree Pyrus and -folia meaning 'leaf' in reference to the pear-shaped leaves. The name filicaulis refers to the narrow stems, where fili- means 'slender' or 'elongate' and -caulis meaning 'stem'.
Crassula expansa and its subspecies follows the treatment of the botanist, Helmut Toelken (presently in Australia), who revised the genus Crassula in South Africa in 1977 in the Contributions of the Bolus Herbarium. He also wrote up the genus Crassula in 1985 for the Flora of Southern Africa.
Ecology
Ecology
This species is a weak perennial, it produces lots of very fine seeds which remains in the soil profile until favourable conditions prevail, at which time the species will proliferate and provide cover to the soil. It behaves very much like an annual under harsh dry conditions, creating a perfect nursery to facilitate the germination of other succulents and arid region plant species which find refuge under the plant when seedlings are emergent. It is fast growing and can be short lived under hot and dry conditions, re-emerging from seed after rain.
Uses
Use
There are no recorded uses for the species by humans, it is not known if the plants are browsed by any animals.
Growing Crassula expansa
Grow
Fragile Crassula is very useful as a filler or ground cover amongst rocks or other larger succulents, both in the garden and in containers. This delicate looking plant lends a soft texture to the garden but it is tough and can withstand both prolonged drought and cold. It can also be used as an indicator of when to water succulents, as many forms will turn pink or reddish when they become dry, indicating when to water the bigger succulents. It can be used to good effect in the succulent garden as a ground cover, as well as a texture plant where it is useful to soften harsh elements such as rocks and other hard landscape features. Growing this crassula as a ground cover can also assist in the suppression of weeds. It can easily be spread around the landscape by pulling apart mats of the plant during the growing season and scattering them where the plant is desired to grow, followed by a light watering the plants establish easily and spready rapidly.
Crassula expansa is easily cultivated by cuttings, small pieces of the stems and leaves can be planted into shallow trays or pots filled with a commercial potting soil or a organic rich loam with some fine sand added. The addition of compost or cattle (kraal) manure will be highly beneficial. Rooting takes place very quickly during the rainy season and the new plants can be planted out within a few weeks of being planted.
References
Eckel, P.M. 2010-2023. A grammatical dictionary of botanical Latin. Online. http://www.mobot.org/mobot/latindict/introduction.shtml.
Ismail, Abdul-lateef. 2019. Observation of Crassula expansa subsp. filicaulis, Schoenmakerskop, Eastern Cape. https://www.inaturalist.org/observations/34539927.
Raimondo, D., Von Staden, L., Foden, W., Victor, J.E., Helme, N.A., Turner, R.C., Kamundi, D.A. & Manyama, P.A. (eds) 2009. Red list of South African plants. Strelitzia 25. South African National Biodiversity Institute, Pretoria.
Tölken, H.R. 1985. Crassulaceae. Flora of Southern Africa 14: 1–229.
Tölken, H.R. 1977. A revision of the genus Crassula in southern Africa. Contributions from the Bolus Herbarium No.8. Bolus Herbarium, University of Cape Town.
Credits
Andrew Hankey
Walter Sisulu National Botanical Garden
July 2023
Acknowledgements: the author thanks Abdul-lateef Ismail for the use of his photo of Crassula expansa subsp. filicaulis, all other photos by the author.
Plant Attributes:
Plant Type: Ground Cover, Scrambler, Succulent
SA Distribution: Eastern Cape, Gauteng, KwaZulu-Natal, Limpopo, Mpumalanga, North West, Northern Cape, Western Cape
Soil type: Loam
Flowering season: Spring, Early Summer, Late Summer, Sporadic/All year
PH: Neutral
Flower colour: White, Pink
Aspect: Full Sun, Shade, Morning Sun (Semi Shade), Afternoon Sun (Semi Shade)
Gardening skill: Easy
Special Features:
Drought resistant
Good potplant
Feeds honeybees
Horticultural zones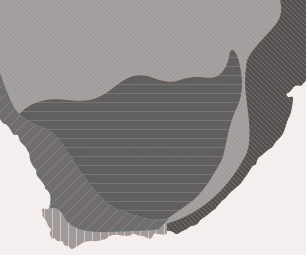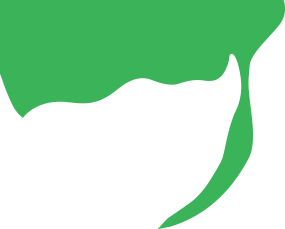 Zone 1 Coastal summer rainfall, frost free
Zone 2 Coastal winter rainfall, frost free
Zone 3 Winter rainfall Karoo, light frost
Zone 4 Summer rainfall Karoo and Highveld, Frost in winter
Zone 5 Bushveld summer rainfall, Light frost
Google QR Code Generator