Crossandra greenstockii S.Moore
Family: Acanthaceae
Common names: bushveld crossandra (Eng.) rooiblom (Afr.)
Introduction
Crossandra greenstockii is a beautiful little perennial, with bright orange to red flowers all summer; it looks very stunning in flower, providing a welcome splash of colour in the grassland and is a hardy garden ornamental.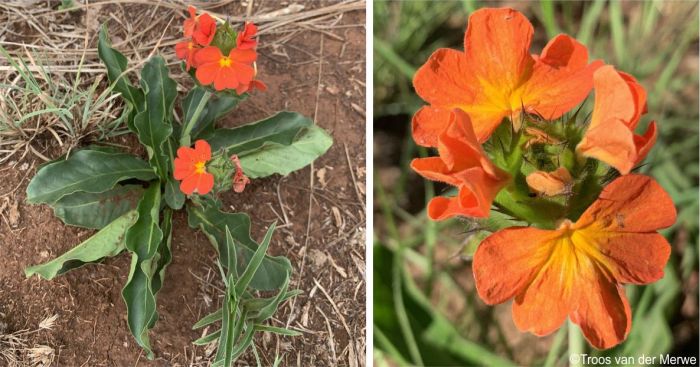 Description
Description
Crossandra greenstockii is a low-growing, erect herb up to 300 mm tall, with unbranched, annual stems from a woody rootstock. Leaves are large, broadly ovate, narrowing to a stalk-like base, hairy, and in a basal rosette.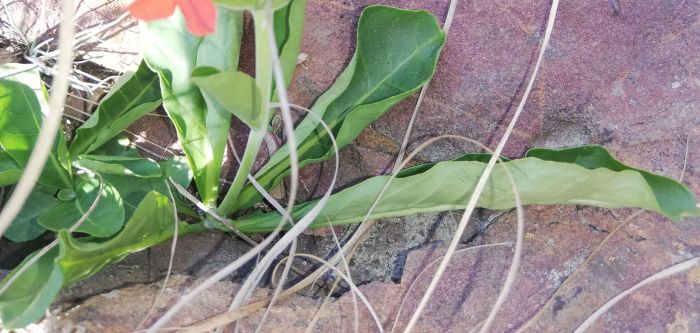 The inflorescence is a terminal, unbranched spike, 50 to 80 mm long. Bracts are broad, overlapping, glandular hairy, margins toothed with a recurved, sharp tip. Flowers are 5-lobed, about 12 × 20 mm, bright orange to red with a yellow centre. Flowers are borne during summer (from October to March). The fruit is a green capsule that becomes brown when matured, containing 4 seeds.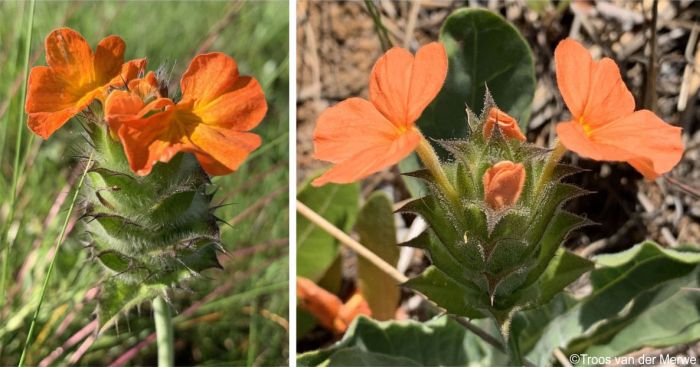 Crossandra greenstockii is similar to C. zuluensis (Zulu crossandra), which can be distinguished from C. greenstockii because it has smaller, oval leaves, with slightly wavy margins; it has hairless bracts with long spines; and the flowers are large, about 30 mm wide, 6-lobed, dark orange with a yellow centre, borne in in a short elongate inflorescence in spring and summer (from September to March).
Conservation Status
Status
According to the Red List of South African plants, the conservation status of Crossandra greenstockii is assessed as Least Concern (LC), which means it is not threatened in the wild.
Seeds of C. greenstockii were collected in Gauteng by MSBP and are banked in Millennium Seed Bank, Kew.
Distribution and habitat
Distribution description
Crossandra greenstockii is not endemic to South Africa; it is widely spread in Gauteng, KwaZulu-Natal, Limpopo and Mpumalanga, and in the neighbouring countries of Eswatini and Mozambique. C. greenstockii occurs mostly in rocky grassland and woodland, in full sun.
Derivation of name and historical aspects
History
The name Crossandra is derived from Greek, krossoi, which means 'fringe', and andros, meaning 'male', referring to the hairy anthers typical of the genus. This species was named after Canon William Greenstock (1830-1912) who collected this plant from the Pilgrim's Rest area in Mpumalanga.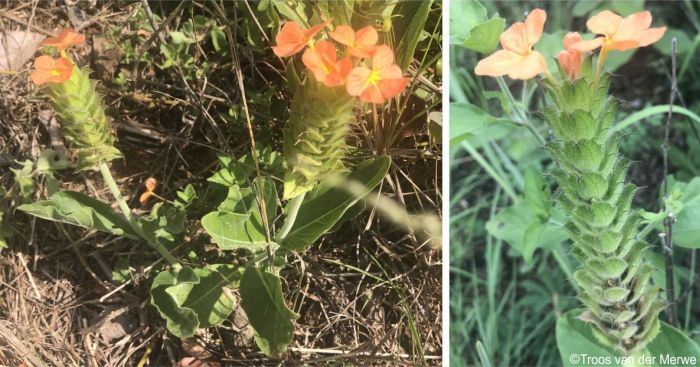 Ecology
Ecology
The seed capsules of Crossandra greenstockii react to moisture by splitting explosively and scatter their seeds far away from the mother plant. Long hairs on the seeds become mucilaginous when wet and firmly stick the seed to the soil, thus improving germination.
The woody rootstock enables Crossandra greenstockii to survive frost and fires, which can be frequent in its grassland and bushveld habitats.
Uses
Use
Crossandra greenstockii has no medicinal uses but it can be used in landscaping as a beautiful, colourful bedding plant, well-suited to sunny grassland and bushveld gardens, and rockeries. It is also a water-wise plant, needing little additional watering in a summer-rainfall climate. When planted among grasses, its colourful flowers will brighten the flowerbed during summer. It can also be grown in containers.
Growing Crossandra greenstockii
Grow
Crossandra greenstockii is easily propagated by seeds. Sow the seeds on the surface of moist sowing medium in spring or early summer. Do not place in direct sun, but put a translucent cover over the tray, this will allow enough light in and keep the soil humid and warm. The seeds will germinate in 25 to 30 days. Seedlings can be planted in full sun, in well-drained, well-composted soil, with plenty of water in spring and summer and a dry winter.
References
Crossandra greenstockii, Plate 77. In The Flowering plants of South Africa, Vol. 2. 1922. Edited by I.B. Pole Evans. Accessed via BHL. https://www.biodiversitylibrary.org/item/131563#page/155/mode/1up
Fabian, A. & Germishuizen, G. 1997. Wild flowers of northern South Africa. Fernwood Press, Vlaeberg.
Kamundi, D.A. 2006. Crossandra greenstockii S.Moore. National Assessment: Red List of South African Plants version 2020.1. Accessed on 2021/07/20
Onderstall, J. 1984. Transvaal Lowveld and Escarpment including Kruger National Park. South African Wildflower Guide 4. Botanical Society of South Africa, Cape Town.
Plants of the World Online, Crossandra greenstockii S.Moore. http://www.plantsoftheworldonline.org/taxon/urn:lsid:ipni.org:names:47010-1. Accessed 20 July 2021.
Pooley, E. 2005. A field guide to wild flowers KwaZulu-Natal and the eastern region. The Flora Publications Trust, Durban.
Random Harvest. Crossandra greenstockii. https://www.randomharvest.co.za/South-African-Indigenous-Plants/Show-Plant/PlantId/795/Plant/Crossandra-greenstockii. Accessed 5 July 2021.
Sheldrickfalls on flickr, Bushveld Crossandra – Crossandra greenstockii. https://www.flickr.com/photos/sheldrickfalls/11306695703. Accessed 5 July 2021.
The Plant Library. Crossandra greenstockii. https://www.theplantlibrary.co.za/plants/Crossandra_greenstockii. Accessed 5 July 2021.
Van Wyk, B. & Malan, S. 1998. Field guide to the wild flowers of the Highveld. Struik, Cape Town.
Credits
Fergy Nkadimeng
Millennium Seed Bank Partnership
July 2021
Acknowledgments: the author thanks Troos Van Der Merwe for allowing her to use his photos in this article.
Plant Attributes:
Plant Type: Perennial
SA Distribution: Gauteng, KwaZulu-Natal, Limpopo, Mpumalanga
Soil type: Sandy, Loam
Flowering season: Early Summer, Late Summer
PH: Acid
Flower colour: Red, Yellow, Orange
Aspect: Full Sun
Gardening skill: Easy
Special Features:
Drought resistant
Feature plant
Good potplant
Horticultural zones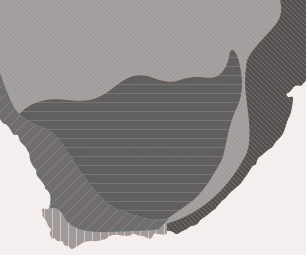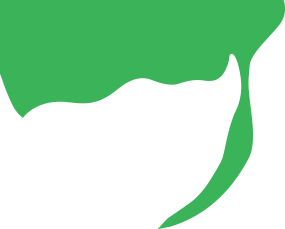 Zone 1 Coastal summer rainfall, frost free
Zone 4 Summer rainfall Karoo and Highveld, Frost in winter
Zone 5 Bushveld summer rainfall, Light frost
Google QR Code Generator