Croton megalobotrys Müll.Arg.
Family: Euphorbiaceae
Common names: feverberry, large feverberry (Eng.); koorsbessie, grootkoorsbessie (Afr.); motsibi (Northern Sotho), muruthu (Tshivenda)
SA Tree No: 329
Introduction
This tree will add colour to your garden in autumn as the leaves produces shades of yellow, orange and brown; flowering time is throughout spring and as a bonus, it will attract birds to your garden.
Description
Description
This tree with its dense, round crown, is semi-deciduous and makes an ideal shade tree for a small to medium-sized garden. It grows up to ± 15 m in its natural environment, but only about ± 6 m in the home garden and, therefore, makes an ideal shrub as well. Lenticels (a group of cells formed on the outer layer of a plant stem) are a common characteristic found on the young green branches and is usually also covered with interesting star-shaped hairs. The light colour lenticels have a corky texture. The younger branches turn greyish brown as it matures and lack hairs.
The simple, hairy leaves are alternately arranged and is more or less triangularly shaped and it becomes hairless as it matures. The leaf stalk is up to 100 mm long. An interesting feature is the 2 conspicuous glands found at the base of the leaf. The leaf margin appears to be irregular and quite roughly toothed and 4 to 5 pairs of side veins are clearly visible on the underside of the leaf.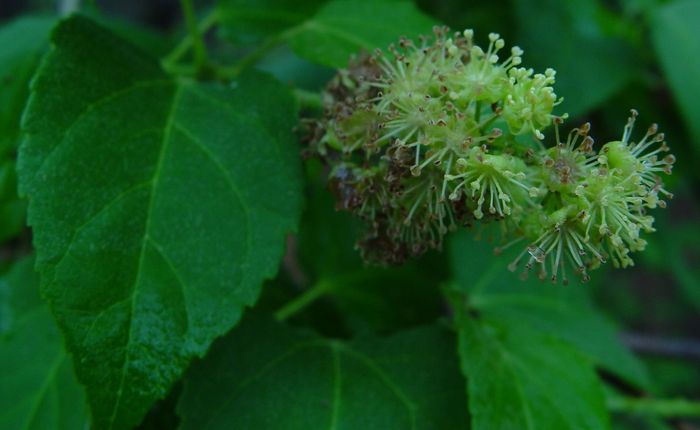 The yellowish green flowers appear on ± 80–160 mm long spikes, and male and female flowers are borne separately.
The female flowers appear on the lower part of the inflorescences.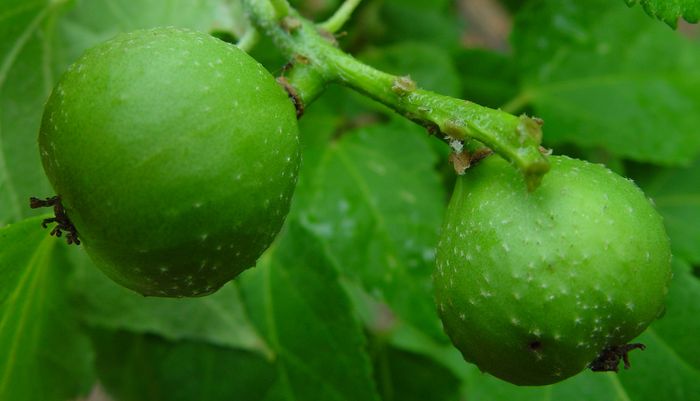 The bright green fruit takes the form of a woody capsule which is about ± 30–40 mm in diameter and contains brown and white-spotted seeds.
The  Croton leuconeurus is similar to C. megalobotrys, but differs in the following ways:
The leaves are single-veined from the base; 8 pairs of lateral veins — in some cases it can be more; the apex is usually broadly tapered and the length of the flower spikes are ± 60–180 mm long. The distribution of the species is restricted to areas surrounding the Victoria Falls in Zimbabwe.
Conservation Status
Status
Distribution and habitat
Distribution description
Croton megalobotrys occurs quite frequently from Tanzania in the north, to Swaziland in the south. Its provincial distribution includes Limpopo and Mpumalanga. The tree is often found growing next to streams, rivers, seasonal watercourses and loves to grow close together with the same species, forming dense stands.
Derivation of name and historical aspects
History
The genus name Croton is Greek and means 'tick', referring to the shape of the fruit. The specific epithet megalobotrys is also Greek and means 'large cluster', which refers to the flower head.
The genus Croton includes herbs, trees and shrubs and represents ± 800 species which is mostly pantropical. Thus far, 26 species are recorded in the tropics; many of these species spread to the southern hemisphere where about 11 species are recorded in southern Africa, of which 10 appears in South Africa. 
Ecology
Ecology
This is a good tree to have in your garden if you want to attract birds, because the large flower bunches attract many different kinds of insects, which in turn attract birds. The leaves of this tree is a good source of food for the larvae of the Charaxes candiope, commonly known as the green-veined emperor butterfly of the Nymphalidae family. The colour of this butterfly's upper wings is brownish orange and the unscaled veins and the edge of the forewings are green; that is why the common name suits it well. The leaves are also eaten as an energy source by elephant, kudu and black rhino.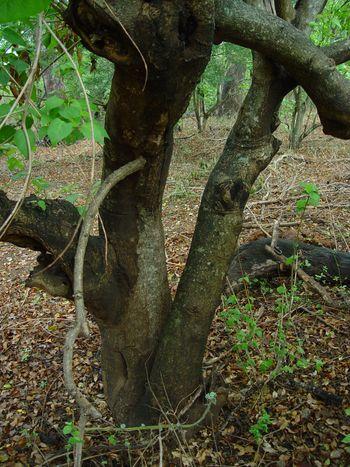 Uses
Use
It was recorded that the bark and the seeds of this tree were used as a purgative and it was also applied to treat fever in general. Abdominal pains were also successfully treated from an infusion made from the roots. It was noted that lower levels of active ingredients were observed in the bark, than in the seeds.
Growing Croton megalobotrys
Grow
This tree can withstand long drought periods but does not like frost conditions.
Propagation is by seed. Only collect ripe seeds and remove it from the fruit before soaking it in water overnight. Seeds are best sown directly into bags consisting of a mixture of equal parts of river sand and a general compost. Cover the seeds with a thin layer of sand and keep it moist and place the bags in a sunny area. To prevent pre- or post-emergence damping off, a fungicide can be applied to the seed mixture; this will decrease the chances of a fungal infection of the seeds. Seed germination takes place ± 4 weeks. Once the seedlings reach a height of ± 100 mm they can be very successfully planted out into the open ground. The growth rate of this species is quite impressive. It was recorded that it grew ± 1.5 m per year.
References
Coates Palgrave, K. 2002. Trees of southern Africa. Struik, Cape Town.
Harris, G. & Harris, M.W. 1994. Plant identification terminology, an illustrated glossary. Spring Lake, Utah.
Joffe, P. 1993. The gardener's guide to South African plants. Tafelberg Publishers, Cape Town.
Raimondo, D. et al. 2009. Red list of South African plants. Strelitzia 25. SANBI (South African National Biodiversity Institute), Pretoria.
Schmidt, E., Lötter, M. & McCleland, W. 2002. Trees & shrubs of Mpumalanga and Kruger National Park. Jacana, Johannesburg.
Van Wyk, B. & Van Wyk, P. 1997. Field guide to trees of southern Africa. Struik, Cape Town.
Venter, F. & Venter, J.A. 2012. Making the most of indigenous trees. Briza Publications, Pretoria.
Von Breitenbach, F. 1990. National list of indigenous trees. Second revised edition. Dendrological Foundation, Pretoria.
Wikipedia: Charaxes butterfly. https://en.wikipedia.org/wiki/Charaxes_candiope. Accessed on the 2018/11/19.
Credits
Benjamin Festus
Kirstenbosch National Botanical Garden
December 2018
 
Plant Attributes:
Plant Type: Shrub, Tree
SA Distribution: Limpopo, Mpumalanga
Soil type: Sandy, Loam
Flowering season: Spring
PH: Acid, Neutral
Flower colour: Green, Yellow
Aspect: Full Sun
Gardening skill: Average
Special Features:
Attracts birds
Attracts butterflies
Drought resistant
Medical plant
Useful plant
Horticultural zones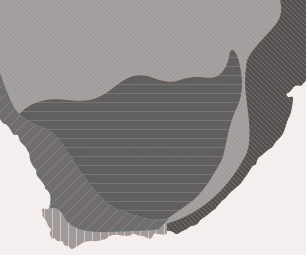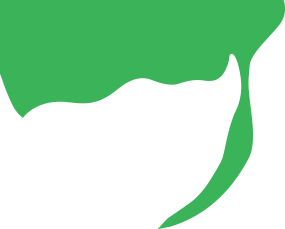 Zone 1 Coastal summer rainfall, frost free
Zone 5 Bushveld summer rainfall, Light frost
Google QR Code Generator