Delosperma abbottii Van Jaarsv.
Family: Aizoaceae
Common names: Pondoland cliff-delosperma (Eng.); Pondokransvygie (Afr.)
Introduction
A cliff-dwelling, mat-forming, mesemb with yellow to magenta flowers in summer, known only from sandstone cliffs in the Pondoland region, in the Eastern Cape and southern KwaZulu-Natal. It is easy to grow and best in semi-shade in warm, subtropical gardens.
Description
Description
Delosperma abbottii is mat-forming, and hangs pendent from cliff faces, with stems up to 500 mm long. The roots are fibrous. The branches are 1.8–2.0 mm in diameter, soft and brittle, at first reddish green, becoming grey-green; the internodes 12–15(–30) mm apart; surface glabrous (hairless), or with scattered hairs when young. The leaves are fleshy, flat, egg-shaped to narrowly egg-shaped, occasionally elliptic, 25–35 × 7–12 mm, spreading to slightly recurved, ending into a sharp point; surface shiny green, occasionally hairy when young; the leaf margin entire or hairy.
Flowers are solitary, produced in the leaf axils, up to 20–25 mm in diameter, on pedicels 8–10 mm long; petals magenta, mauve or yellow; the base of the flower (receptacle) is cup-shaped, 3 mm deep and 10 mm in diameter, bearing 2 outer sepals, 7–8 × 4 mm and 3 smaller, 3 × 2.5 mm. The petals in 2 series, outer linear-lanceolate, up to 15 × 1.3–1.5 mm, the inner shorter and narrower 5 × 0.2 mm; stamens in 3 series, up to 3–5 mm long. The anthers 0.7–1 mm, yellowish, ovary elevated, up to about 2 mm, 5 lobed, with 5 stigmas (female parts), 2 mm long, papillate; Capsule top-shaped, 8–10 mm in diameter, grey, old petals persistent and becoming blackish. Seed pale brown, pear shaped 0.5 × 0.4 mm in diameter, with a rough, tuberculate surface.
Flowering time is spring to autumn, with a peak in midsummer, but occasionally at other times of the year.
It is related to Delosperma stenandrum, but D. abbottii is at once distinguished by its procumbent growth habit and bearing larger, dorsiventraly flattened leaves and larger flowers of 20–25 mm in diameter, those of D. stenandrum are only 7 mm in diameter.
Conservation Status
Status
This recently described species has not yet been evaluated by the Red List of South African Plants. However, Delosperma abbottii grows on cliffs in a relatively stable and safe environment and in the author's opinion, it is not threatened.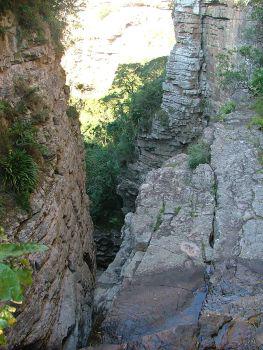 Distribution and habitat
Distribution description
Delosperma abbottii is only known from the narrow kloofs in the northeastern portion of the Eastern Cape to Port Edward in southern KwaZulu-Natal. The habitat consists mainly of river gorges consisting of vertical, mineral-poor, quartzitic, sandstone cliffs, 400–800 m in altitude. Plants grow on various aspects, often in shade, and mainly eastern southern and western aspects, with moderate, coastal-influenced temperatures. Winters are cool and frost absent. Rainfall occurs mainly in summer, but to a lesser extent some in winter, ranging between 1 000–1 250 mm per annum.
The habitat consists of subtropical southern, mistbelt forest and coastal sour grassland of the Indian Ocean Coastal belt. Associated cliff-dwelling plants include, Bulbine natalensis, Crassula orbicularis, C. streyii, C. perforata and C. perfoliata, Aloe arborescens and Gasteria croucheri.
Derivation of name and historical aspects
History
Delosperma abbottii was named by the author in 2015, to commemorate the farmer, botanical explorer and founder of PlantLife magazine, Tony Abbott (1936–2013), who brought this plant under his attention a number of years ago. A number of Pondoland endemic plants that he discovered have been named in his honour, including, Apodytes abbottii, Lydenburgia abbottii, Maytenus abbottii and Psoralea abbottii (Gunn & Codd 1981).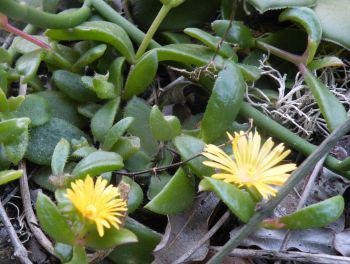 Ecology
Ecology
Delosperma abbottii flowers from spring to autumn, and is mainly pollinated by bees. The seed capsules ripen during summer and autumn. They are hygrochastic, which means they open during rain and close again when it dries out. They have expanding keels, opening and closing the capsule lids. The seeds are splashed out by rain drops, settle in crevices where they germinate. Germination occurs after about 14–21 days.
Once established, they also extend their range by vegetative growth, rooting at the nodes and extending their territory by runners. The leaves of D. abbottii are succulent and have the ecological advantage over non-succulent plants. Plants grow in shallow soil, which dries out between rain periods, and they survive the dry periods, whereas other non-succulent plants, succumb. This is a rapid growing, fairly long-lived succulent perennial.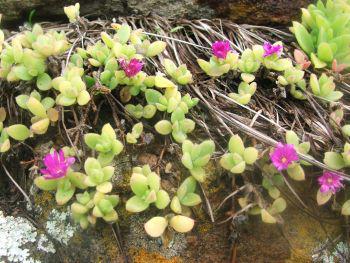 Uses
Use
No medicinal or cultural uses are known.
Growing Delosperma abbottii
Grow
Delosperma abbottii is easily grown out of doors, in warm, subtropical gardens on steep embankments, terraced gardens or wall-gardens, where it forms mats. Plants require sufficient soil, and regular moisture during the summer months. They grow well in containers, are perfect for hanging baskets. Use a sandy, well-drained soil mixture, and feed with an organic fertilizer to enhance their performance. They grow best in dappled shade. In South Africa it is best for moist subtropical forest gardens (Van Jaarsveld 2010).
Propagation is from seed and vegetative stem cuttings. Seeds are best germinated in a sandy mixture. Sow in spring or summer and cover with a thin layer of gravel or sand and keep moist. Germination should be within 21 days, and the young plants grow rapidly. Cuttings are best rooted in sand and kept moist. This can be performed throughout the year, but best in spring or summer.
References
Gunn, M. & Codd, L.E. 1980. Botanical exploration of southern Africa. Balkema, Cape town.
Mucina, L. & Rutherford, M.C. (eds) 2006. The vegetation of South Africa, Lesotho and Swaziland. Strelitzia 19. South African National Biodiversity Institute, Pretoria.
Van Jaarsveld, E.J. 2010. Water wise gardening. Struik, Cape Town.
Van Jaarsveld, E.J. 2015. Delosperma abbottii. A new cliff dwelling species from the coastal eastern parts of South Africa. Bradleya 33:97–103.
Credits
E.J. van Jaarsveld
Kirstenbosch National Botanical Garden (Retired)
Babylonstoren Farm
Extraordinary senior lecturer and researcher, Department of Biodiversity and Conservation, University of the W. Cape.
October 2016
 
Plant Attributes:
Plant Type: Ground Cover, Shrub, Succulent
SA Distribution: Eastern Cape, KwaZulu-Natal
Soil type: Sandy
Flowering season: Spring, Early Summer, Late Summer, Autumn
PH: Acid
Flower colour: Pink, Yellow, Mauve/Lilac
Aspect: Morning Sun (Semi Shade), Afternoon Sun (Semi Shade)
Gardening skill: Easy
Special Features:
Drought resistant
Good potplant
Feeds honeybees
Horticultural zones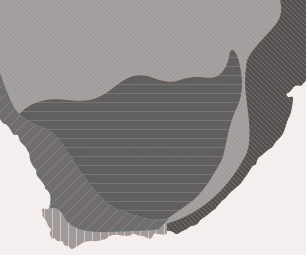 Zone 1 Coastal summer rainfall, frost free
Zone 2 Coastal winter rainfall, frost free
Google QR Code Generator