Delosperma tradescantioides
Delosperma tradescantioides (A.Berger) L.Bolus
Family: Aizoaceae
Common names: Kei-delosperma (Engl.); Keivygie (Afr.)
Introduction
The Kei-delosperma is a cliff-hanger, mat-forming plant endemic to the Kei River and its tributaries, in the Eastern Cape. It has large, flat, hairy to smooth leaves with red, yellow or pink flowers.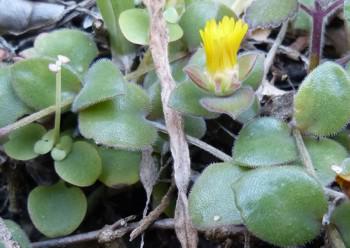 Description
Description
The plants grow pendent from cliff faces, with stems up to 1 m long, forming loose curtains or mats. The roots are fibrous. The branches are rounded (terete), 2 mm in diameter, maroon-green to green when young, glabrous or hairy, becoming grey when mature. The nodes are 5–40 mm apart.
The fleshy leaves are flattened, almost stalkless subsessile , ascending-spreading, egg-shaped (ovate) to almost heart-shaped (ovate-cordate or ovate-lanceolate), 20–30 × 12–17 mm; with a smooth, glossy to hairy surface. The upper surface is slightly rounded and the lower surface is often purplish coloured, flat to slightly convex, except for the central midrib. The leaf tip is rounded, ending in a sharp but soft point (mucronate). The leaf base is almost heart-shaped.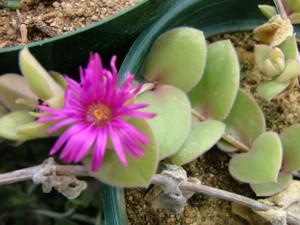 The flowers are solitary, 25–30 mm in diameter, with short, angular pedicels 3–4 mm long. The petals are up to 17 × 1.5 mm, bright magenta (rarely red), yellow to rarely white. The sepals are up to 12 mm long. The fruiting capsule is 9 mm in diameter. Seed are pear-shaped, 0.8 × 0.5 mm in diameter, dark brown..
 
Conservation Status
Status
Delosperma tradescantioides is a fairly common species, consequently not taken up in the list of Red List of South African species (Raimondo et al. 2009).
Distribution and habitat
Distribution description
Delosperma tradescantioides appears to be endemic to the Kei River and its tributaries and adjacent territory, growing in shady gorges (shale or sandstone) in Eastern Valley Bushveld (Savanna Biome) (Mucina et al. 2006). It can be found drooping from sheer cliff ledges. The plant is a cliff-hanger, and can be found on south- and east-facing cliffs, often in partial shade. It will form a ground cover on broad ledges. Temperatures are moderate, the average daily maximum about 22°C and average daily minimum for the region, 14°C. Winters are cool, but frost is absent. Rainfall occurs mainly in summer but at times also in winter, ranging from 600–800 mm per annum. Along the Kei River near Gaika Fort, plants were observed growing in association with other succulents such as Gasteria excelsa, Bulbine natalensis, Caputia scaposus, Cotyledon orbiculata, Crassula orbicularis, C. perforata, C. lactea and  C. excelsa.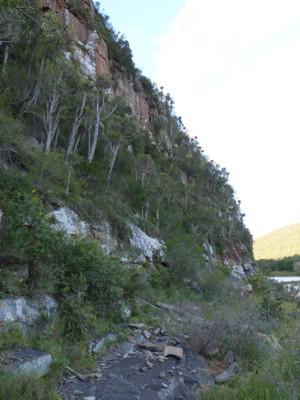 Derivation of name and historical aspects
History
The specific epithet trandescantioides pertains to its superficial likeness to the genus Tradescantia (Family Commelinaceae). It was named by Alwin Berger as Mesembryanthemum tradescantioides in Englers Jahrbucher (Vol. 45, p. 224). Berger was a great German succulent student from the famous 'La Mortola' succulent garden in western Italy. It was transferred to its rightful place in the genus Delosperma by Louisa Bolus in 1937 in the Flowering Plants of Africa Vol. 7: t. 261. The generic name Delosperma is derived from Greek delos = 'visible', and sperma = 'seed'. This name pertains to its fruiting capsules which have no covering mebrane when open and the seed is consequently exposed, to be dispersed by rain. Delosperma is a large mesemb genus with over a 100 species, and although very widespread, with the centres of diversity clearly only in the Eastern Cape (Smith et al. 1997). Plants grow as far north as Ethiopia and follow the eastern African Afro-montane region. Delosperma tradescantioides was first collected by Mr H.G. Flanagan near Komga, in the Eastern Cape, in November 1892, and again by Miss Alice Pegler near Kentani in 1905 (Bolus 1937).
Ecology
Ecology
Delosperma is fairly fast growing, with its flat, broad leaves well adapted to its shady cliff environment. The seed capsules are hygrochastical, which means they can only open after a rain shower, and close when the capsule dries out. Dispersal is by the 'splash-cup' mechanism. The kinetic energy of the raindrops results in the scattering of the seed. Expanding keels result in this opening and closing of the cell lids. This is a very clever, evolutionary engineering adaptation of most mesembs. Large populations were observed by the author and company on a rubber canoe expedition to the Kei River in 2013. The plants were mostly associated with sheer cliffs, in absence of herbivores.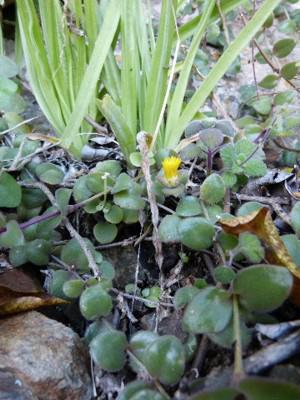 Uses
Use
No cultural uses have been recorded for this species.
Growing Delosperma tradescantioides
Grow
Delosperma tradescantioides is easily grown in rockeries in dry thicket or savanna gardens where frost is absent or not severe (Van Jaarsveld 2010). They thrive in hanging baskets and containers, as well as wall gardens. This is a natural cliff dweller and should do well in containers on balconies. It can also be grown as a ground cover on rockeries in well-drained, shady situations. This plant is easily grown from stem cuttings. They root rapidly and without having to use a root hormone or mist unit. The plant is relatively pest free, but care should be taken, as the tiger moth larvae will feed on the leaves. The plant responds well to organic fertilizers in spring or summer. This is a summer-growing species.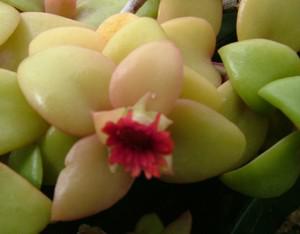 Cuttings (of about 100–180 mm length) are best planted in sand in a shady place during the warmer months. Keep well watered. Rooting is rapid and once rooted the plants can then be transferred to individual containers.
References
Bolus, L. 1937. Delosperma tradescantioides. The Flowering Plants of South Africa 7: t. 261.
Hartmann, H.E.K. Mesembryanthema. Systematics, biology and evolution of some South Africantaxa. Contributions from the Bolus Herbarium. No. 13: 75–157.
Mucina, L. & Rutherford, M.C. 2006. The vegetation of South Africa, Lesotho and Swaziland. Strelitzia 19. South African National Biodiversity Institute, Pretoria.
Raimondo, D. et al. 2009. Red list of South African plants. Strelitzia 25. SANBI (South African National Biodiversity Institute), Pretoria.
Smith, G.F., Chesselet, P., Van Jaarsveld, E.J., Hartmann, H., Hammer, S., Van Wyk, B-E., Burgoyne, P., Klak, C. & Kurzweil, H. 1998. Mesembs of the world. Briza, Pretoria.
Smith, G.F., Van Jaarsveld, E.J., Arnold, T.H., Steffens, F.E., Dixon, D. & Retief, J.A. 1997. List of southern African succulent plants: 1–175. Umdaus, Hatfield, Pretoria.
Van Jaarsveld, E.J. 2010. Waterwise gardening in South Africa and Namibia. Struik, Cape Town.
Van Jaarsveld, E.J. & Pienaar, U. de V. 2000. Vygies, gems of the veld. Cactus & Co. Libri, Venegono, Italy.
Van Jaarsveld, E.J. & Pienaar, U. de V. 2004. Die Mittagsblumen Südafrikas. Les Mésembs d'Afrique du Sud. Edition Eugen Ulmer, Stuttgart (German), Paris (French).
Credits
Ernst van Jaarsveld
Kirstenbosch National Botanical Garden
January 2015
Plant Attributes:
Plant Type: Ground Cover, Succulent
SA Distribution: Eastern Cape
Soil type:
Flowering season: Spring, Early Summer, Late Summer, Autumn
PH:
Flower colour: Red, White, Pink, Yellow
Aspect: Full Sun, Morning Sun (Semi Shade), Afternoon Sun (Semi Shade)
Gardening skill: Easy
Special Features:
Drought resistant
Good potplant
Indoor plant
Feeds honeybees
Horticultural zones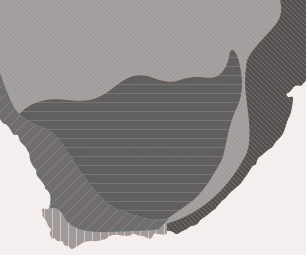 Zone 1 Coastal summer rainfall, frost free
Zone 2 Coastal winter rainfall, frost free
Google QR Code Generator