Dioscorea dregeana (Kunth) T.Durand & Schinz
Family: Dioscoreaceae
Common names: wild yam (Eng.); wildejam (Afr.); ingcolo (Xhoza); isidakwa (Zulu)
Introduction
Dioscorea dregeana is a perennial, twining, herbaceous creeper, up to 15 m long.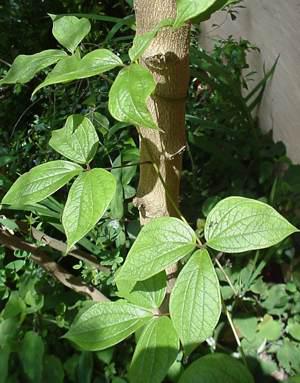 Description
Description
The twining, pale green and tuberous Dioscorea dregeana can be used in different ways for different purposes. It is a useful medicinal plant of the Zulus; however it is poisonous to humans and animals. 
The wild yam has a slightly thorny stem growing annually from a fleshy, tuberous rootstock.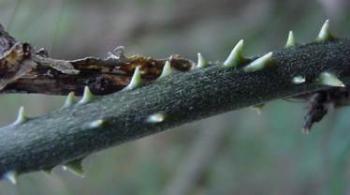 The stems are produced in spring and tend to die off in winter. The underground fleshy tuber grows up to 300 mm in diameter.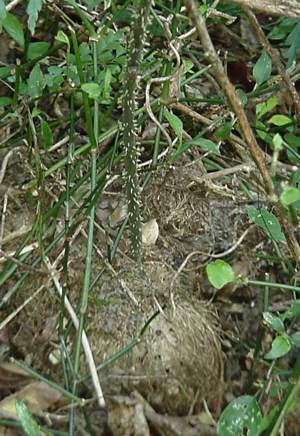 The leaves are large, alternate, 3-foliolate, covered with silvery, velvet hairs, broadly ovate, with apex attenuate, up to 150 x 110 mm. The flowers are white, inconspicuous and borne in slender, branched clusters that hang down from the stems. The male and female flowers are borne on separate plants. The fruits are pale green, winged and up to 50 x 25 mm. The flowering time is October-January.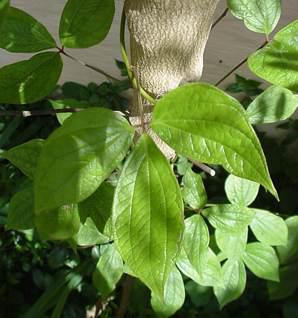 Conservation Status
Status
According to Raimondo et al. (2009), Dioscorea dregeana was of Least Concern (LC), when it was evaluated against the five IUCN criteria, as it does not qualify for the categories Critically Endangered, Endangered, Vulnerable or Near Threatened.
Distribution and habitat
Distribution description
Dioscorea dregeana occurs naturally in woodlands, forests and bush clumps in the eastern parts of southern Africa. It is found in Limpopo Province, Mpumalanga, Swaziland, KwaZulu-Natal and Eastern Cape.
Derivation of name and historical aspects
History
The genus Dioscorea was named after Pedanios Dioscorides, a Greek physician in the first century AD. The specific name 'dregeana ' is in honour of the German collector Johan Franz Drège.
Ecology
Ecology
Little is known about the ecology of this species.
Uses
Use
Dioscorea dregeana is commonly sold on the 'muthi ' markets in South Africa. It may be used in different ways for different purposes. The Zulus use it as a sedative in the treatment of epilepsy, hysteria, insomnia and acute psychosis. The Zulu word 'isidikwa ' means 'drunkard', referring to the reported effects that it may have. It is also used topically for scabies. In ancient times, it was used as a general anaesthetic to enable fractures of the limb to be manipulated and stabilised by traditional bone-setters. The fresh tuber is generally taken orally as a weak decoction, with an adequate dose resulting in sleep within 20-30 minutes. Dioscorea dregeana is sometimes combined with Boophone disticha for the purpose of divination.
However, human deaths have been reported after the use of the plant as famine food or as medicine. This species is reported to make a person 'mad drunk', and it has been used in poison bait to destroy monkeys. This Dioscorea, due to its toxicity, is often planted to eradicate moles (intukuzi ) in the fields and home gardens. It is often planted together with crops, especially root and tuber plants, such as amabhatata (Ipomoea batatas, sweet potato) and amadumbe (Colocasia esculenta, coco yam).
Growing Dioscorea dregeana
Grow
Dioscorea dregeana can be grown from seed. The seeds are sown in spring, in a seedling mix, and germination occurs after 10 days. The seedlings grow best in warm temperatures and must be watered once a week. The plant goes dormant during winter and should not be disturbed or watered while dormant.
References
Raimondo, D., Von Staden, L., Foden, W., Victor, J.E., Helme, N.A., Turner, R.C., Kamundi, D.A. & Manyama, P.A. (eds). 2009. Red List of South African plants 2009. Strelitzia 25. South African National Biodiversity Institute, Pretoria.
Retief, E., Herman, P.P.J. 1997. Plants of the northern provinces of South Africa: Keys and diagnostic characters. Strelitzia 6. National Botanical Institute, Pretoria.
Van Wyk, B.-E., & Gericke, N. 2000. People's plants: A guide to useful plants of southern Africa . Briza Publications, Pretoria.
Van Wyk, B.-E., Van Heerden, F. & Van Oudtshoorn, B. 2002. Poisonous plants of South Africa. Briza Publications, Pretoria.
Van Wyk, B.-E. Van Oudtshoorn, B. & Gericke, N. 2009. Medicinal plants of South Africa , edn 2. Briza Publications, Pretoria.
Zukulu, S., Dold, T., Abbott, T. & Raimondo, D. 2012. Medicinal and charm plants of Pondoland . South African National Biodiversity Institute, Pretoria.
Credits
 M.S.Mothogoane
National Herbarium, Pretoria
June 2013
Plant Attributes:
Plant Type: Climber
SA Distribution: Eastern Cape, KwaZulu-Natal, Limpopo, Mpumalanga
Soil type: Loam
Flowering season: Spring, Early Summer
PH: Neutral
Flower colour: White
Aspect: Shade
Gardening skill:
Special Features:
Drought resistant
Poisonous
Medical plant
Useful plant
Horticultural zones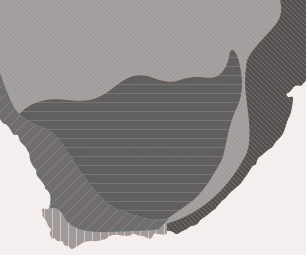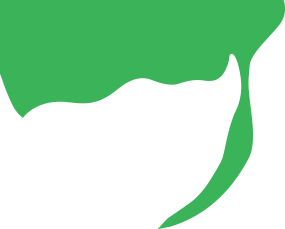 Zone 1 Coastal summer rainfall, frost free
Zone 4 Summer rainfall Karoo and Highveld, Frost in winter
Zone 5 Bushveld summer rainfall, Light frost
Google QR Code Generator