Diospyros natalensis (Harv.) Brenan
Family: Ebenaceae
Common names: acorn jackal-berry, acorn diospyros, small-leaved jackal-berry (Eng.); akkerjakkalsbessie, fynblaar jakkalsbessie, smalblaarjakkasbessie (Afr); umhlayane-omhlophe, ikleyane, umasinda (Zul.); umsitshana, intshikivane, umtyshone (Xho.)
SA Tree No: 607
Introduction
A beautiful, densely branched, evergreen shrub or small tree, with attractive, glossy, dark green leaves, small white flowers in spring and yellowish to orange or red, acorn-like fruits in summer.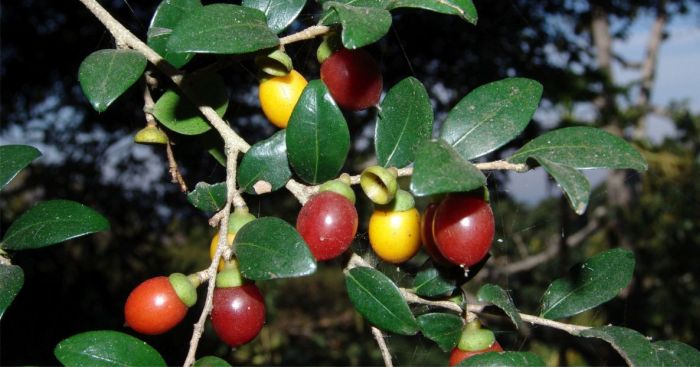 Description
Description
Diospyros natalensis is a slow growing, much-branched, evergreen shrub or small to medium sized tree, from 6 to 10 m high. The stem is tall and straight, with slender, horizontally spreading branches; young twigs are covered in hairs. The bark is smooth and pale grey, but it may also become dark, and spotted with lichens. The leaves are alternate, very small, 10–36 × 5–20 mm, oval, thinly leathery, glossy dark green above and paler below, with hairs when young and hairless on both sides when matured; new leaves are brownish.
The flowers are small, white, 5 mm long, with reflexed petals, in spring to early summer (September to December).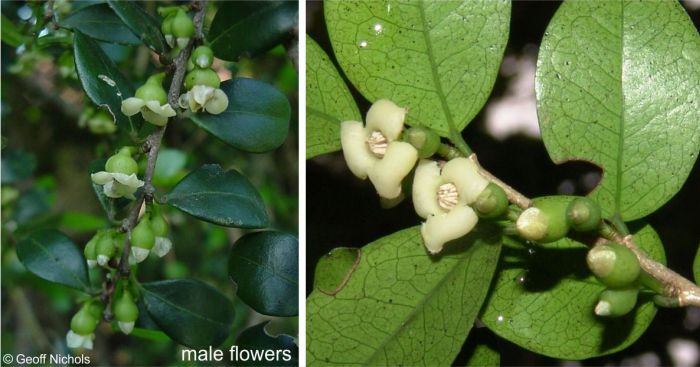 Sexes are separate and are borne on different plants; male flowers are in cluster of 2 to 3 and female flowers are solitary in the axils of the leaves. Diospyros natalensis produces a yellowish to orange or red, acorn-like fruit with a sharp tip, that is held in a cup formed by the persistent calyx, in summer (November to April). The fruits are usually 1-seeded.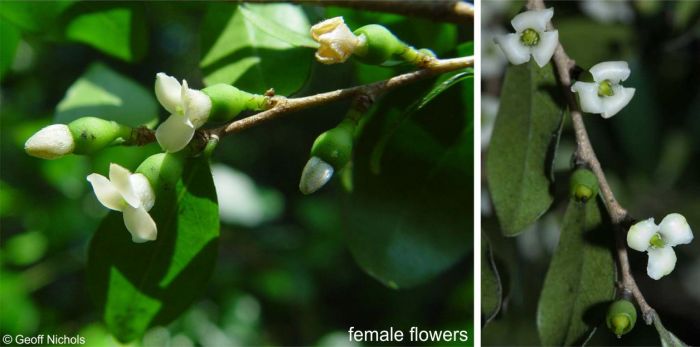 One subspecies is recognised: Diospyros natalensis subsp. nummularia, the granite jackal-berry or Lebombo jackal-berry, which is distinguished by its more rounded, smaller leaves, rarely more than 10 mm long; flower stalks that are covered in downy hairs; and fruit that is coral coloured with a saucer-shaped calyx.
Conservation Status
Status
Diospyros natalensis is assessed as Least Concern (LC) according to SANBI's Red List of South African Plants.
Distribution and habitat
Distribution description
Diospyros natalensis occurs in coastal dune forest, along riverine fringes or at the edge of inland, evergreen forest margins, occasionally on rocky outcrops, from South Africa into southern tropical Africa. In South Africa it is widely distributed in KwaZulu-Natal and Eastern Cape, and Mpumalanga. It also occurs in Eswatini (formerly Swaziland), and in Mozambique, Zimbabwe, Malawi, Zambia, Tanzania, DRC, Uganda, Kenya and Madagascar.
The subspecies nummularia is confined to granite outcrops in Crocodile River Gorge and Lebombo Mountains in Mpumalanga in South Africa, and occurs in Eswatini, Zimbabwe and Mozambique.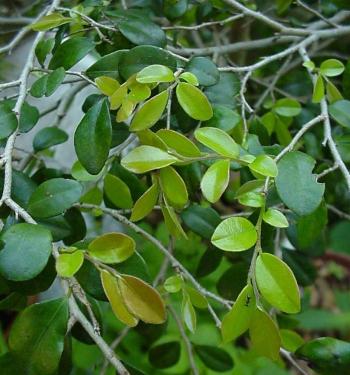 Derivation of name and historical aspects
History
The generic name Diospyros comes from the Latin name for the Caucasian persimmon (D. lotus), which is derived from the Greek word diós (Διός) and pyrós (πῡρός). The Greek name literally means 'Zeus's wheat' but more generally means 'divine food' or 'divine fruit'. The species name natalensis means 'from Natal', which is the former name of KwaZulu-Natal. The subspecies name nummularia means 'coin-shaped', referring to the rounded leaves.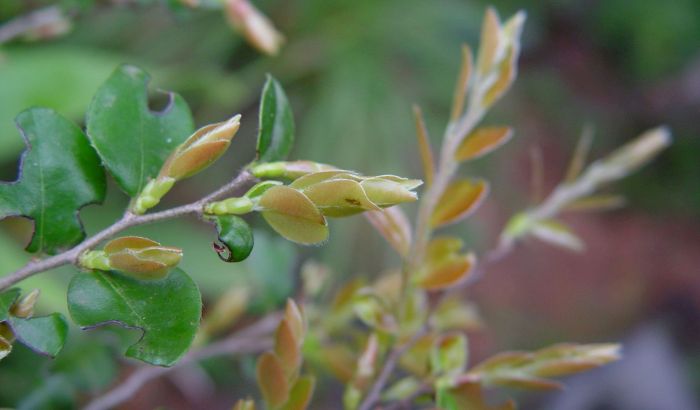 Ecology
Ecology
The green, unripe fruits are rich in tannins and are thus avoided by most herbivores, when ripe they are eaten by birds and many animals, such as duikers and monkeys, which disperse the seeds. The foliage is eaten by the larvae of numerous lepidoptera species.
Uses
Use
Diospyros natalensis is a beautiful, shapely, garden ornamental that can be trimmed and used as a hedge, in semi-shade or sun, and is recommended for bonsai. The wood is dark brown and hard and is used for hut building and carrying sticks.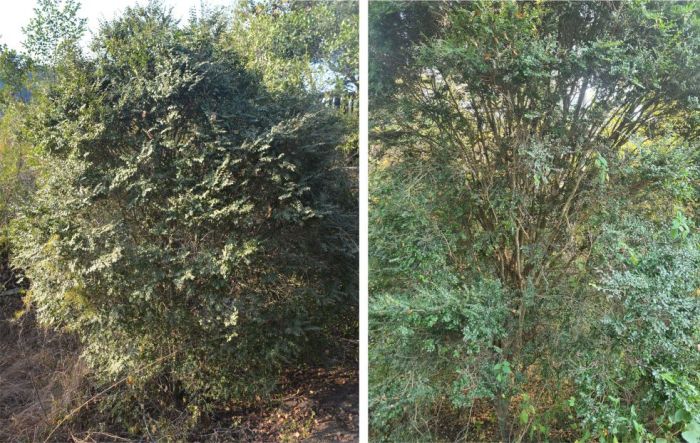 Growing Diospyros natalensis
Grow
Diospyros natalensis grows very well in well-drained soil, in rocky areas, in full sun or semi-shade. This species is frost resistant and it needs little additional water in summer. When cultivating this plant species, a little bit of fertilizer is needed. It is a good container and bonsai plant and can be used as clipped hedge for screening.
At Lowveld National Botanical Garden, Diospyros natalensis is easily propagated from seeds and it does extremely well. Harvest seeds when the fruits are orange or red, clean them by removing the flesh by hand, soak them in lukewarm water for 1 day. Sow the seeds in summer, in a well-drained, fertile soil, such as 3 parts potting soil and 1 part river sand. The seed tray must be placed on a raised bench in a warm area and covered with a shade net until germination. The growth medium should kept moist, but not too wet. Germination can be expected after 4 weeks. When seeds start to germinate, reduce watering and allow air circulation. Seedlings of this species can be infested by red spider mites, which can be treated by spraying the seedlings with a suitable pesticide, and it is very important to check the seedlings twice a week. Transplant the seedlings when they are 10 cm tall, into a plastic grow-bag or pot and place them under a shade net.
References
Foden, W. & Potter, L. 2005. Diospyros natalensis (Harv.) Brenan subsp. natalensis. National Assessment: Red List of South African Plants version 2020.1. Accessed on 2021/05/24
JSTOR Global Plants. Diospyros natalensis. https://plants.jstor.org.compilation/Diospyros.natalensis. Accessed on 2021/05/24
Palmer, E. & Pitman, N. 1972. Trees of southern Africa. Balkema, Cape Town.
Plants of the World online. Diospyros natalensis. http://plantsoftheworldonline.org/taxon/urn:lsid:ipni.org:names:322751-1. Accessed on 2021/06/10.
Pooley, E. 1993. The complete field guide to trees of Natal, Zululand and Transkei. Natal Flora Publication Trust, Durban.
Schmidt, E., Lötter, M. & McCleland, W. 2002. Trees and shrubs of Mpumalanga and Kruger National Park. Jacana, Johannesburg.
Van Wyk, B. & Van Wyk, P. 1997. Field guide to trees of southern Africa. Struik Publishers, Cape Town.
Credits
Winfred Ngwenya
Lowveld National Botanical Garden
June 2021
Acknowledgements: the author thanks Geoff Nichols for images, as credited.
Plant Attributes:
Plant Type: Shrub, Tree
SA Distribution: Eastern Cape, KwaZulu-Natal, Mpumalanga
Soil type: Sandy, Loam
Flowering season: Spring, Early Summer
PH: Acid, Neutral
Flower colour: Green, White
Aspect: Full Sun, Morning Sun (Semi Shade), Afternoon Sun (Semi Shade)
Gardening skill: Easy
Special Features:
Attracts birds
Attracts butterflies
Feature plant
Good potplant
Hedge/screen
Useful plant
Feeds honeybees
Horticultural zones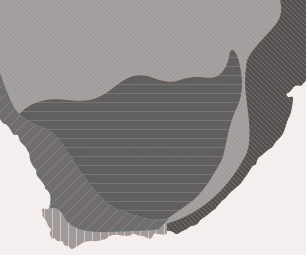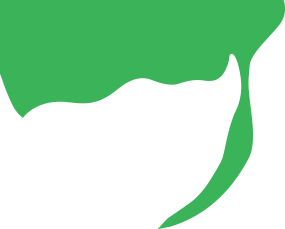 Zone 1 Coastal summer rainfall, frost free
Zone 5 Bushveld summer rainfall, Light frost
Google QR Code Generator