Dombeya kirkii Mast.
Family: Malvaceae
Common names: river wild pear, river dombeya (Eng.); rivierdrolpeer (Afr.)
Introduction
A fast growing and beautiful, ornamental wild pear with masses of white flowers in late summer and winter.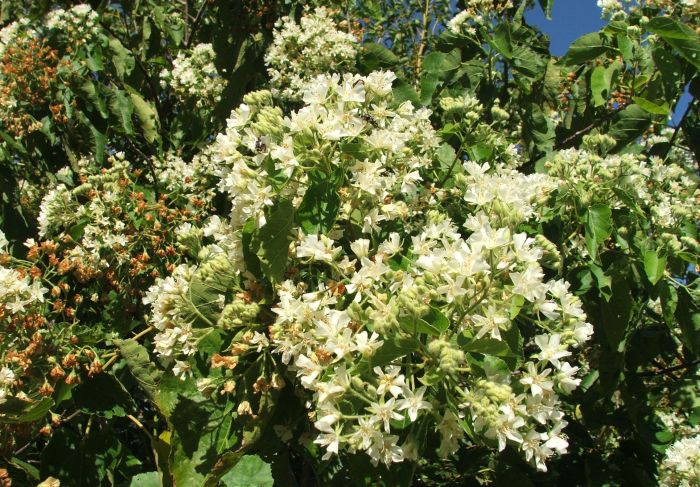 Description
Description
Dombeya kirkii is a large, multi-stemmed, much-branched, deciduous shrub or small tree that grows up to 5 m tall and spreads to 3 m wide. The bark is smooth, greyish brown to dark red brown, thick and rough with vertical fissures. Branchlets are densely hairy.
The leaves are hairy, broad and almost circular, 13 x 90 mm, with toothed edges. They are rarely 3-lobed.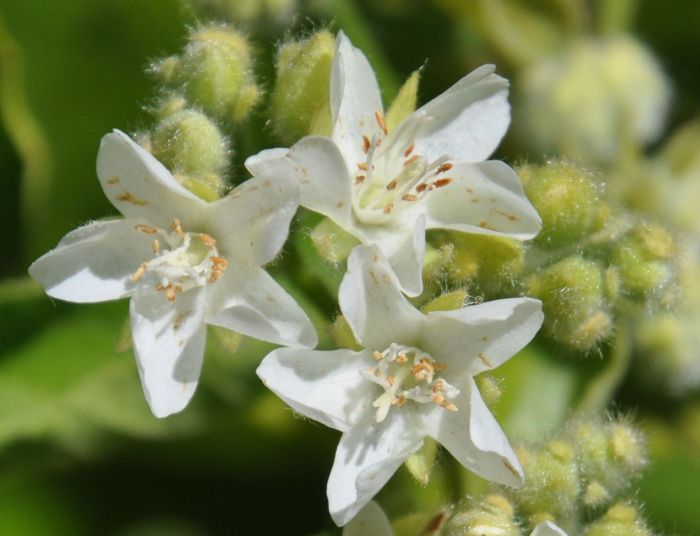 The flowers are white, fading into brown as they age, in clusters of many-flowered, axillary heads near the tips of the branches. The petioles and calyces are densely covered with hairs. The flowers bloom in profusion from late summer (March) to late winter (August) with the fruit, in among flowers, also appearing from April to August. The fruit is a rounded, silky haired, small brown capsule surrounded by the dried petals.
Conservation Status
Status
Dombeya kirkii is assessed as Least Concern (LC) according to the Red List of South African Plants website.
Distribution and habitat
Distribution description
Dombeya kirkii is found in low altitude bushveld, in riverine thicket. It also occurs in wooded grassland and on limestone ridges and rocky slopes. In South Africa it is found in in the north, in Limpopo Province. It is also widely distributed in eastern Africa, in Ethiopia, eastern DRC, Uganda and Kenya, and southwards to Zambia, Zimbabwe and Mozambique.
Derivation of name and historical aspects
History
The genus name Dombeya was given in honour of the French botanist and explorer in South America Joseph Dombey. There are over 190 species of Dombeya, all shrubs and small trees that are known for their large soft leaves and their blooms.
This species is named in honour of Dr John Kirk (1832-1922). He was born in Scotland, graduated as a medical doctor but was also a keen botanist. He joined Livingstone's second expedition where he collected many plant specimens, made many field drawings of the Zambezi Valley and was among the first to photograph the vegetation in this area. He was the first to collect specimens of Dombeya kirkii, which he found at the Mupata Gorge on the Zambezi River above Cahora Bassa around 1860. Many more plants are named after him including Kirkia acuminata, Diospyros kirkii, Acacia kirkii, Cleistochlamys kirkii and Maerua kirkii, all of which were first collected by James Kirk.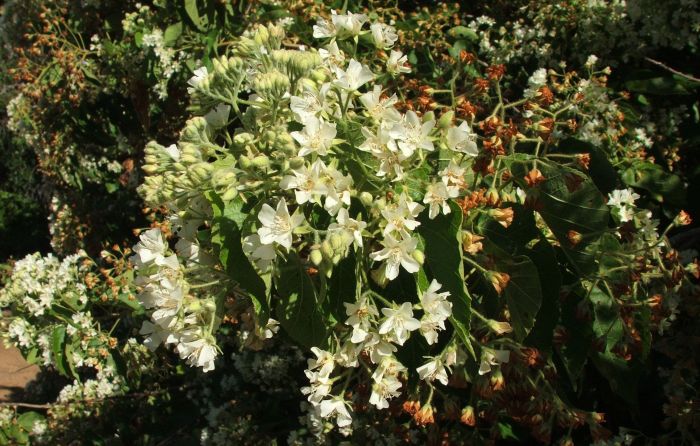 Dombeya kirkii is closely related to D. cymosa but differs in that its leaves and calyces are larger and the flower stalks are more hairy with a mixture of long and short hairs. Calyces are the sepals of a flower, typically forming a whorl that encloses the petals and forms a protective layer around a flower in bud.
Ecology
Ecology
The attractive flowers of the river wild pear are always buzzing with insects and birds; bees and beetles feed on the pollen in the flowers as it is clearly presented in the flower and therefore giving easy access for pollination. The birds feed on the insects. The blister beetle is also a common visitor of the plant, they feed on leaves, flowers and pollen. The plant is a useful bee forage (food supply) plant.
Uses
Use
The bark is made into cordage (rope or cord that may be used for ship's rigging). The wood is used in housebuilding or construction, and for making bows, arrows, spear shafts and tool handles, and  as fuel.
In East Africa, a part of the root is used to make decoction that is drunk in order to treat yawns, which is a chronic bacterial infection that affects the skin, bone and cartilage, as well as to treat abdominal pains.
The flowers, once dry, can be used in dry flower arrangements and potpourri.
Dombeya kirkii can also be used as an ornamental shrub or tree, as it is very attractive and easy to grow.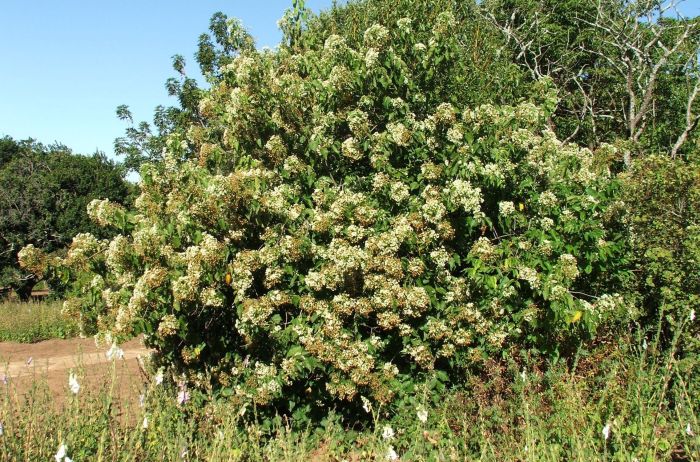 Growing Dombeya kirkii
Grow
Dombeya kirkii responds very well to pollarding, which is a pruning method that involves the removal of the upper branches, and promotes the growth of a dense head of foliage and branches. The plant also responds well to coppicing, another form of pruning whereby multiple stems are cut right down to the ground, encouraging the plant to send up vigorous new shoots.
This is a fast growing tree that can be propagated by seed and cuttings. Like most deciduous plants, the best time to propagate is in spring or early summer. Propagate by stem cuttings taken between spring and summer.
It is best to collect the seed while it is still inside the capsule, inside the flower, then separate the seeds out of the capsules and store in sealed containers in a cool place. Seeds may be sown fresh in spring. It is not necessary to treat them.
This species grows well in full sun to semi- shade, with water in summer and fertile soil.
References
Beentje, H.J. 1994. Kenya trees Shrubs and lianas. National museums of Kenya, Nairobi.
Haxen, P. 2017. Mpondaminga on the dyke: Sunday April 20th 1986. Tree Life, issue 444, Tree Society of Zimbabwe. https://treesociety.org.zw/tree-life/444/ Accessed on 2020/01/30
Hyde, M.A., Wursten, B.T., Ballings, P. & Coates Palgrave, M. 2020. Flora of Zimbabwe: Species information: Dombeya kirkii. https://www.zimbabweflora.co.zw/speciesdata/species.php?species_id=139870 Accessed on 2020/01/30
Mbuvi, M.T.E., Kungu, J.B., Gachathi, F.N., Leley, C.W.N & Muthini, J.M. Annotated checklist of plant species of Loita Forest, Narok County, Kenya. 2019. International Journal of Advanced Research in Biological Sciences 6(3):54-110.
Coates Palgrave, K. 1997. Trees of southern Africa. Struik, Cape Town.
Stearn, W.T. 1992. Stearn's Dictionary of Plant Names for gardeners. A handbook on the origin and meaning of the botanical names of some cultivated plants. Cassell, UK.
Useful Tropical Plants, Dombeya kirkii. http://tropical.theferns.info/viewtropical.php?id=Dombeya+kirkii Accessed on 2020/01/16
Van Wyk, B. & Van Wyk, P. 1997. Field guide to trees of southern Africa. Struik Publishers, Cape Town.
Victor, J.E. 2005. Dombeya kirkii Mast. National Assessment: Red List of South African Plants version 2017.1. Accessed on 2020/01/13
World Agroforestry. http://old.worldagroforestry.org/usefultrees/pdflib/Dombeya_kirkii_UGA.pdf Accessed on 2020/01/13
Xfrog Plants Africa. 06 River Wild Pear (Domeya kirkii). http://xfrog.com/product/AF06.html Accessed on 2020/02/03.
Credits
Sisanda Velembo
Kirstenbosch National Botanical Garden
March 2020
Plant Attributes:
Plant Type: Shrub, Tree
SA Distribution: Limpopo
Soil type: Sandy, Loam
Flowering season: Late Summer, Autumn, Winter
PH:
Flower colour: White
Aspect: Full Sun, Morning Sun (Semi Shade), Afternoon Sun (Semi Shade)
Gardening skill: Easy
Special Features:
Attracts birds
Hedge/screen
Medical plant
Useful plant
Feeds honeybees
Horticultural zones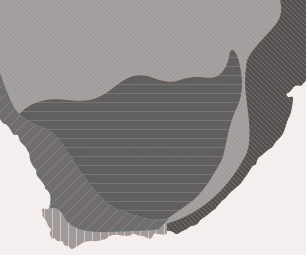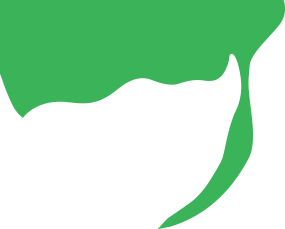 Zone 1 Coastal summer rainfall, frost free
Zone 2 Coastal winter rainfall, frost free
Zone 5 Bushveld summer rainfall, Light frost
Google QR Code Generator