Dovyalis longispina (Harv.) Warb.
Family: Salicaceae
Common names: Coast Kei-apple (Eng), Kuskei-appel, Natalappelkoos (Afr.), umNyusa (isiZulu), imQokolo (isiXhoza)
SA Tree No: 510.1
Introduction
'The Dovyalis with the long spines', that is how one can make sense of its botanical name. With its bright orange-red, edible fruits and very formidable spines, Dovyalis longispina is an attractive, small to medium, glossy tree.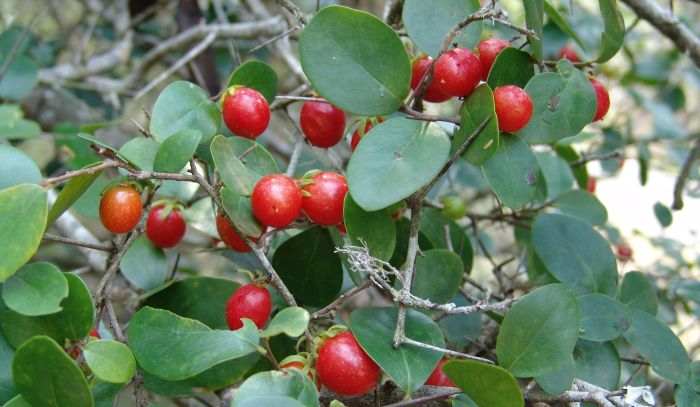 Description
Description
A shrub or small to medium sized tree from the Salicaceae family that can grow to as tall as 15 m. It is a hardy, evergreen or semi-deciduous tree, with grey to brown bark; semi-deciduous because the old leaves drop off during flowering but almost immediately after the old leaves are shed, new leaves will grow. Dovyalis longispina is known for its conspicuous, slender, straight spines, up to 80 mm long, borne along its branches. The spines and the twigs are covered with small warts.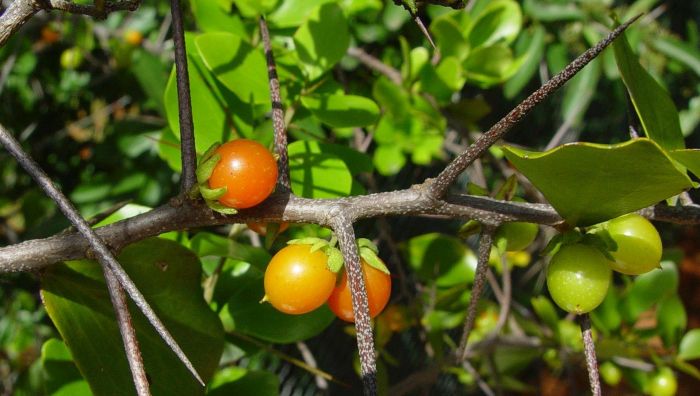 The crown is noticeable, with its glossy, dark-green, roundish leaves. New leaves of the Coast Kei-apple appear reddish. The leaves are usually alternate, oval, egg-shaped to top-shaped, tips bluntly pointed, rounded or notched, with untoothed margins.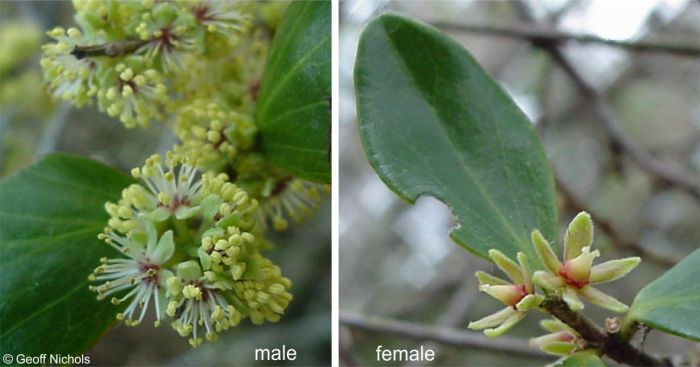 With male and female flowers on separate trees, that means only female trees can bear fruits. Both male and female flowers are small, whitish-yellow, in clusters in the axils of the leaves and appear in spring, from August to October. Male flowers are in larger clusters of up to 10 flowers, female flowers are solitary or in groups of 2 or 3. The images captured by Geoff Nichols clearly show the difference between the male and female flowers.
Female trees bear oblong fruits, 15 mm in diam., smooth, fleshy, bright red with white spots when mature, with an enlarged and persistent calyx. This edible fruit tastes slightly acidic with a touch of sweetness. Each fruit holds up to 2 woolly seeds, 9 mm long.
Dovyalis longispina can be separated from Dovyalis caffra, another closely related species, by its narrower and often more pear-shaped leaves, which are most often alternate. Dovyalis longispina can be distinguished from Dovyalis zeyheri by its conspicuously warted spines, leaf veins that are not raised below and its fruits that are spotted with white.
Conservation Status
Status
Dovyalis longispina is Red Listed as Least Concern (LC). This species was automatically given this status because it has not yet undergone screening nor been highlighted as a taxon of conservation concern. This status might change given that it its distribution is centralized only in one province, KwaZulu-Natal.
Distribution and habitat
Distribution description
Dovyalis longispina is found along the coast, in coastal bush on sand dunes and in low-lying areas near mangroves. It also has a wide distribution inland, where it occurs in mixed scrub and scrub forest, on sandy soil. It ranges from the southern to northern coastal areas of KwaZulu-Natal, and northwards to Eswatini and Mozambique.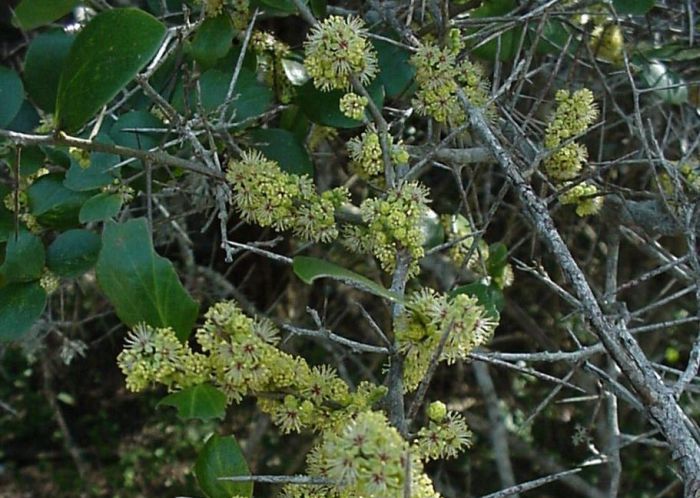 Derivation of name and historical aspects
History
The name Dovyalis is derived from the Greek meaning 'spear', making reference to the spines that are usually present in this genus. The species name is derived from Latin and means 'long spine'.
With their very conspicuous spines, Dovyalis species are easily spotted wherever they are growing.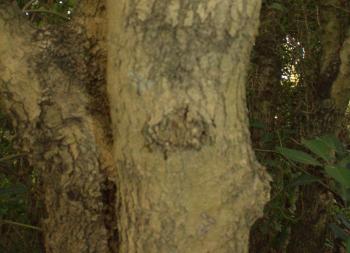 Ecology
Ecology
This tree is a sought-after home to most birds. It is perfect for nesting in, because its long, vigorous spines offer protection for the birds, from their predators, making it a typical wildlife home with high security. Particularly the Common Bulbul loves nesting in this tree, and it also feeds on the fruits of Dovyalis longispina. Through eating of the fruits, seeds are dispersed by the birds. The fruits are also eaten by animals, such as duikers and monkeys.
With the Coast Kei-apple being a dioecious plant, insects play a very important role in pollinating this tree by transporting pollen from male tree to the female tree.

Uses
Use
The little fruits of the Coast Kei-apple are edible and very delicious, with a tangy, sweetly sour taste. The fruits are used to make preserves, jelly and jams. These attractive, bright orange and red berries form a striking contrast to the rather pale bark and glossy, dark green foliage, and the Coast Kei-apple makes a very good garden tree, well-suited to small gardens. The fruits will surely attract birds to the garden. And, because the branches are armed with very formidable spines, this tree makes a great security fence or hedge.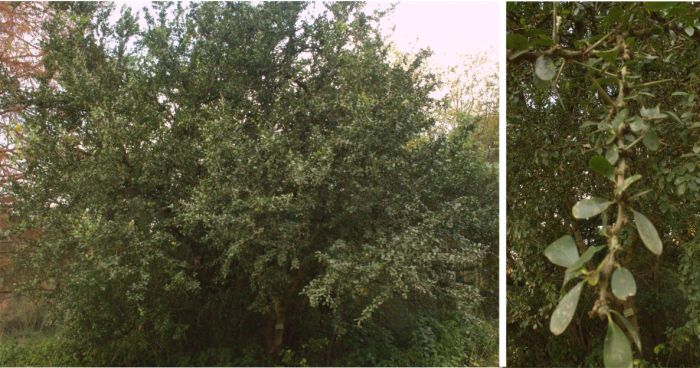 Growing Dovyalis longispina
Grow
Like many species of the Dovyalis genus, the Coast Kei-apple is easily propagated from seeds. The fruits must be ripe before they are collected. After cleaning the seeds, they should be sown in spring, in a well-drained soil that can retain enough moisture, preferably 2 parts sand and 1 part peat. The soil should be kept moist throughout the germination and seedling phase, however, do not over water and make the soil soaking wet, but moist to allow enough oxygen in the soil. Germination can be observed approximately 14 days after sowing the seeds. When sowing the seeds, sow a large number of them to increase the chances of having female trees.
The Coast Kei-apple can also be propagated from hardwood cuttings, taken from a healthy mother plant. Cuttings should be treated with a number 3 rooting hormone to stimulate the formation of roots. The same soil mixture can be used and follow the same watering schedule as for seed propagation.
The Coast Kei-apple can tolerant some frost, although young plants should be protected from frost for the first two growing seasons. It is also resistant to drought, and grows well in either full sun or light shade. It grows well in sandy or loamy soil to which compost has been added.
References
Flora of southern Africa, entry for Dovyalis longispina. accessed via JSTOR Global Plants. https://plants.jstor.org/compilation/Dovyalis.longispina.
Foden, W. & Potter, L. 2005. Dovyalis longispina (Harv.) Warb. National Assessment: Red List of South African Plants version 2020.1. Accessed on 2021/06/14
Gibson, J.M. 1978. Wild flowers of Natal (inland region). The Trustees of the Natal Publishing Trust Fund, Durban.
Palmer, E. & Pitman, N. 1972. Trees of southern Africa. Balkema, Cape Town.
Van Wyk, B. & Van Wyk, P. 2013. Field guide to trees of southern Africa. Struik Publishers, Cape Town, Johannesburg.
Van Wyk, B.-E. & Gericke, N. 2000. People's plants, a guide to useful plants of southern Africa. Briza Publications, Pretoria.
Credits
Mpho Mathalauga
KwaZulu-Natal National Botanical Garden
June 2021
Acknowledgements: the author thanks Geoff Nichols for images, as credited.
Plant Attributes:
Plant Type: Shrub, Tree
SA Distribution: KwaZulu-Natal
Soil type: Sandy, Loam
Flowering season: Spring
PH:
Flower colour: Green, Cream, Yellow
Aspect: Full Sun
Gardening skill: Easy
Special Features:
Attracts birds
Drought resistant
Feature plant
Good potplant
Edible plant
Feeds honeybees
Horticultural zones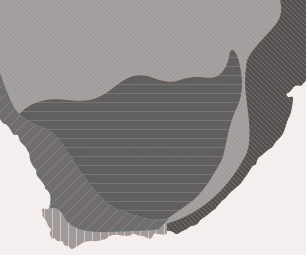 Zone 1 Coastal summer rainfall, frost free
Google QR Code Generator