Drimia altissima (L.f.) Ker Gawl.
Family: Hyacinthaceae
Common names: tall white squill (Eng.); jeukbol, maermanbol, maermanui (Afr.); lukhovu (Siswati), isiklenama, umahlokolosi, umgulube (isiZulu)
Introduction
If you are looking for one of those mass flowering, tall bulbs, this is the one.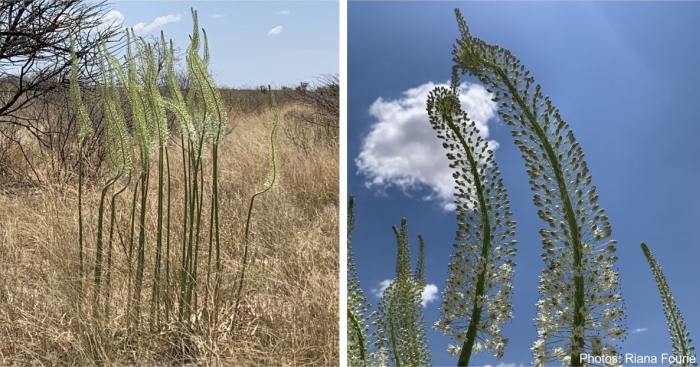 Description
Description
This bulbous plant is one of the tall Drimia species. Depending on the locality, it can be found in clusters or as solitary bulbs and it is variable. It grows between 350 mm and 2 m tall. Drimia altissima produces a big bulb, growing between 100-150 mm in diameter, spherical, covered with brown outer tunics and half submerged into the ground, covered with tough, overlapping fleshy scales. The leaves are lanceolate, about 200-500 mm long and about 20-28 mm wide. The flower stalk appears before the leaves and it is about 10 mm in diameter. The flower-stem can grow well over 800 mm long, up to 2 m tall, with up to 700, densely arranged, white, scented flowers with a greenish cast. It flowers at the end of the dry season. Sometimes the flowerhead have a curled growth form. In older books it is referred to as Ornithogalum altissimum and Urginea altissima.
Conservation Status
Status
This bulb is not threatened and is listed as a species of Least Concern (LC) in the Red List of South African plants.
Distribution and habitat
Distribution description
Drimia altissima does not only occur in South Africa. It is also found in Eswatini (formerly Swaziland), and through southern Africa up to Angola and Congo. In South Africa it is occurs in all 9 provinces, namely: Eastern Cape, Free State, Gauteng, KwaZulu-Natal, Limpopo, Mpumalanga, Northern Cape, North West, Northern Cape and Western Cape.
Drimia altissima is commonly found in grasslands, sometimes also in bushland and open woodlands. It has been discovered that it grows on sandy and clayish soils on both wet and arid places, but sometimes also on very rocky areas.
Derivation of name and historical aspects
History
The name Drimia is derived from the Greek word drimus meaning 'acrid' or 'pungent'.  The species name altissima means 'very tall', referring to the tall flower spike.
Drimia falls under the bulb family called Hyacinthaceae. It houses quite a number of popular bulbs such as Merwilla plumbea, Eucomis species and galtonia to name a few. In South Africa, Drimia is widely distributed, in the winter rainfall areas and the summer rainfall areas. One of the drimias worth mentioning is the maerman (meaning 'tall thin man'), Drimia capensis, which has a flower-stem that can also grow up to 2 m tall.
Ecology
Ecology
Most drimias are pollinated by insects. There is not much in the literature about pollination of the Tall White Squill, but the image below shows evidence of a White-Spotted Fruit Chafer being a potential pollinator. After pollination, it produces green immature fruits that turn brown as they dry and mature. The dry fruit capsules have three chambers and each houses a number of seeds. The seeds are black, flattened and winged, thus they are dispersed by wind.
Uses
Use
This species is actually extremely toxic and in Europe, it was used in rat poison. It is also known to be poisonous to wild grazers and livestock. Poisonous as it is, it is still used medicinally, the bulb is poisonous in anything but small doses. The bulb has been widely used by herbalists, mainly for its effect upon the heart because it contains cardiac glycosides, which is a relatively quick-acting organic compound that increases the efficiency and improves the contractions of the heart muscles, which leads to improved blood flow to all tissues of the body. Medicinally, the fresh bulb is slightly more active than the dried bulb, but it also contains unpleasantly pungent juices that can cause skin inflammations. This is a very poisonous plant and it should only be used under the supervision of a qualified practitioner. Bronchitis, bronchitic asthma, whooping cough and oedema are some of the diseases it is used as treatment of. Externally, the bulb has been used in the treatment of dandruff and seborrhoea.
In gardening, it can be grown in pots or planted in masses and used as display spot. In warm temperate climates, it does well in sunny courtyard gardens, in raised beds and rockeries. In cold winter climates, they do well in containers in a cool or slightly heated greenhouse. They are mostly grown by specialist bulb collectors, usually as container subjects.
Growing Drimia altissima
Grow
Growing Drimia altissima presents no great difficulty in cultivation and it is for this reason that it is popular with passionate bulb-growers. For soil preparation, use equal parts of well decomposed compost or finely milled bark, and river or silica sand. Plant the bulbs with the neck at, or just below soil level. It can be propagated by seed or rarely by division of bulbs. Offsets are very slow to form (if ever), and it is best to separate them from the mother bulb straight after flowering, just as the new leaves begin to develop. Seeds can be harvested as soon as they can be easily removed from the fleshy berries. After sowing seeds, it can take up to two months before the first leaf appears above ground, and a further four to five years to flower for the first time.
When growing Drimia altissima in pots, use pots with a diameter of at least 25 cm. Drainage is crucial. It must be kept almost dry during its dormancy period otherwise the bulbs will dwindle and rot. It does well in full sun, but will even grow and bloom in semi-shade.
Even though they are sensitive to frost, they are said to be hardy to -5°C (or even colder).
Mealy bugs usually attack the bulbs and leaf bases, and snout beetles and slugs chew  the leaf margins at night.
References
Duncan, G. 2010. Grow bulbs. A guide to the cultivation of bulbs of South Africa and neighboring countries. Kirstenbosch Gardening Series. South African National Biodiversity Institute, Cape Town.
Duncan, G.D. 1998. The Kay Bergh bulb house. Veld & Flora 84(3):80-81.
Goldblatt, P. & Manning, J. 2002. Cape plants: a conspectus of the Cape flora of South Africa. Strelitzia 9. National Botanical Institute, Pretoria and Missouri Botanical Garden, St Louis.
Hyde, M.A., Wursten, B.T., Ballings, P. & Coates Palgrave, M. 2022. Flora of Zimbabwe, Drimia altissima. https://www.zimbabweflora.co.zw/speciesdata/species.php?species_id=114260. Accessed 13/06/22.
Leistner, O.A. (ed.). 2000. Seed plants of southern Africa: families and genera. Strelitzia 10. National Botanical Institute, Pretoria.
LLifle, The Encyclopedia of Bulbs. Drimia altissima. http://www.llifle.com/Encyclopedia/BULBS/Family/Hyacinthaceae/31740/Drimia_altissima. Accessed 13/06/22.
Manning, J.C. & Goldblatt, P. 2013. Plants of the Greater Cape Floristic Region. 1: The Core Cape Flora. Strelitzia 29. South African National Biodiversity Institue, Pretoria.
Goldblatt, P & Manning, J. 1996. West Coast. South African Wild Flower Guide 7. Botanical Society of South Africa, Cape Town.
Pooley, E. 1998. A field guide to wild flowers Kwazulu-Natal and the eastern region. Natal Flora Publications Trust, Durban.
Useful Tropical Plants, Drimia altissima. http://tropical.theferns.info/viewtropical.php?id=Drimia+altissima. Accessed 2022-06-13.
Watt, J.M. & Breyer-Brandwijk, M.G. 1962. The medicinal and poisonous plants of southern and eastern Africa , edn 2. Livingstone, Edinburgh & London.
Williams, V.L., Raimondo, D., Crouch, N.R., Brueton, V.J., Cunningham, A.B., Scott-Shaw, C.R., Lötter, M. & Ngwenya, A.M. 2016. Drimia altissima (L.f.) Ker Gawl. National Assessment: Red List of South African Plants version 2020.1. Accessed on 2022/07/14
Credits
Dineo Dibakwane
Walter Sisulu National Botanical Garden
July 2022
Acknowledgements: the author thanks James Deacon, Peter Warren and Riana Fourie for allowing the use of their images.
Plant Attributes:
Plant Type: Bulb
SA Distribution: Eastern Cape, Free State, Gauteng, KwaZulu-Natal, Limpopo, Mpumalanga, North West, Northern Cape, Western Cape
Soil type: Sandy, Clay, Loam
Flowering season: Spring, Early Summer, Late Summer
PH: Acid, Alkaline
Flower colour: Green, White
Aspect: Full Sun
Gardening skill: Easy
Special Features:
Drought resistant
Poisonous
Horticultural zones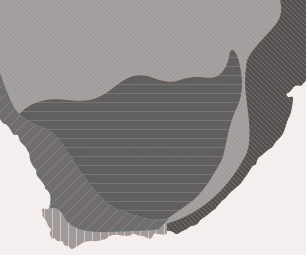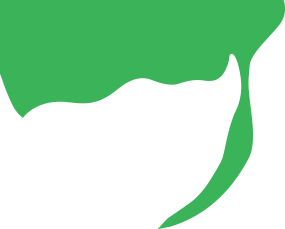 Zone 1 Coastal summer rainfall, frost free
Zone 2 Coastal winter rainfall, frost free
Zone 3 Winter rainfall Karoo, light frost
Zone 4 Summer rainfall Karoo and Highveld, Frost in winter
Zone 5 Bushveld summer rainfall, Light frost
Google QR Code Generator